Traditional Powder Bathroom Design Board
Get inspired by this green and blue powder bathroom design board with beautiful hydrangea wallpaper and a brass double sconce. The woven textures and brass finishes pop against the traditional sage green walls.
Ahh, the powder room. It's the small room that allows us to keep the guests out of our regular bathrooms. #hallelujah I've always dreamed of having a powder room for guests because in our old house the guests had to use the girls' bathroom and it was always a struggle to keep it presentable!
And it's also a fun design space where you can pack a punch! While you want your main living space to feel peaceful and calm, the powder room can be the disco ball. It's the door to a wild, new world: the unexpected jewel box in your home. It's a place to get out of your comfort zone! Yay!
So, when it came time to design this space, I wanted to bring in color through paint and wallpaper. I wanted to bring in lots of pretty brass finished and some beautiful texture, too! I want my friends and family to enter this room and feel like they are transformed to a fun, new place. And I'm so excited to share my next room design ideas for my hallway half bathroom!
Half Bath Design Plans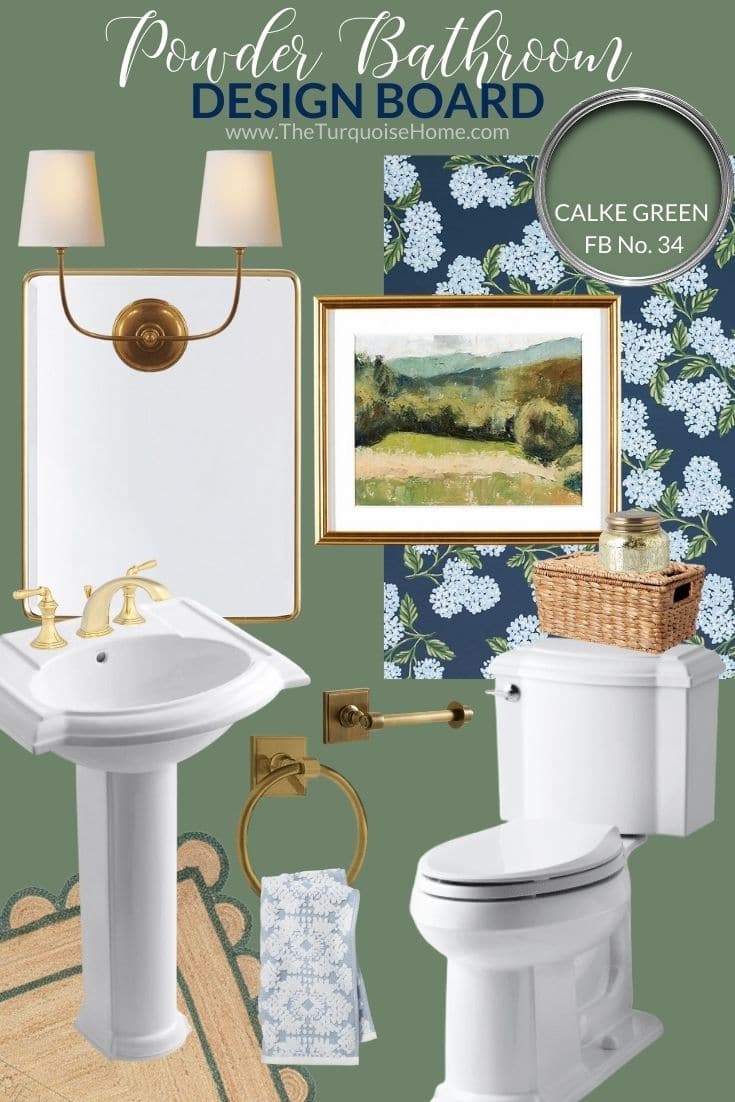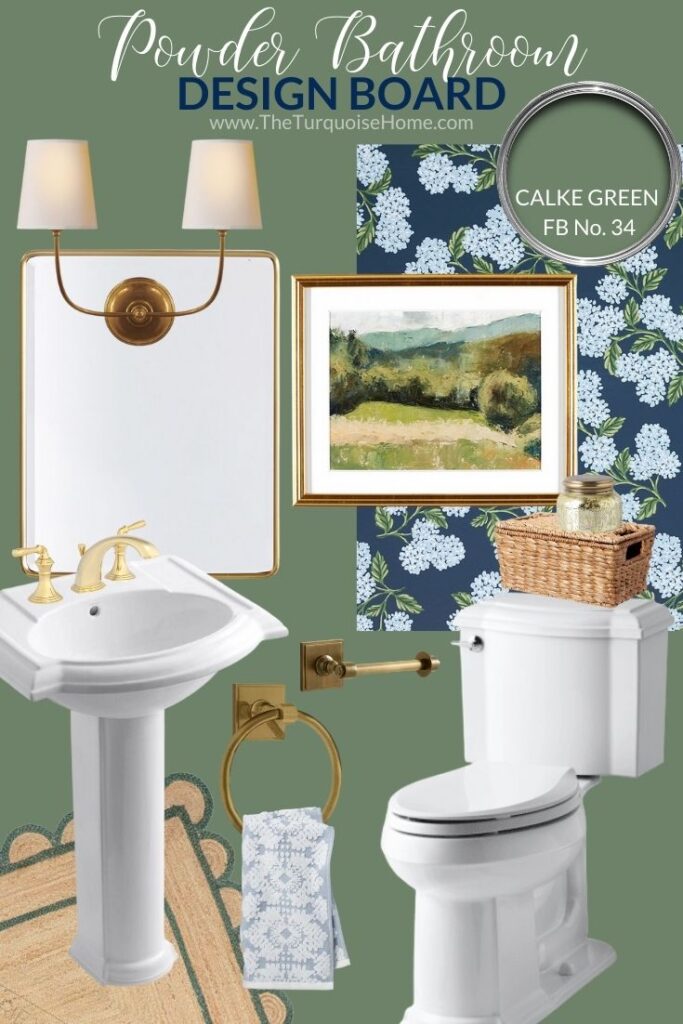 Vendome Double Sconce | Calke Green paint | Vintage Rounded Mirror | Summer Mountain Petite Art | Navy Hydrangea Wallpaper (here, too) | Pedestal Sink | Tank Basket | Candle | Toilet | Toilet Paper Holder | Towel Ring | Hand Towel | Scallop Jute Rug
In my seasonal home goals post, I shared that I wanted to finish up my hallway bathroom this summer. I've collected ideas for a while now, but now that the kitchen is done, it's time to finally get the ball rolling!
This is where it started when we moved in!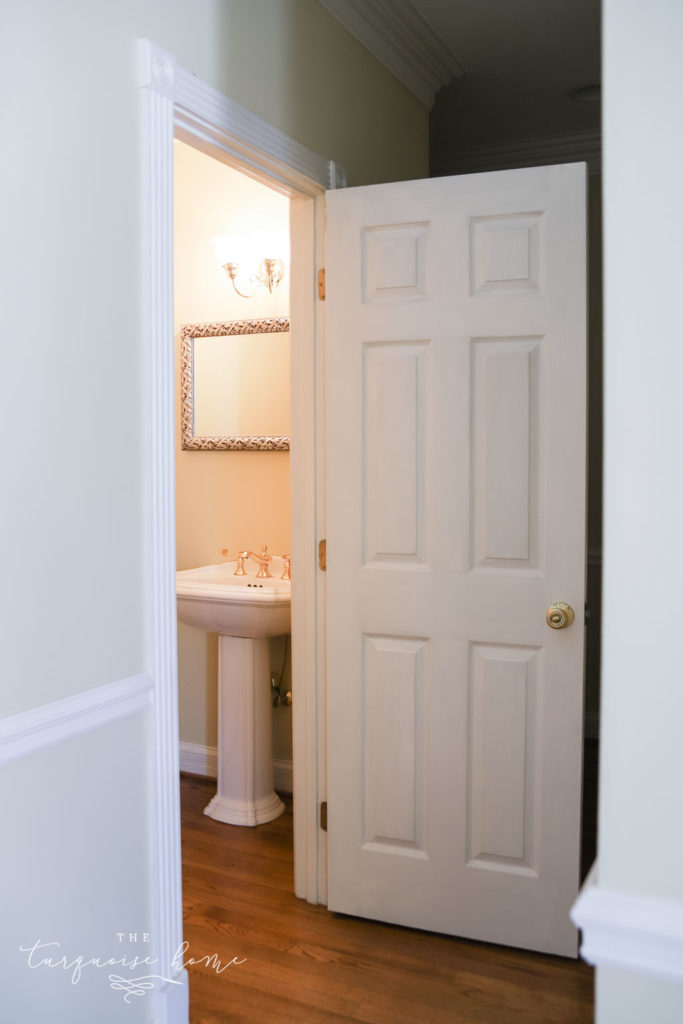 It's not terrible, but definitely doesn't bring any fun or creative design. The bones are good, though. So, I'll be keeping the pedestal sink (for now) and the toilet. I like that the wood floors carry into the space as well.
But I'll be adding lots of color and lots of new details. A few of things in my mood board, I've already put in the bathroom, like the mirror and the sconces.
I've replaced the light already. The original light was just very outdated. I bought this double sconce for my stairwell, but decided it was too nice for the stairs. So, I put it in the bathroom instead. And I LOVE it! (See the budget-friendly sconce I put in the stairwell here and lots more sconces for every budget.)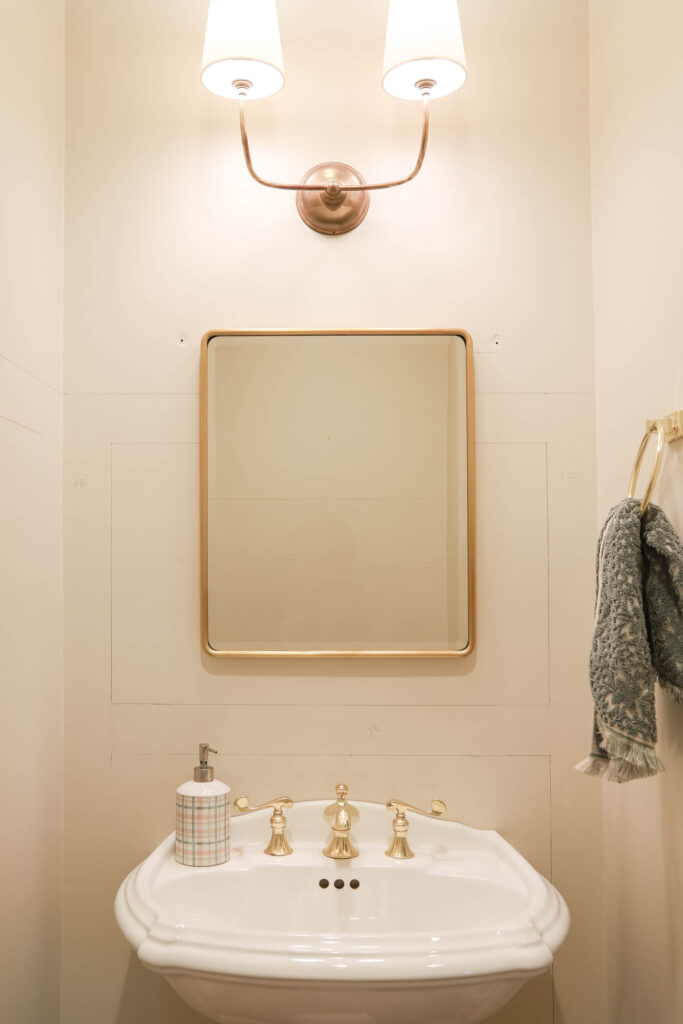 And I also replaced the mirror already. I found this vintage rounded mirror on major sale when my Pottery Barn closed, so I scooped it up. If it wasn't a good deal, I would buy the larger size. But for 50% off, I wasn't going to pass it up! And once I get everything installed, I don't think it will look as small as it does now.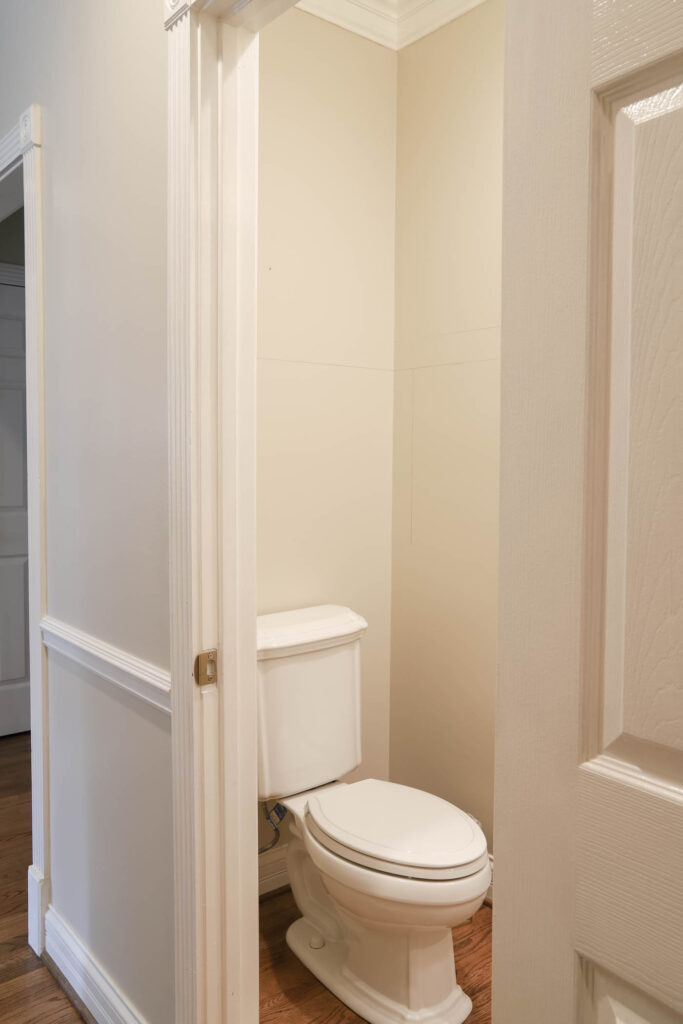 Like I said before, the toilet and pedestal sink are original to the house. I tried to find as close of a match to include in the design plan, so you can see the whole look. I really like the toilet and it's traditional, elegant lines. But I'd love to replace the pedestal sink down the road with something with some storage. But it's just not in the budget to replace it right now.
After practicing putting up wallpaper in my girls' bathroom, I knew I wanted to add some wallpaper in here. I ordered a bunch of samples, but landed on this beautiful navy hydrangea wallpaper. I know several people who've used it and love it.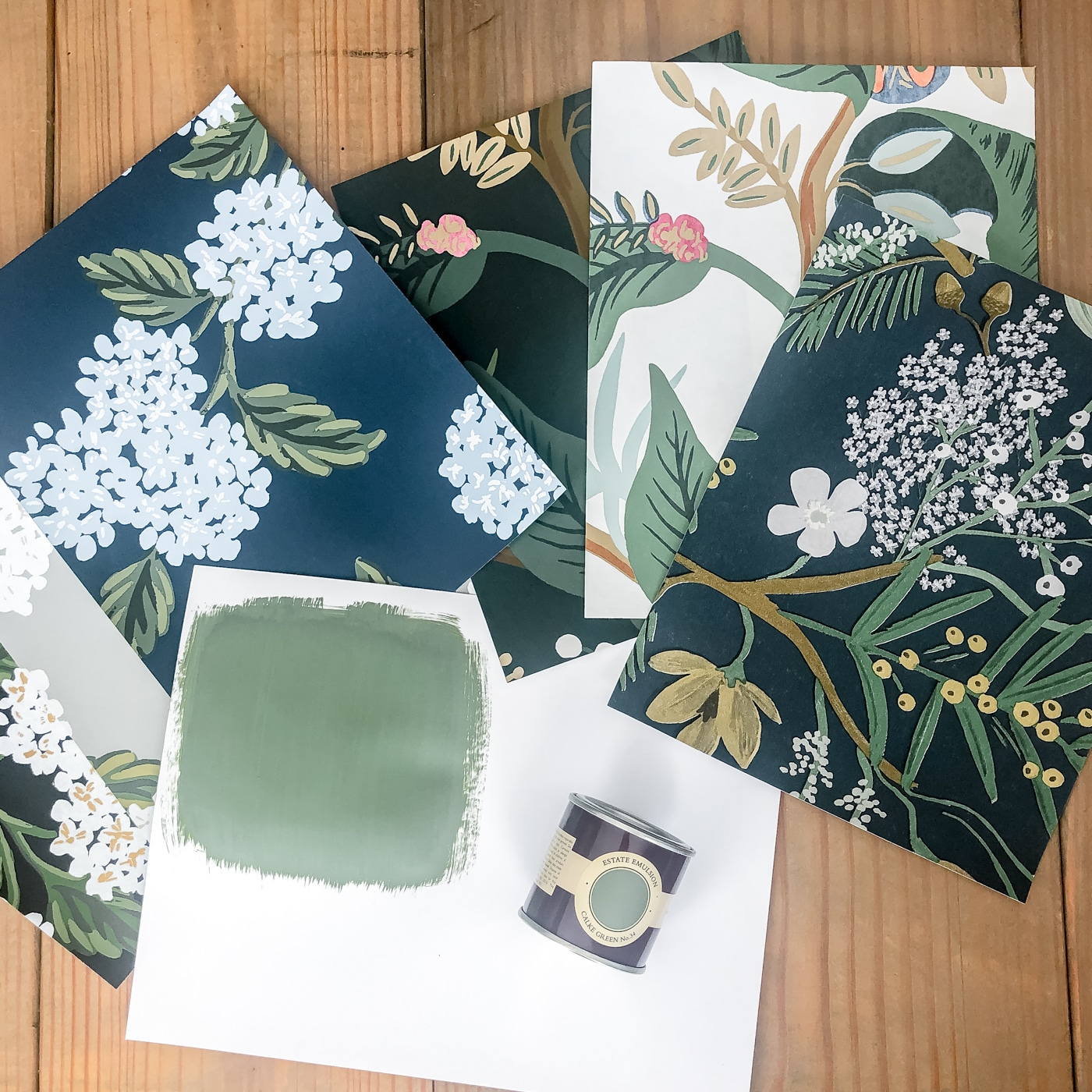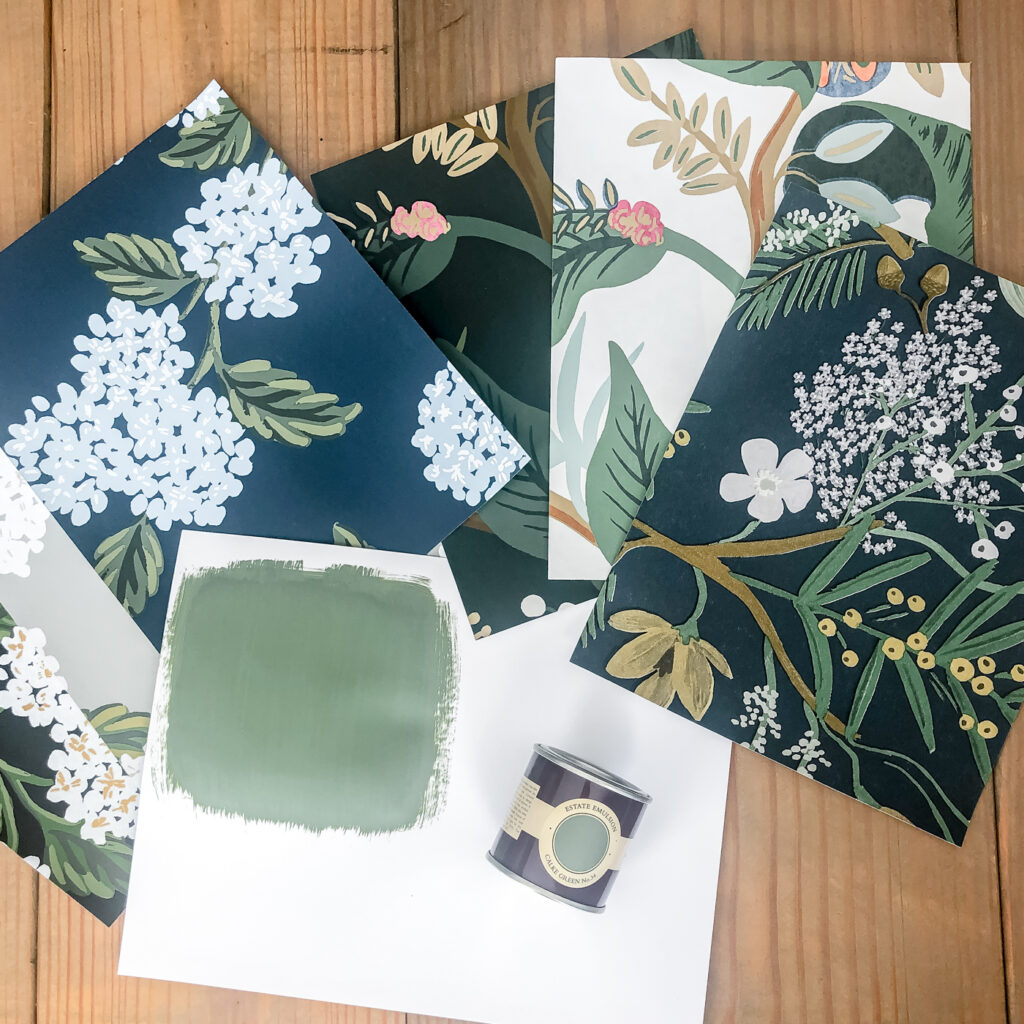 I wanted a traditional sage green paint color to coordinate with the hydrangea wallpaper. And I think this Calke Green by Farrow & Ball will be the perfect color! I'm going to try my hand at painting the inside of the door and the trim green as well. I think it's going to look so good!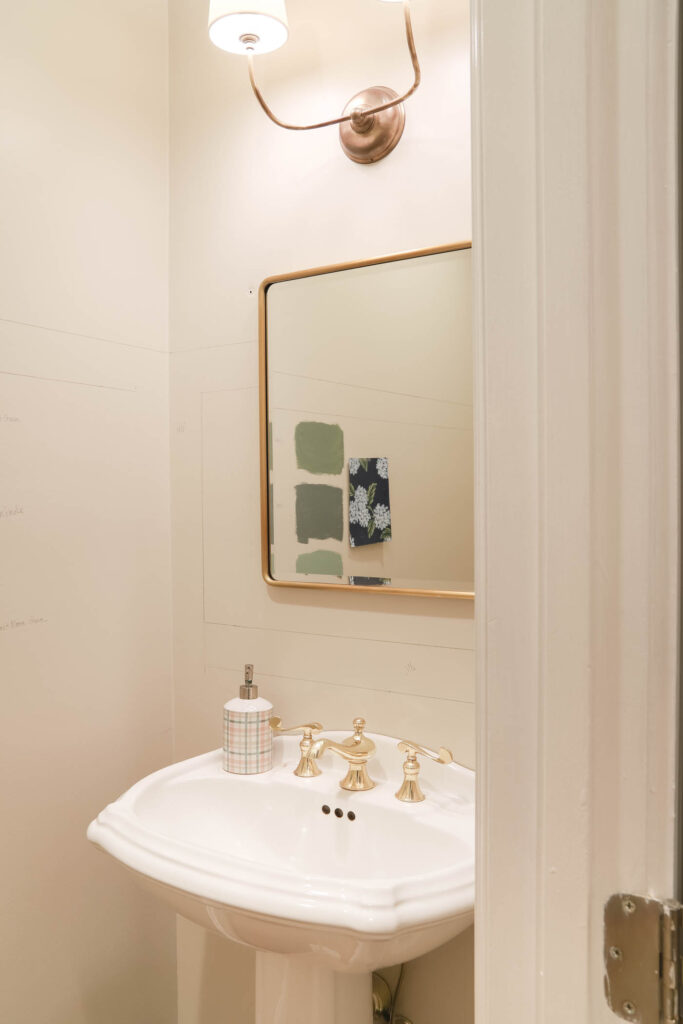 Most everything else in the design plan is simply details and wall treatments! I plan to do a picture frame moulding on the bottom 2/3rds of the wall and put the wallpaper above that. If you zoom in on some of the photos, you can see where I've marked some of the walls already. I'm so excited to see it all come together.
And that pretty art piece I shared in the design board, I already have! I bought it for my kitchen makeover, but it didn't work like I had hoped. So, it's just been hanging out waiting for the right place. And I think the bathroom is going to be the perfect spot!
I can't wait to share the after!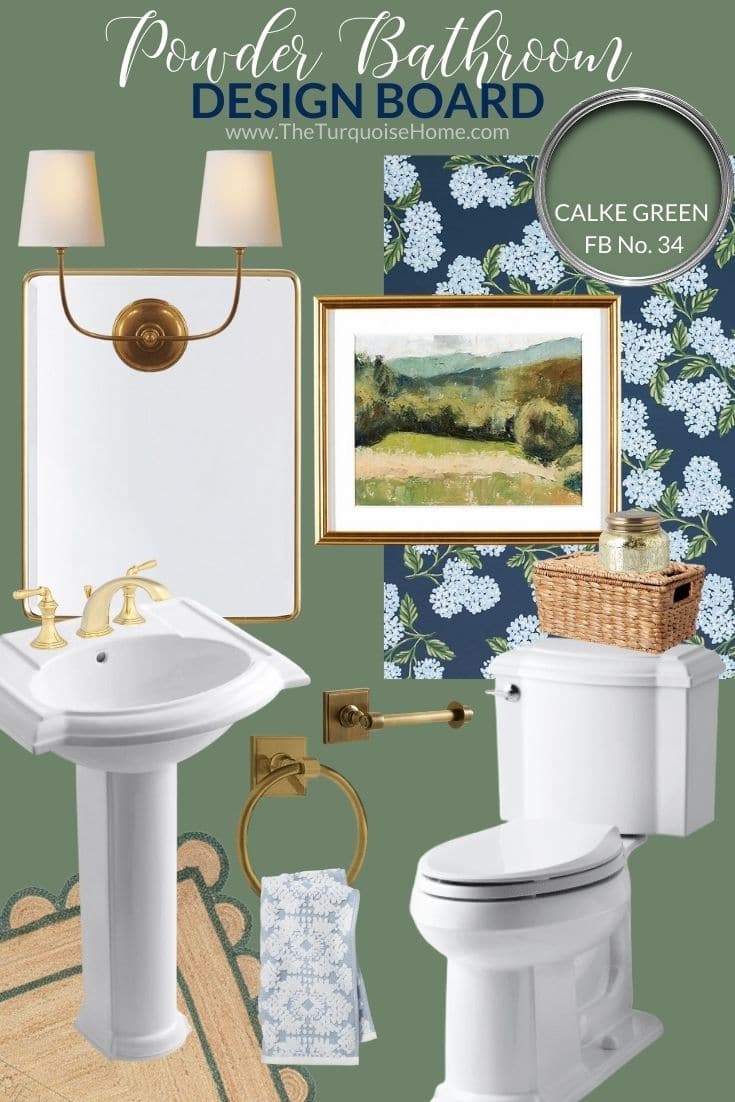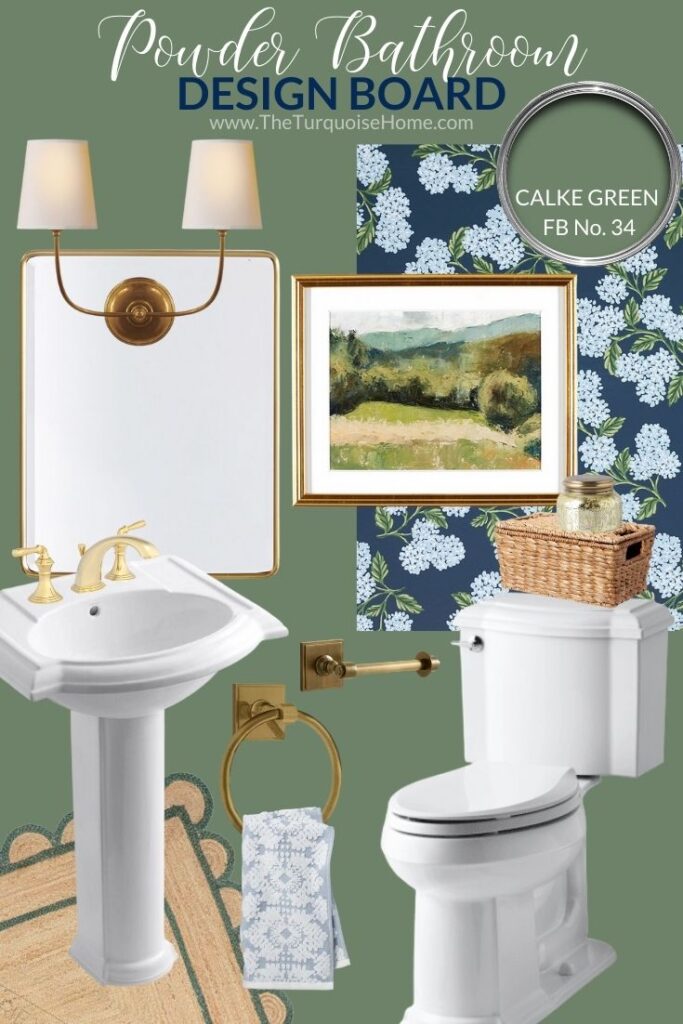 MORE POSTS YOU WILL LOVE: