Fall Decorating Plans 2021
Gather ideas for decorating your home for fall with these Fall Decorating Design Boards! I've learned that less is more. And by adding textures and warm colors to my home, it transition perfectly into the fall season!
While others are sharing their already decorated fall homes, I'm just now getting started. 😜 I've been known to decorate my home super early in the past, but I've refused to rush around and get it done early this year.
This post contains affiliate links for your convenience. See my full disclosure policy.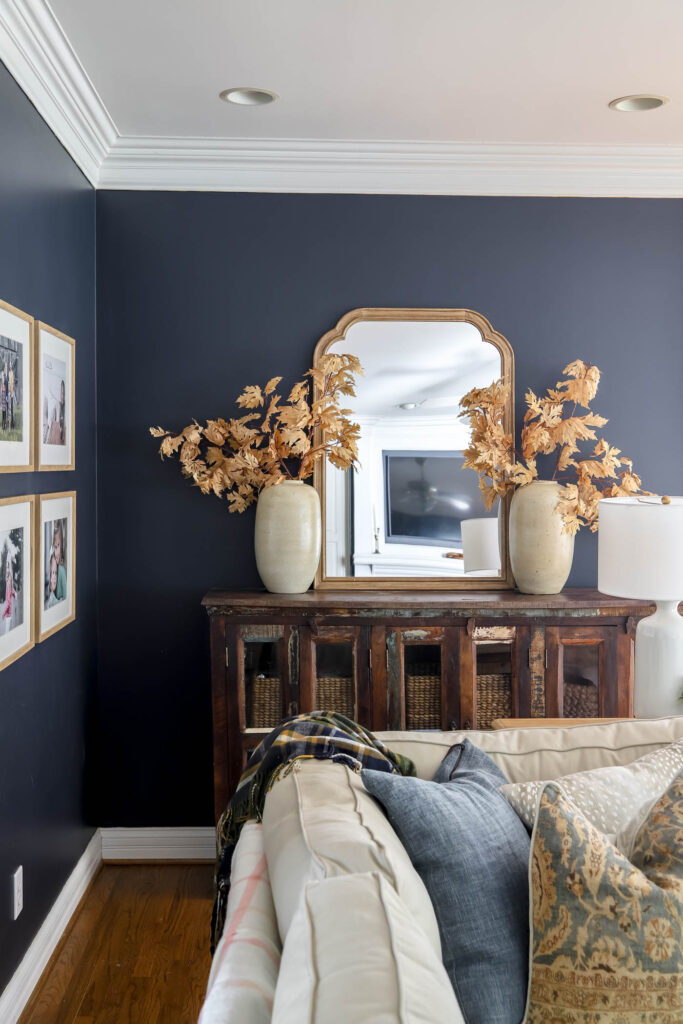 I'm also still figuring out my decor in this new house. This is only the 2nd fall season in our current home and I'm changing the way I decorate seasonally. (See how I decorated simply for fall last year.)
Instead of doing a total overhaul of all my decor, I've decorated with more year 'round items. And I change out a few things here and there.
I'd rather add a few nice pieces to my seasonal decor collection that buy all new stuff each year. Give me classic pieces over clutter! And I like reusing the pieces I've used before. Let's make an investment in some pieces and use them over and over again.
So, I'll share a visions for some spaces in my home and hopefully that will inspire you, too!
The Fall Living Room
Again, I'm using a lot of the same things I've used in the year's past, like the Palna pillow covers that I love. The midnight linen and antelope print pillows stay on my couch all year long. But I change out an accent pillow each season. Keeps things simple!
I invested in two of these large artisan vases this year for holding my favorite golden autumn leaf stems. They seem to fit perfectly in my space. And the color of the vases is perfect for fall!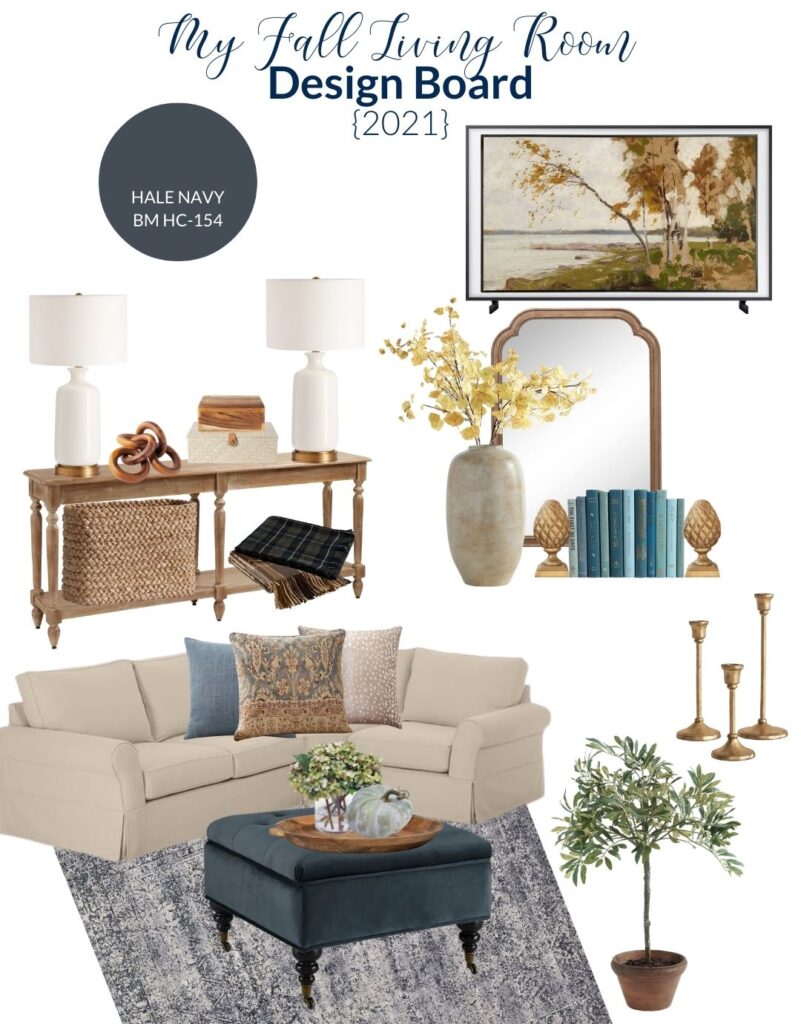 Frame TV | Frame TV art | Everett Console Table | Console Basket | White & Brass Lamps | Wood Decorative Box | Woven Decorative Box | Teak Wood Chain Decor | Green/Navy Throw Blanket | Brown Plaid Throw Blanket | Large Artisan Vase | Autumn Leaf Stems | Wood Framed Mirror | Collection of Books | Brass Acorn Bookends | PB Comfort Sofa | Midnight Linen Pillow Cover | Antelope Print Pillow Cover | Palna Pillow Cover | Blue Rug | Blue Storage Ottoman | Wooden Tray | Faux Hydrangeas in Water | Sage Pumpkin | Candle sticks | Olive Topiary Tree
I will change out the topiaries on my mantel to some little olive topiary trees. And put some of my neutral pumpkins around. I'll gather up some fall colored throw blankets and change out the art on my Frame TV and we're good to go!
The Fall Dining Room
This is a fun sneak peek at the future of my dining room! 👀 I recently received my great-grandmother's antique dining room furniture and it's so pretty!
I haven't shared it yet, but I'll share it soon! When I said goodbye to my DIY farmhouse furniture in the spring, I had no idea that this sweet family heirloom furniture would be headed my way.
I'll share more of the story when I share my plans for the space. But for now, this is a little sneak peek at the direction we're heading in here! (Some of these items I still have to purchase, so they will be joining us down the line.)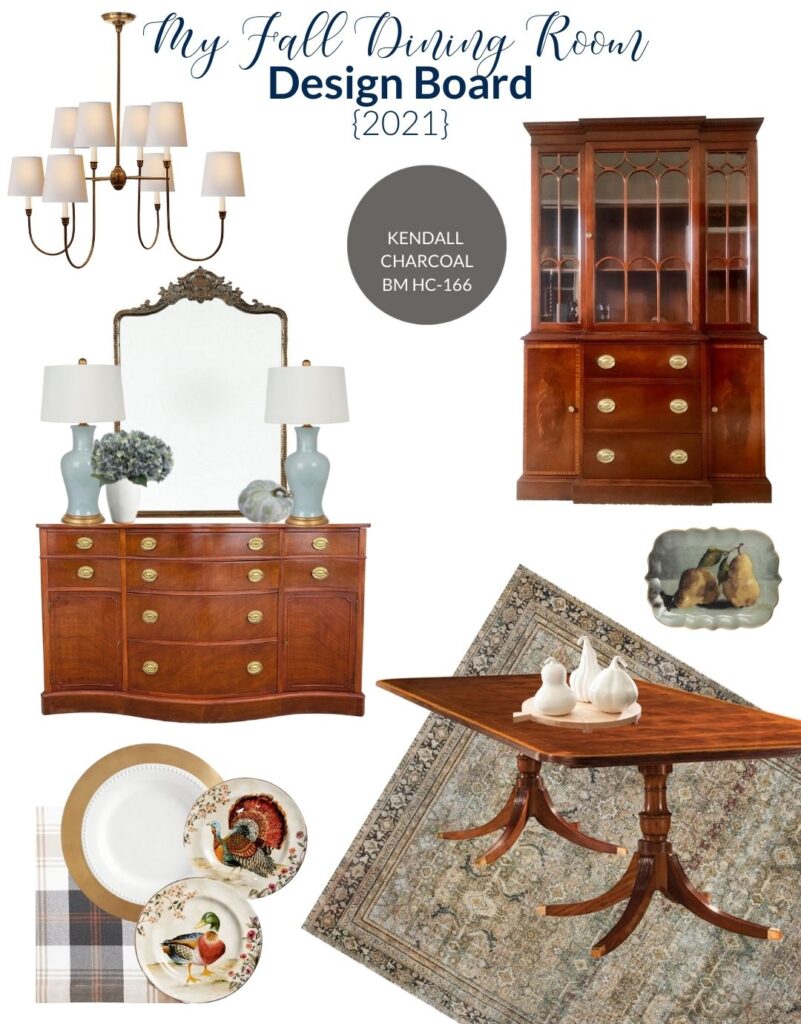 8-Light Chandelier | Antique Server | Metal Brass Mirror | Blue and Brass Lamps | Antique Hutch | Pear Platter | Hydrangea Stems | Sage Pumpkin | Antique Dining Table | Olive & Charcoal Rug | Plaid Table Cloth | Metal Charger | White Plates | Bird Salad Plates | Ceramic Gourds
Fall in the Kitchen
And finally the kitchen! I'm not changing much in here, but I will change the art out in my scalloped frames for sure.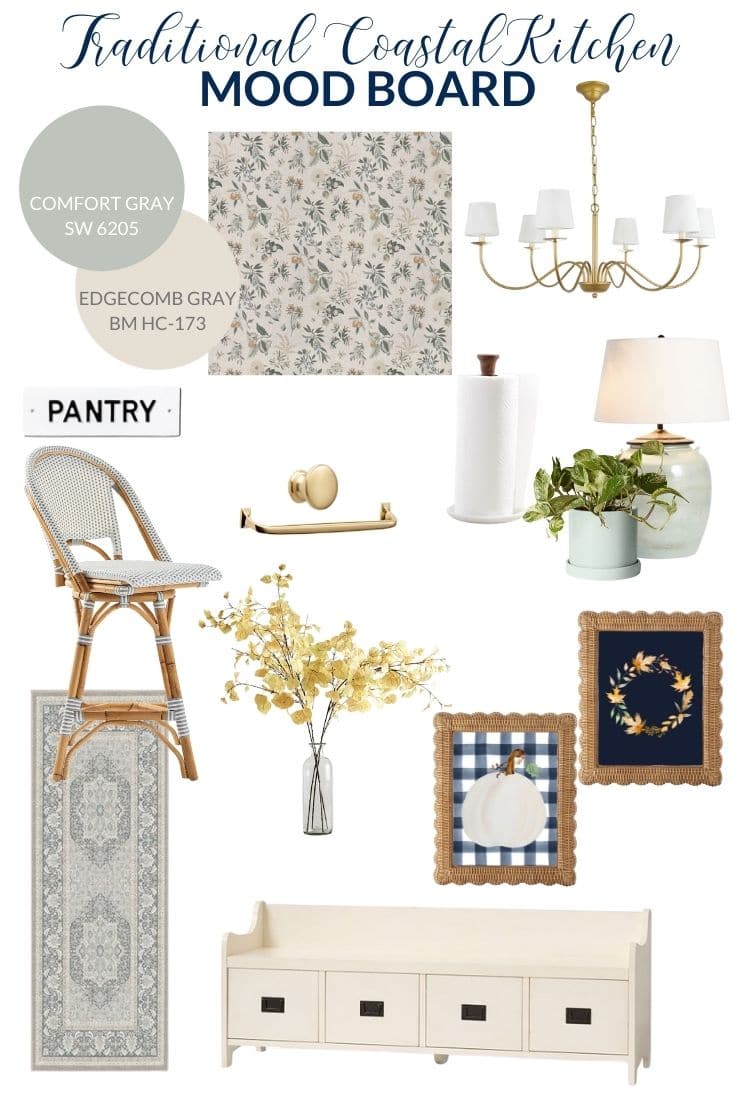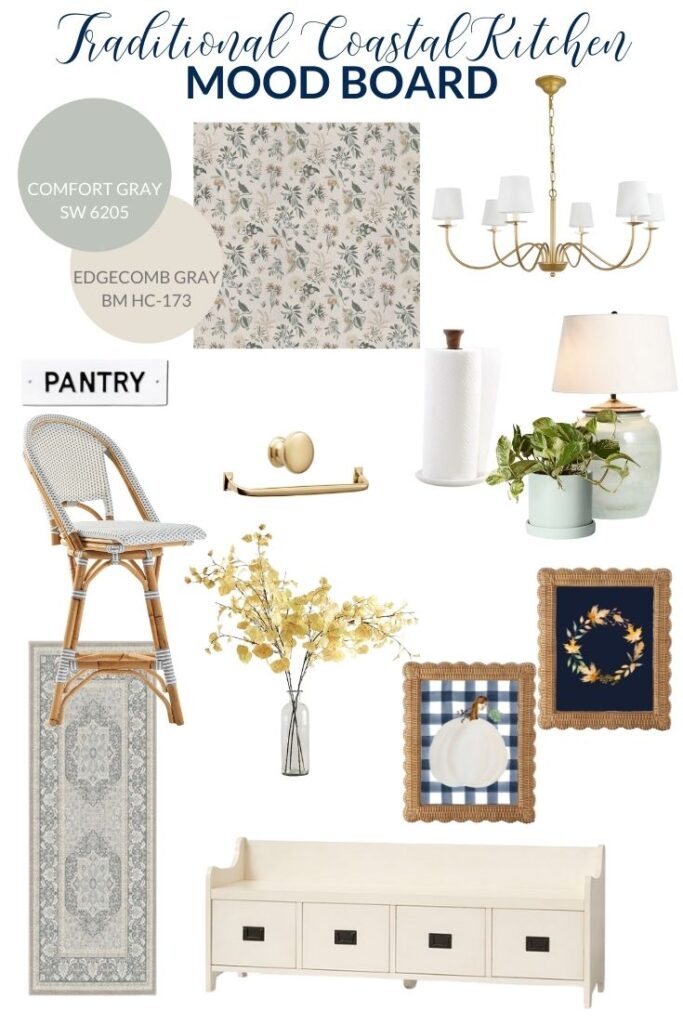 Botanical Fabric for Roman Shade | Chandelier | Pantry Sign | Paper Towel Holder | Marble Pothos Plant | Lamp | Brass Pull | Brass Knob | Swivel Riviera Counter Stool | Faux Autumn Leaf Stems | Scalloped Wicker Frames | Runner | Wade Bench | Art Prints – free printables coming soon!
And I'll add some pretty fall stems either on the island or on the kitchen table.
Those navy art prints are coming soon as free printables to a blog near you! 😉 The navy may feel a little harsh in here, but we have a navy cushion on the bench (just not pictured here) and the living room, right next to the kitchen, is navy. So it'll tie in together!
More Fall Posts You Will Love