This fall centerpiece is so fun to make with any type of dough bowl or tray you already have in your home. It's easy to add faux pumpkins and faux stems (or real!) with this simple step-by-step tutorial. The perfect addition to your dining room fall decor or any room in your home!
Hey friends! I'm so excited to be sharing my first fall post of the season! I love this season and all that it entails.
And I especially love a good fall floral centerpiece. I see them all over the place and I love them all, but I really wanted to make one with pieces I love. 
This is perfect for someone who has a container they love, like a dough bowl or a tray or box and some favorite florals and wants to try their hand at making their own.
Side note: It's funny … I actually made a fall centerpiece with a DIY tray a couple years ago and forgot about it until I started writing this post and searched for the DIY tray tutorial. Lo and behold, I found the lambs ear, cotton stem and pumpkin centerpiece in my archives and laughed a little bit to myself. It's my jam – what can I say?! 😜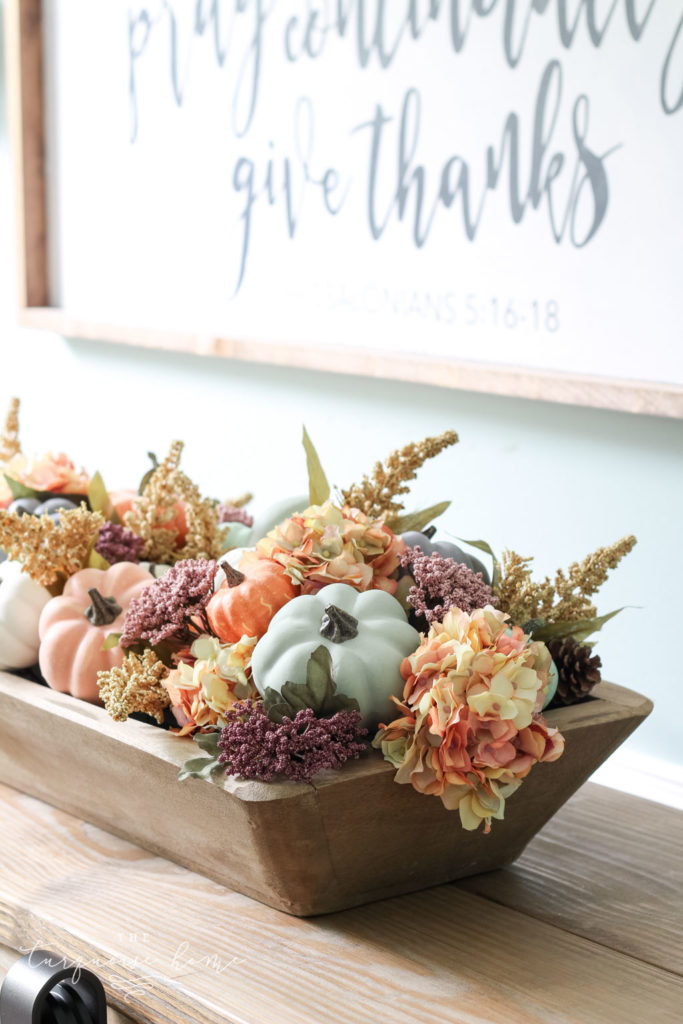 Thankfully this one turned out a little different and I'm digging the jewel tone fall colors that are everywhere right now.
And I think that although I still like the look of lamb's ear, it's a trend that's probably on it's way out. (See my previous DIY fall centerpiece.) So I'm glad to see that I picked different stems this year. Hopefully it gives you some different decor ideas as you're decorating this season.
I had my heart set on those faux hydrangea stems, because they are just so gorgeous. I tried to find some similar at Hobby Lobby, but the quality couldn't be matched and I splurged for the real deal. ☺️ I'm so glad I did! They make this piece, in my opinion.
Do you want to make one of your own? Let's grab some supplies first!
Supplies You'll Need for a DIY Pumpkin & Dough Bowl Fall Centerpiece
How to Make a DIY Fall Table Centerpiece
Step 1. Place the floral foam in the bottom of the tray or bowl.
I have also used mason jars in my taller wooden box centerpiece if the tray or bowl is deeper, so that's an option too if you don't have floral foam on hand.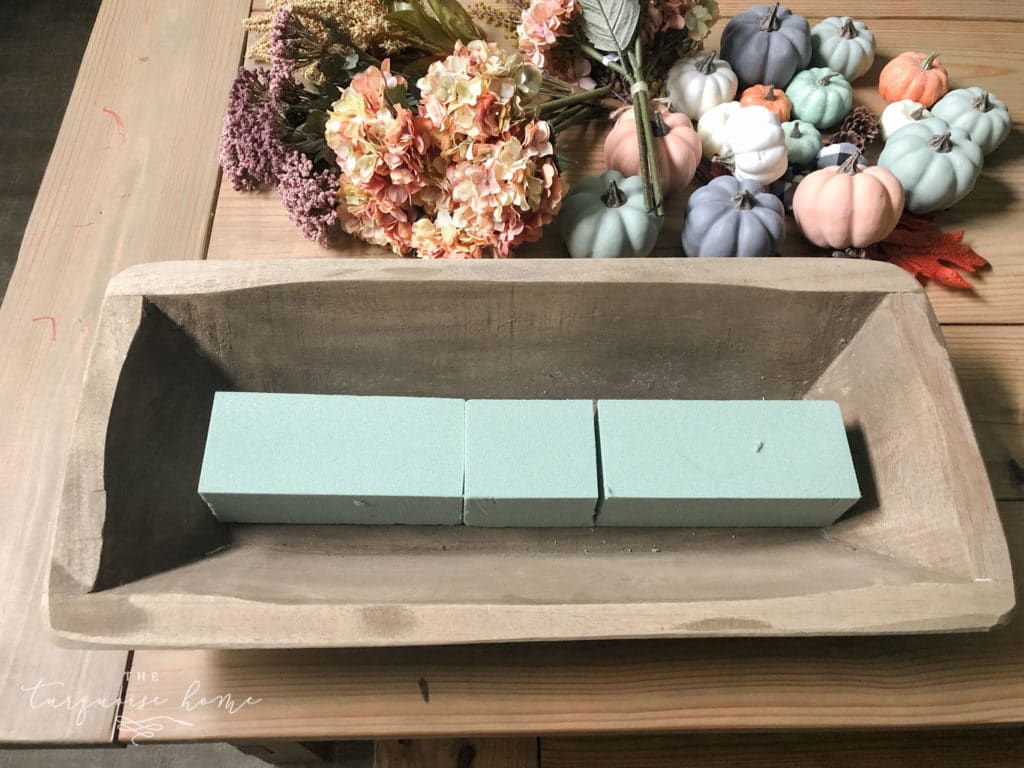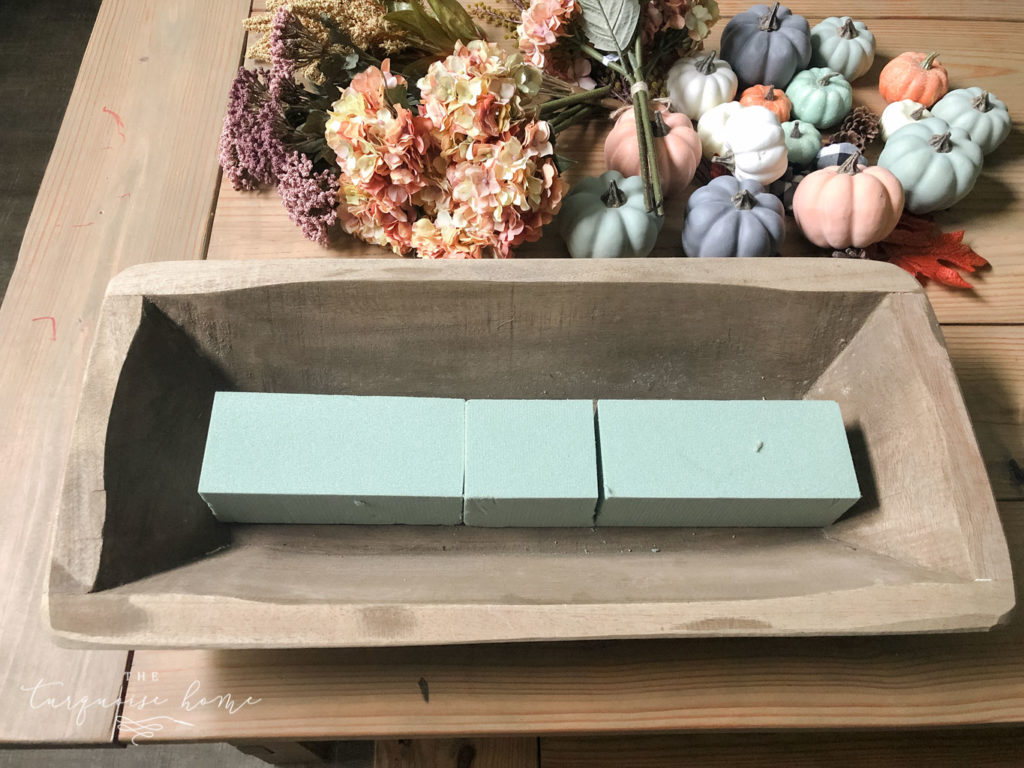 Step 2. Stick the skewers into the largest foam pumpkins and randomly stick them into the floral foam with the skewers.
It's important to start with the largest pumpkins first! I cut my 12″ skewers down to 6″.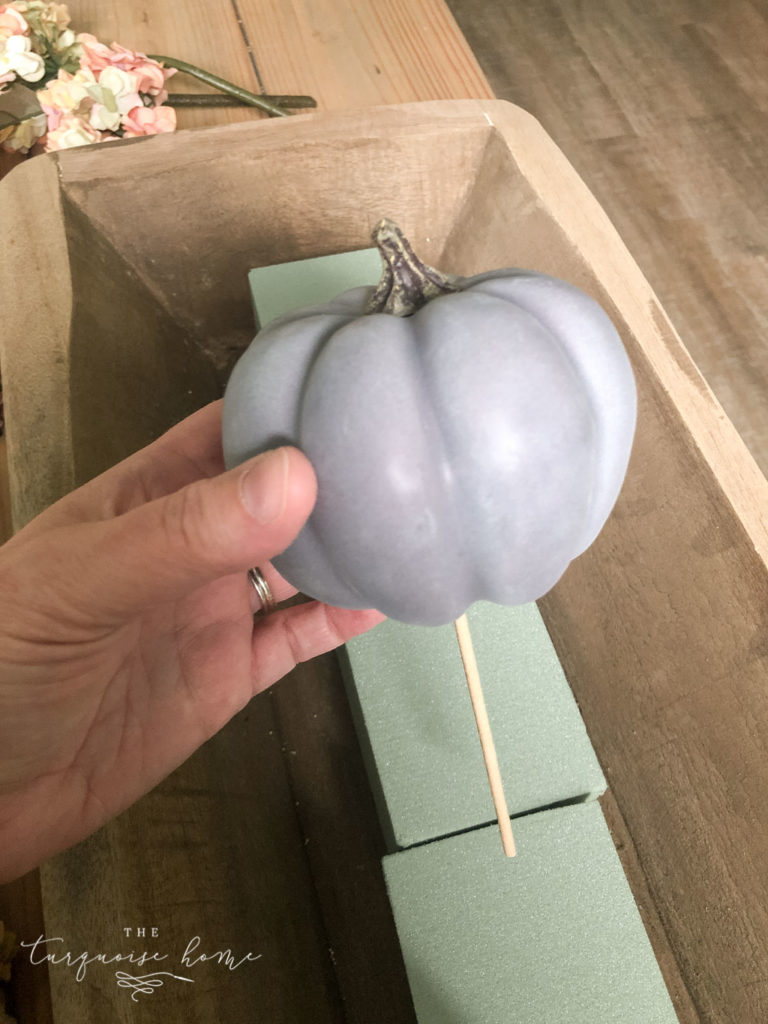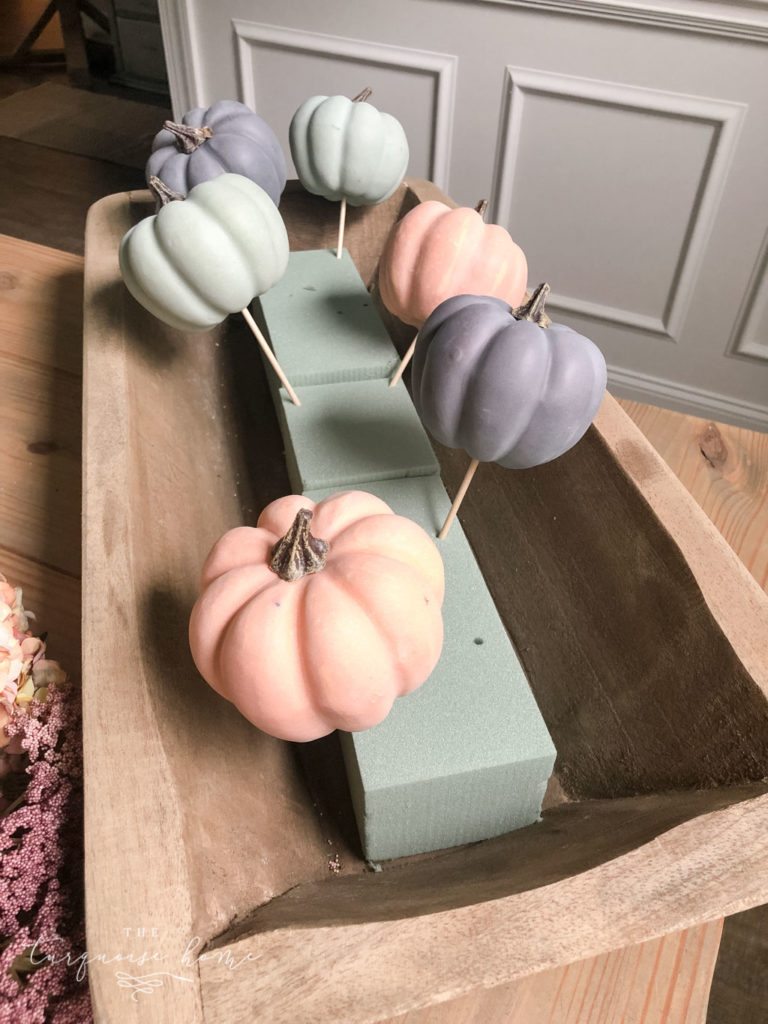 Step 3. Repeat Step 2 with the smaller pumpkins until you have all the pumpkins in the foam.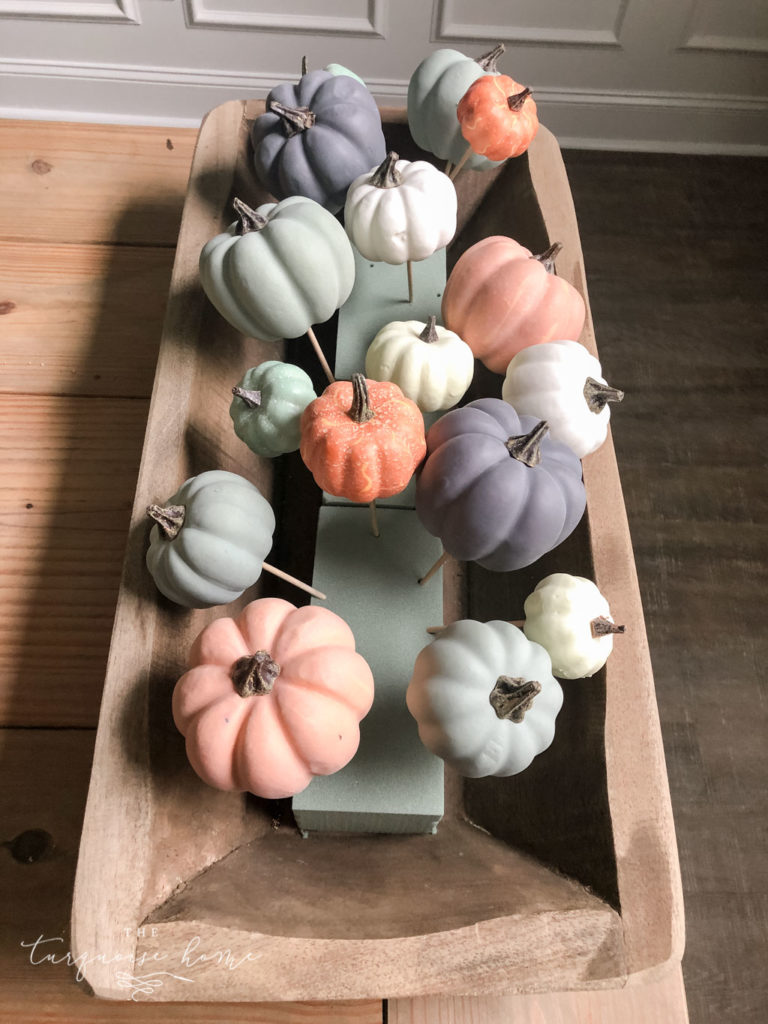 Step 4. Start filling in the openings with the largest floral stem.
This will be the hydrangeas. I didn't want to stick them in the foam, so I just laid them around the bowl.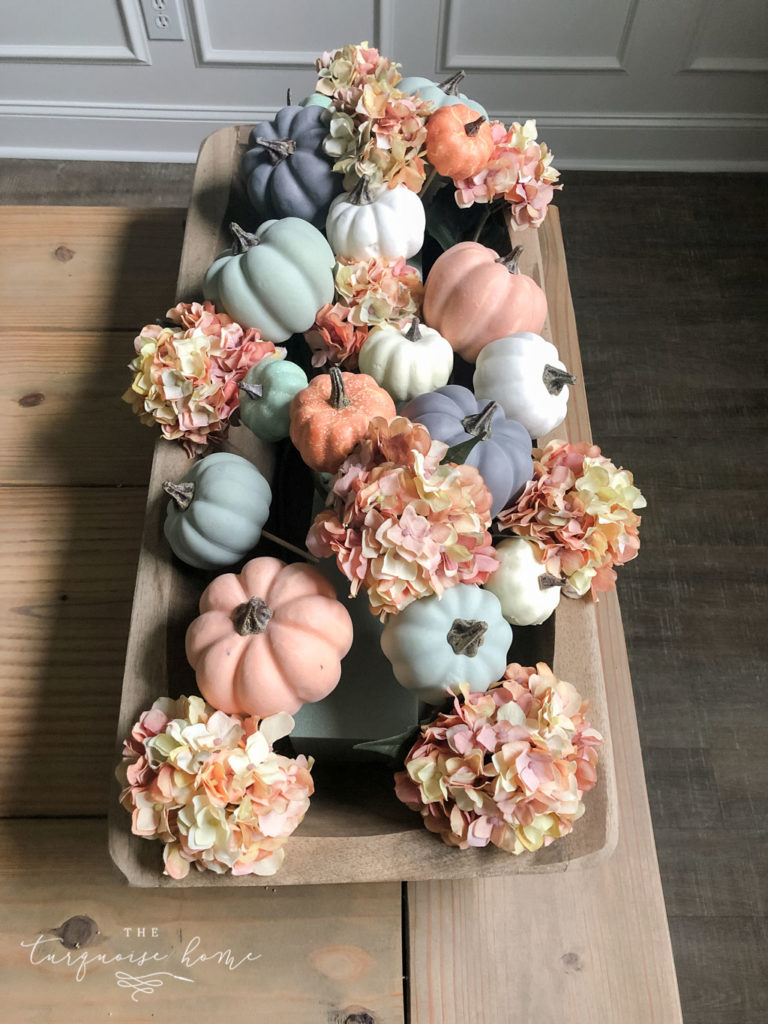 Step 5. Continue to fill in all of the openings with the floral stems until its all filled in!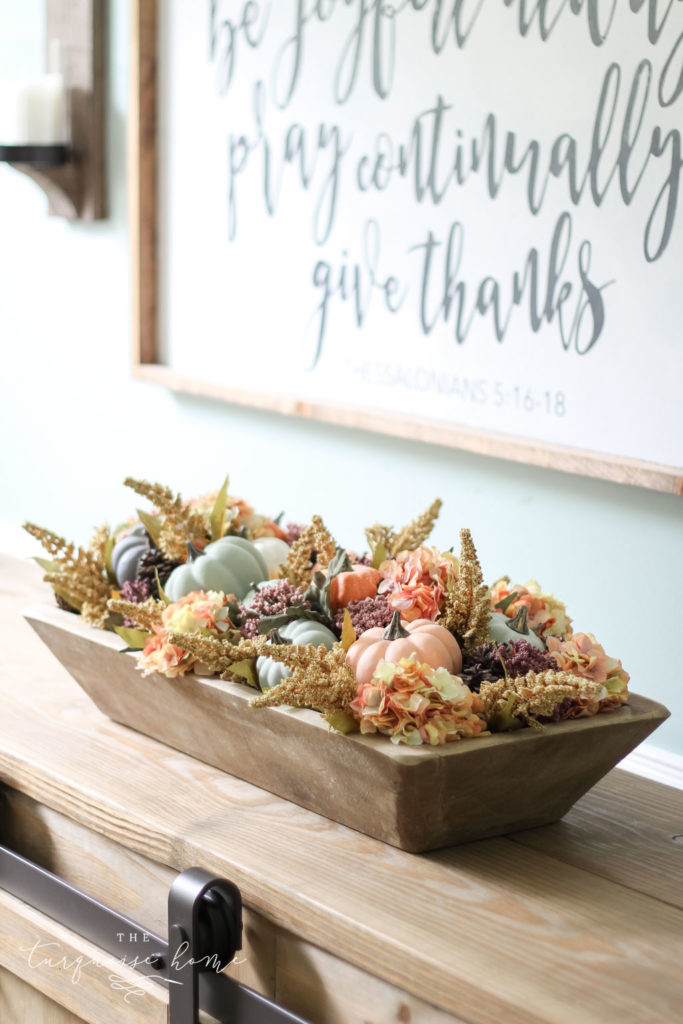 See what I mean about easy? The trick to a pretty arrangement is to start with the largest items and work backwards. It's the same method I use when decorating my Christmas tree. Start with the largest items first, then fill in with smaller items.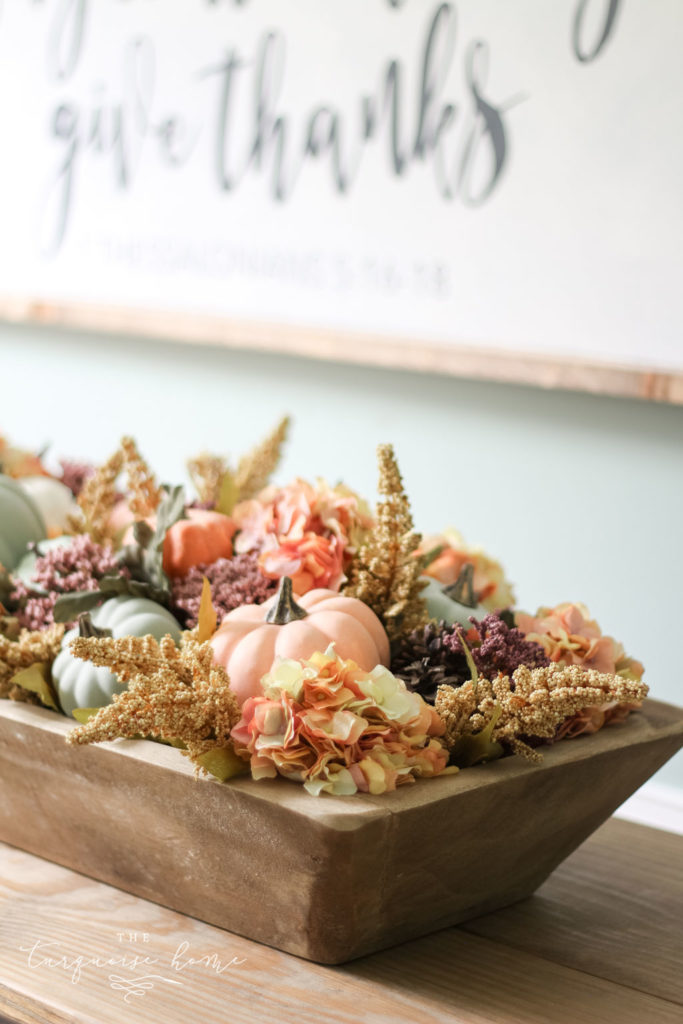 I love how the color palette of the stems and pumpkins turned out. You could always add pillar candles to it, too, for a different touch. That would be so cute!
This centerpiece bowl would be perfect to adorn your dinner table as a Thanksgiving/fall centerpiece idea along with a simple table runner. I definitely have some plans to use it on my dining table this fall season, which I'm sure you'll see in some future posts! ☺️
MORE POSTS YOU WILL LOVE: