White Dove by Benjamin Moore – one of my all-time, favorite paint colors! This color is the PERFECT blend of white and cream that gives you all the warmth and brightness you need.
Benjamin Moore's White Dove is a warm white that is more rich than many shades while also being brighter than many others. White Dove will remain crisp and clean while being inviting and cozy.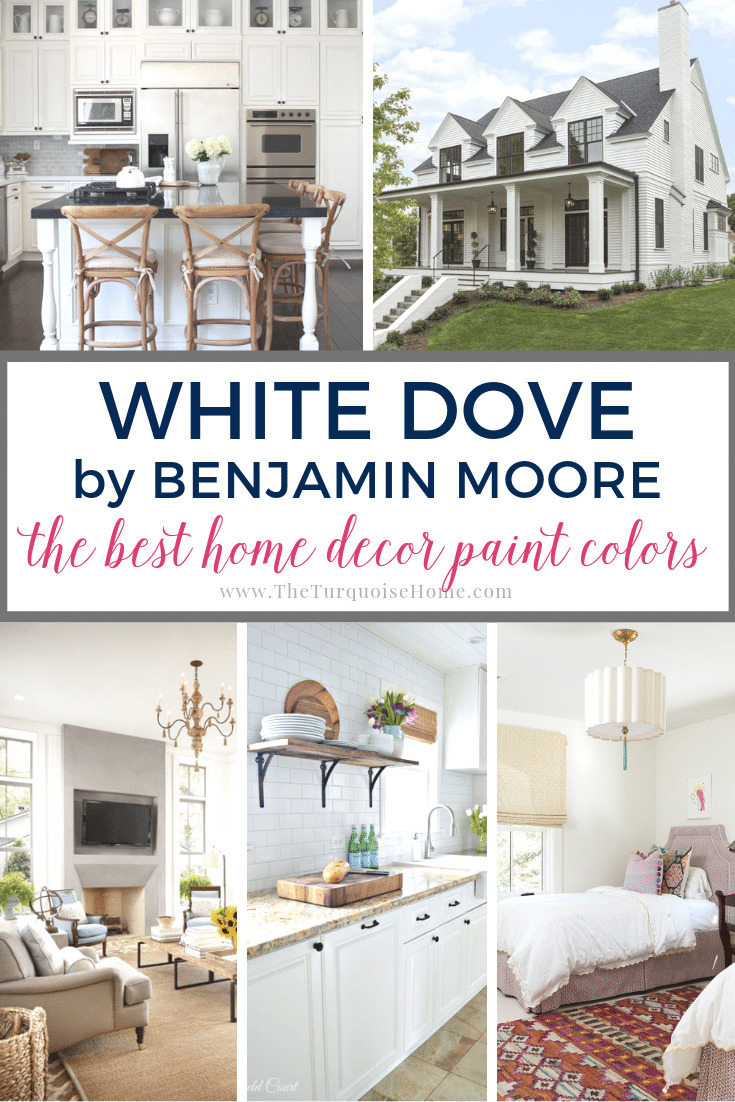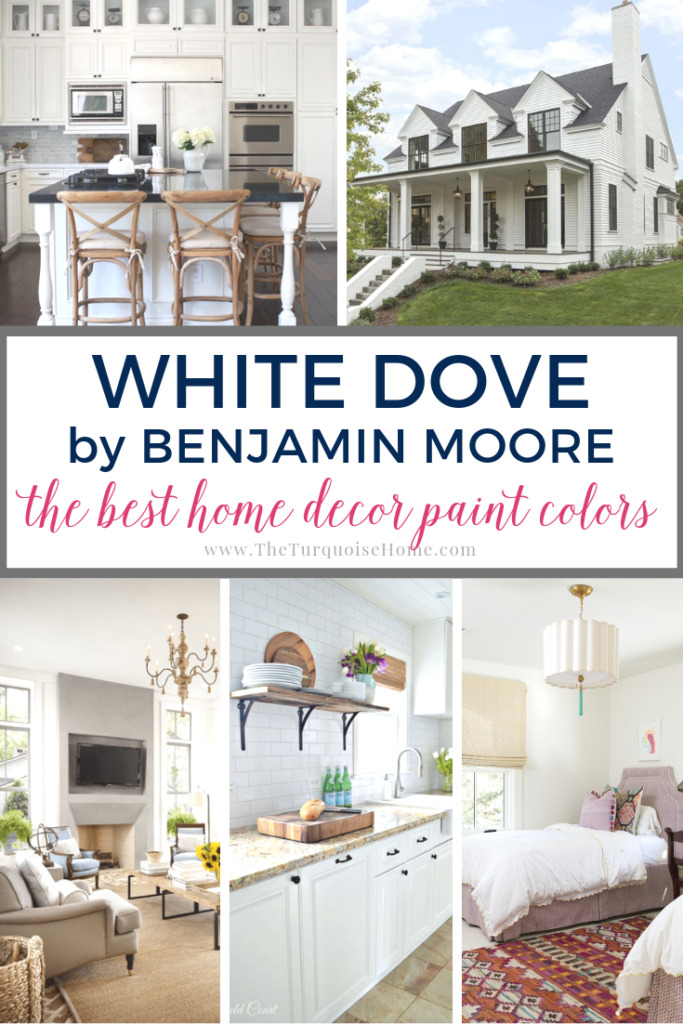 This post contains affiliate links for your convenience. See my full disclosure policy here.
If you are a fan of a white-painted room, this is one of the best shades you could pick because it's so darn livable. It also is an ideal white to choose for trim, too.
NOTE: If you're painting the room yourself, these tools will help tremendously. And this post will give you my best tips for painting a room in 5 easy steps.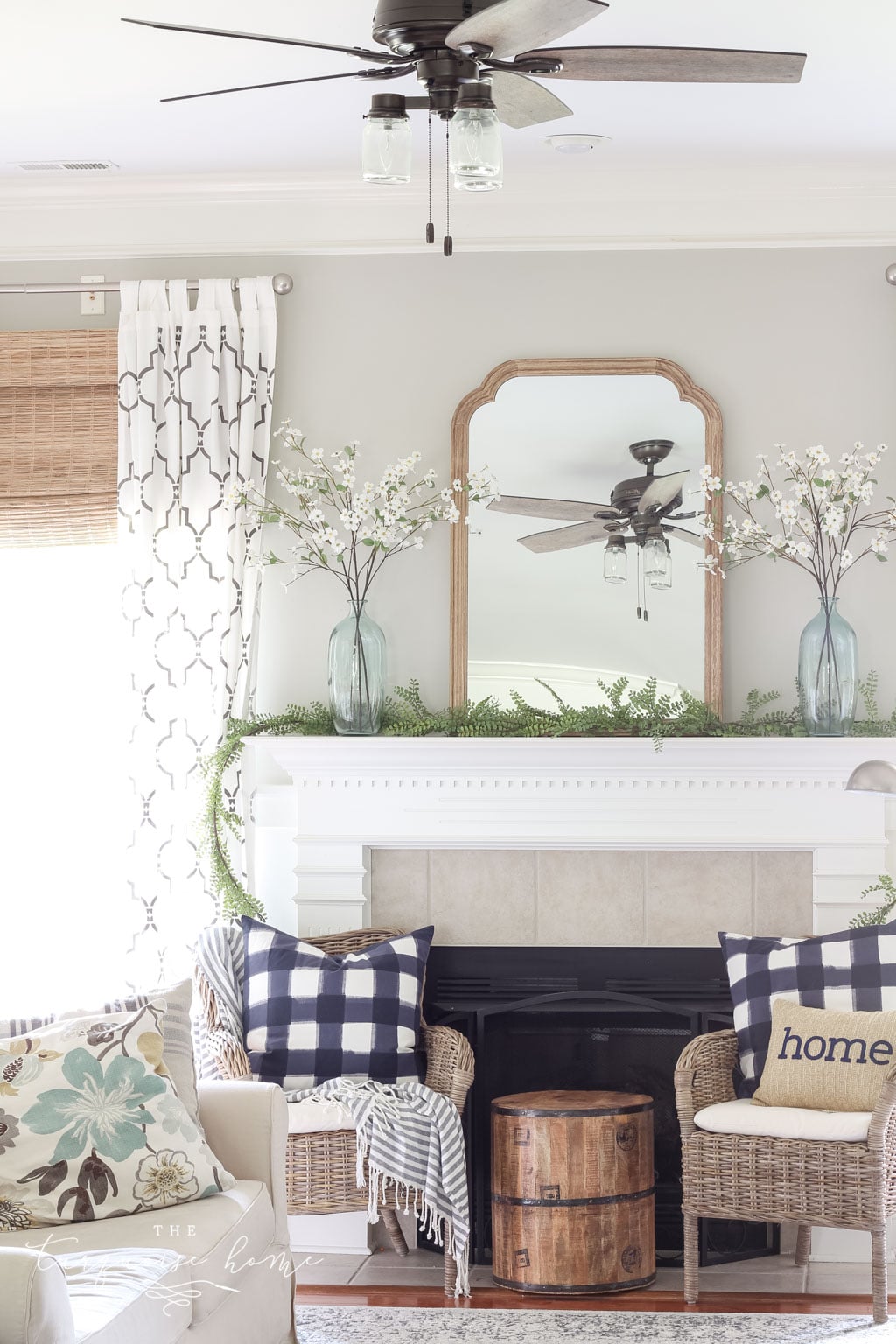 FREE BONUS!
5 Secrets Every Home
Decorator Knows
… to transform your home into your dream home!
White Dove Undertones
White Dove has a definite warm, creamy undertone. However, in a surprise twist, the shade can also show gray undertones, which helps the color not feel overly warm.
When placed against a light gray, the swatch of White Dove presents with a taupe undertone, making it almost a greige. However, place it against a darker shade and the color instantly looks almost stark white. Amazing!!
Of course, any cream shade can also show its yellow undertones depending on the color pairings and lighting. That's why getting those swatches when painting the walls is so important!
White Dove's gray and cream undertones may leave some wondering if it will become muddy if placed with muddy or earthy colors. Usually, the answer is yes, but with this amazing color, it is downright incredible that White Dove paint color will remain crisp when placed with most muddy shades imaginable!
Again, it is important to test White Dove in the room you're going to paint. With enough natural light, White Dove will look good on any wall or as the trim color with practically any color.
If you have a room that doesn't get a lot of light, or it's usually gray outside, a lighter white may be a better choice. However, White Dove still does well in that room, just be prepared for it to feel much warmer than you might imagine.
Coordinating Colors
White Dove goes with practically anything, though it does pair with some shades better than others. Benjamin Moore recommends:
Cheating Heart
Silver Lake
Yukon Sky
Horizon Gray
Others that absolutely go with it include some of my other favorite shades including:
Northampton Putty
Chocolate Fondue
Flint
Sea Haze
A note on trim and walls: using the same white for both works really well, especially for White Dove.
You can use different finishes to create a variation in look. A semi-gloss or gloss finish will make the white trim look brighter than a more flat finish like an eggshell.
Another thing to take into consideration is if other whites are being used in the room, such as appliances. In the kitchen, White Dove generally looks best with stainless steel appliances.
Rooms with White Dove
Let's take a look at some examples of BM White Dove in various rooms. Note the different undertones with pairings (like hardwood floors) and lighting in each room to get a feel for what could be in your home.
Bedrooms with White Dove
This White Dove bedroom by Kylie M. Interiors is a prime example of using the tone with a gray. It creates a warm feeling without being stark. The cream undertones are brought out with the natural light and juxtaposition with the gray.
In contrast, this kids bedroom with White Dove has a brighter tone. The paint gives a warm feeling to the room while still being light and airy.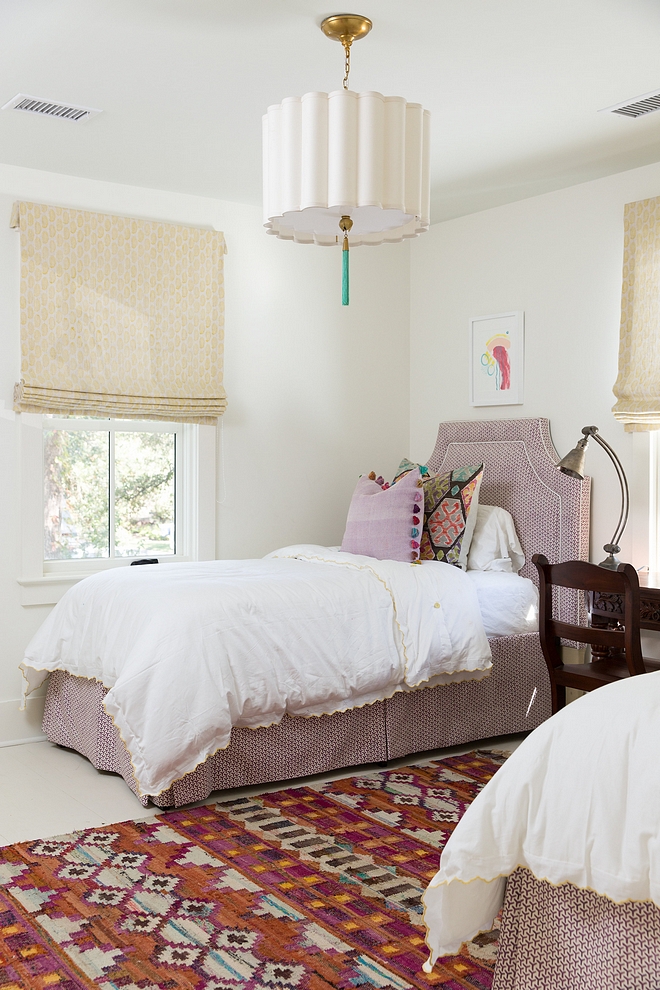 White Dove Bathrooms
A different way to view White Dove is in this bathroom from Semerijan Interiors. This image shows a side that is a bit more stark (although not in a bad way at all).
Both the cabinets and walls, as well as the trim, are White Dove, giving a united look across the bathroom. It gives a clean look without being abrasive.
Alternatively, this bathroom shows White Dove pairing with a navy blue wall color. The navy's gray undertones are brought out by the gray in the White Dove.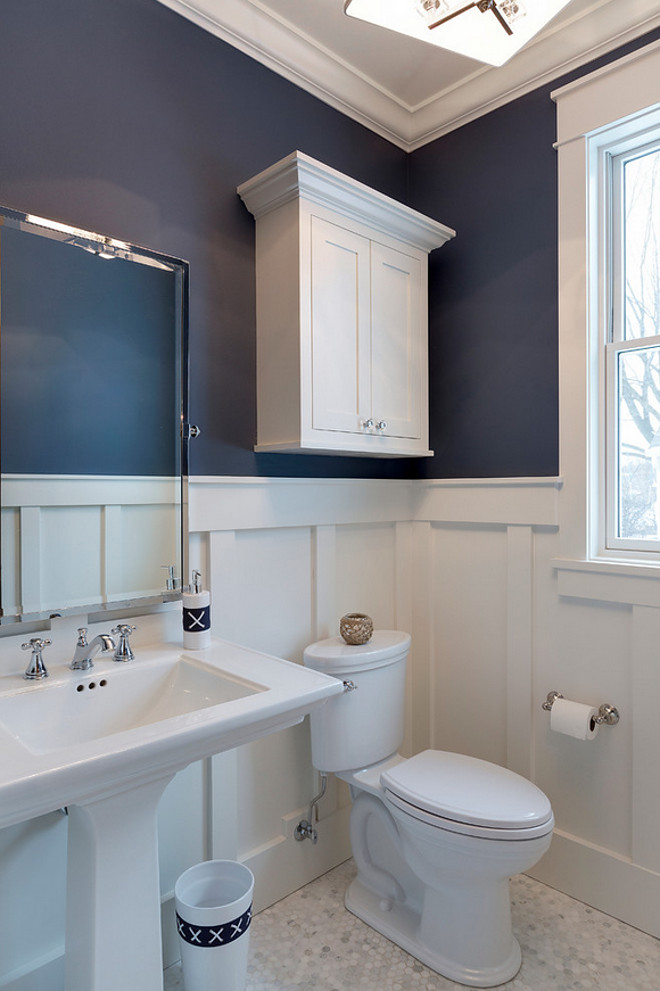 Kitchens featuring White Dove
From Maison De Cinq's kitchen remodel, this kitchen shows White Dove in a neutral light. The gray undertones are present, brought out by the natural light and the gray backsplash. The dark marble island is made all the more dramatic against the White Dove kitchen cabinets.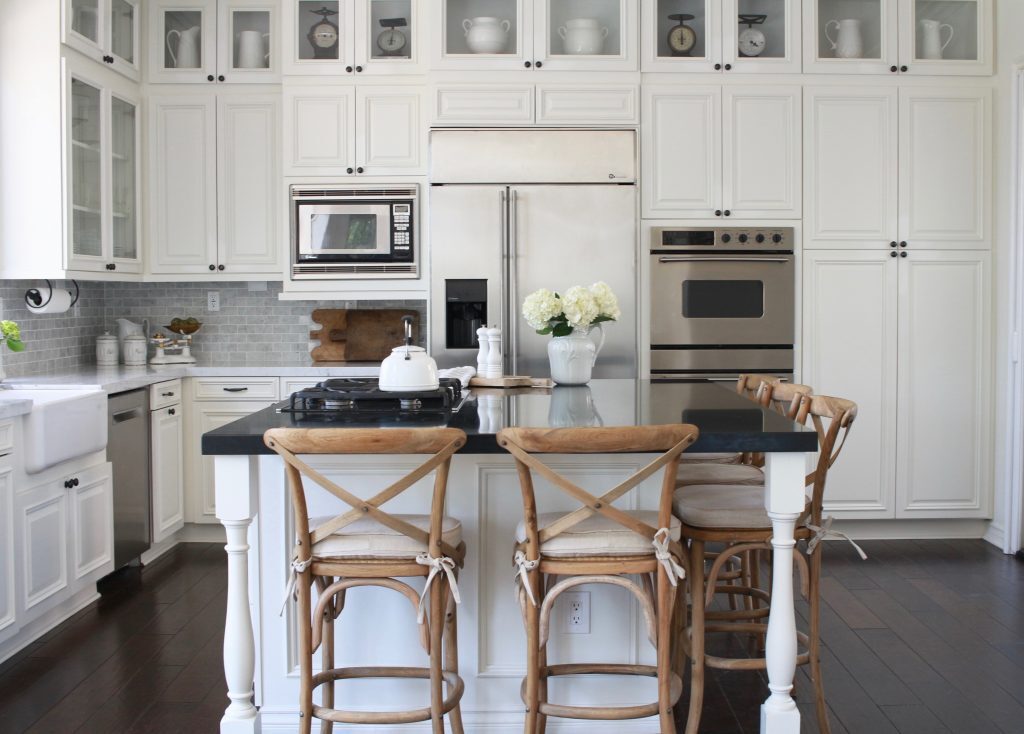 Here's another kitchen remodel, this time from Chatfield Court. This White Dove kitchen shows how it can pair with any color. The wood accents and light floors do just as well with White Dove as the darker accents in the previous kitchen.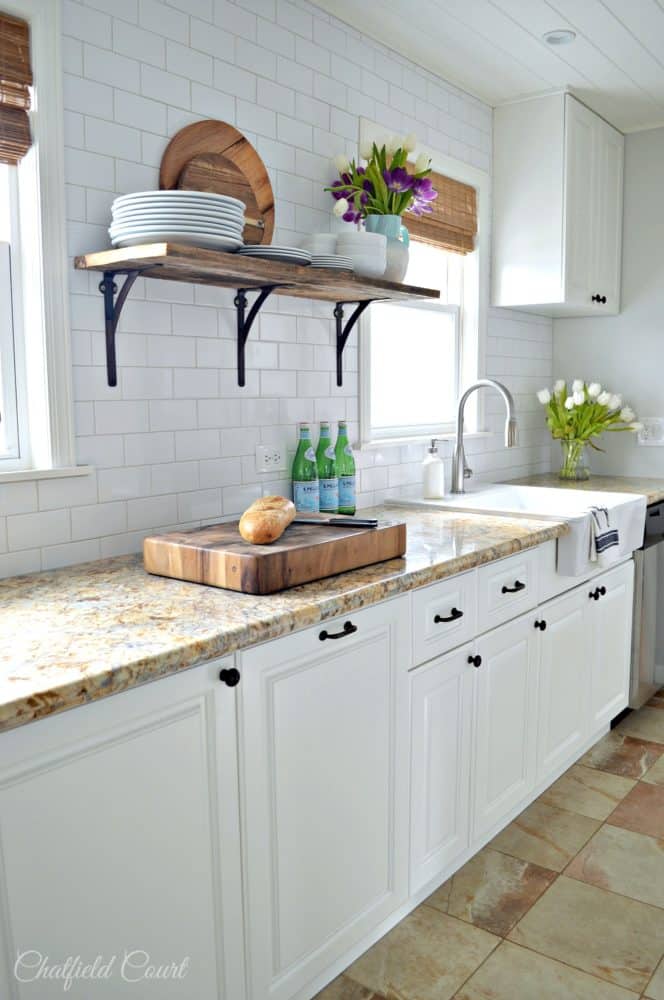 Dining and Living Rooms with White Dove
This dining room with White Dove was also featured in the Hale Navy post. In this setting, the gray undertones of Hale Navy and White Dove complement each other beautifully—this is one of my all-time favorite pairings!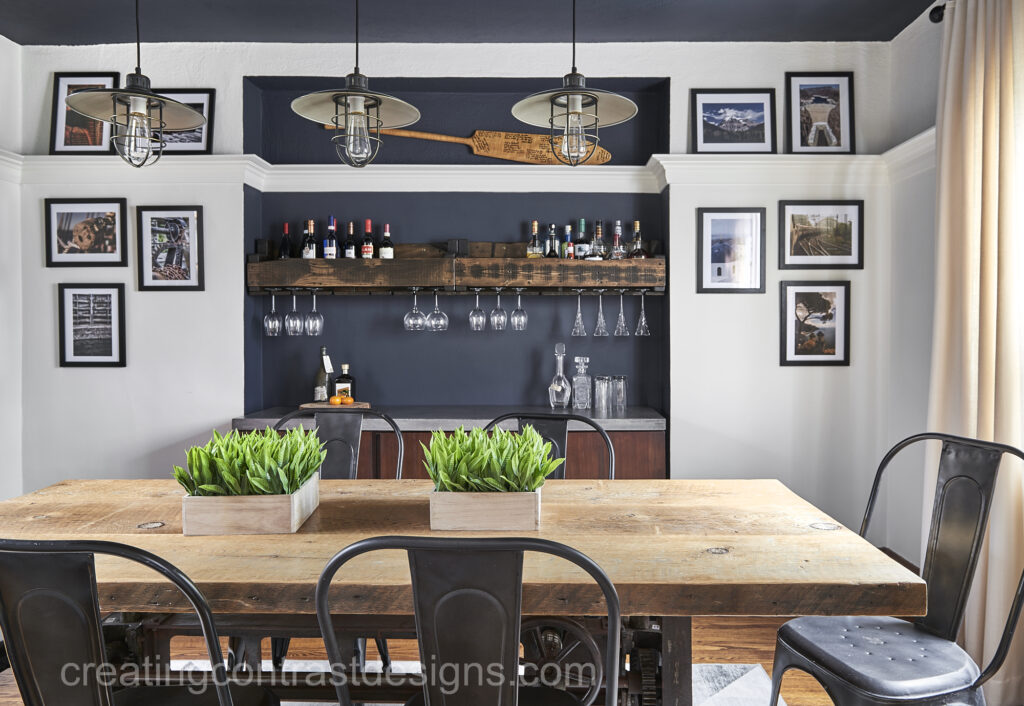 This White Dove living room shared by Life on Hill St. shows how bright White Dove can be. The mixture of light browns across the room makes the room feel open yet inviting and cozy.
Similar to the previous, this family room with White Dove done by The Decorologist plays with brown accents.
From her page, this remodel was done in an attempt to soften the odd angles of the room, which seem completely normal with White Dove on the walls and trim. It's warm and bright.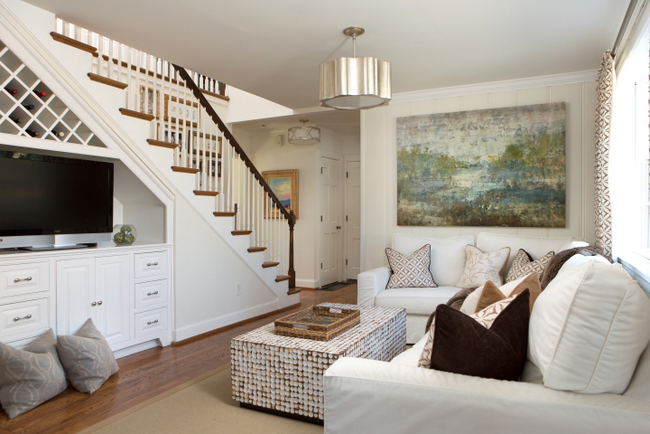 White Dove Exteriors
This White Dove exterior is shared by Plank and Pillow. Paired with the gray roof and accents, the gray undertones of White Dove are present. With this lighting and the greenery, the creaminess of White Dove is offset, leaving a pleasant white.
This next home shows what a White Dove exterior looks like in shadowed light. It's still a bright white, just brought down in light reflection. Expect this look during noon each day depending on where you live.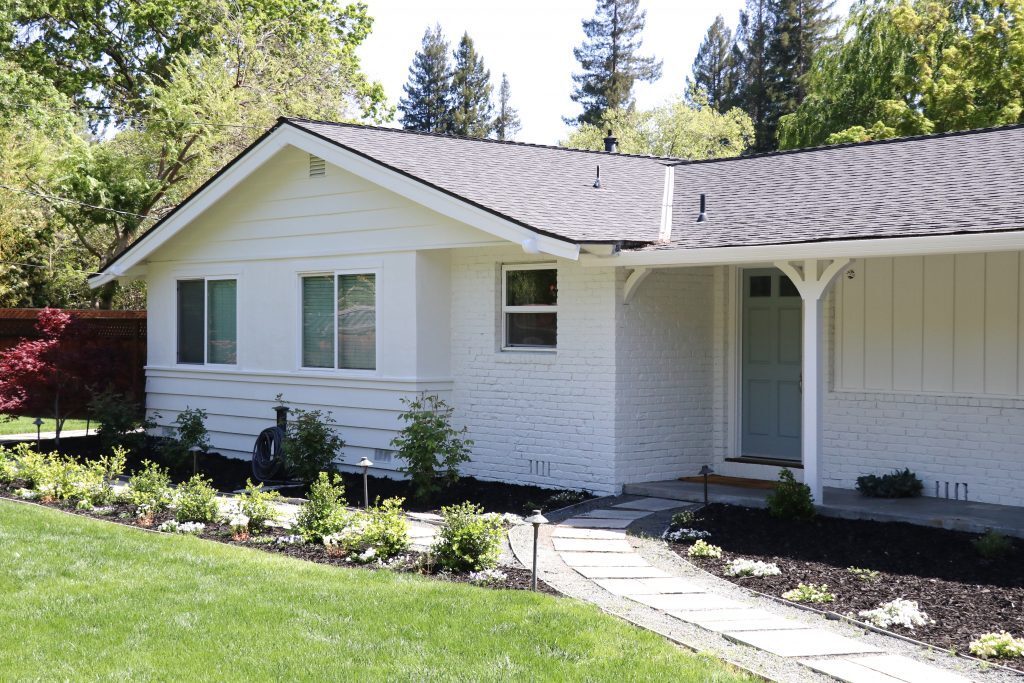 Have I convinced you yet? Isn't White Dove awesome? It's one of the best shades of white to use, in my opinion. Don't forget to check out some of my other favorite paint color shades here:
Tools to Help to Paint a Room Yourself
I've gathered some of the best tools for painting a room yourself. First of all, you'll want to check out this post I wrote: Painting a Room in 5 Easy Steps. These tools are the top tools I use when painting my own rooms, which is how they get painted 95% of the time!
Paint Brush – These paint brushes are a little more expensive than your basic brush, but they're worth it! I've used these brushes for more than a decade and if you wash them out well after each use, they will last for years.
Painter's Tape – a MUST have for taping off edges. You'll need to tape off all edges if you don't have a steady hand.
Drop Cloths – a must have if you don't have any laying around the house already.
Paint cup – Sure you could use any old cup, but I've come to swear by this one. The magnetic piece holds your brush cleanly in place when you need to take a break. And it fits my hand perfectly, keeping it from cramping.
Roller Tray – I've found the only paint tray I'll ever use again. The magnetic piece is great for holding the roller in place. And the liners are a luxury, but I won't paint without them because it makes clean up a breeze!
MORE POSTS YOU WILL LOVE: