DIY Fixer Upper Cathedral Window Frame
This DIY Fixer Upper Cathedral Window Frame is cheaper than I've found anywhere and super easy to create a beautiful piece for your home! It's "sort of" DIY because I didn't actually make the frame, but you can with a jigsaw if you want to! I just ordered the frame unfinished and then finished it myself in a rustic farmhouse, fixer upper-esque kind of way. 🙂
This post contains affiliate links for your convenience. See my full disclosure policy here.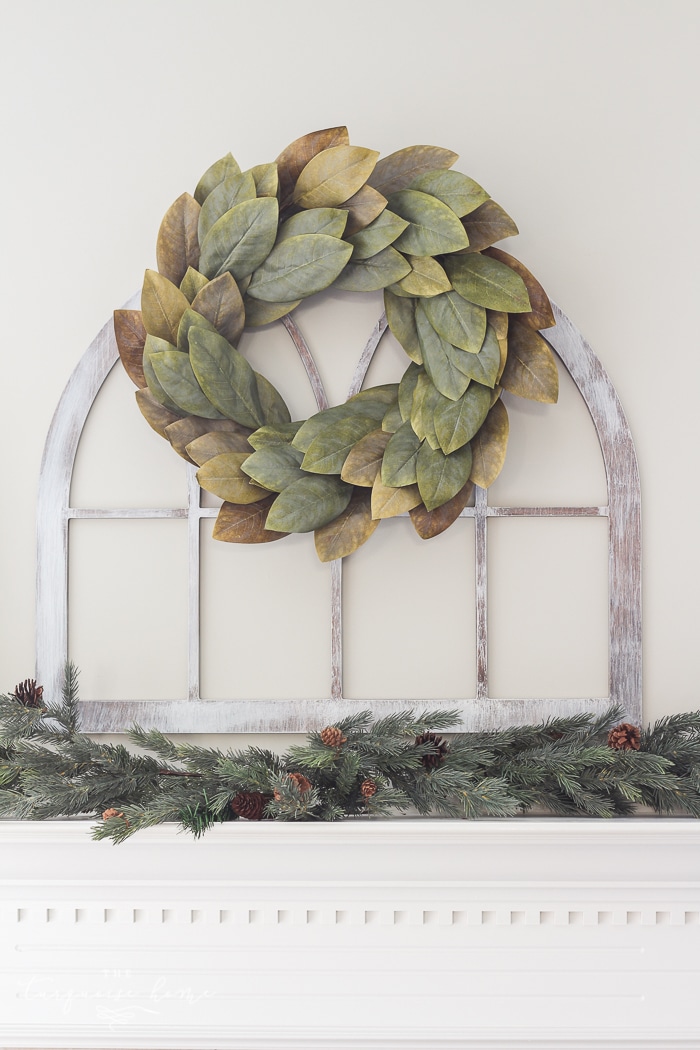 I think my cathedral window turned out perfect for my mantel, and I topped it off with a classic Magnolia Market signature magnolia wreath. (Find similar wreaths HERE, HERE and HERE.)
I've been wanting a magnolia wreath forever and looked into making one. But I kept coming back to the Magnolia Market one because it just looks so natural even though it's not real. (But it is hand painted.) I just LOVE it!
Anyway, back to the cathedral window. I love the look of a window in the home, and I've used an old window in my home decor for the past 5 years. I use it on the mantel a lot as a large backdrop. (You can see an example of it here in my fall mantel.) But I wanted to change things up a bit, and I've loved the arched window look in the Fixer Upper shows.
Here's an example of how beautiful it is as a headboard …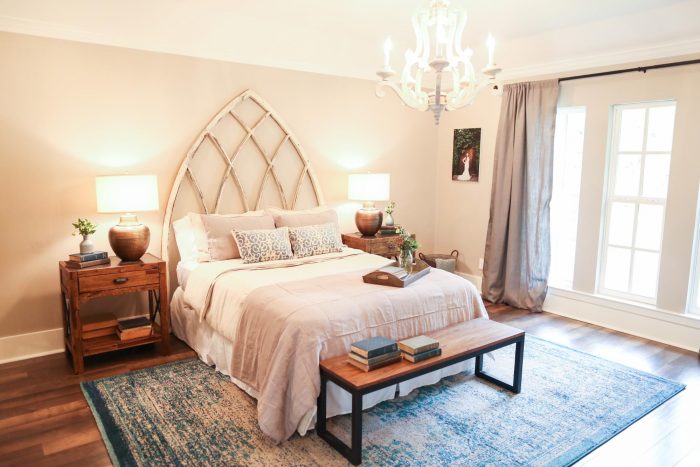 Truthfully it all started when I spotted this cathedral window decor in the Magnolia Home collection at Nordstrom's. I thought I just had to have it! (Click here to shop.) But when I went to buy it, it was out of stock. (It seems to go in and out of stock a lot.)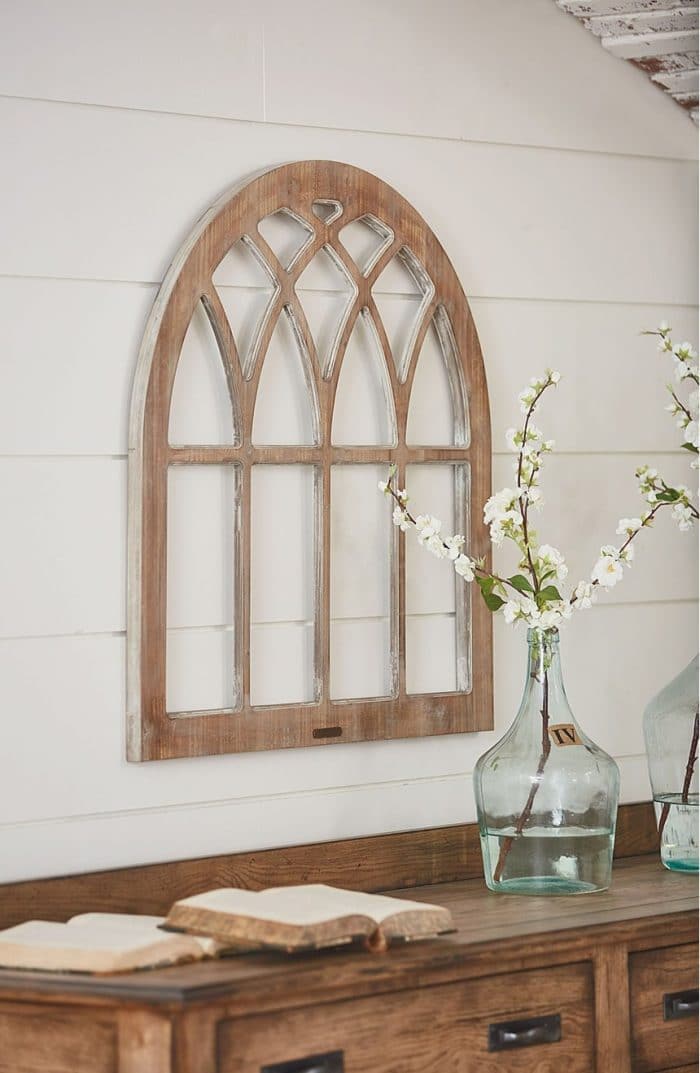 Cathedral Window | Magnolia Home via Nordstrom
I had my heart so set on buying it, that I went around trying to find it other places. I found it, but it was double the already steep price, so there was no way I was going to buy that!
Then I did some sleuthing and found that you can buy the window frame cut outs on Etsy for less than you can buy them anywhere else. The only catch is that you don't quite get the same gorgeous, rustic finish – or fancy Magnolia Home tag on the front. 😉 Most come either finished in 1-color stain or unfinished.
No problem! I bought an unfinished window for less than the cost of the real Magnolia Market version, and planned to finish it in my own rustic style.

While I tried to mimic the antique, aged look of the Magnolia Homes version, it's definitely not an exact replica. Ha! Honestly I treat projects like this like an art piece. I like to make them my own and play with different paint techniques until I find something that I like.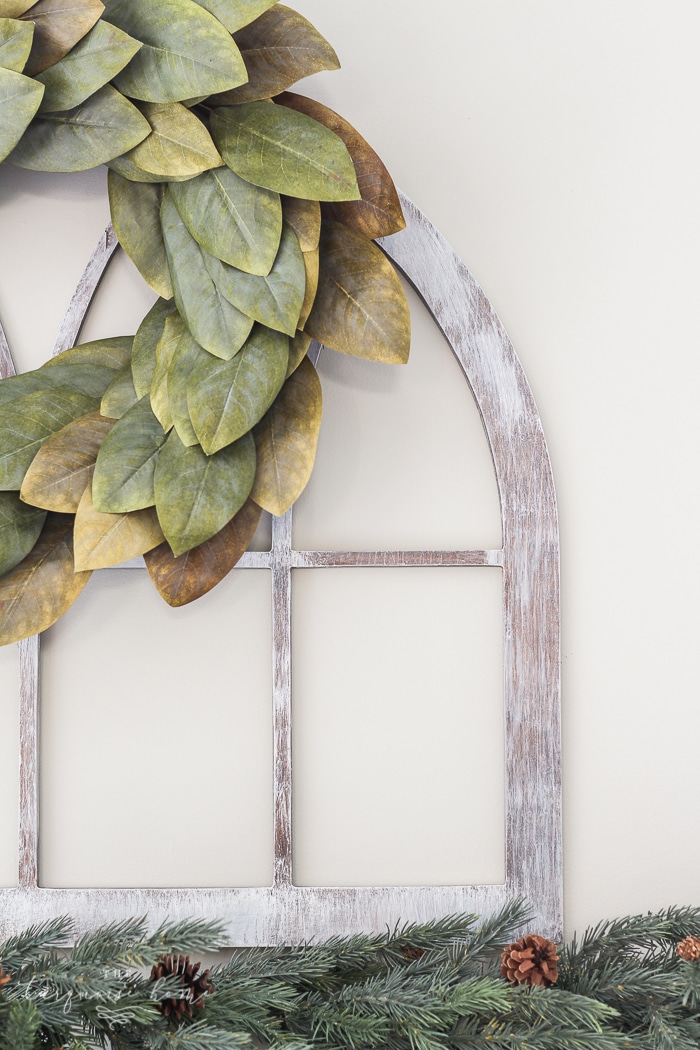 Mine looks totally different from the store-bought version, but I like it because it's mine. Embrace your own versions when you DIY them.
Here's how I made mine!
Project Supplies Needed for DIY Cathedral Window Frame:
Step 1. Take your unfinished window frame and stain it the color of your choice. I used Provincial by Minwax because it's a medium to dark brown stain. I *kind of* wish I'd gone a little lighter, but this is what I had, so I used it. 🙂 Test the back of the frame or a scrap board to make sure it's the color you want. I use a small craft brush to wipe the stain on, and then an old rag to wipe it all off.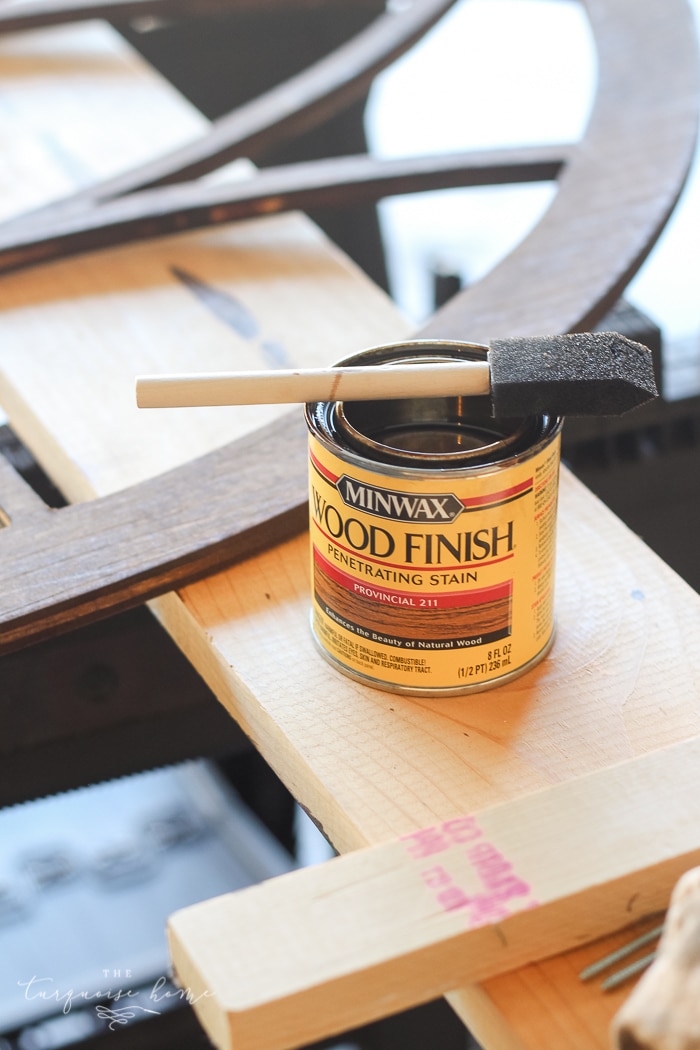 Step 2. Mix a little bit of white paint with clear finishing wax, like this wax from Miss Mustard Seed (click here), and then start wiping it on the frame. I just rub it in really well and it will create a white wash effect over the wood.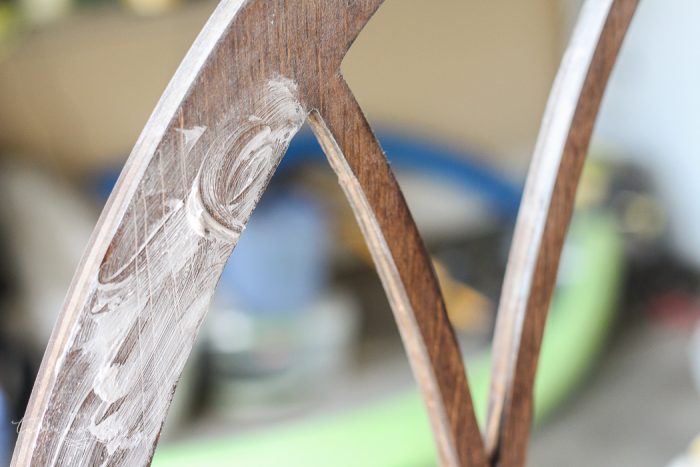 I used more paint in some parts to give it an antique-like finish. In some places I used a dry brush painting technique. If you're not familiar with it, you put a little paint on your brush and then wipe it off some and then paint your piece, so that it's a very dry brush.
Step 3. Let it dry and hang it up! How easy is that?
Oh, and then ad a pretty magnolia wreath for a finishing touch!
How do you like it?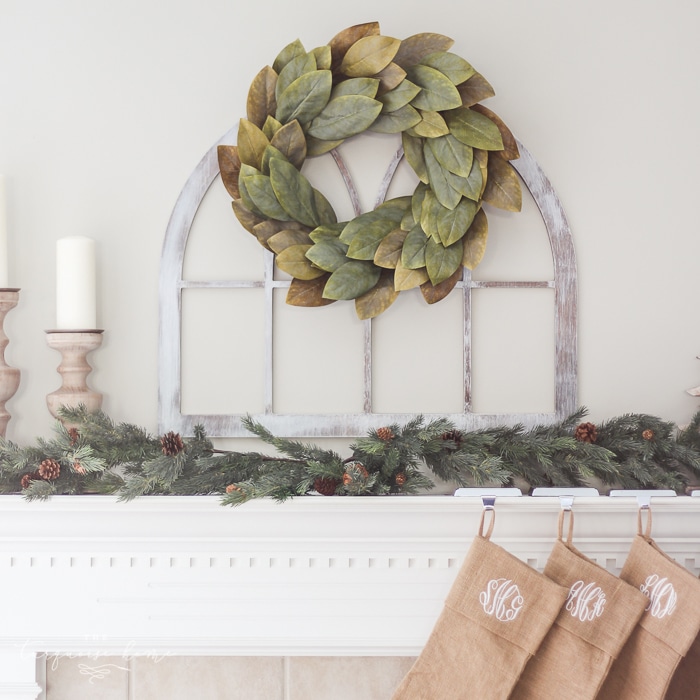 You can get a glimpse of the foundation for my Christmas mantel. More to come on that front – very soon! 🎄