Get inspired by this dining room decorated with coastal decor, featuring beautiful ideas for crafting your own beach house look! Feast your eyes on turquoise jars, shells and candles that create a coastal look and give the feeling of salty air and relaxation.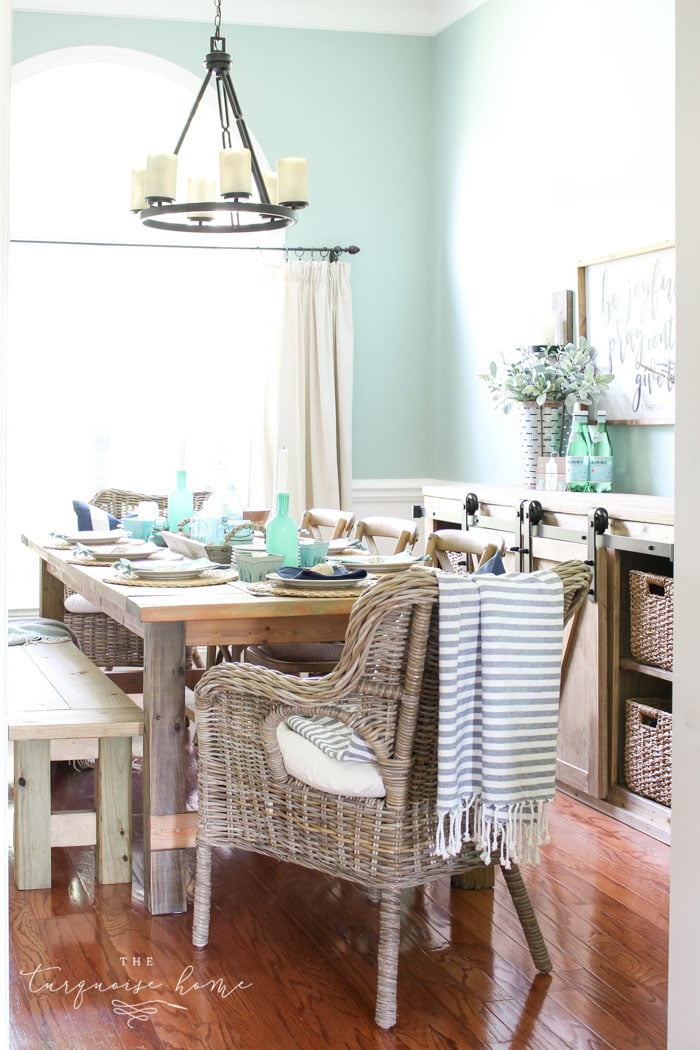 I channeled my inner beach house decorator last week and made the most of my kids being gone and decorated my dining room. Woohoo! It was so fun just to allow myself to come up with ideas not on a time crunch or with kids crying for something in the background. (I love and cherish my kids, but they can make decorating for a home tour a little challenging. They were at their grandparents' house for a few days last week, so I took full advantage!)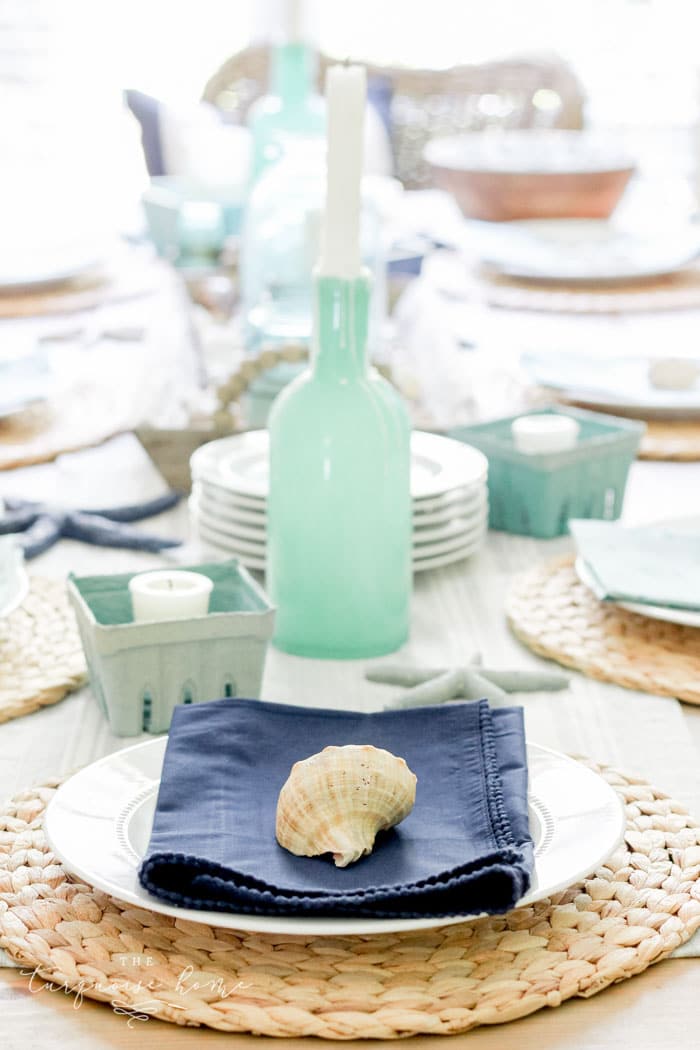 I'm participating in a gorgeous Easy Summer Styling blog hop this week, hosted by my friend Kelly at The Tattered Pew. If you're coming over from CityGirl Meets FarmBoy, welcome!! I'm so glad you're here! These ladies are some of my new friends over on Instagram, so they will be new faces if you have been around for my past blog hops. I hope you'll check out all of their gorgeous homes at the end of this post!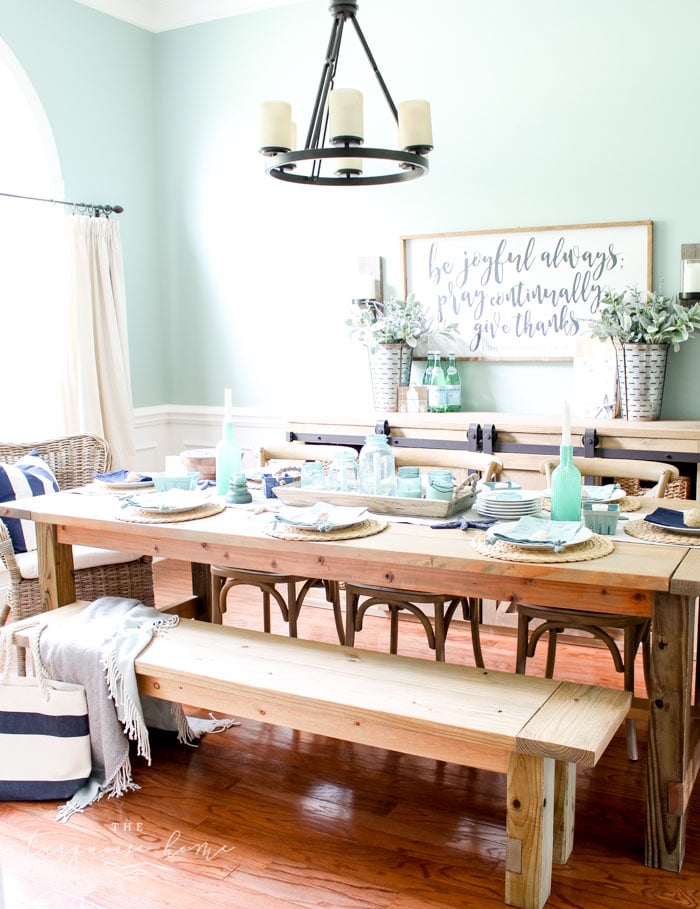 I've always loved coastal influences in my home with natural woven textures and lots of blues and greens, but I don't think I've ever been quite so direct in my coastal-inspired decorating. This dining room set up looks like something I wold do in a beach house.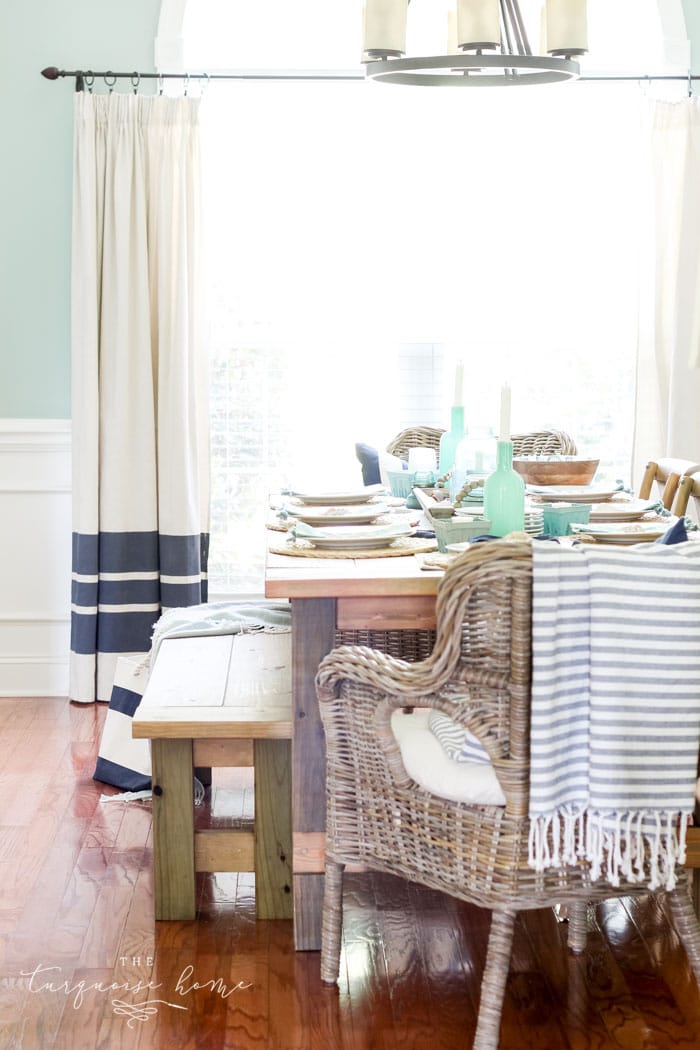 Funny side note: I knew it was extra beachy when my husband told me it looked like King Triton from The Little Mermaid was throwing a party in there. I wasn't sure if I should be offended or grateful that he noticed I'd changed the decor?? 😜🤷🏼‍♀️ I did laugh at the reference, but wasn't really going for a Disney-theme vibe. Hopefully it doesn't come across that way to everyone. Ha!
Click and scroll the images below to shop this look: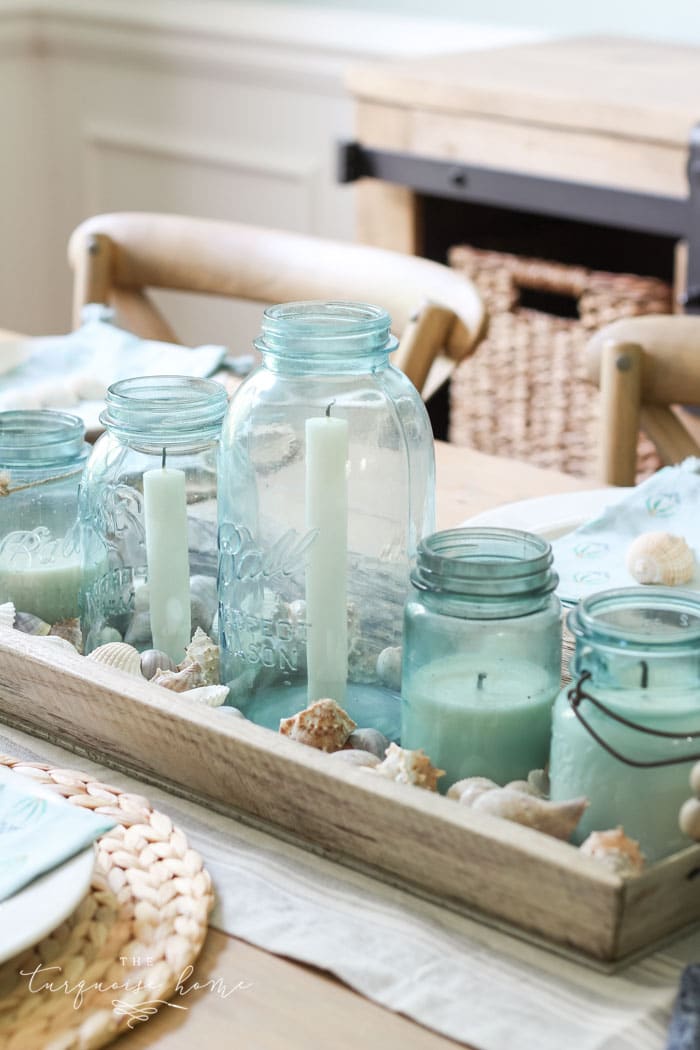 Normally a subtle nod to the beach is what I love in the summer. And I usually do a lot of pink, but I limited myself to greens, blues and my turquoise this time!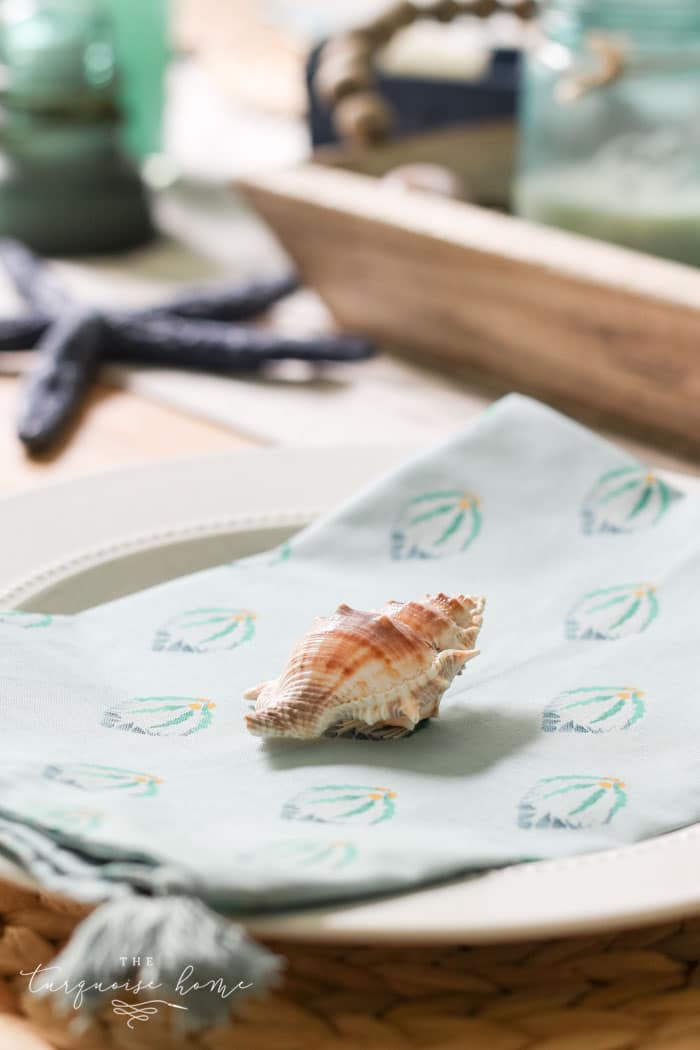 I started with my inspiration piece, which was these napkins from the Opal House line at Target. I fell in love with the colors and the cute shells. I was only able to find 6 at my local store, so I used some navy pom-pom fringe napkins on the end.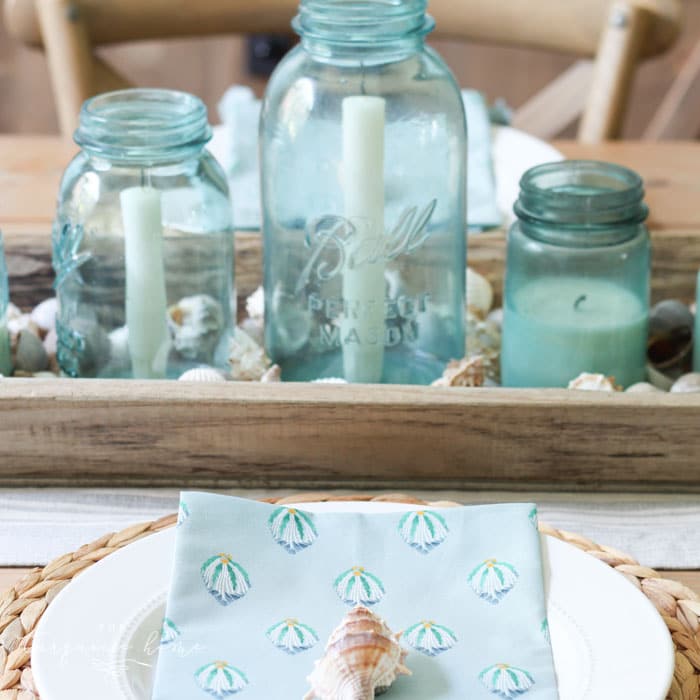 Then I grabbed this tray that I've had since last fall to anchor the centerpiece. It looks like it's made out of driftwood, so I thought it was perfect. (Unfortunately it's sold out, but I found one similar here. It just doesn't have the beaded handles, but everything else looks the same!)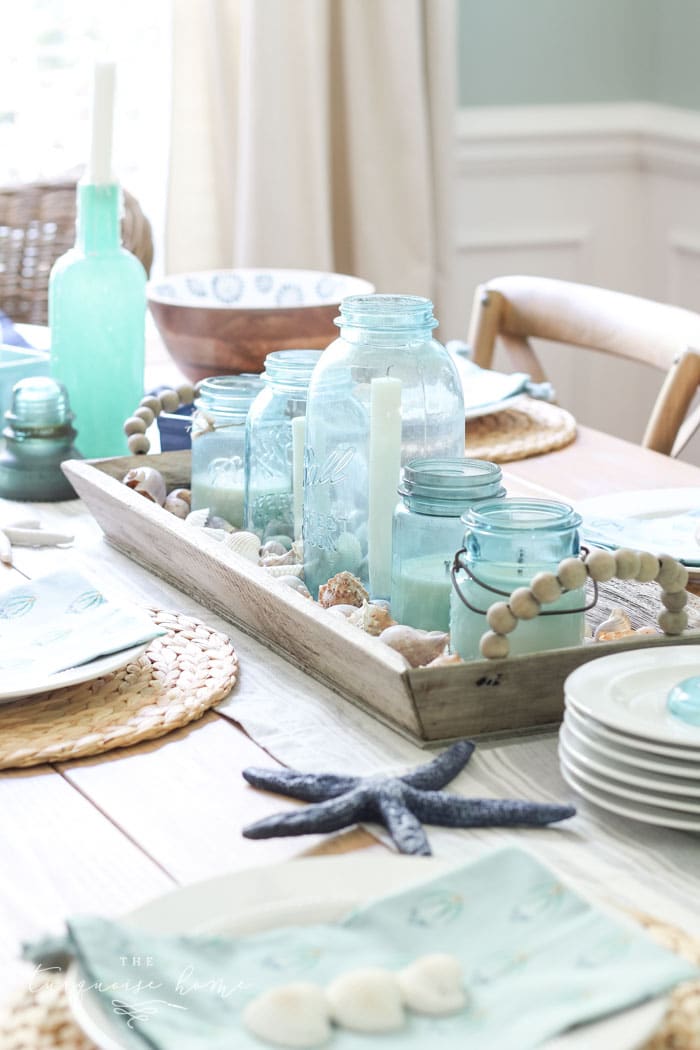 I have a box of shells that I use in some capacity every summer. I pulled it out and used all of them on the table either in the tray or on the plates and napkins. I used the largest shells or a collection of shells at each place at the table before putting the rest around my centerpiece.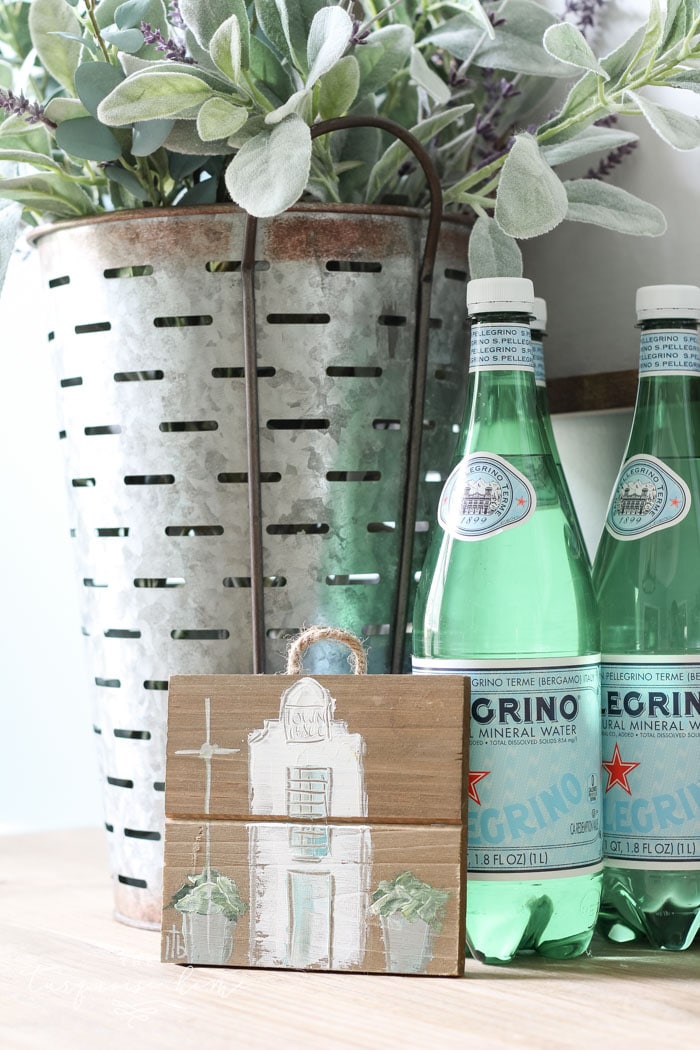 Rosemary Beach Town Hall Painting 💗
When I pulled together everything in my house that was turquoise is was obvious that I had a decent collection of the antique blue Ball mason jars. I just love them and have them all around my home, so I gathered them to center my table and then filled around them with shells.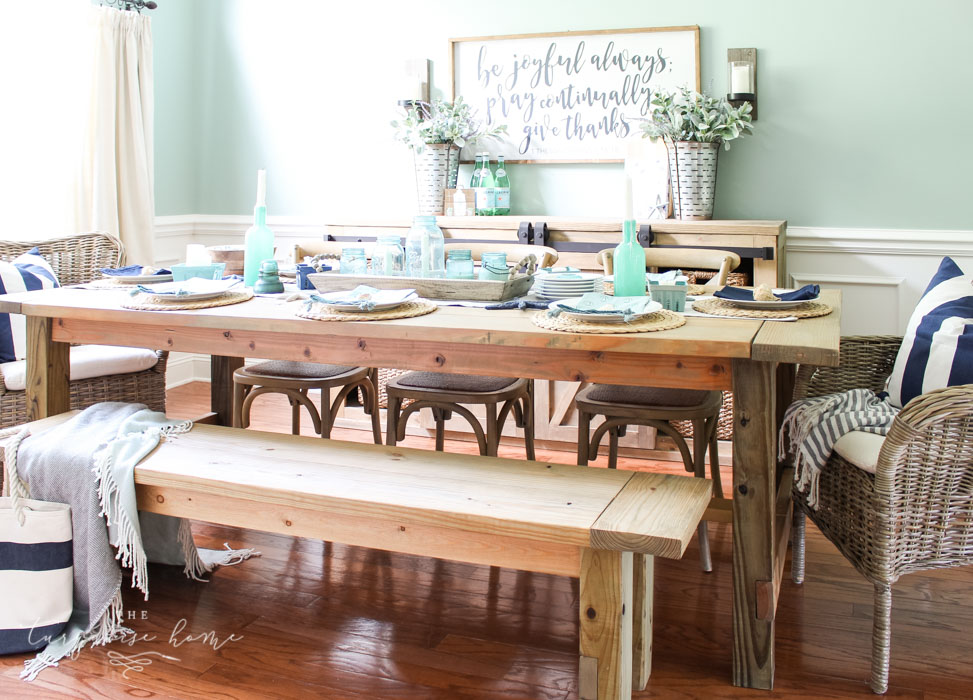 I hadn't used my pretty turquoise vases in a while and I got the idea to turn them into candle stick holders! The opening was a little larger than the candles, so I added some bulk by dripping wax on the end of the candles. Then I let them burn down and drip wax on the sides of the vases to give it a well-used look.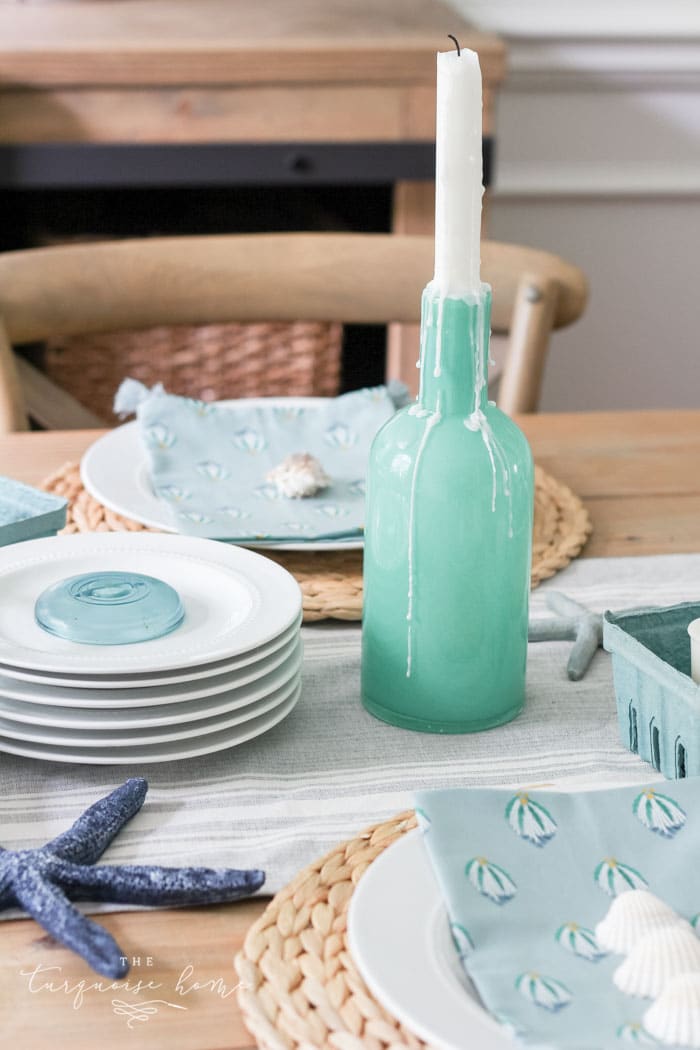 Candles and the beach go hand in hand. I just imagine my table transported to a deck looking out over the ocean with all of that turquoise, the shells and candlelight. I think it would be gorgeous, don't you? But for now we'll just sit here in suburbia and dream.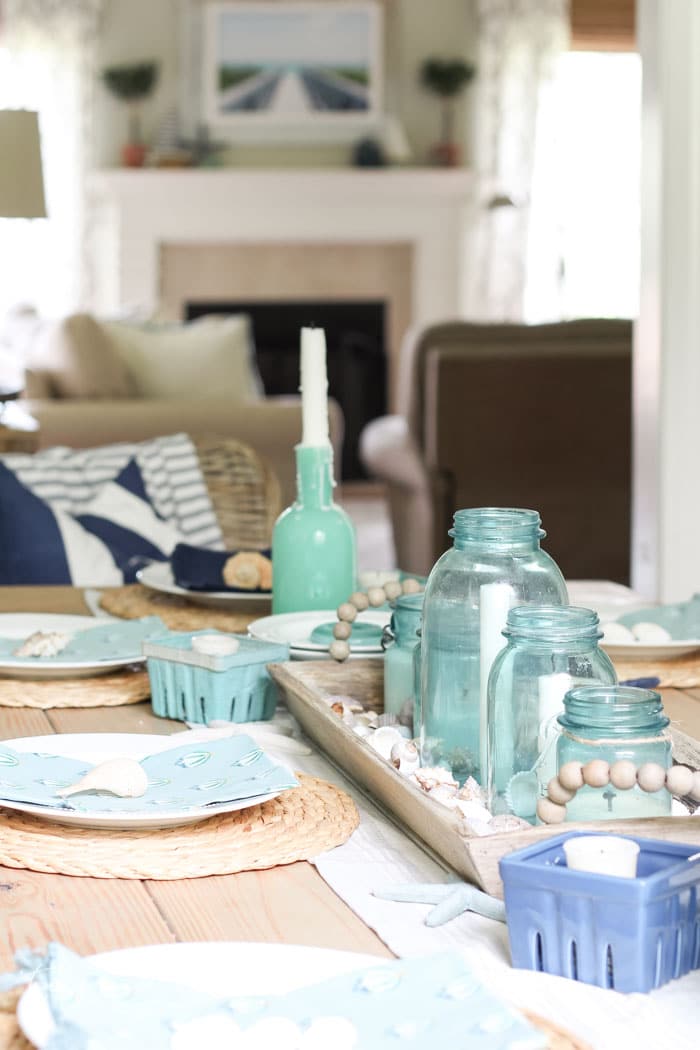 My fruit baskets made pretty votive candle holders, too. I put the ball jar lids under the candles so that they wouldn't mess up my paper baskets if they got wax on them. Also, paper and fire don't really mix, so it was a safety precaution, too. I only burned them for a little while, so they never dripped, but I wanted to be safe!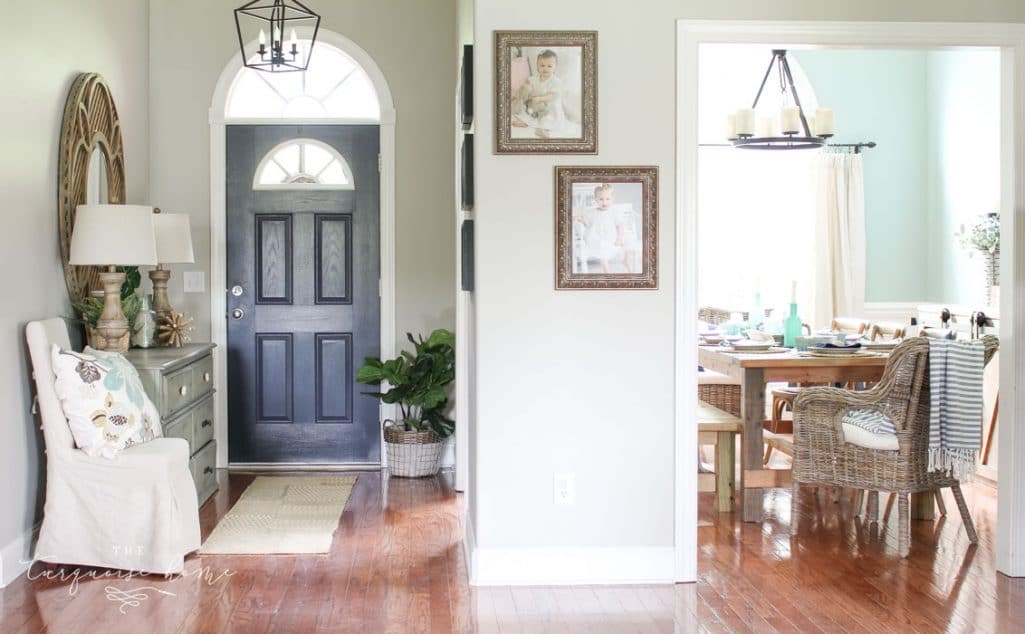 Next to the dining room is the foyer, which I just spruced up a smidge for summer. Nothing too fancy. I had to use my "relax" sign again because it's probably my most favorite summer craft project ever!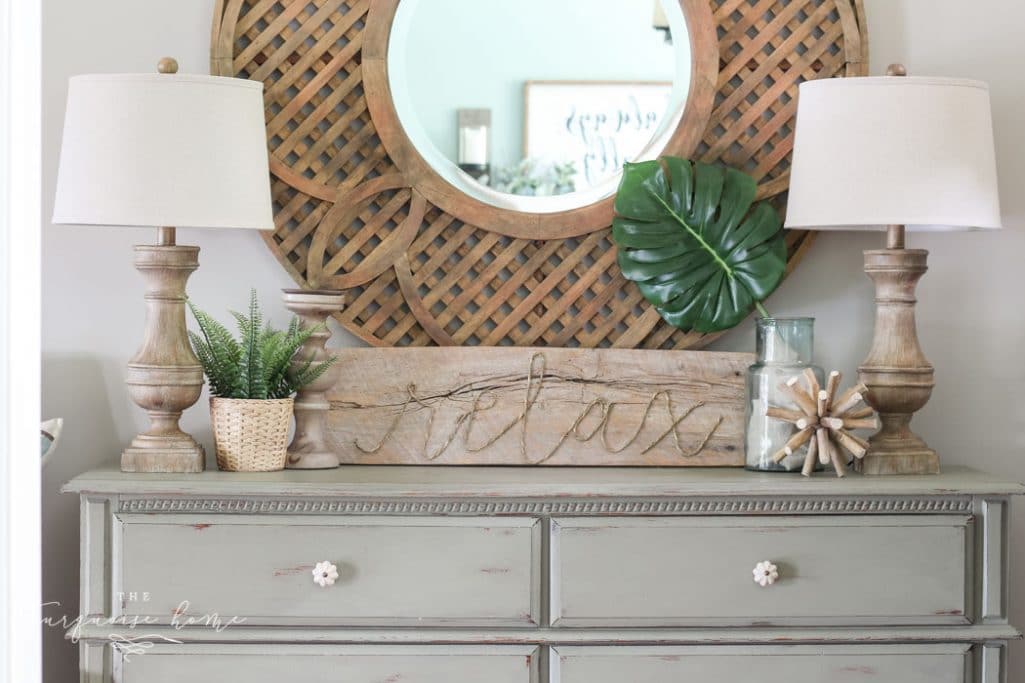 As you can see it's super simple, easy changes for summer. Honestly my favorite thing about my entry way right now is my new light that I bought for less than $100. I had dreamed of getting a new light in here when we first bought the house 6 years ago and just recently got it done. I'm so glad I don't have to try to crop out the light in all of my pictures anymore!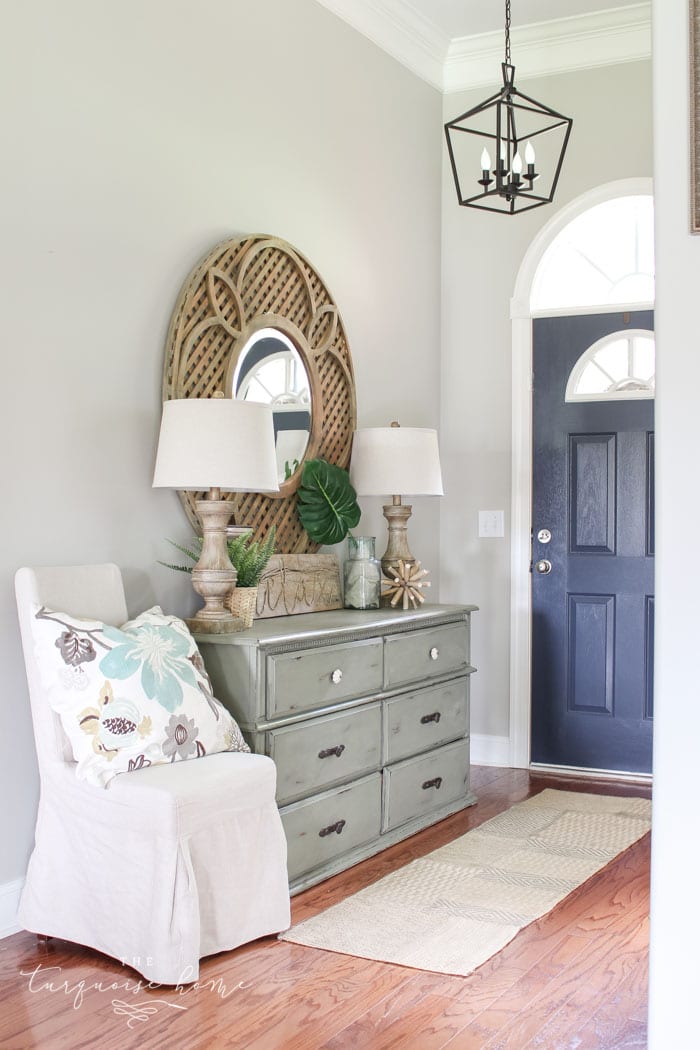 Click and scroll the images below to shop this look: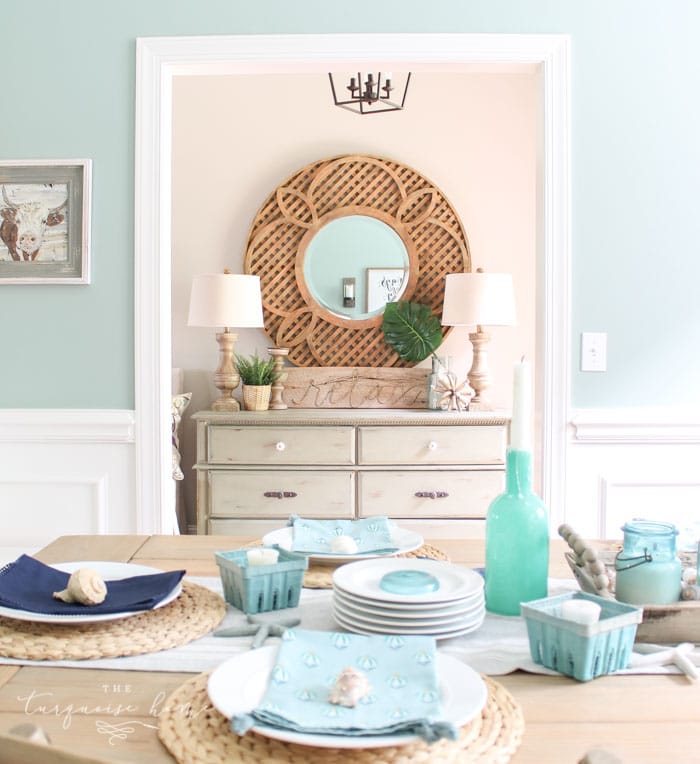 Thank you for taking the time to visit my summer dining room and foyer today! I loved showing you around. There are a few DIY projects featured in these rooms, so I thought I'd leave those links for you here in case you're wondering about any of them!
Don't you leave until you've stopped by Bethany's summer home tour over at Crisp Collective! It's just gorgeous!!
The Easy Summer Styling Home Tour is here and we're all about simple summer decor touches! For two days, my talented blogging friends and I are sharing part of our homes. I can't wait to take in all the gorgeous inspiration…
Tuesday

CityGirl Meets FarmBoy // The Turquoise Home // Crisp Collective // Adventures In Decorating

Designs by Karan // My 100 Year Old Home // Bless This Nest // Dreaming of Homemaking
Monday's Tours

She Gave It a Go // Aratari At Home // Grace in My Space // Midcounty Journal

Little Nest of 4 // The Tattered Pew // The Design Twins // Jenna Kate at Home
I'd love for you to pin it for later inspiration, too!