Beautiful Christmas Printables for Your Home!
Grab 10 beautiful Christmas Printables for your home for just $4! Print them at home and you are ready to decorate!
I'm so excited to share my newest Christmas printable collection with you!! It's always one of my most favorite posts to work on and share of the whole year. And this year is no different! I've been working on ideas for months and I hope you love them as much as I do!
I also try to create a variety of printables each season. I tend to love the watercolor art look, so I lean heavily on that look. But I also like quotes and some florals as well as funny quips.
You'll find some of everything this year, including my take on the ever popular "Farm Fresh Christmas Tree" printable and even an ugly Christmas sweater collection. 😂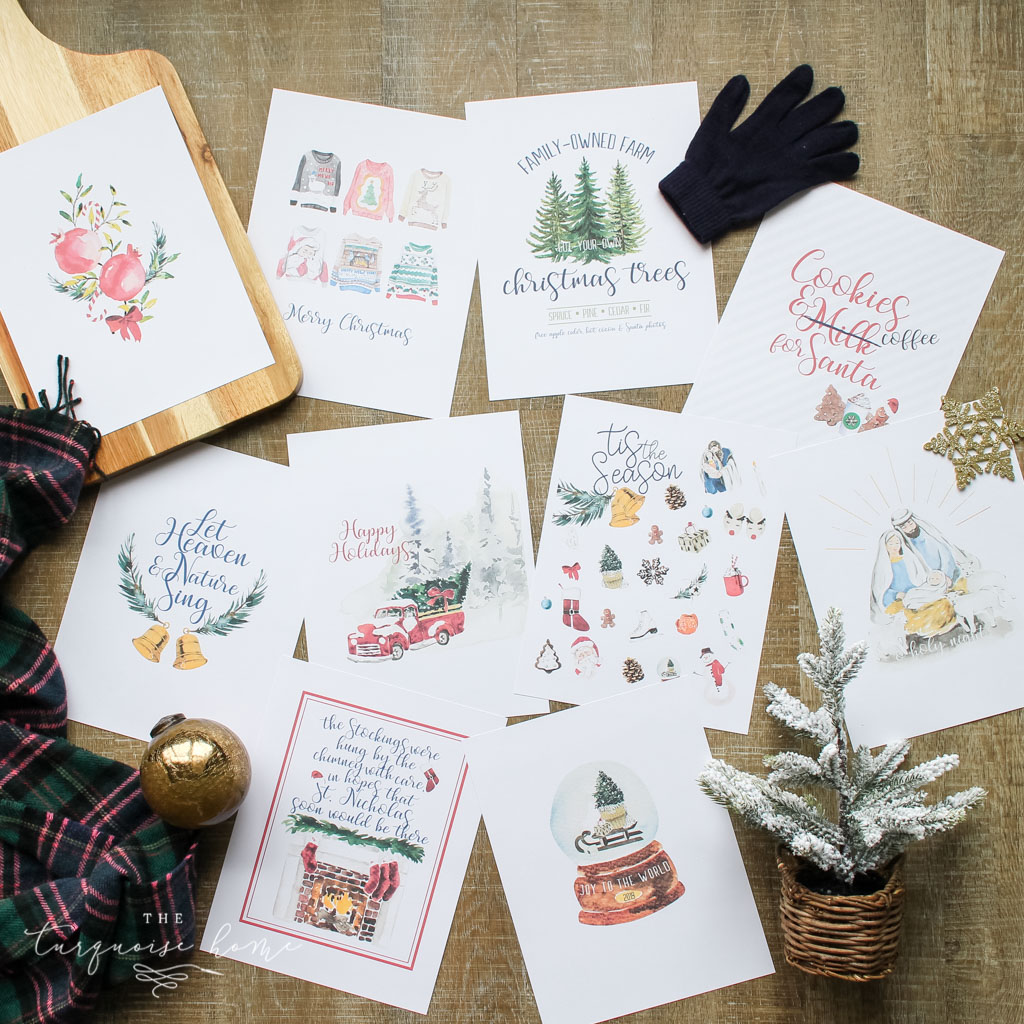 These are a great idea for easy teacher gifts this time of year. Just print them out (using my tips at the end of this post) and pop it into a frame! A printable gift is such a fun way to share the joy of the season without breaking your wallet.
Another fun use of these printables is to make them into gift tags. Print them on a smaller scale (an adjustment you can make in your printer settings), then cut them out and punch a hole in them. Tie some string to them and decorate your gifts!
Or my favorite way to use them is as Christmas decorations around your home.


**Please remember that these holiday printables are for personal use only. Commercial use is prohibited.**
And if you have trouble downloading the printables, please just send me an e-mail at [email protected] and we will make sure you get them!
My Premier Printables Shop
I decided to do things a little differently this year. I'm offering the printables through my Shop and after the first week, the price will be $4 for the bundle of all 10 printables. The first week has passed now and the bundle is $4. Thank you for supporting my blog in this way!!
It's been a fun journey of creating free printables for you over the years and the ones that have been free will mostly stay that way.
But going forward I may offer one or two freebies each season, but the whole collection will be a part of my Premier Printables Collection found in my shop! As I spend more time on the collections each year, it just makes sense to charge a little bit for my investment.
Thank you for always being here and always supporting my printables. I get to hear so many stories of how people use them. It's my favorite when you share how you use them with me. Please keep doing that!! It's my hope to continue to provide beautiful printable art to you for years to come!
Enjoy!
This post contains affiliate links for your convenience. See my full disclosure policy here.
Tips on Printing Printable Art Decor
Home Printer: If you don't have a good printer to print these from home, I recommend my printer. I've had this printer for a couple years now. The ink lasts a long time and I haven't had any problems with it. It prints out all of my free printables with no problem!!
Use Cardstock: I recommend printing your printables on cardstock paper. Regular printer paper is just too thin, easily torn or crumpled and see through.
Other printer options: If you don't have a printer at home, I've used Staples and Office Depot for printing needs and they were both great!
I've set the printables to print at 100% with some space around the edge to allow for your frame. Also, these print at 8.5×11, which is larger than an 8 x 10 frame. So, you'll have to trim the borders to make them fit. If for some reason they aren't fitting in your frame, adjust your scale of the picture in your printing settings and see if that helps.
Unfortunately I can't give specific printer advice because every printer/computer combo is different.
FREE Christmas Printables For You!
MORE POSTS YOU WILL LOVE: