Navy Living Room Mood Board
If you've ever wanted to go bold in the living room, I highly recommend painting the walls Hale Navy. It's such a beautiful, rich color that looks regal and stately, yet feels cozy.
If you remember, I hadn't planned on tackling the living room (except for maybe painting it) in this quarter of the year, per my home goals. But the curtains for my office makeover have taken longer than expected, so I'm jumping into the living room.
It's actually more than halfway finished, but I wanted to share things in order, so let's start with my living room mood board.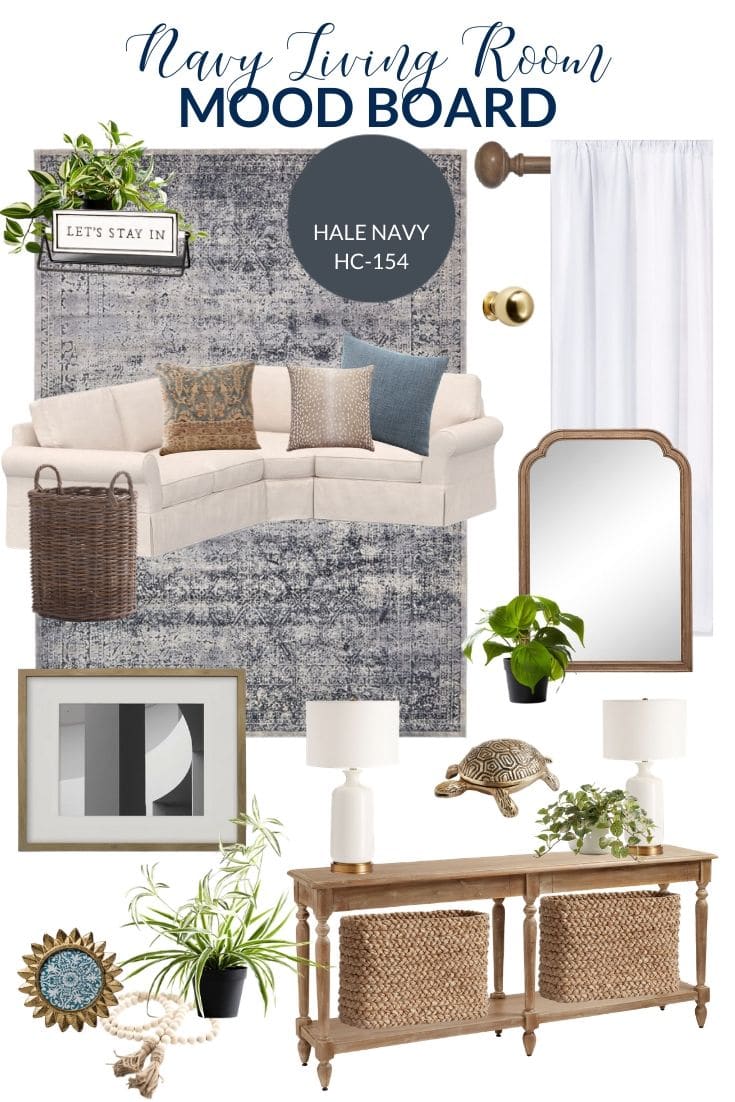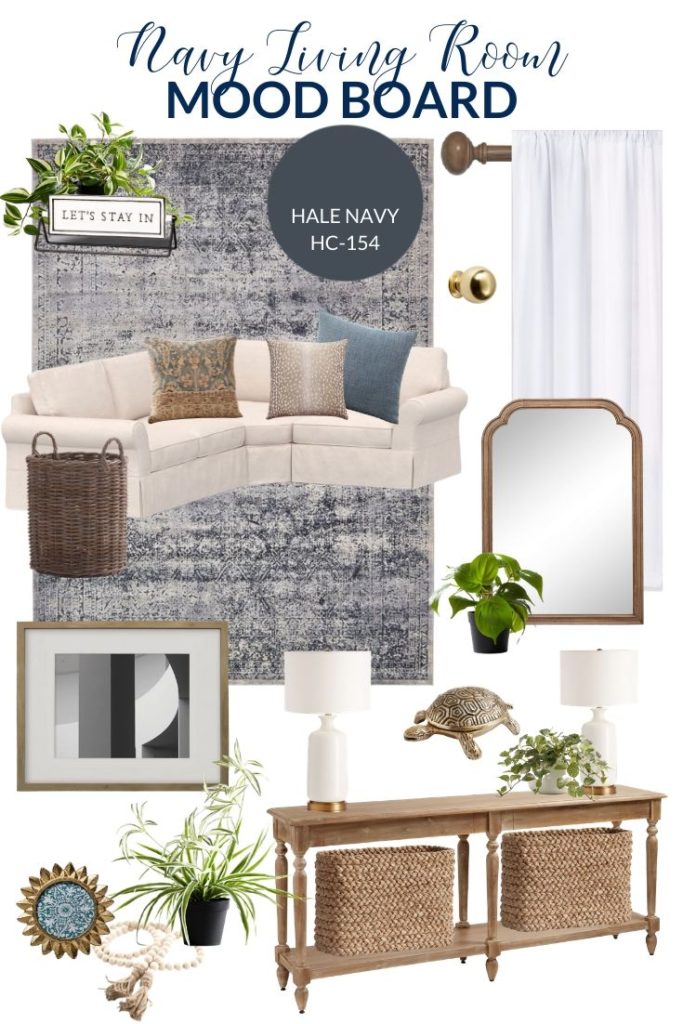 Faux Wandering Variegated Tradescantia Plant | Let's Stay In Sign (similar) | Wood Curtain Rod | White Curtains | Vintage-Style Navy Rug | Sectional Sofa (in Twill Fabric, Parchment Color) | Palna Pillow Cover | Midnight Blue Linen Pillow Cover | Animal Print Pillow Cover | Large Wicker Basket (similar) | Wood Framed Mirror | Faux Pothos Plant | Gallery Frame | White & Brass Lamps | Brass Turtle | Faux Potted Fittonia Plant | Starburst Frame | Wooden Beads with Tassel | Faux Potted Variegated Spider Plant | Console Table | Console Table Baskets
It's a smaller room than our last living room, which had really high ceilings and an open floor plan. This living room is more closed off, but has 9-foot ceilings, a gorgeous wall of windows, built-in bookshelves and two large doors on the other two walls. So, while it's a little more closed off, it has plenty of white trim and an open feeling.
Because of all the windows, built-ins and open doorways, I thought it would be a perfect room to paint it a bold shade of blue. Hale Navy has long been a favorite color of mine, so I chose that for my navy living room.
The color scheme is white, navy and wood tone, which has a coastal vibe, but not so much that it can't be used in a living room in northern Alabama. 😜
The Furniture we Brought with Us
Most of the room furniture I've shared in my vision board is stuff we brought with us from our old home. And I've shared a few photos below of how it looked like right after we moved in.
We purchased the PB Comfort sectional sofa before we ever looked at this house, so I'm thrilled that it fits perfectly. The vintage-looking rug works well, too, as well at the Everett Console table and beachcomber baskets behind the sofa.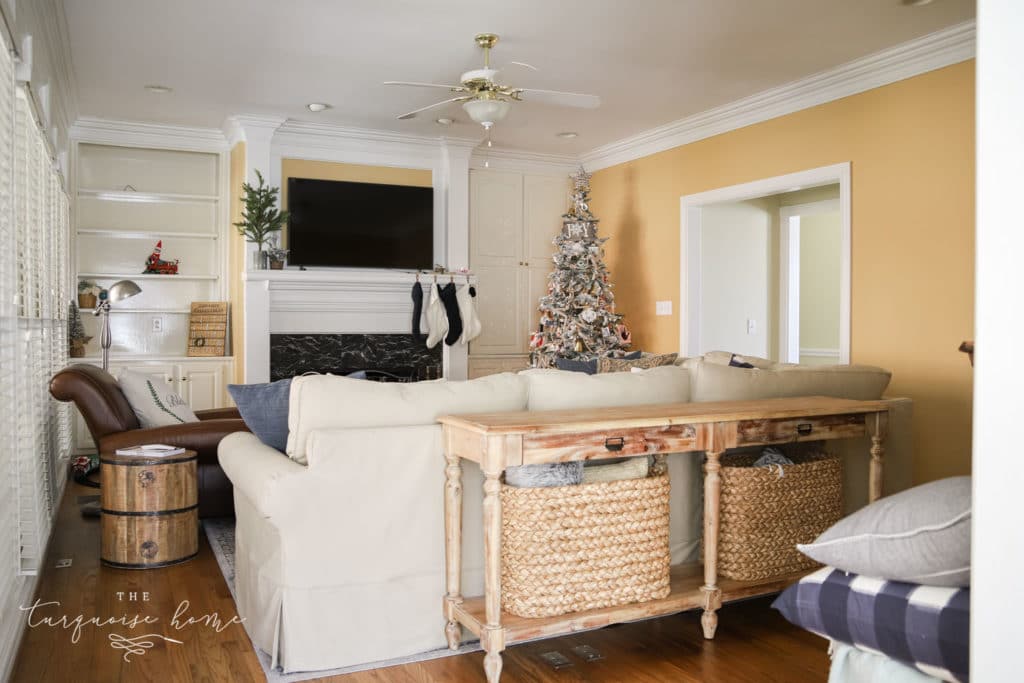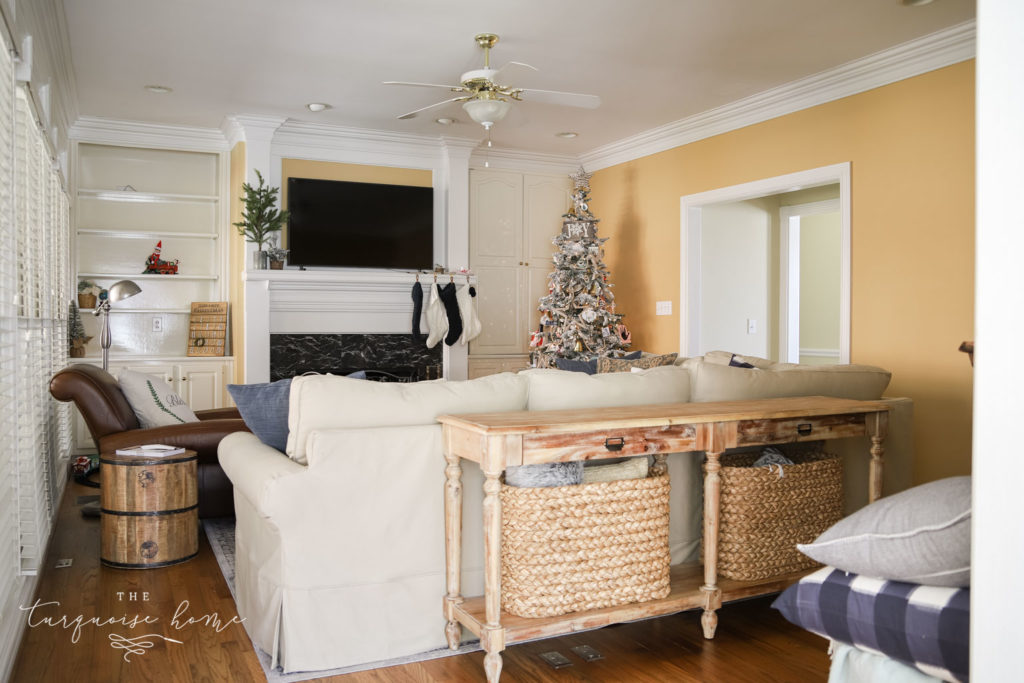 I'm planning to remove the blinds and add all white curtains from IKEA to my window wall. I feel like the blinds really block the light, even when they are open. And I want to remove any barriers between the living room and our view of the private, wooded backyard view beyond our screened-in back porch.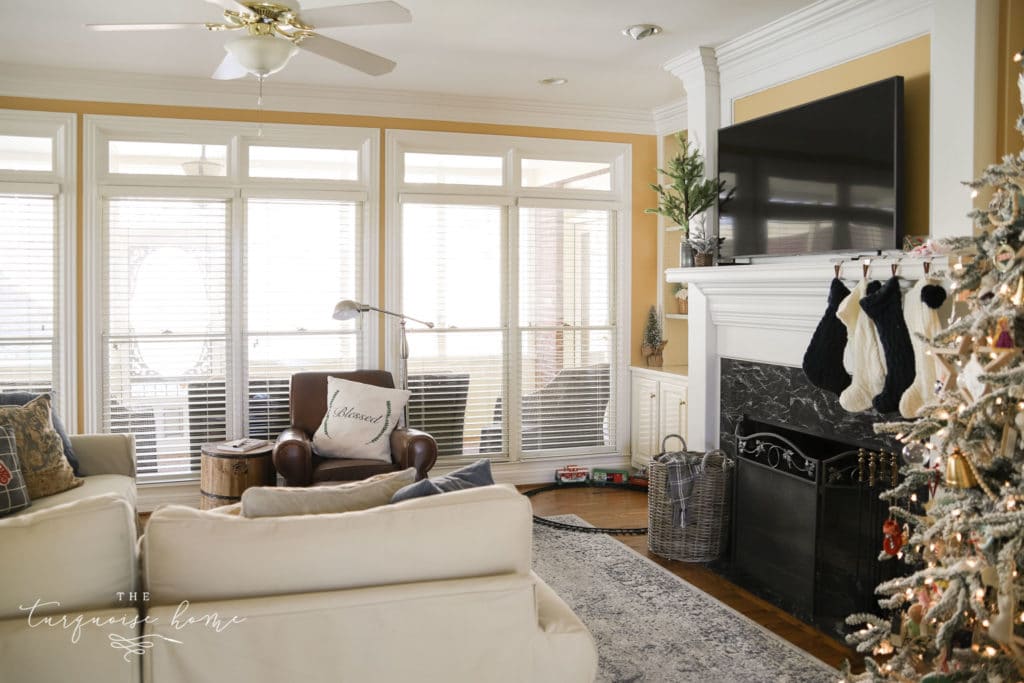 At some point I will change out the ceiling fan in the room, but it will stay for now. And I have plans to change the TV cabinet on the right side of the fireplace to mirror the bookshelf on the left side. Since we have our TV above the mantel, we don't have the need for a full TV cabinet on the right.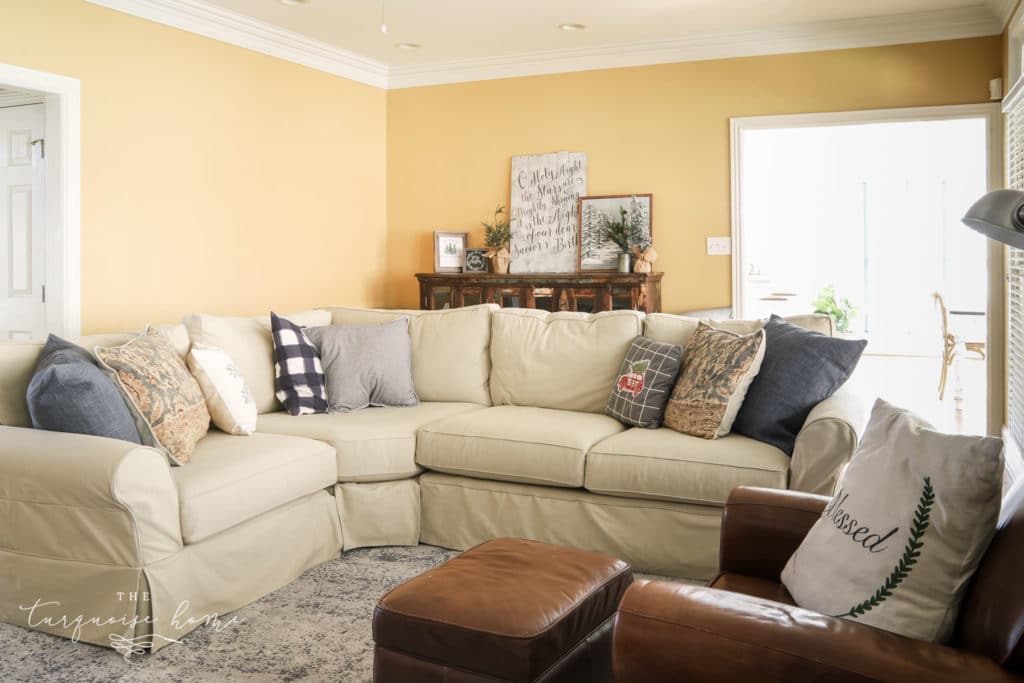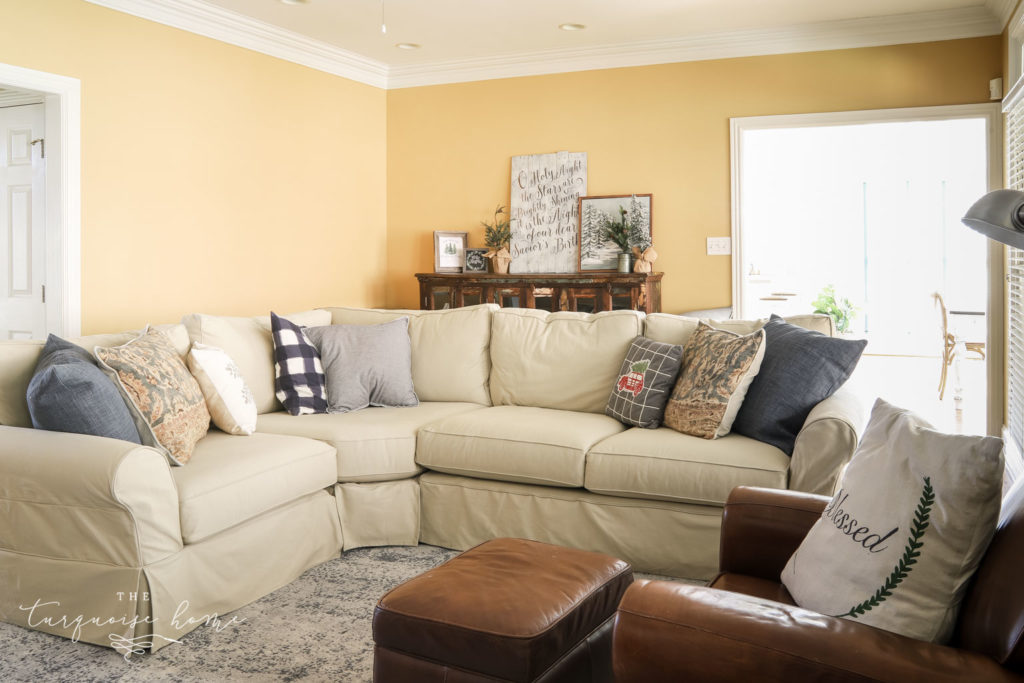 Everything else is just painting the walls navy blue, adding accessories, a gallery wall along with future purchases. Things like a new ceiling fan, coffee table and two swivel chairs instead of the leather chair will come later.
For right now, I'm going to:
Remove the blinds
Put up white curtains
Add a gallery wall behind the sofa
Mount the TV on the wall
Add lamps and decor to the console table behind the sofa
Add my mirror & decor to the console table on the back wall
Phase 2 Plans:
I've got more plans for this living room, but they aren't in the budget right now. I need to get this room at a good stopping place, then move on to the dining room and my girls' bedroom. So, these items will wait until probably next year!
Replace the ceiling fan with one more my style
Build or buy a coffee table
Add two swivel chairs (where the leather chair currently sits)
Add some art to the wall on the right of the mantel
Add end tables for the sofa
Paint the built-in cabinets & trim Simply White
So, that's the plan for the navy blue living room! It's quickly becoming my favorite room in the house, which is surprising to me. I was really worried that it would be a room I didn't enjoy as much as the living room in our old house. But the pretty view from the sofa and the beautiful built-ins and cozy feel have made being in there really nice.
We spend a lot of time in there as a family, so it's nice for it to be a place we love. I can't wait to share the blue walls next! They are stunning and totally changed the whole vibe of the room.
Do you love your living room? And if not, how would you like to change it?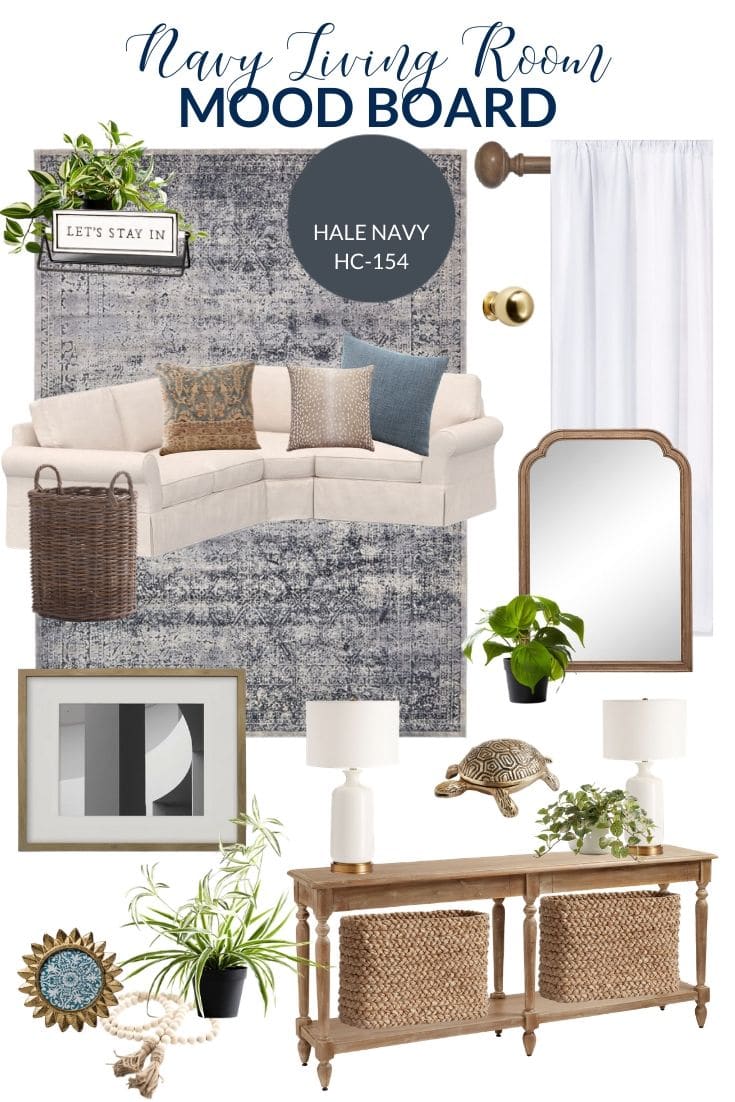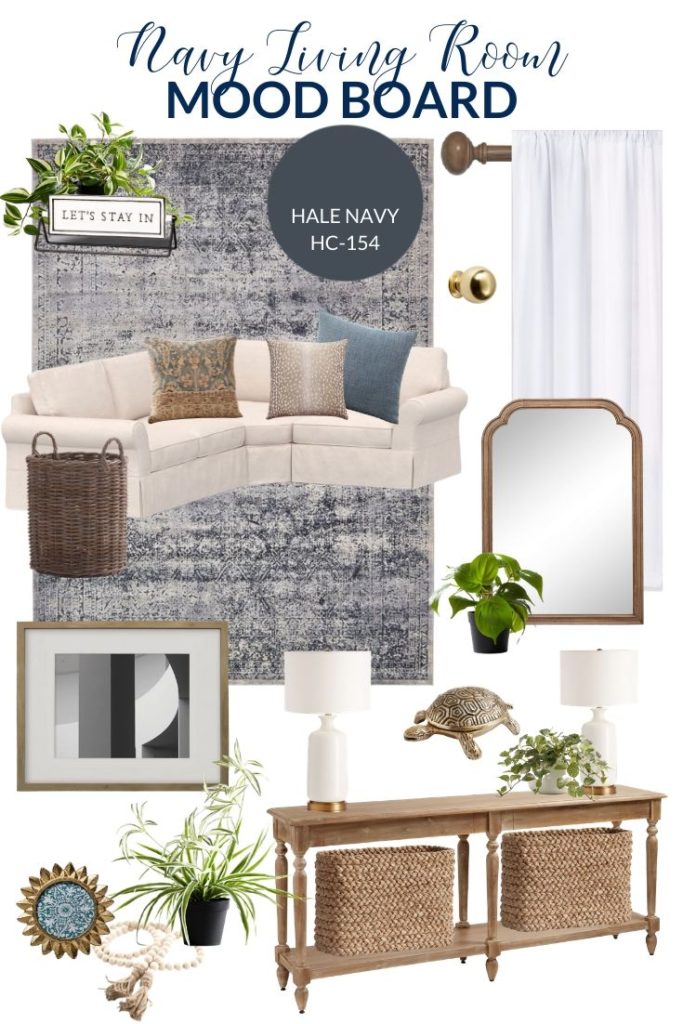 MORE POSTS YOU WILL LOVE: