A Restful Master Bedroom Design Plan
A calm and restful master bedroom design is the perfect place to relax after a long day. Lots of great ideas for creating a master bedroom retreat and adjoining sitting area.
I am so very excited to be bringing this design vision to you because it's been something that's been rolling around in my head for probably a decade. 😜 I recently share in my Home Goals, part 4 post that I would be sharing my bedroom plans before the end of the year.
Before I jump in, I want to touch on that thought – that it's been a dream in the making for 10 years. When you see the price tag on some of these items, there may be some sticker shock.
But before you just think this is some fancy pie-in-the-sky bedroom design (or cheap-o design, as everyone's budget is different 😉), I want to take a step back and share what I have been living with for years. I used my DIY skills and creativity to give us a bedroom I wanted without spending much money.
For the past 7 or so years, we used this DIY headboard that I made as one of my first DIY projects. It was a lovely farmhouse headboard for (I think) less than $100! And it served us well. But I'm ready for a "big girl" bed.
We recently gifted the headboard to a friend who doesn't have the money to spend on a new headboard, so it's getting a second life at a new home! That makes me so happy.
And our night stands for the same amount of time have been these $35 hacked IKEA dressers that I updated. I have loved them and will be passing them along as soon as our new night stands arrive as well.
So, while this may seem like an expensive design, it's been years of waiting and saving to make it happen. (I also will include some items in my design as place holders and will hunt down cheaper items that look similar in the makeover process.)
"Must Have" Design Feature in our Bedroom
I also want to note that one of my "must haves" when purchasing this home was to have two windows flanking the bed. I've always dreamed of having a king bed between windows with beautiful bamboo shades and ivory curtains.
One of my inspiration photos …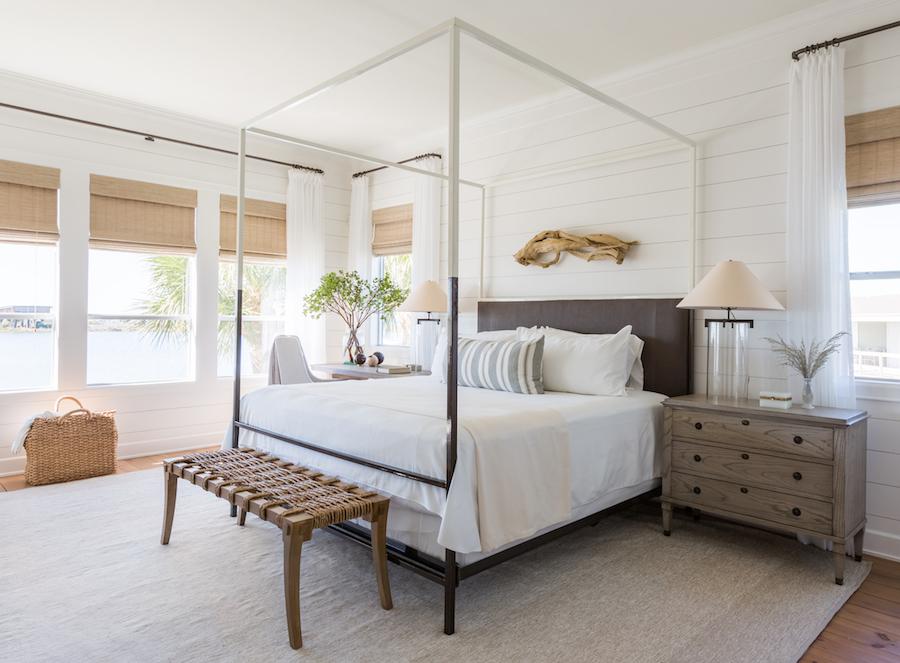 I love that look and am so excited to finally make it happen!
In our old bedroom we only had one window and so it always felt lopsided to me. If you have a bedroom like that, there are ways to make it look more balanced, but nothing quite like having the actual windows there to balance it out.
The Coastal Vibe
We all know that a bedroom should be a restful retreat. It's where you spend 1/3 of your day and most of that is sleeping, so a cozy, restful room is great.
For me, a calm and relaxing space draws inspiration from the beach. It's my happy place. But instead of placing sea shells and anchors all over the room, you'll see warm, but light, wood tones that remind me of sand, and some pops of blue and blue-green.
I always want to keep my decor respectful of the style of my home, which is a traditional cape cod style, so I feel like the blue-greens, wood tones and brass accents are the perfect combo.
Where We Started
Before we go through all of the plans, I'd like to remind you where we started…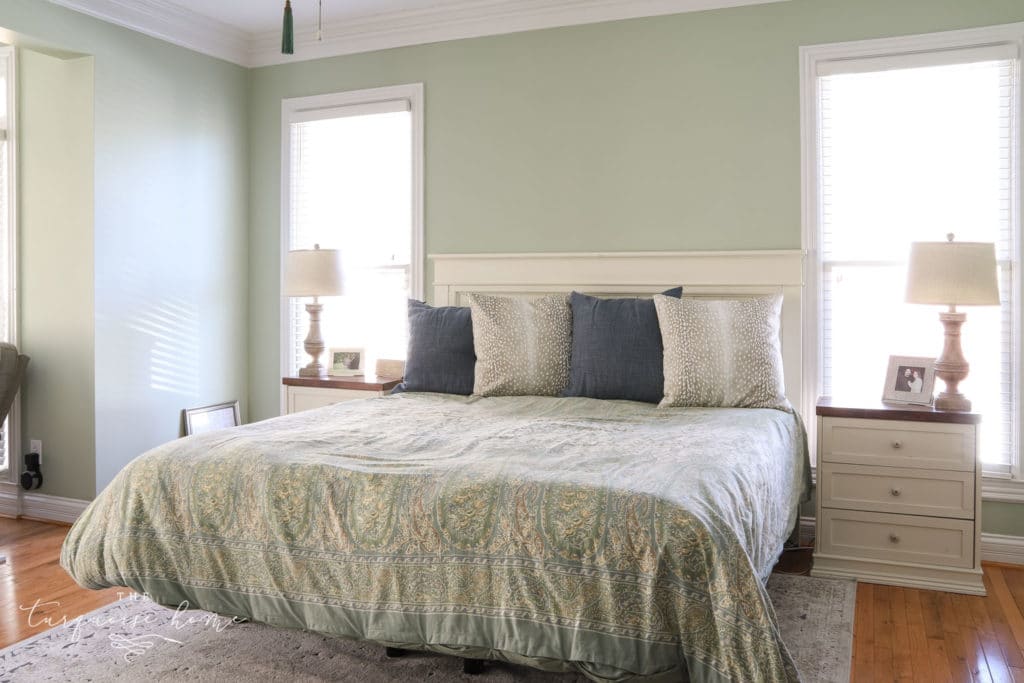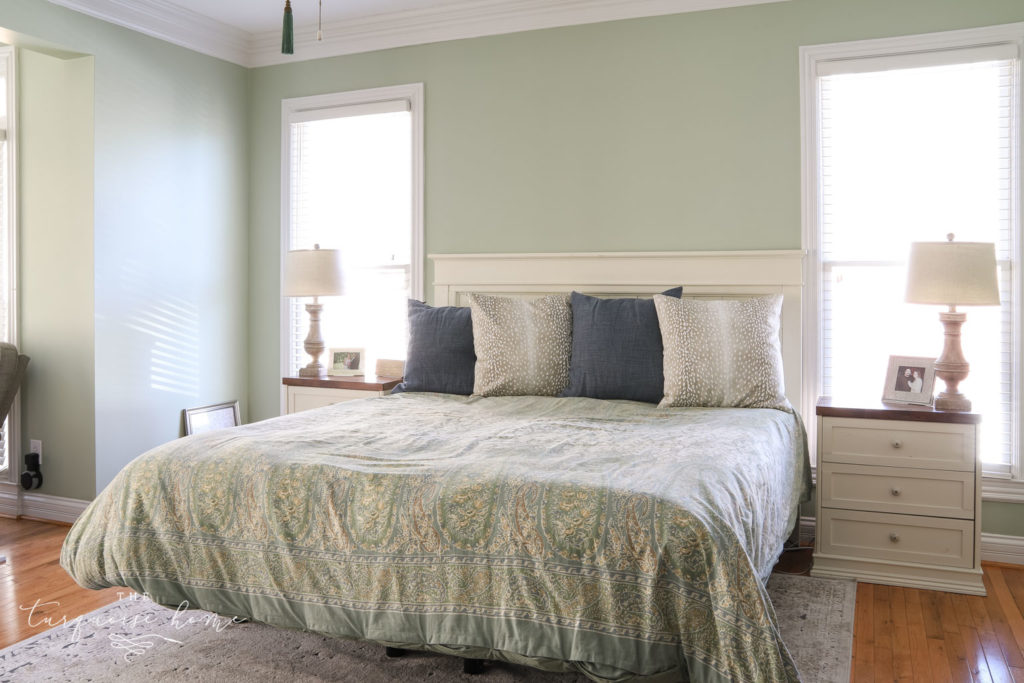 The pistachio green walls weren't the worst thing ever, but since I'm not a fan of this green color, it was pretty sad to walk in here every day. I've actually already had it painted Revere Pewter and that change alone has made such a huge difference. I'll share it soon!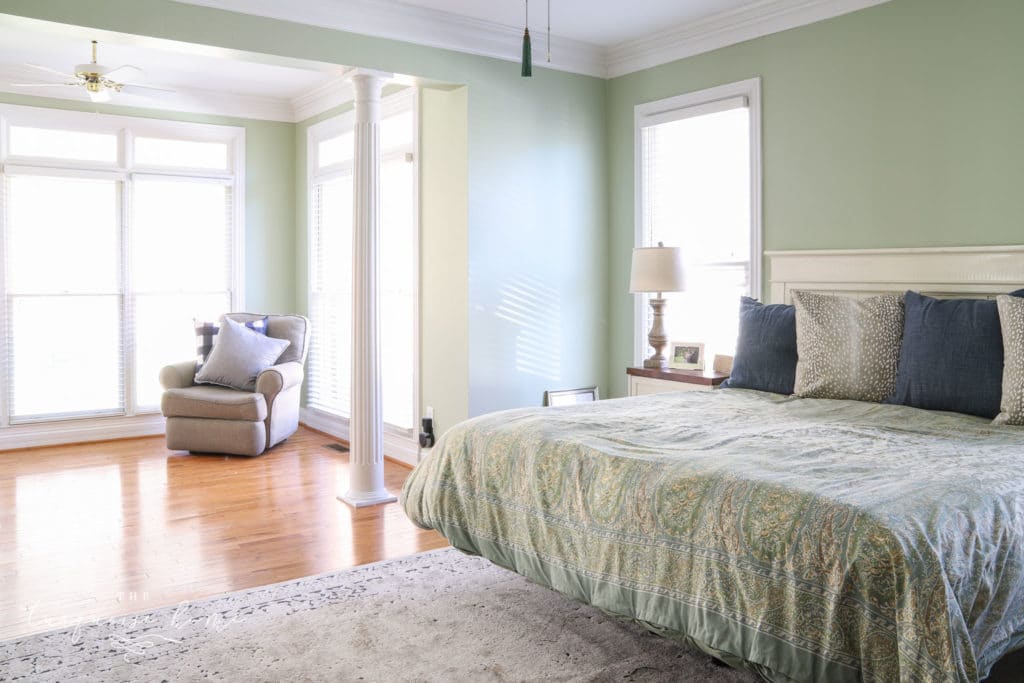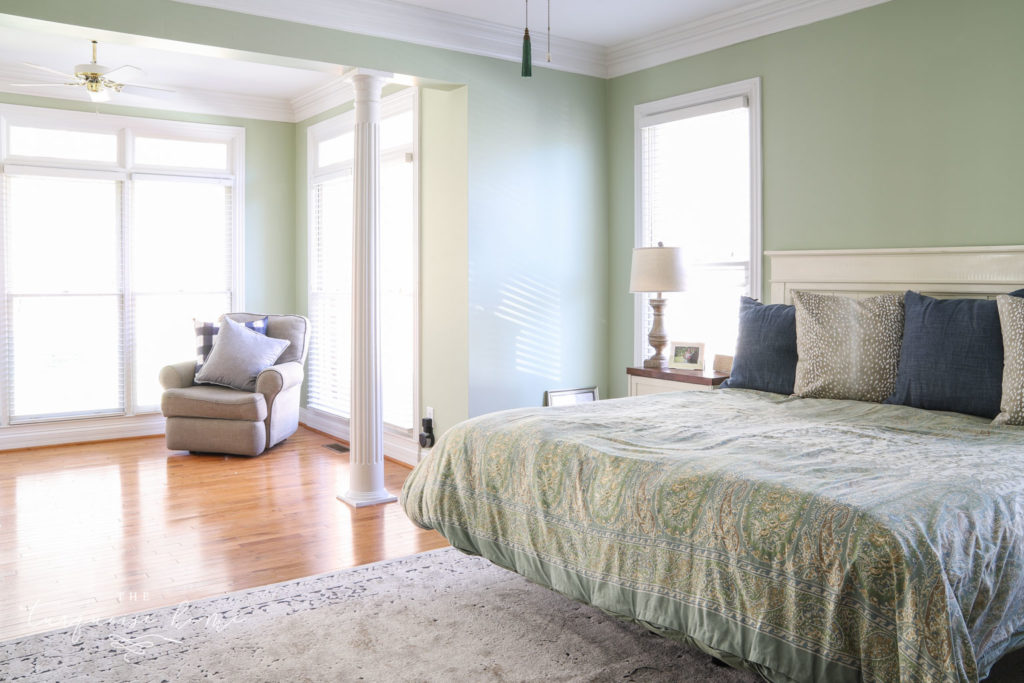 I originally wanted to wait to makeover this room until we had the money to remove the columns and refinish the orange-y floors, but I decided to work with what I have and we'll make those major updates when we save the money to gut and remodel the bathroom.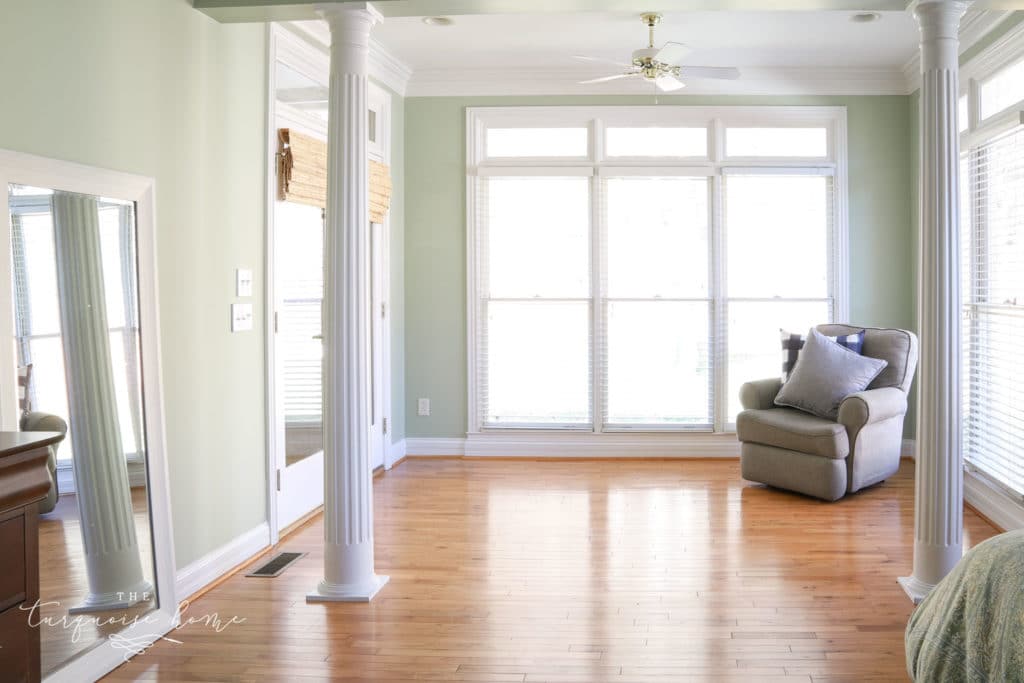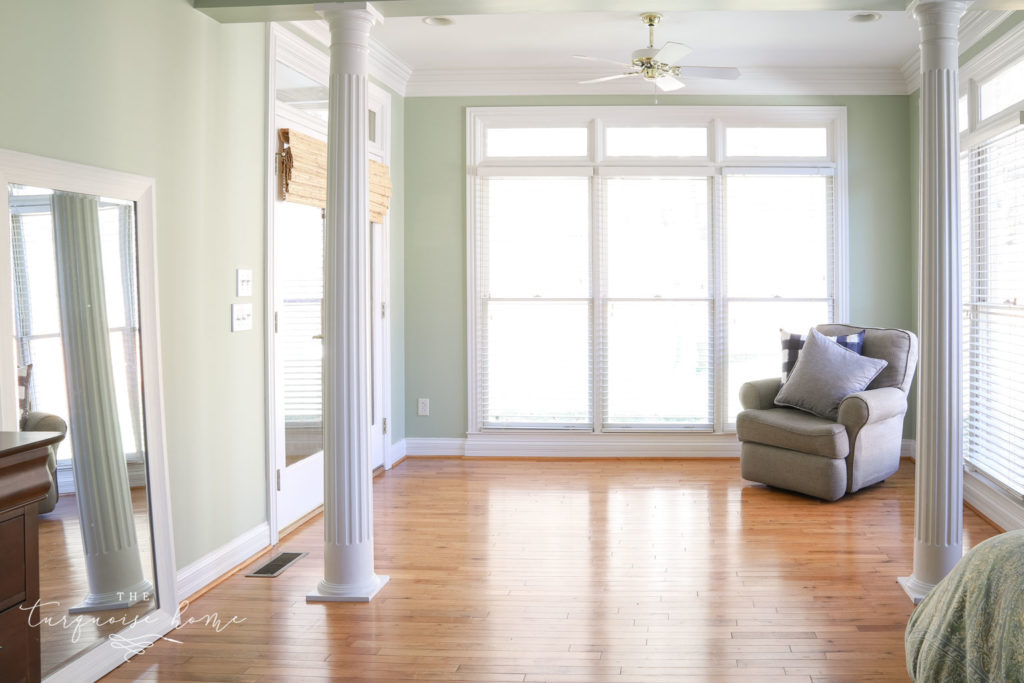 This sitting area is such a nice addition to our bedroom. I never had this on my wish list, but I think once we get the right furniture in here, we'll use it a lot! My husband used this space as an office during the beginning of quarantine. And I love that it has so many windows overlooking our private, wooded back yard.
I don't have pictures of the wall across from the bed, but it has our old dresser and a TV on it. It's nothing fancy and I'm still not sure what we'll do with that wall, so more to come!
Restful Master Bedroom Design Board
OK, enough rambling about it, let's take a look at the vision! (If you've ever wanted to make a design board for your own room, I shared how to create a mood board in this post.)
This post contains affiliate links for your convenience. See my full disclosure policy.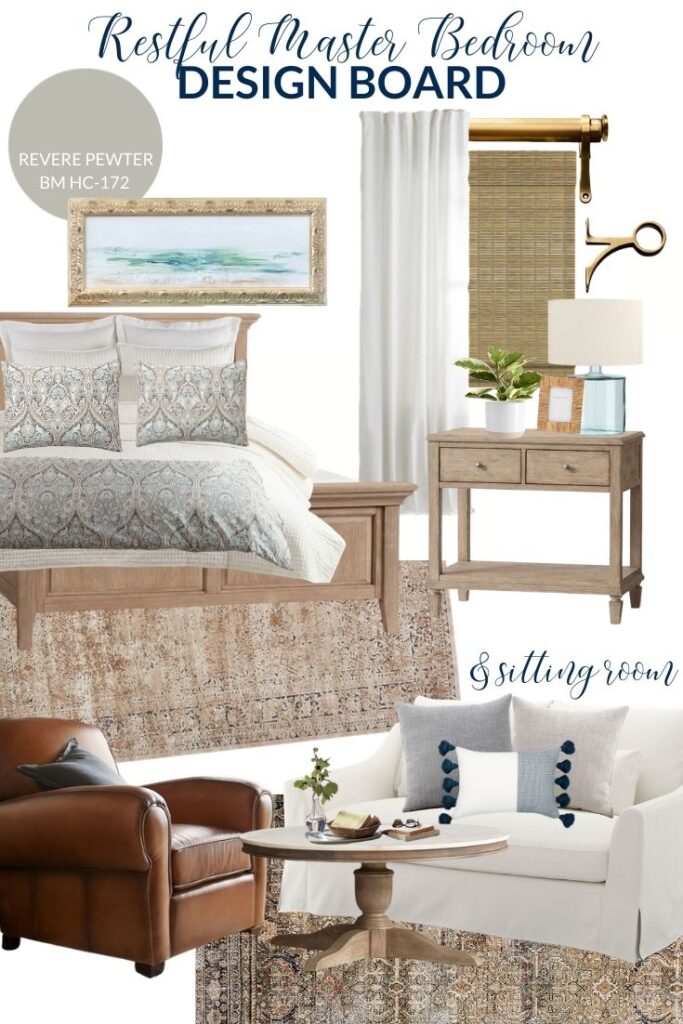 Sea Glass Coast Abstract Art | Brass Curtain Rods (and simple finial) | Brass Curtain Rings | Jute Wheat Bamboo Shades (use code TURQHOME for 5% off) | Ivory Blackout Curtains | Hudson Wood Bed | Ivory Pick-stitch Quilt | Ivory Euro Pillow Covers | Paisley Duvet Cover | Paisley Pillow Shams | Beige & Charcoal Rug | Recycled Glass Lamp & Shade | Night Stand | Faux Rubber Plant | Picture Frame | Love Seat | Linen Pillows | Pillow with Tassels | Leather Club Chair | Round Coffee Table | Olive & Charcoal Rug
Click/Tap the images below to shop the bedroom design:

I'm so thrilled to see how it all turns out! I plan on this taking 4-5 months to finish, because we have to save up and pay for some of the larger items. And then furniture it taking a long time to ship these days. But I hope to take advantage of Black Friday sales for some of the larger purchases.
Window Coverings in the Bedroom
This bedroom has 7 (seven!!) windows and 2 french doors, so the windows are a huge part of this design. The windows all came with white wood blinds and the french doors had see-through, cheap bamboo blinds on them.
I immediately knew I would be replacing the french door shades and the blinds next to my bed with my favorite Jute Wheat Bamboo Shades from SelectBlinds.com. (Use code TURQHOME to get an additional 5% off your own window treatments.)
I used these bamboo shades in our last home and loved them! Learn everything you need to know about choosing bamboo shades here.
The other 5 windows in the room will be keeping the white wooden blinds and all of the windows are getting these linen/cotton ivory curtains.
They are so heavy duty and beautiful in person. We're getting black out curtains for the windows on the southeast side of the house and the regular curtains for the windows facing our back yard.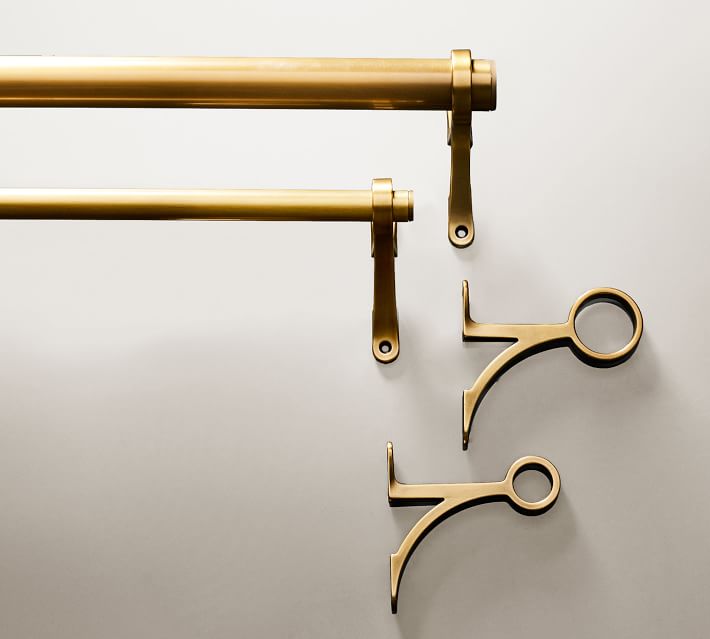 The brass curtain rods are a bit of a splurge, too. I tried to use my standard Target curtain rods, but I couldn't find curtain rings that matched and it would have bothered me in the bedroom. So, I bought the ones that matched these gorgeous curtain rings! 😜
I got the simple profile finial, since I think they look so sleek and pretty! It's the trend these days, so I went with it!
Bed and Night Stand in the Bedroom
It has been a challenge to find a bed my husband and I both agree on that will work with our adjustable bed frames. We have two XL twin adjustable bed bases and you've got to make sure the bed frame will work with the size of your beds and won't require a box spring.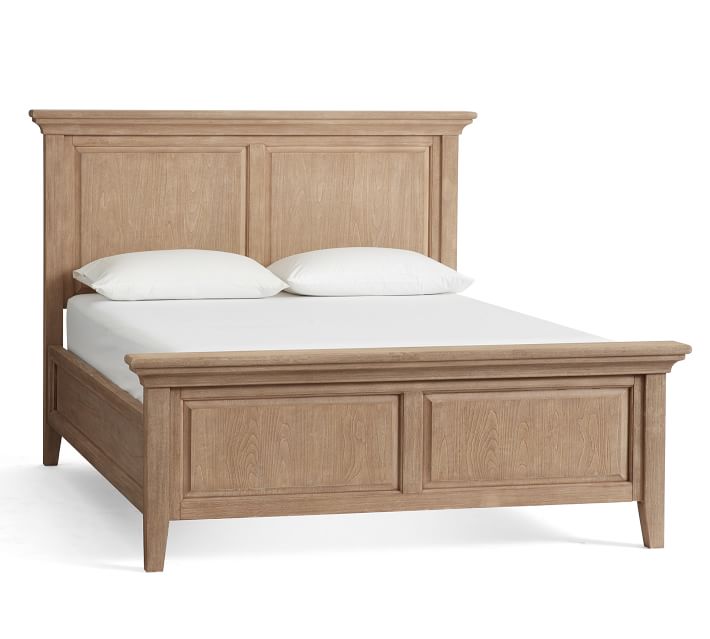 My husband also wanted a wood bed and not an upholstered one. If I were the only one choosing, we'd probably already have an upholstered bed. But, it's one place where I will always consult him since it's a room he spends a lot of time in as well. This is the king bed in a seadrift finish.
And I'm in love with these night stands from another collection, but in the same finish. I think they will look so good in front of our windows.
Bedding in the Bedroom
Ahh bedding! You know the bedding that looks like it came straight out of a magazine? Well, I've never even attempted it. Ha! As long as we've been married, I've just had a duvet cover and the pillow shams that came with it.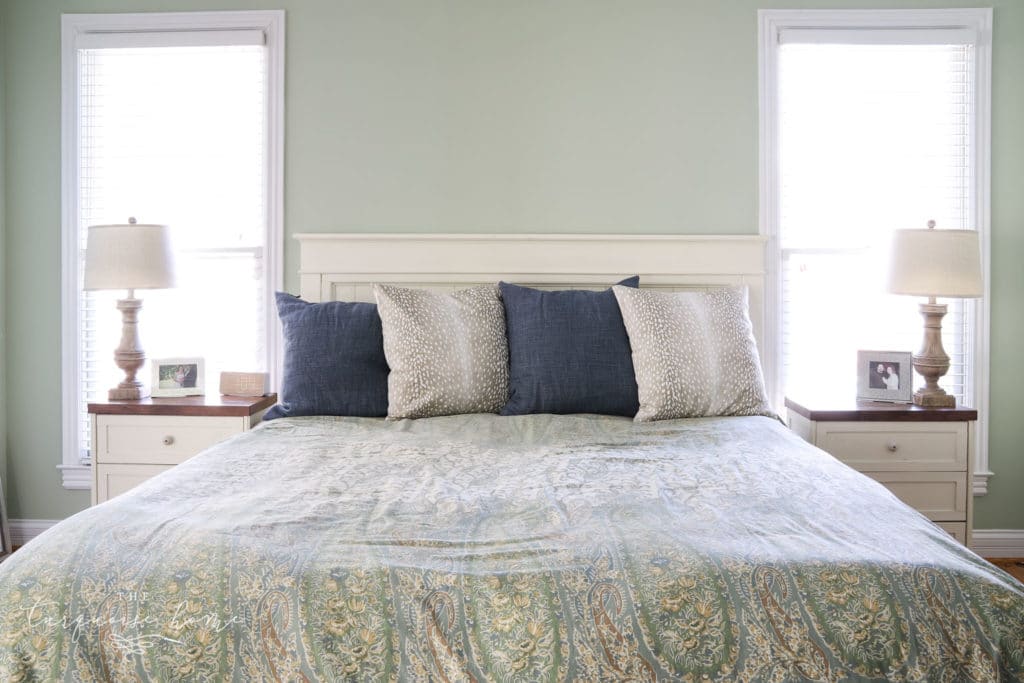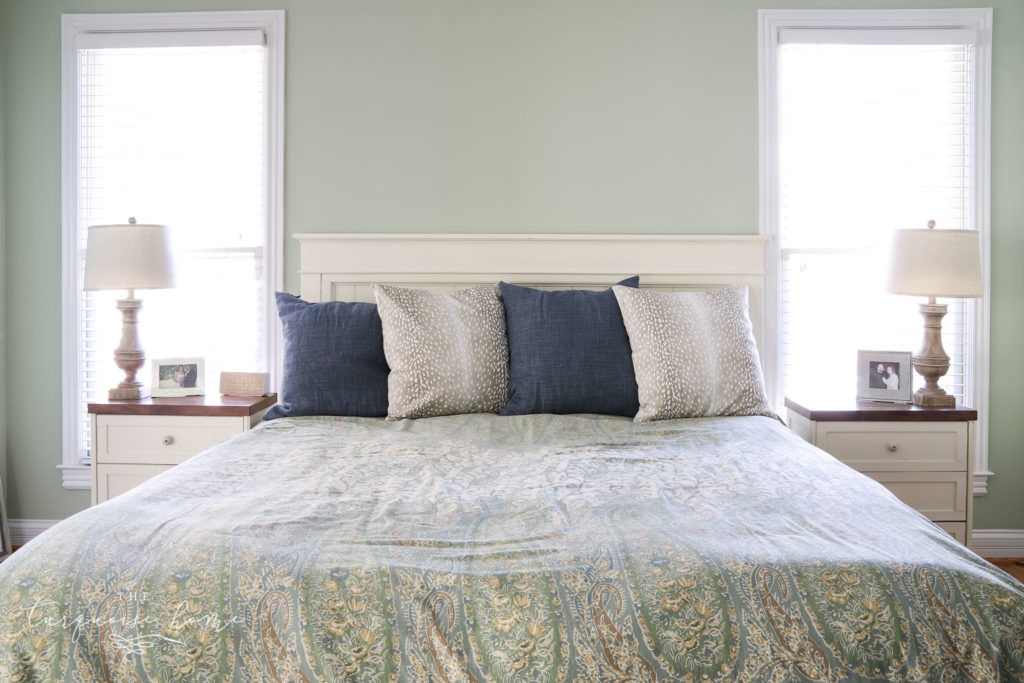 For this before photo, I grabbed some of my pillows off the couch to make it look better. 😂
But I'm excited to say we're finally going to have that magazine bedding look. And come to find out, it's much easier than I thought it would be. I'll be sharing how very soon.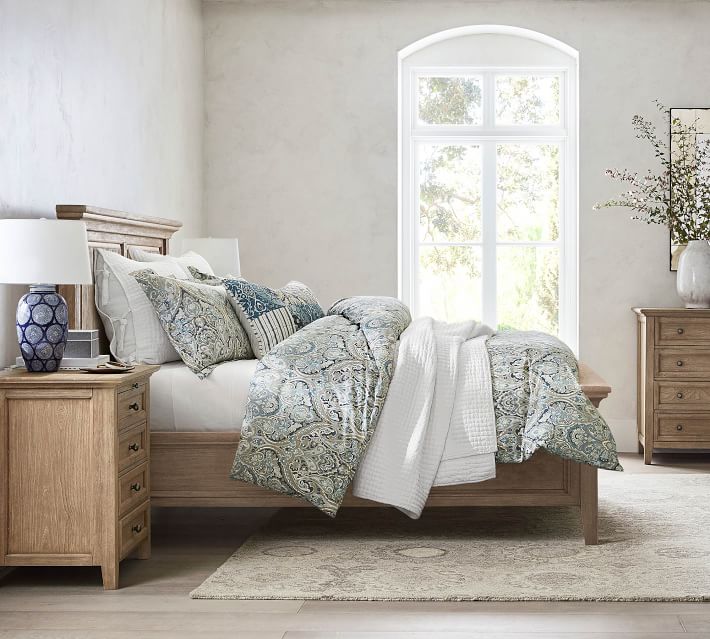 I also was tempted to try to do an all-neutral bedding look, but my color loving heart couldn't live with it. I had to have some color.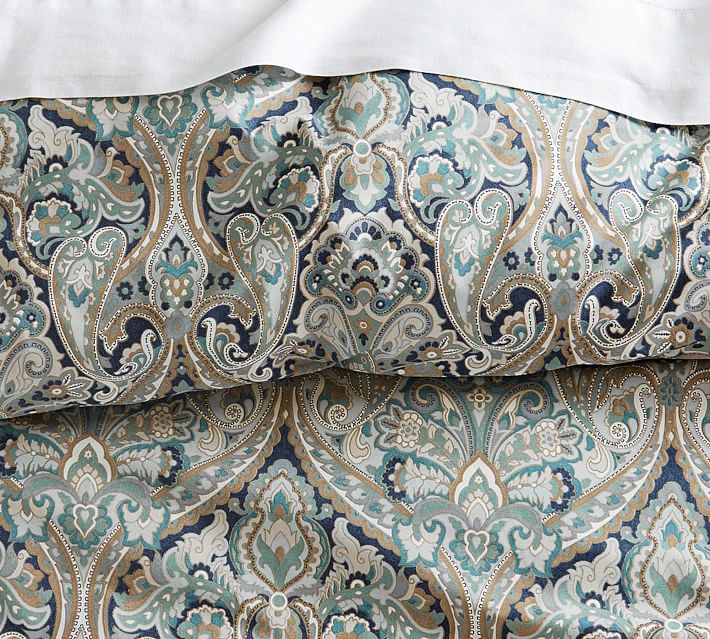 Isn't this duvet cover just so pretty? I love paisley bedding, as you can see in the before photo, and I thought it was time for a change since we've had our current duvet cover for 9 years.
Accessories in the Bedroom
The accessories are what makes the room! While I'm not quite sure about every single accessory we'll use, I really love this art, recycled glass lamp and faux plant! You always need a plant, either faux or real, in any space.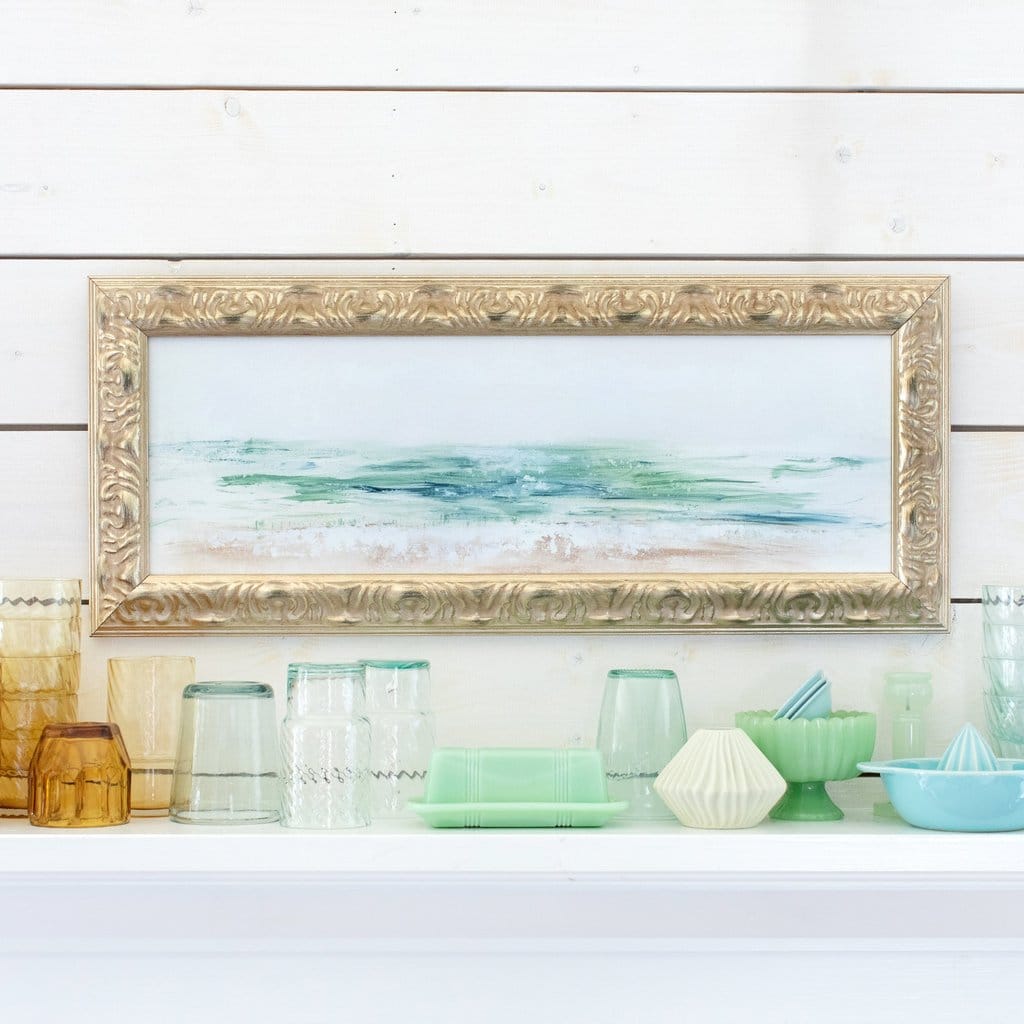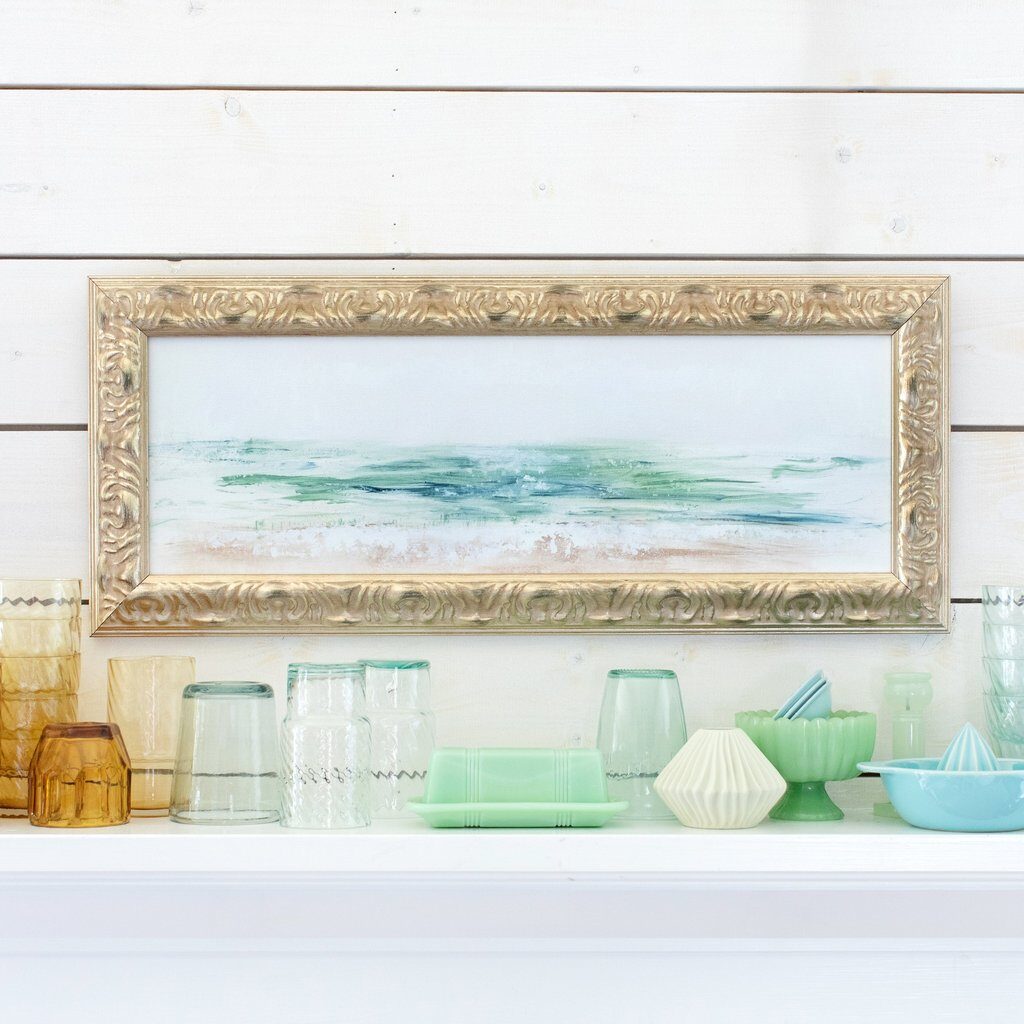 This framed canvas art is from the uber talented Lindsay Letters. It's the perfect size to go above a bed and I can't wait to get it ordered and try it out!
Then the recycle glass lamps will pair perfectly with the blue/greens of the canvas art.
I'm sure I'll add a couple of photo frames and faux (or real) greenery along with other decorative objects and probably some books, too.
Rugs in the Bedroom & Sitting Area
Both of the rugs I've chosen to use in this room I already have.
The beige and charcoal rug under the bed was in our previous bedroom, too. It's great! Goes well with all styles and color schemes and cleans up like a dream. We have the blue version in our living room and it's fabulous.
The olive/charcoal Loloi rug for our sitting room is actually one I bought for our dining room. But it turned out to be too small. So, I tried it in the sitting area and it's perfect. It really pairs well with the rug we already had under the bed.
There's a reason why you'll find this rug in so many blogger's homes. It's gorgeous and goes with everything!
Furniture in the Sitting Area
Last, but not least, let's chat about the furniture we're putting in the sitting area. This space had me baffled for a while, but then I saw this photo from Pure Salt Interiors.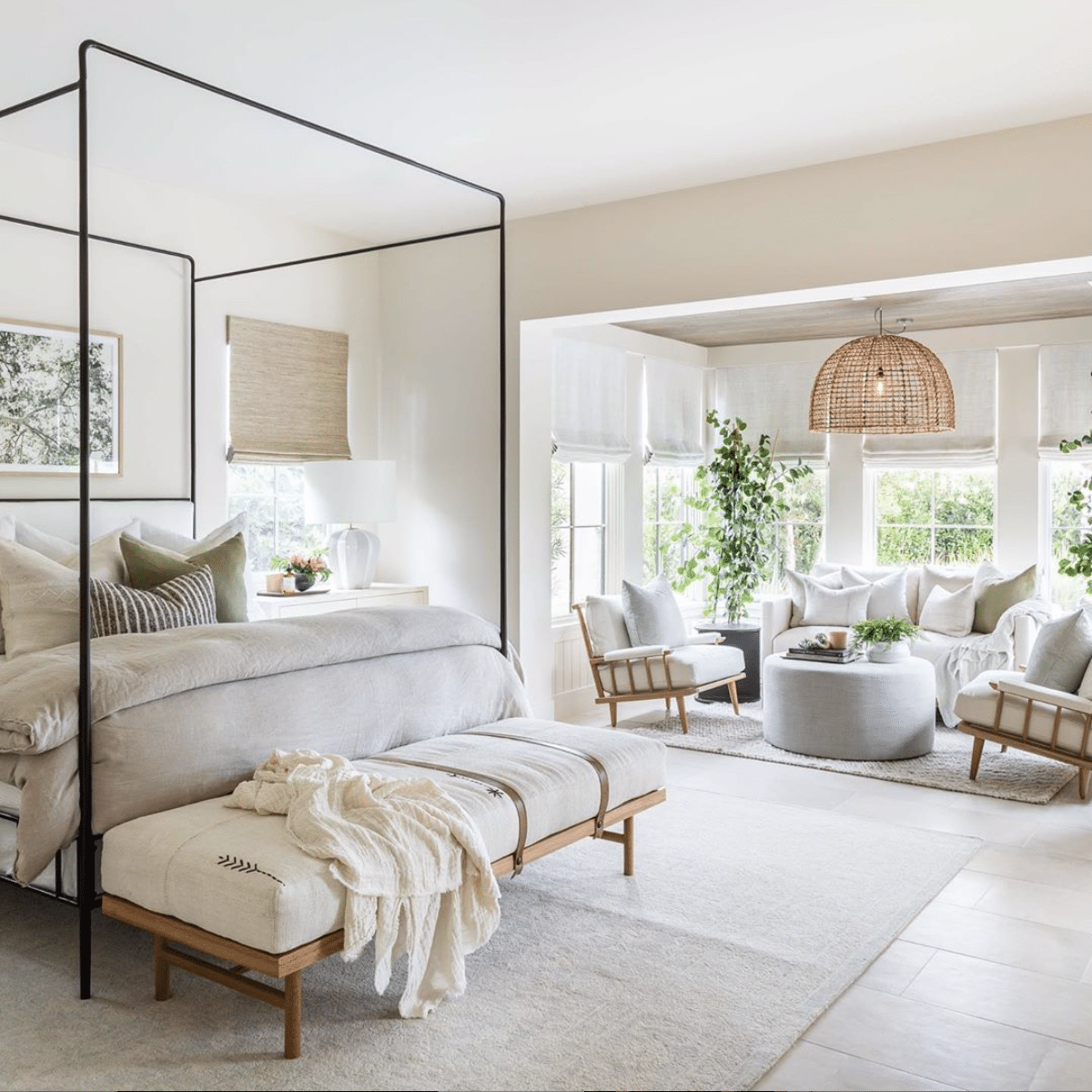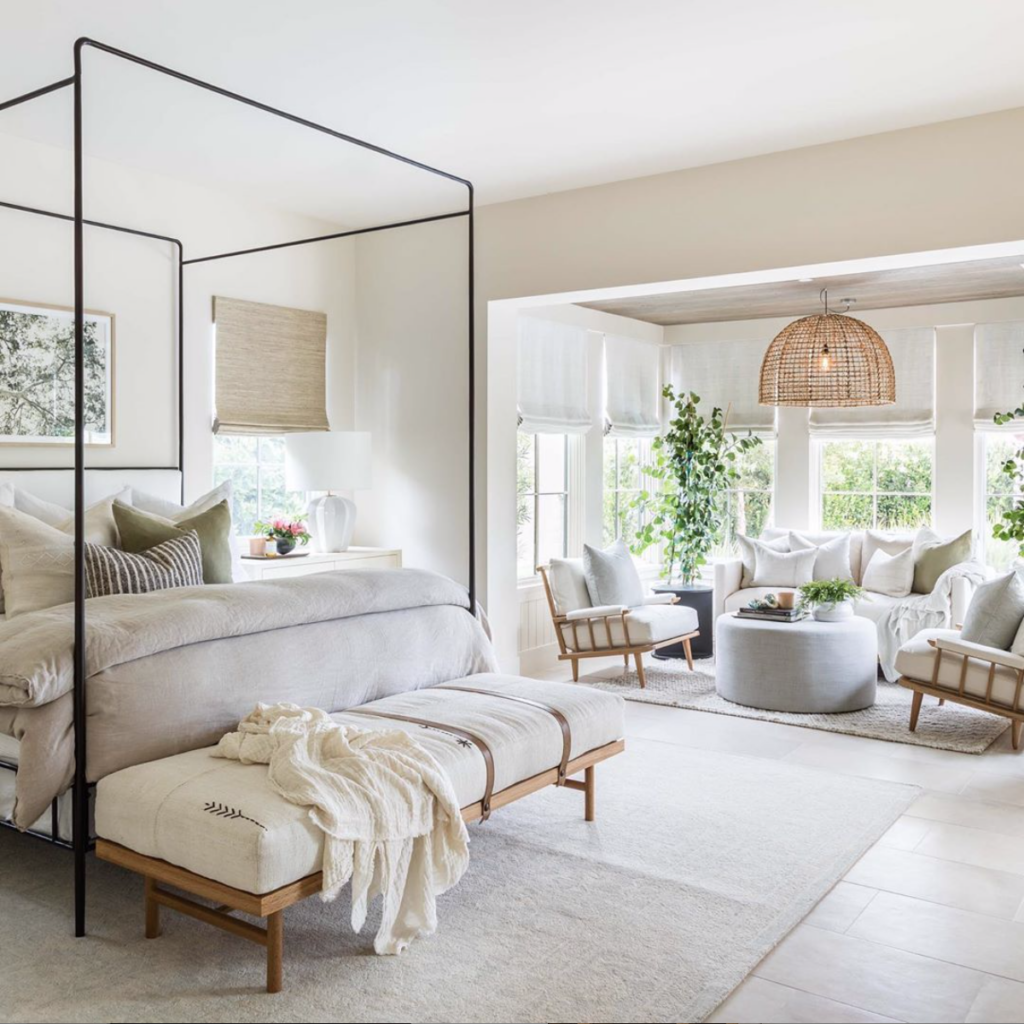 I loved the sitting room area off the master bedroom and knew that's what I wanted. I think once we get the right furniture in there, we'll use it a lot. My husband has to take a lot of phone calls while he's not at work, so this will be a great spot for him to talk to people.
And I can see myself having my morning cup of coffee and devotions in there while overlooking our back yard. It's going to be great.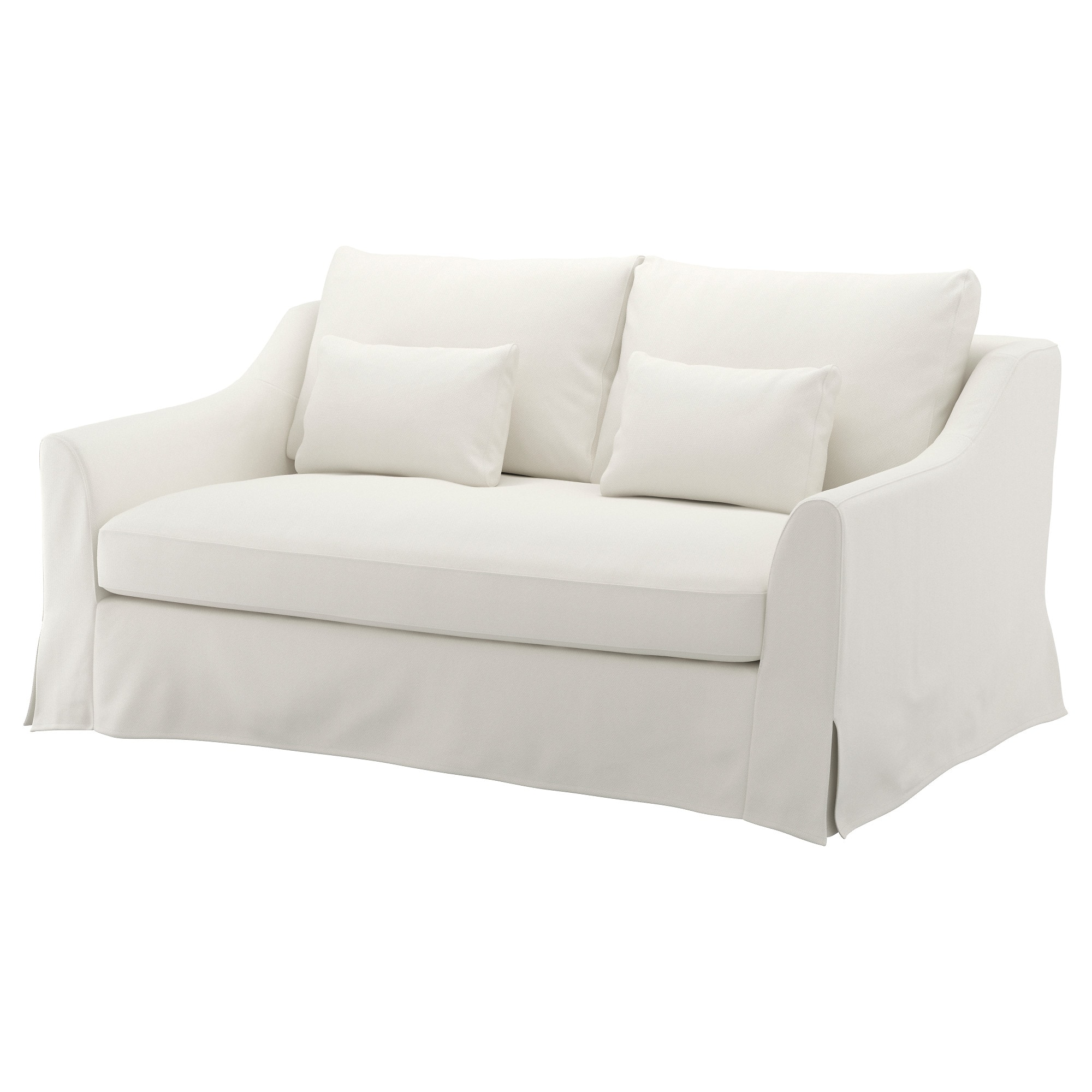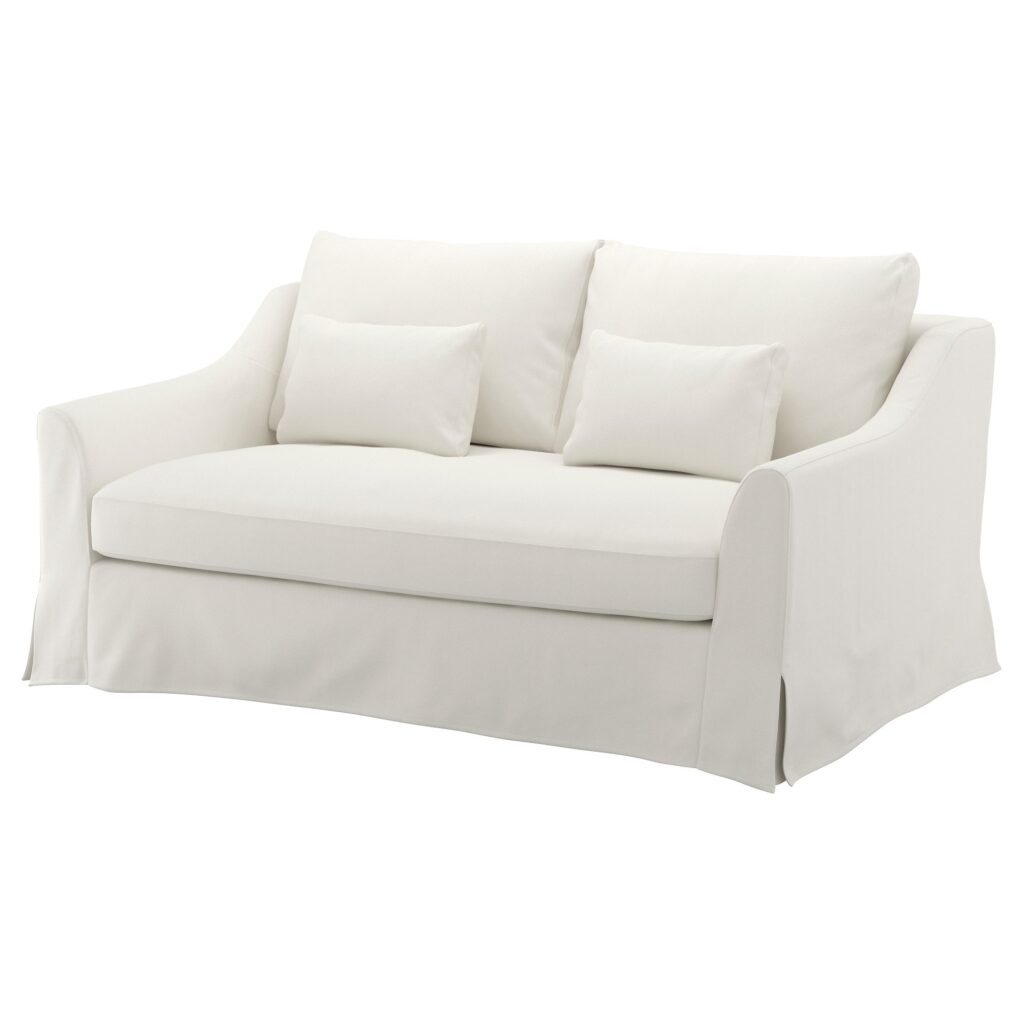 This IKEA Farlov loveseat will fit perfectly. And we'll move my husband's leather club chair from the living room into here. I'll have to find some new chairs for the living room, but that's OK!
I am not sure what kind of coffee table I'll put in there, but I know I want something round like this gorgeous marble-topped coffee table.
I think that covers everything so far. I didn't even touch the armoire and the dresser in our bedroom, because they are nice, but not my style. I think I've decided I'll try to paint them instead of replace them. And then I might try a treatment on the wall across from our bed, but I haven't decided on that either.
I also have to upgrade the ceiling fans, but I think I'm going to take them down and paint them, too, and try to reuse them.
I'm so excited to work on this room over the next few months and take you along for the ride!
More Posts You Will Love: