Benjamin Moore Simply White
Benjamin Moore Simply White is one of the most popular white paint colors. This shade is an ideal light off-white that provides just the right amount of warmth.
Benjamin Moore's Simply White (OC-117) is a warm white that looks crisp and clean yet also manages to create a warm and inviting atmosphere. And as Benjamin Moore's Color of the Year in 2016, it's one white paint color that works well for almost any decor or house style.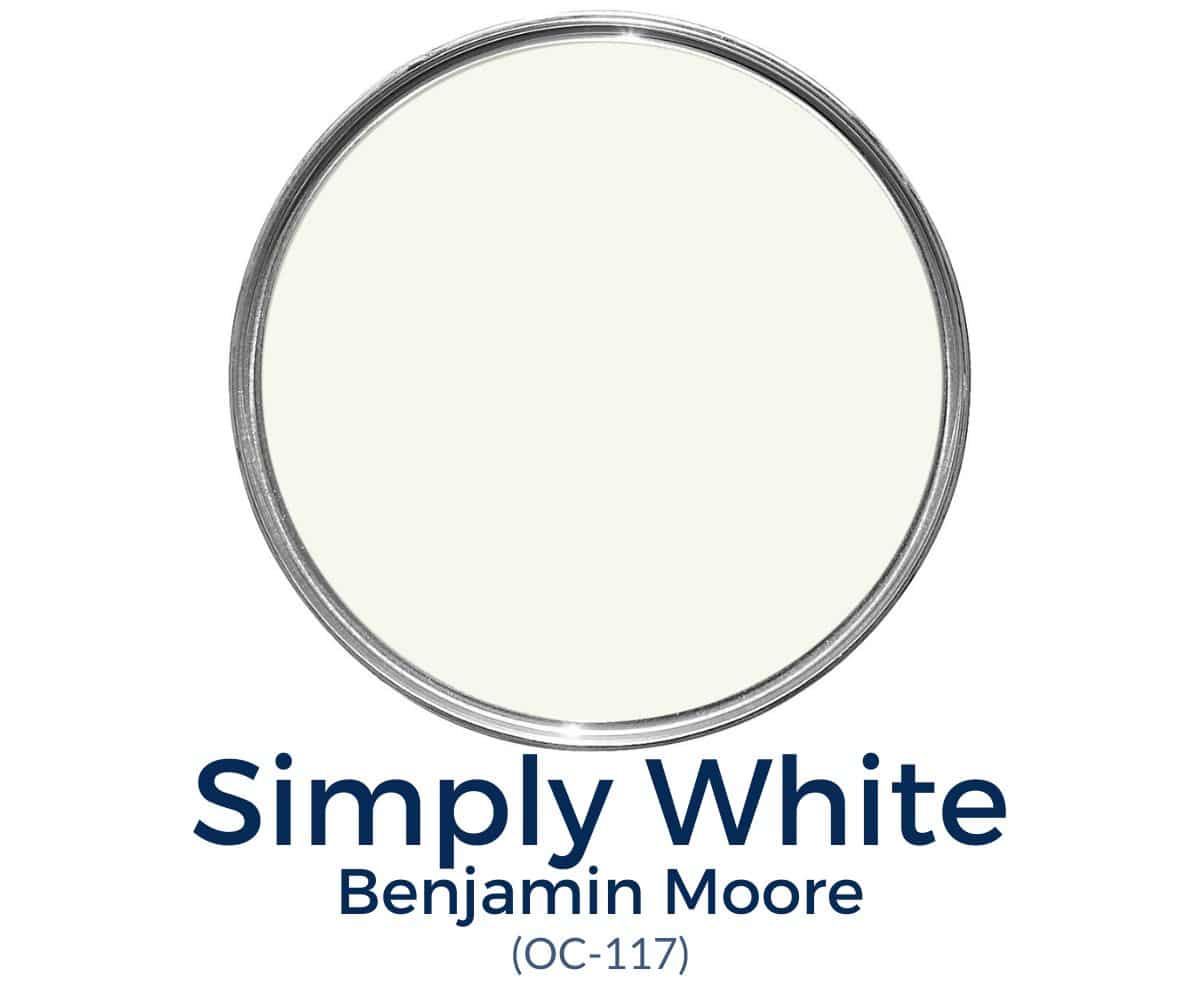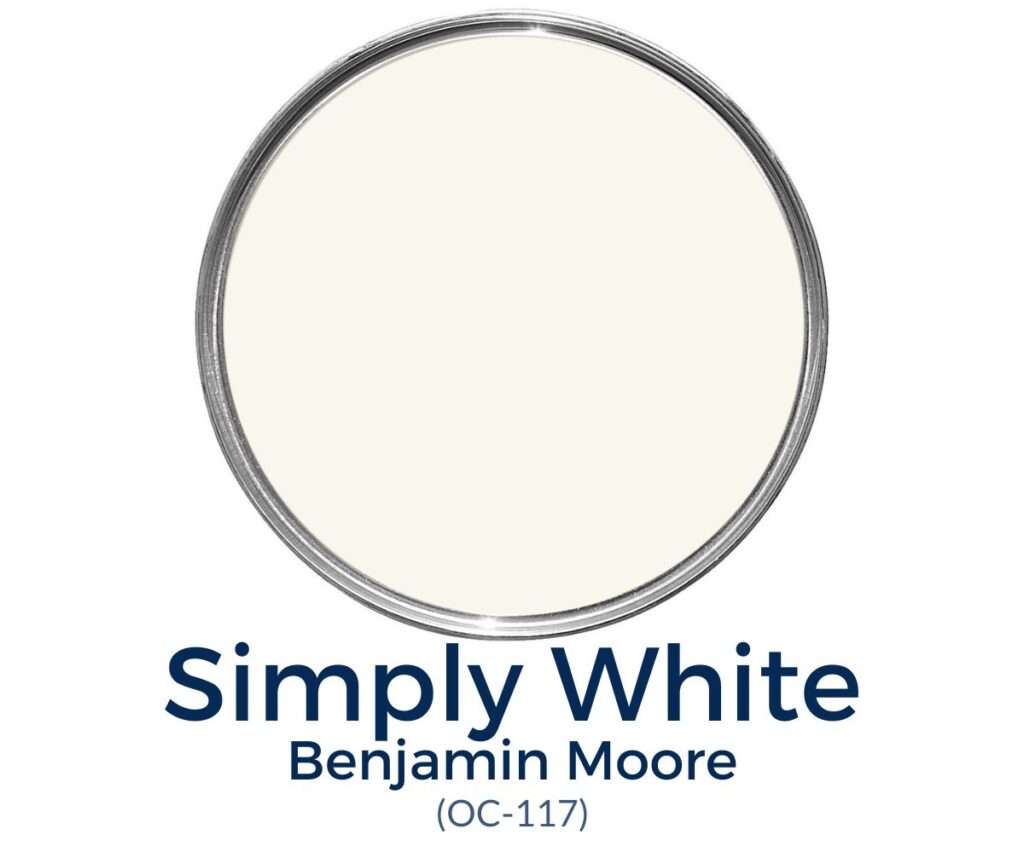 If you are searching for a white paint color, you know that the task is anything but, well, simple! However, BM Simply White is a versatile and gorgeous bright white that has just enough cream to keep it looking pastel and soft instead of stark or cold.
Benjamin Moore's website offers a very poetic description:
"Fresh as the first snowfall, this clean, crisp, multi-purpose white is a perennial favorite for trim, ceilings, and walls."
It also happens to be MY go-to shade for trim. I used Simply White for all of the trim in my current house. And I painted the kitchen cabinets in my previous home in Simply White!
Let's dive in and explore this incredible and popular white.
What color is Benjamin Moore Simply White?
Here's a quick overview to highlight the essential qualities of this great shade:
warm off-white with mild creamy undertones
bright shade with an LRV of 89.52
popular choice for kitchen cabinets, ceilings, and trim
versatile hue that works with any style of home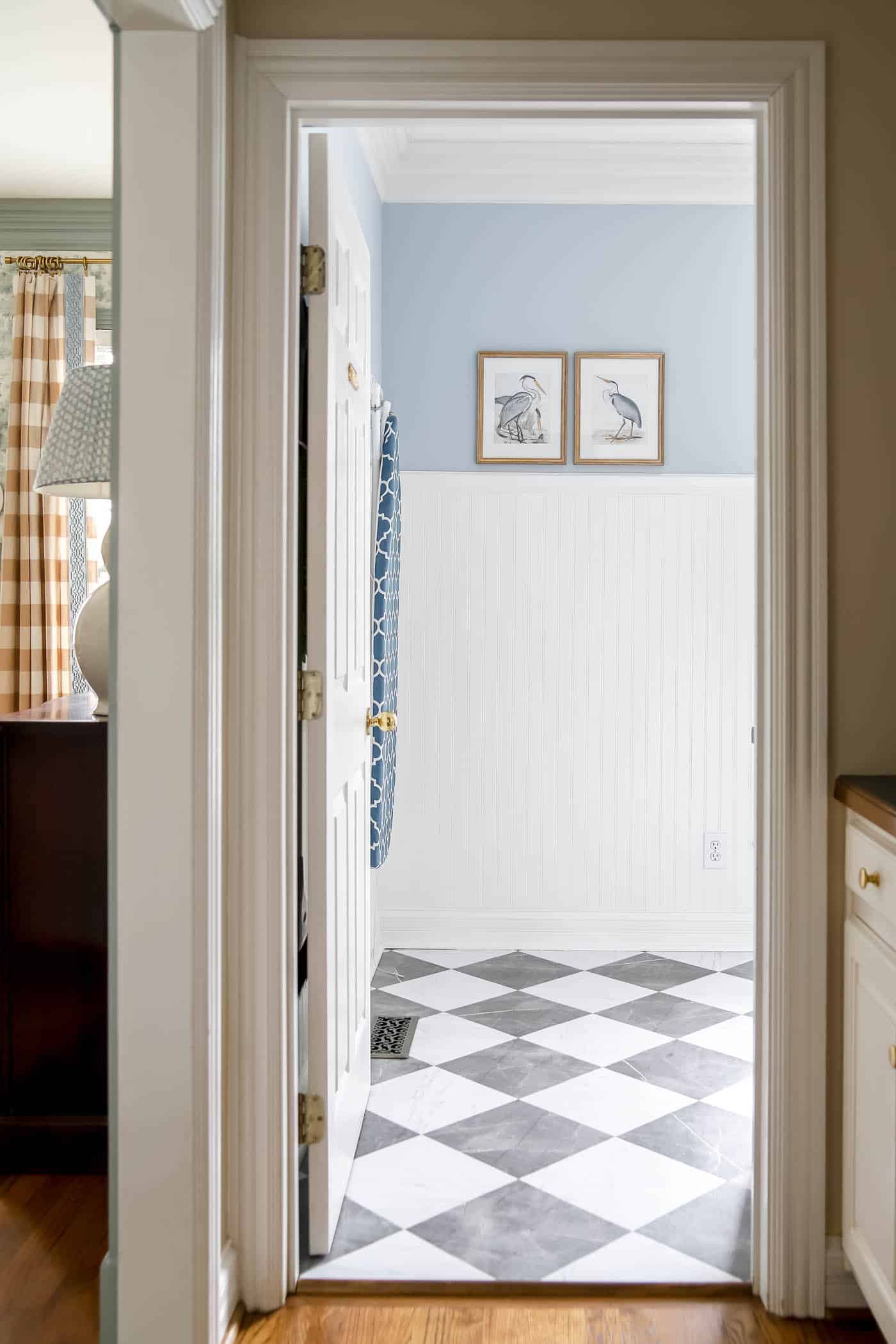 Undertones in Simply White
Simply White paint is a versatile off-white with a mild yellow undertone. As a bright white, it usually appears clean and crisp in most spaces without a hint of yellow. In other areas, especially those with yellow-tinted lighting, this shade can appear warm and cozy.
Although BM Simply White has a warm creamy vibe, most of the time, you wouldn't notice any yellow unless it was next to a cooler white.
Note: Due to its yellow undertones, this creamy shade can be a tad difficult to pair with other whites when choosing a white color palette. That just goes to show why using paint swatches when pairing colors together is so important!
This post contains affiliate links for your convenience. See my full disclosure policy.
Tip: Use Real Paint Samples
Any time you are choosing a new paint color, you need to try out the real paint color in your home first!
The easiest and quickest way to do that is with Samplize! I solely use them for paint samples now. There's no mess, no leftover sample pots of paint. Plus, these no-mess, peel and stick rectangles made from real paint, are easy to move around the room and easy to save for future reference!
LRV of BM Simply White
Light reflectance value (LRV) is the amount of light a paint color either reflects or absorbs. A higher LRV number indicates how much more light the color reflects (rather than absorbs). In other words, LRV 100 is pure white, and LRV 0 is pure black.
Simply White has a Light Reflectance Value of 89.52.
Brightness-wise, Simply White is very light. It's light enough that most people will consider it white rather than off-white, and there are very few white paints brighter than this one.
Benjamin Moore Simply White coordinating colors
BM Simply White goes well with SO many colors! Benjamin Moore recommends pairing it with:
Dove Wing
Somerville Red
Silver Satin
Casco Bay
I love pairing it with a few of my personal favorites, such as:
Best Trim Colors to go with Simply White
If you plan to paint your walls with Simply White and want some contrast with the trim or ceilings, I recommend picking a clean, bright white. Two good options would be Benjamin Moore Chantilly Lace or Benjamin Moore Oxford White.
However, another way to help create contrast between trim colors and paint colors is to use different paint sheens. A semi-gloss will help the white trim look brighter, while an eggshell finish (which is more flat) on the interior walls will cause the wall color to look darker.
This is a great approach that can allow you to use Simply White for both your walls and your trim AND see the contrast!
Benjamin Moore Simply White vs. White Dove
Both of these shades are very popular. And although they both read as soft and creamy on the walls, they look very different when you put them side by side.
Like Simply White, BM White Dove also has yellow undertones. But it also has gray undertones that tone down the yellow to create a soft white that never appears too yellow.
Where can you use Benjamin Moore Simply White?
Simply White by Benjamin Moore is one of the most versatile and timeless white paint colors. You can confidently use it almost anywhere! Use it for:
Kitchen cabinets
Wall molding
Trim
Interior walls
Exteriors
Ceilings
Home styles that work with Simply White
Traditional
Transitional
Classic
Farmhouse
And more
Room examples using Benjamin Moore Simply White
I've gathered a few examples of BM Simply White paint in a variety of rooms and settings. Be sure to take note of the different decor colors and lighting exposures to see how they impact the way that Simply White looks.
Simply White Kitchen Cabinets
When I painted the kitchen cabinets in our old home, I chose Simply White. It looks clean and crisp and gorgeous with the cool-toned walls and warm wood tones. Its clean profile perfectly bridges the gap between the warm tones and cool tones in any space.
Simply White Walls in the Living Room
I transformed our previous living room by installing board and batten and painted it Simply White. Instead of painting the entire walls white, I decided to just stick to the accent. I love how bright and clean it looks and how much it opens up the space!
I paired it with Revere Pewter on the top part of the wall!
Bedrooms in Simply White
Bedrooms offer great color palette potential, and Benjamin Moore Simply White is definitely a go-to choice. I painted our guest bedroom Simply White.
And this bedroom from So Much Better With Age looks incredible. No hint of yellow in either room!
Bathroom painted BM Simply White
Bathrooms are often small, dark spaces, so light shades like Simply White do a great job of making them feel spacious and airy! I only have love for this gorgeous bathroom from The Lived-In Look.
Benjamin Moore Simply White Home Office
I used to have my office in the guest room at our old house. I painted the room Simply White to open up the small space and make it a prime environment for productivity.
Benjamin Moore Simply White exteriors
When we purchased this house, the shutters were green, and the trim was yellow. I couldn't wait to change that! A year and a half after we moved in, we tackled the exterior.
I painted the shutters black and the trim in BM Simply White. I love how bright and clean it looks! Simple White is enough of a cream color to keep it from being stark white on the exterior. It won't blind you in the direct sun!
Frequently asked questions
Is Benjamin Moore Simply White warm or cool?
Simply White is a warm, clean white. Although it leans warm, it won't look too creamy or yellow, making it a top choice as a versatile white.
Does Benjamin Moore Simply White look yellow?
Although Simply White leans warmer than many other white paints, it usually looks clean and neutral. The yellow undertones give this shade its soft, creamy appearance, and in very warm-tinted lighting, you may notice a hint of yellow. 
Which is whiter, White Dove or Simply White?
Because Simply White lacks the gray undertones that darken White Dove just a little, Simply White is a brighter white.
Isn't Simply White amazing? Given how versatile it is and how clean it looks, is it any wonder why it's my go-to white paint?
How to choose a white paint color
Choosing a white paint color is a difficult task! Many people try to steer away from using true white colors in a home because they can feel cold and harsh. That puts off-whites and creamy whites at the top of the list for home decor recommendations.
Check out my article about how to choose a white paint color to make this challenging process easier.
Some of my favorite white paint colors are:
More paint colors
Don't forget to check out some of my other favorite paint color shades:
My Favorite
Painting Tools
More posts you will love: