Gorgeous Kitchen Chandeliers You'll Love
Kitchen chandeliers over your dine-in table are a beautiful (and practical!) way to draw the eye and add even more personality to your space. Here are some gorgeous ideas of chandeliers for YOUR kitchen!
It's important to have good lighting over the table where you eat your food, right? That way you can see what you're eating and who you are sharing it with!
Especially in a breakfast nook that may not have a lot of natural light, having a nice kitchen chandelier over your dine-in kitchen table provides the light you need and is a beautiful decor piece for your home.
This post contains affiliate links for your convenience. See my full disclosure policy.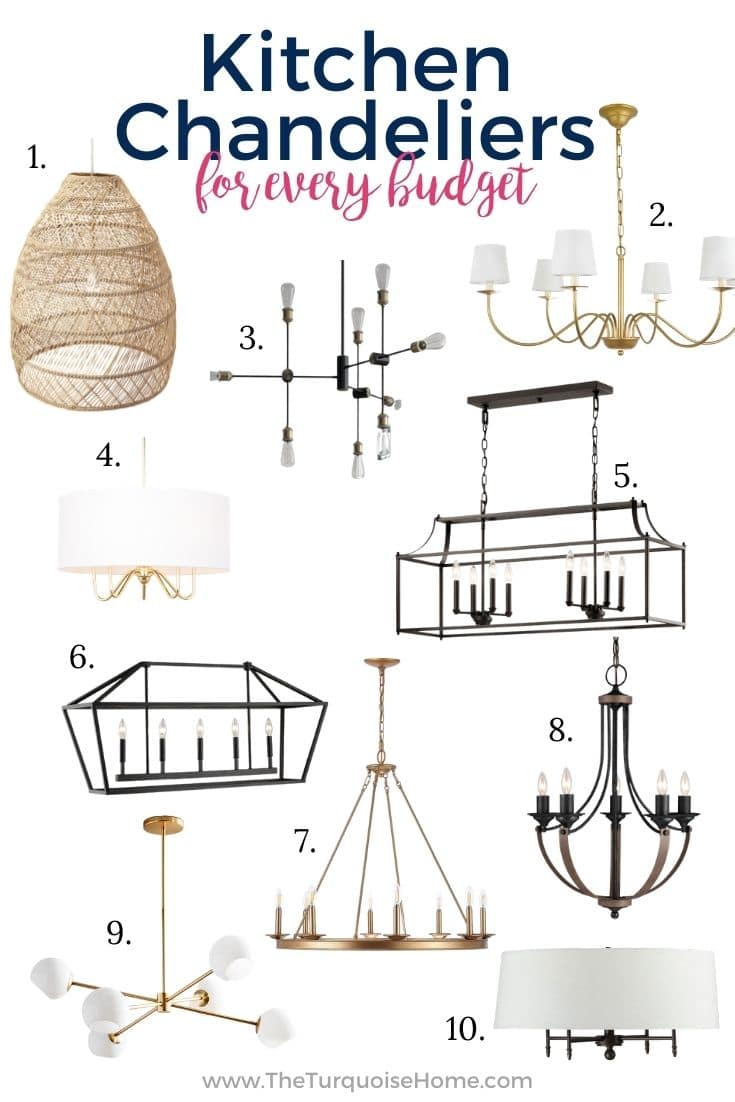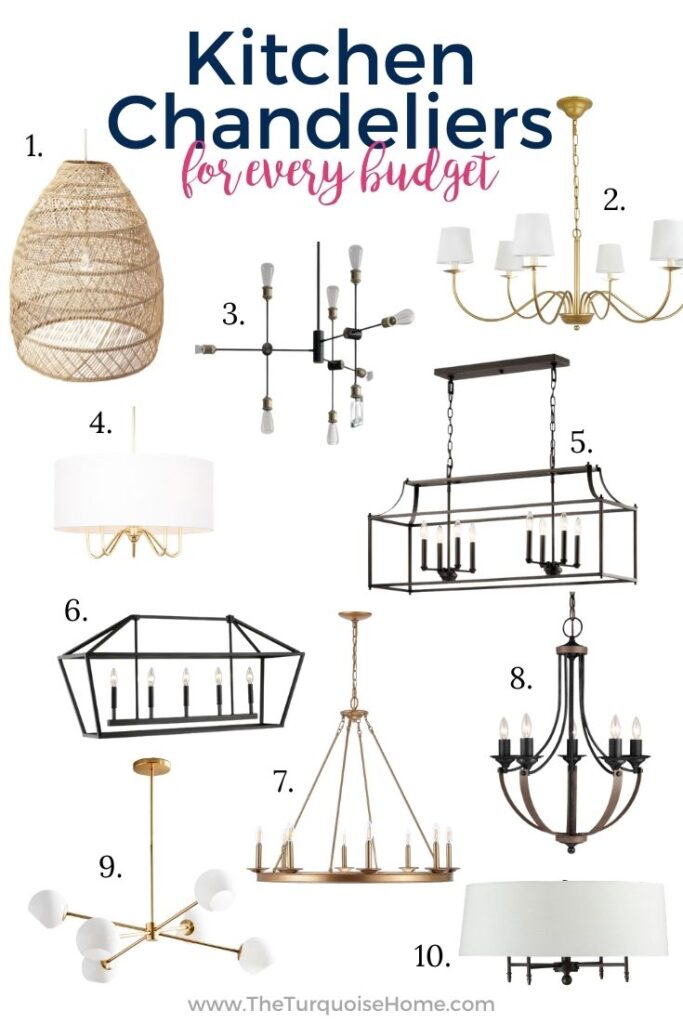 1. Woven Bell Pendant | 2. Candelabra Chandelier with Shades | 3. Sputnik Style Chandelier | 4. Drum Chandelier | 5. 2-Chandelier Linear Pendant | 6. 5 Light Linear Pendant Light | 7. Classic Wheel Chandelier | 8. Candle-Style Empire Chandelier | 9. Staggered Milk Glass Globe Light | 10. Bronze Light with Linen Drum Shade
Unfortunately, the hard part is picking ONE chandelier! With so many designs and options available, picking just one can seem like a monumentally difficult task. It's a very similar concept to picking a paint color for your space in that regard.
You may remember the search I went on to find the perfect chandelier for my dining room. Then, of course, that led to choosing which was my favorite style (there were so many choices!) and thinking that maybe I would buy my first choice for the dining room and my second choice for my eat-in kitchen. (See which chandelier I chose for my kitchen at the end of this post.)
And while I've decided on a chandelier for my dining room (but haven't purchased yet, because I'm waiting until it's time to tackle that room), I'm still trying to figure out the right light choice for my kitchen.
You may or may not recall that this is where we're starting…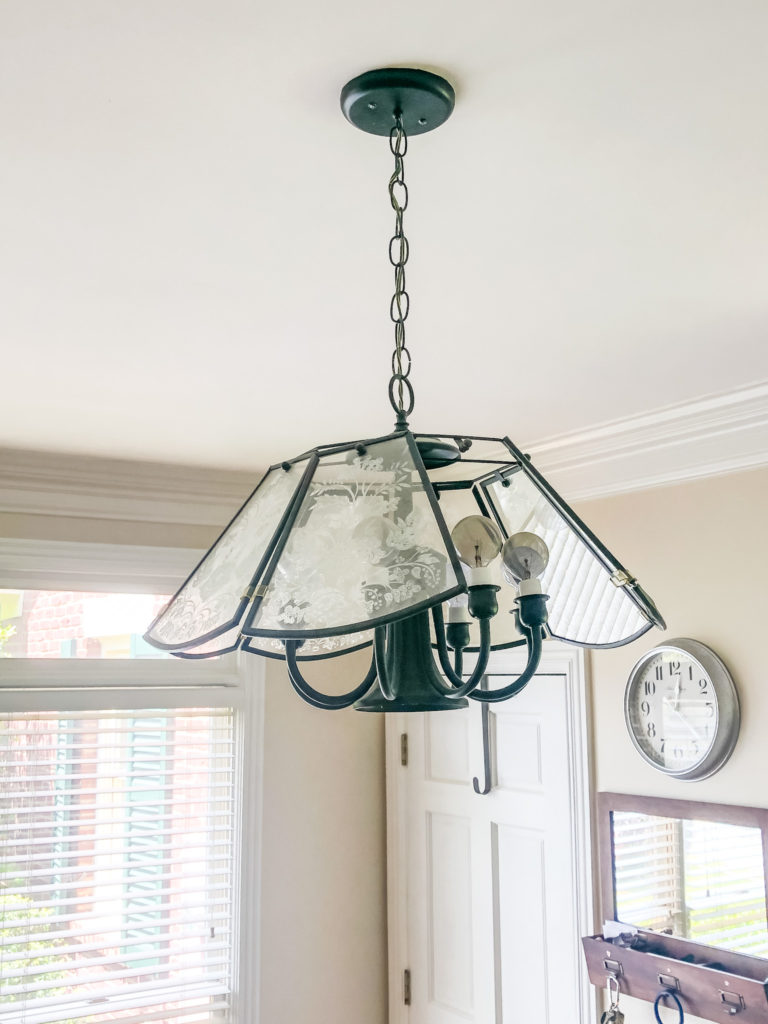 And I would have left it be for a while longer, but that glass pane fell out and it's lopsided now, and another pane has a large crack in it. So, I decided to go ahead and replace it now. #safetyissue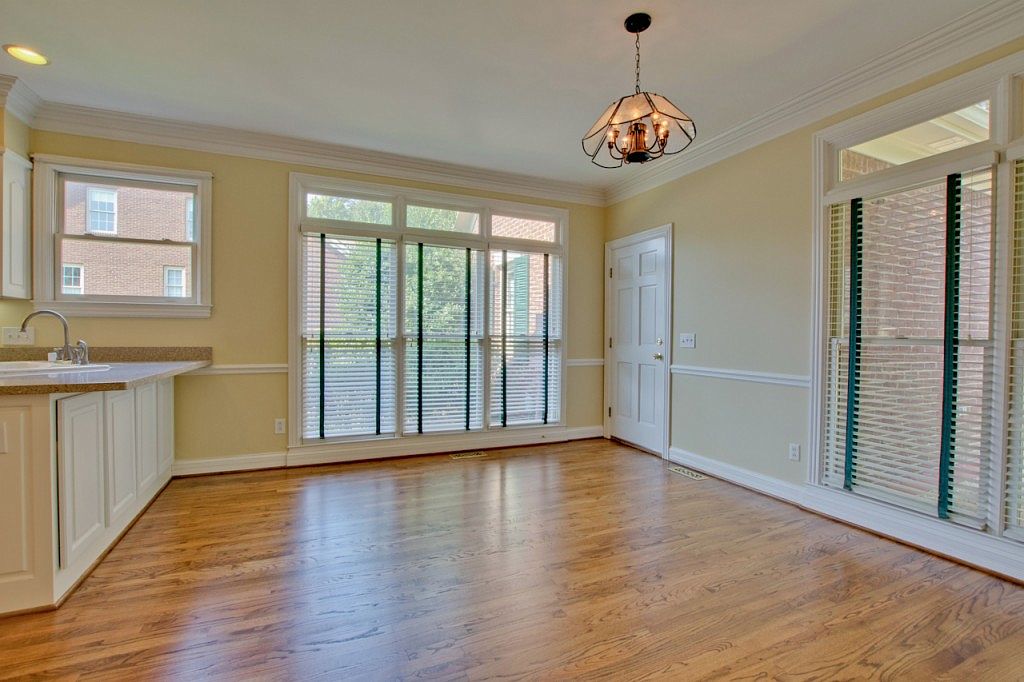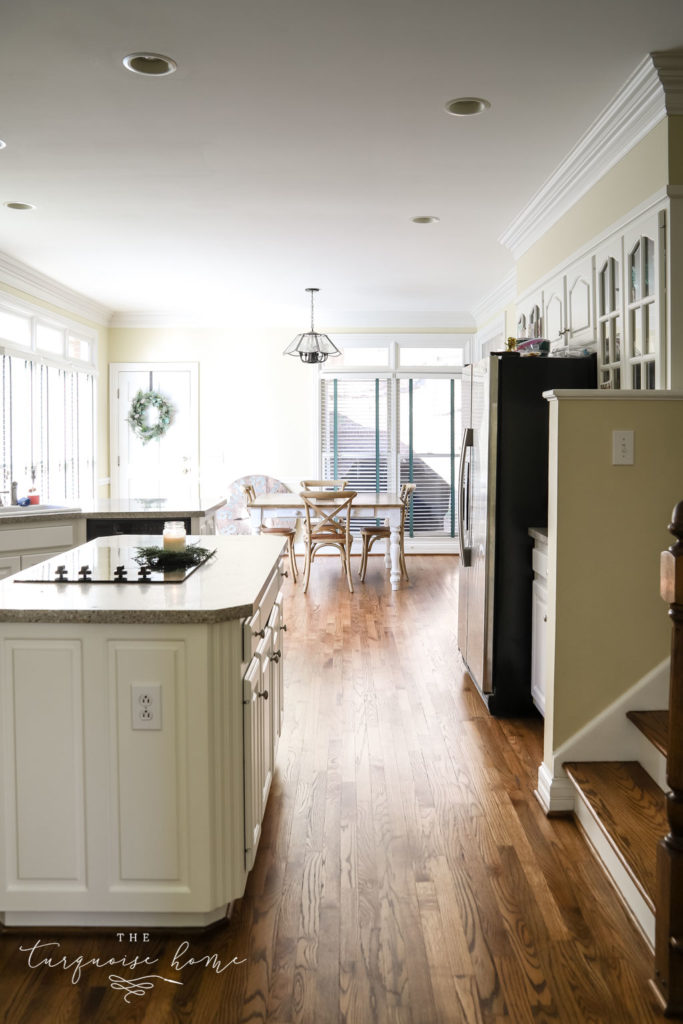 There are some amazing options out there, and we'll get to them in a second. First, let's chat about how you can choose an appropriate chandelier for your space.
And if you need it, learn how to change a light fixture, in this post!
Difference Between Chandeliers For Your Kitchen and Dining Room Chandeliers
Chandeliers can be quite large and dramatic or slightly smaller and less formal. Chandeliers for a dining room tend to be more formal and impressive.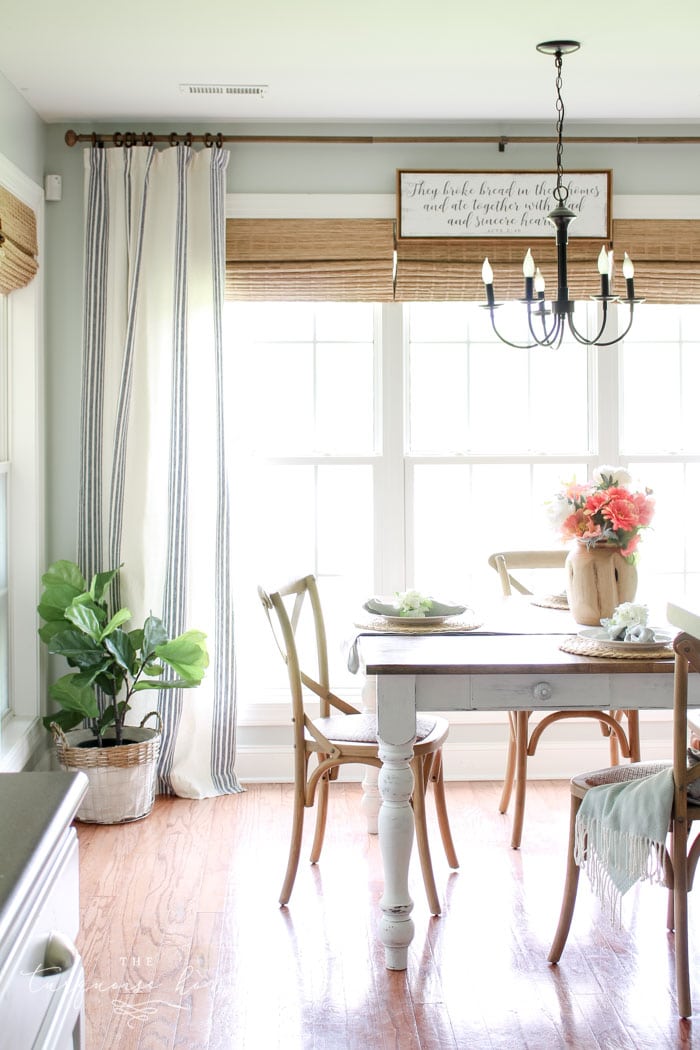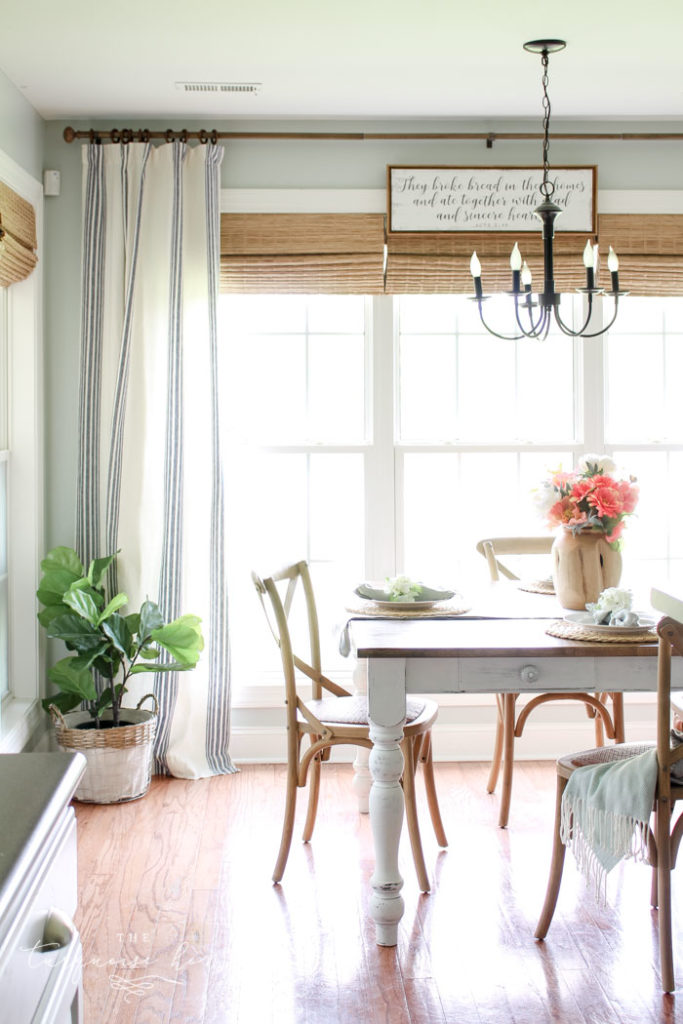 Generally speaking, when you are searching for a chandelier to use over your table in your breakfast nook, look for something casual and maybe even fun! Also, depending on your space, you may look for something a little smaller such as a chandelier-esque pendant light.
If you need help finding the perfect size, check out this chandelier sizing tool!
Some Things to Consider Before You Shop …
A great thing about lighting is that you can introduce new shapes and textures to your space with the right light.
Do you want to bring in some metal (brass, chrome or bronze) or do you want to bring in a fabric shade or woven texture? Is there a fun color that would tie your space together? Do you want to have a glass globes or linen shades?
Would a round chandelier be ideal? If you have a lot of straight lines in your space and a rectangular table, a round shape might soften the space. Or maybe a lantern over a round table would look nice?
If you think through what you want to see in your space before shopping, this will help you narrow down your choices and leave you less confused in the long run!
The Best Kitchen Chandeliers To Choose From
I chose several different style options of kitchen chandelier lighting to share on this list. Whether you are a fan of farmhouse style or prefer something more modern or elegant, there's an option for you here!
Just know that if those other styles fit your home decor better, go for it!
Traditional (or Candle) Chandeliers for Your Kitchen
The word "chandelier" comes from the French word 'chandelle' which means candle. When you look at this style of chandelier, the candle-like torches are stunning and reminiscent of original chandeliers.
There are different styles and colors/finishes that you can choose from to fit your style. For some reason, I'm always drawn to the curvy ones. 😉
For example, I love this one from Wayfair below. It's the perfect combination of elegant and modern, with a casual touch, and it's cheaper than the almost identical chandelier from Pottery Barn.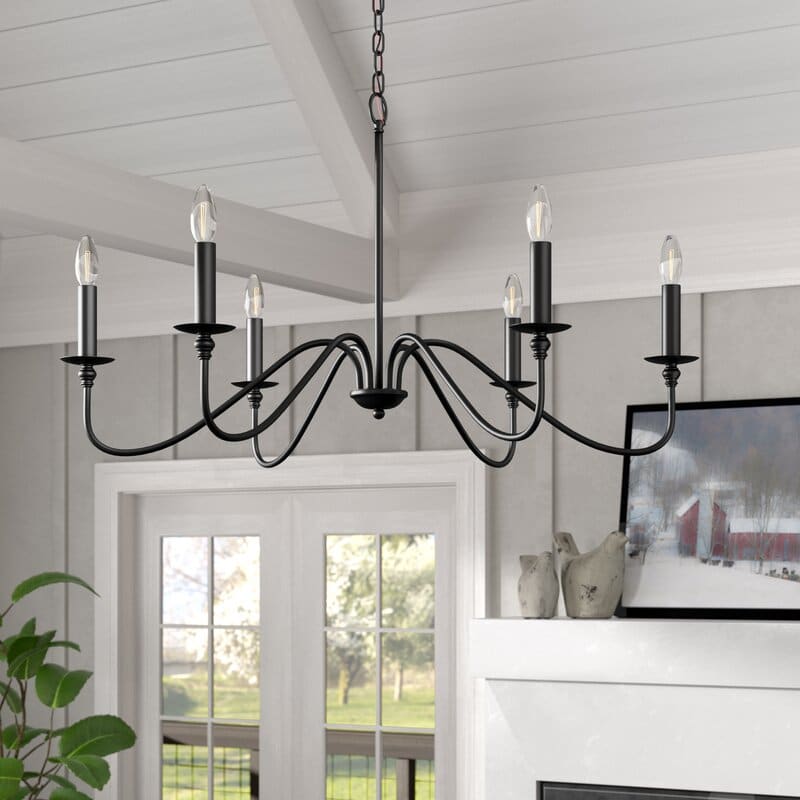 I love both a simple candelabra like the one before, or a candelabra with fabric shades.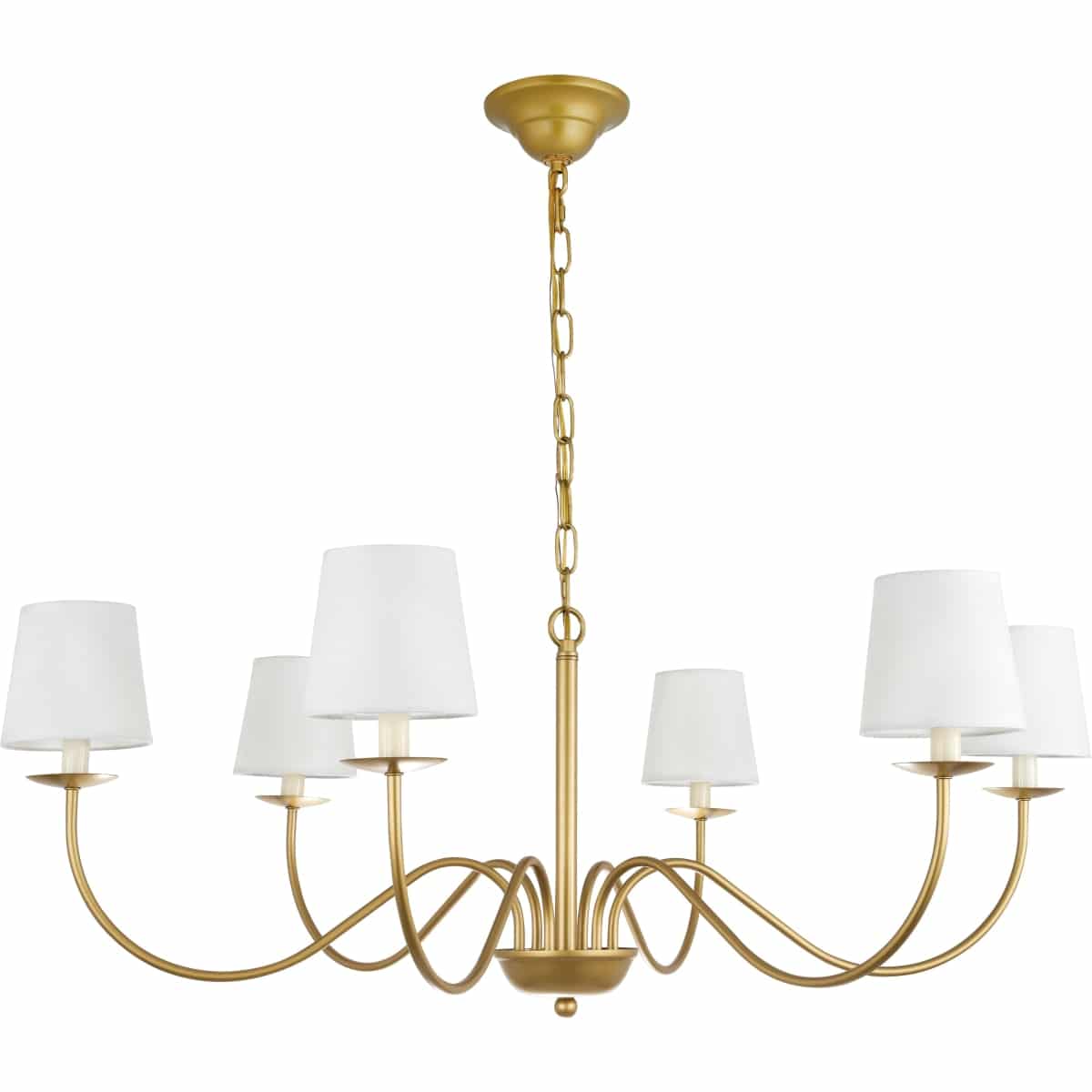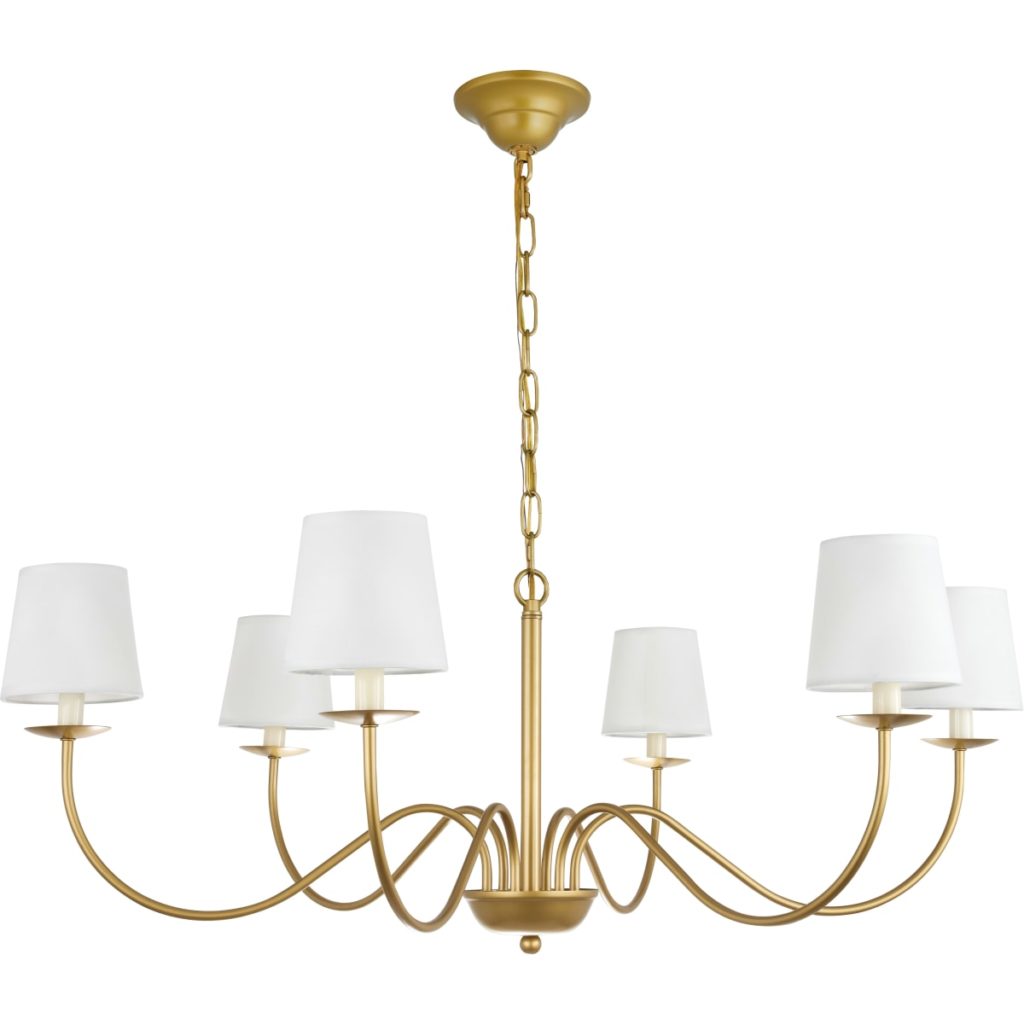 Click/Tap the images below to shop this style:

Wagon Wheel (Ring) Style Kitchen Chandelier
I know, I know. You may have read "wagon wheel" and conjured up an image of a rustic wooden piece in a cheesy themed restaurant. But, wagon wheels have come a long way.
A wagon wheel chandelier like this one adds a good amount of light and an interesting decor piece. I'm a sucker for this design, and it's perfect for farmhouse decor as well as traditional and classic homes.
You can find it in one other finish: oil rubbed bronze. But if you check out all of the chandeliers I gathered below the photo, you'll see a variety of style choices.
Maybe that's part of why I like it so much?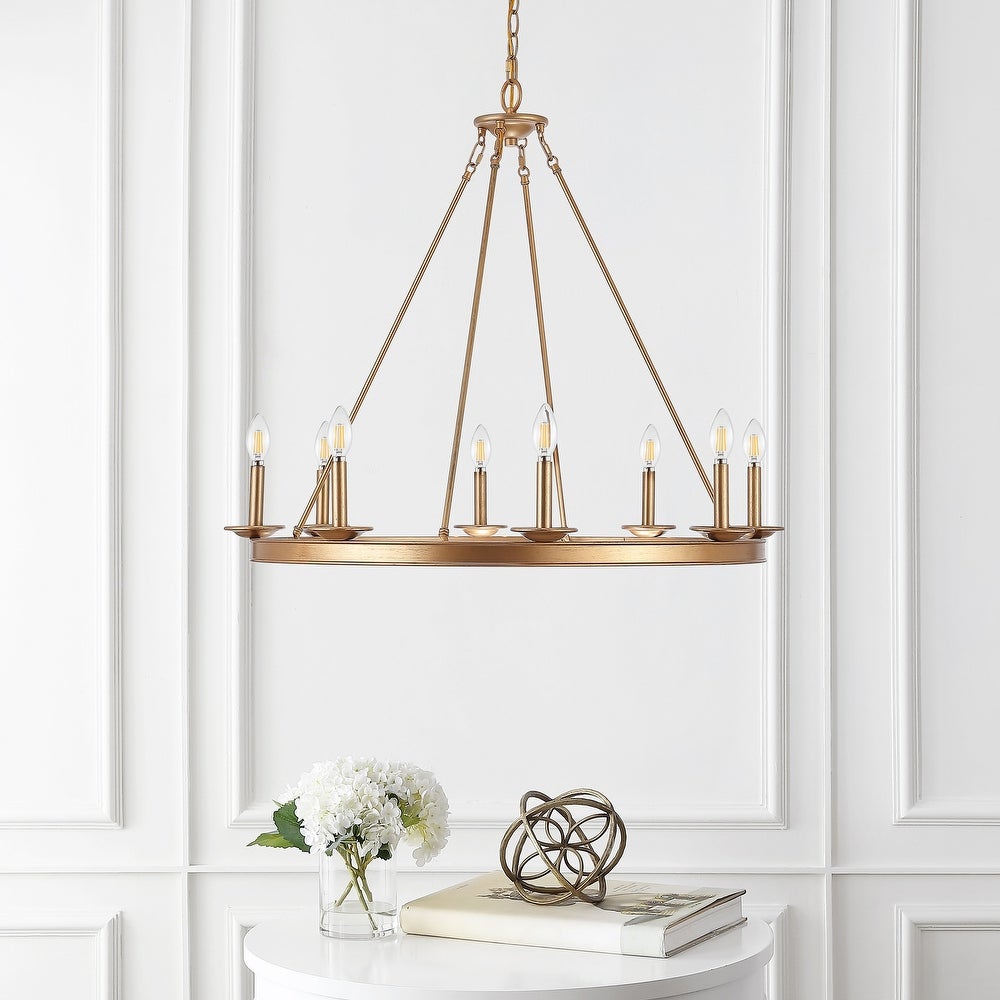 Click/Tap the images below to shop this style:

Woven and Rattan Kitchen Lighting
I love this new trend of woven and rattan lighting in the kitchen. It's coastal vibe is definitely giving off all the casual feels and I'm here for it!
The only reason I haven't chosen this style is that usually a rattan or woven light has only one bulb, and I like plenty of light over my tables. But if you don't depend on the overhead chandelier for all of your light, this would be such a fun option!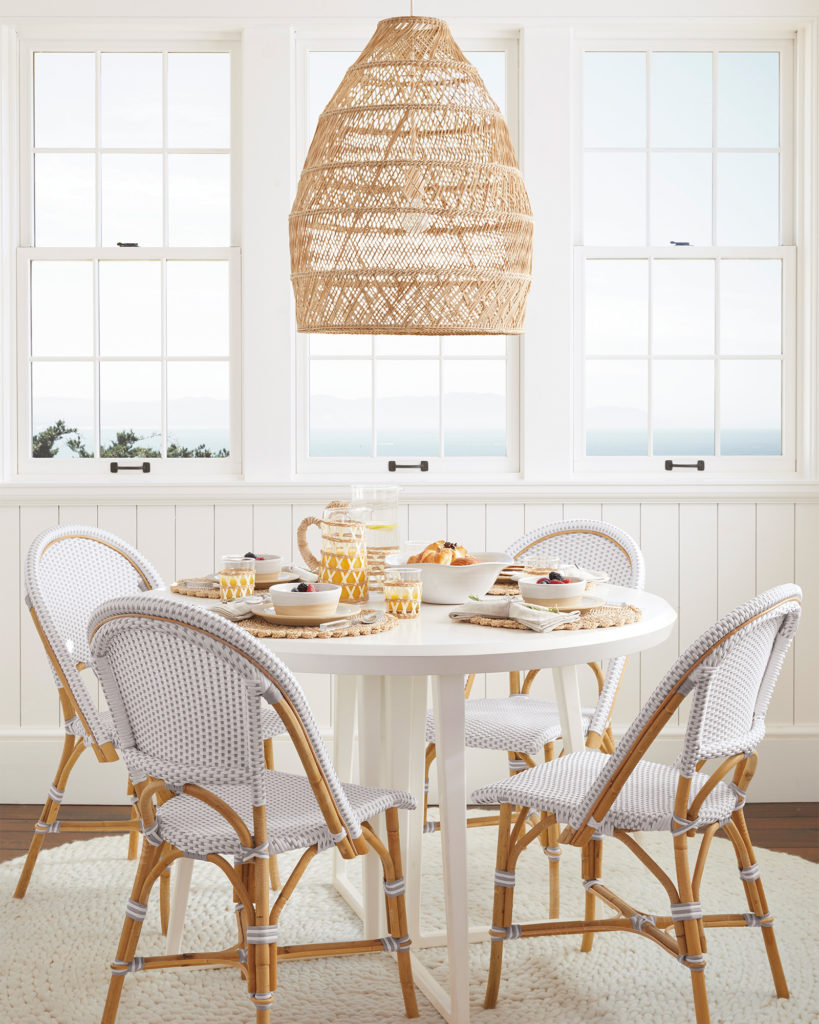 Click/Tap the images below to shop this style:

Drum Style Kitchen Chandelier Lighting
Perhaps a drum chandelier is the best fit for your home.
This style of kitchen chandelier can be found in wood, metal, or fabric styles as well as in many different finishes. Plus, it looks great over a round, square, or rectangular table (one style that can look amazing over different table shapes can be hard to find).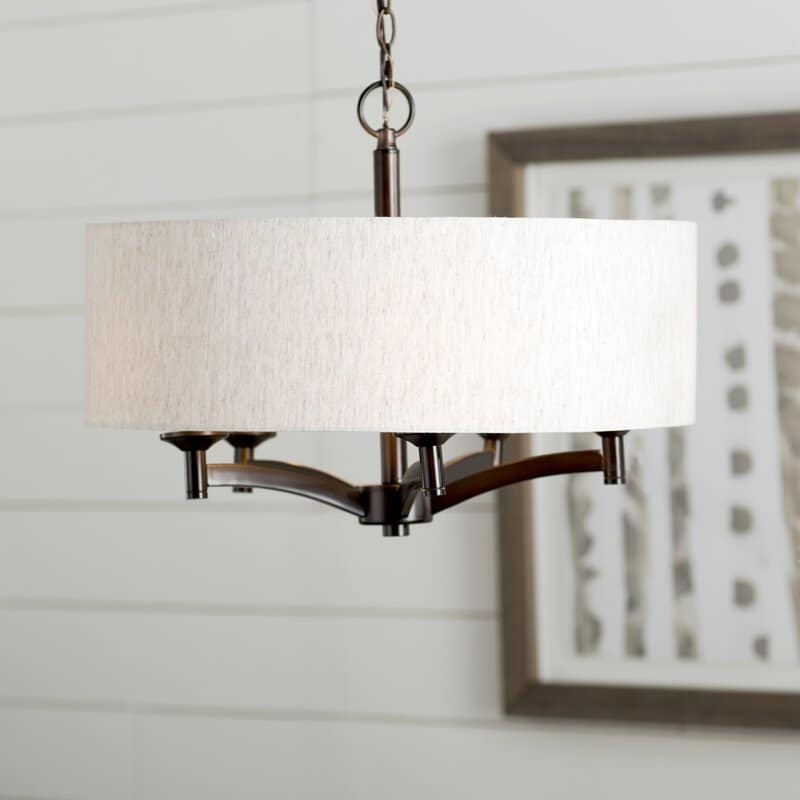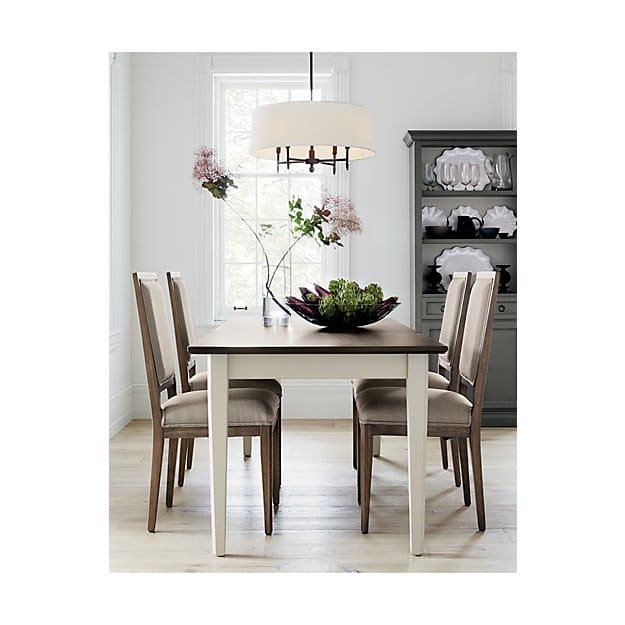 Click/Tap the images below to shop this style:

Modular or Modern Sputnik Chandeliers
A modern chandelier style will add some pizazz to a room – not to mention a fun conversation piece! There are tons of different styles and colors available in modular design.
That way, if you like this style, you're sure to find a perfect fit.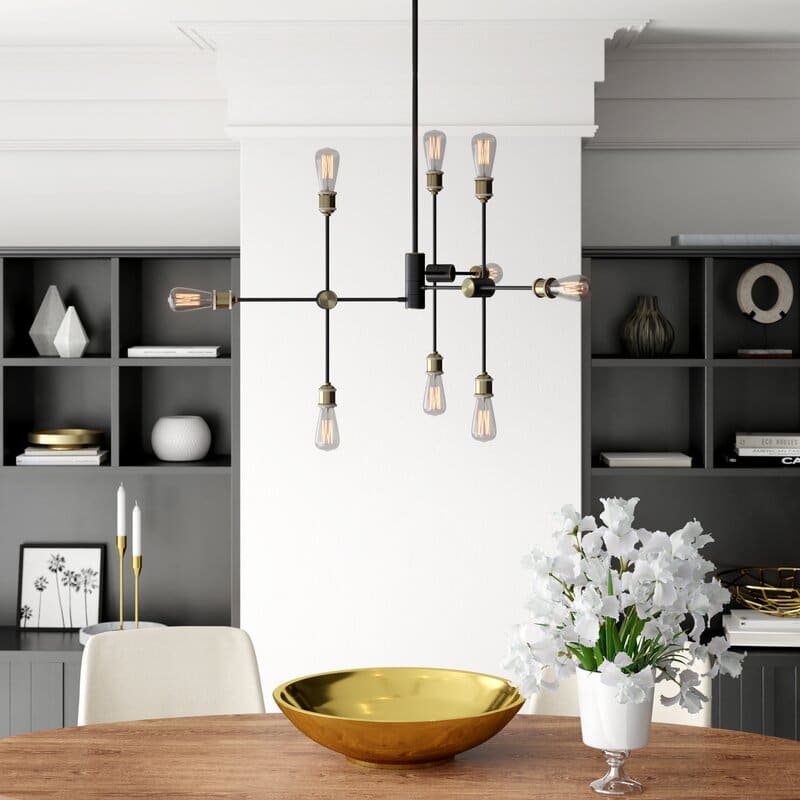 Click/Tap the images below to shop this style:

Empire Style Kitchen Chandelier
Impressive and beautiful. My eyes are always drawn to chandeliers with curves like these!
The decor of your kitchen and the eat-in area will really dress up or dress down a chandelier like this one. No matter what your decor style, this chandelier will draw compliments!
Click/Tap the images below to shop this style:

Rectangular Chandelier
Do you have a long kitchen table? A chandelier that's more angular might be what you want. You can pick from a beautiful rectangle piece like this one or possibly more of a pendant-style chandelier is up your alley.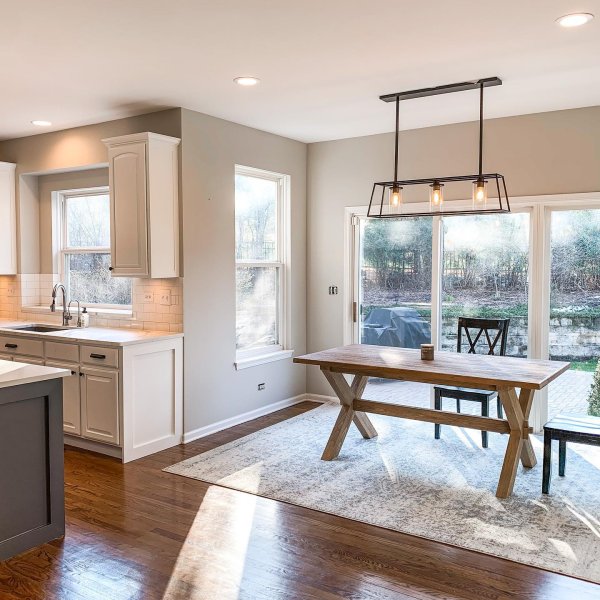 Click/Tap the images below to shop this style:

Globe Chandelier
This style has a nice, clean modern look that would fit well in many different decor styles. The nice thing about using these smaller chandeliers is that you have versatility.
If you have a long table, you could have multiple chandeliers, but they also look amazing by themselves.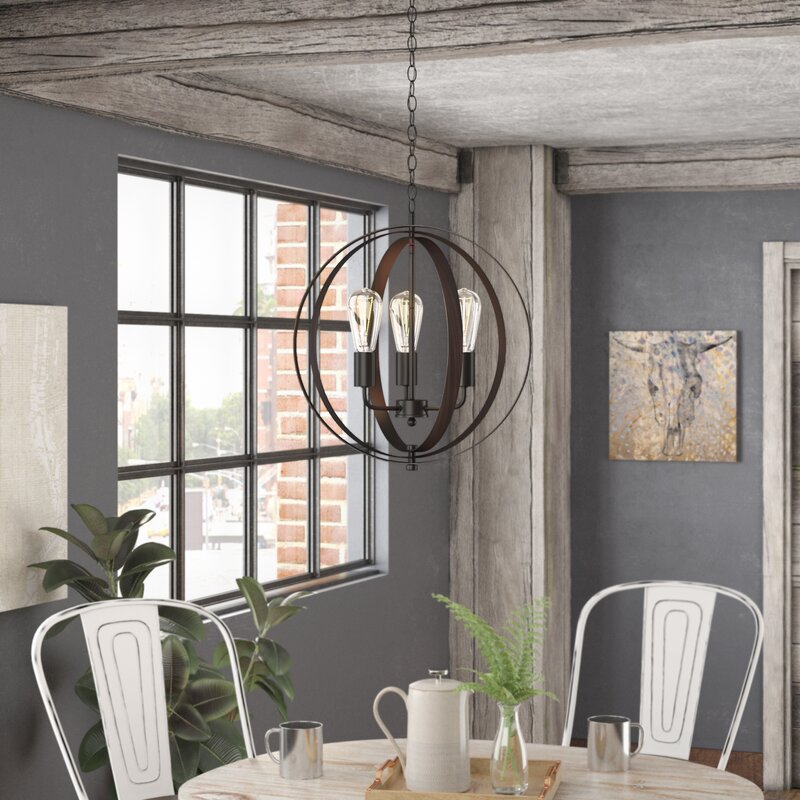 There you go! Aren't these kitchen chandelier lights amazing? Suddenly you'll love looking at the light above your dine-in table now.
I'm leaning toward a traditional chandelier or a woven one. Which one is your favorite? Help me choose by putting your answers in the comments.
You can see which chandelier I chose for my kitchen here!
More Posts You'll Love: