Cold weather takes a toll on a home, so get your house ready for warmer weather with these helpful tips and suggestions!
If you are like me and located in the south, it is officially getting HOT, ya'll! Before it becomes unbearably sweltering, I like to take advantage and try to tackle some things on my summer home maintenance list. These items help get your home ready for summer and will make your environment more comfortable, freeing you up to enjoy those long summer days.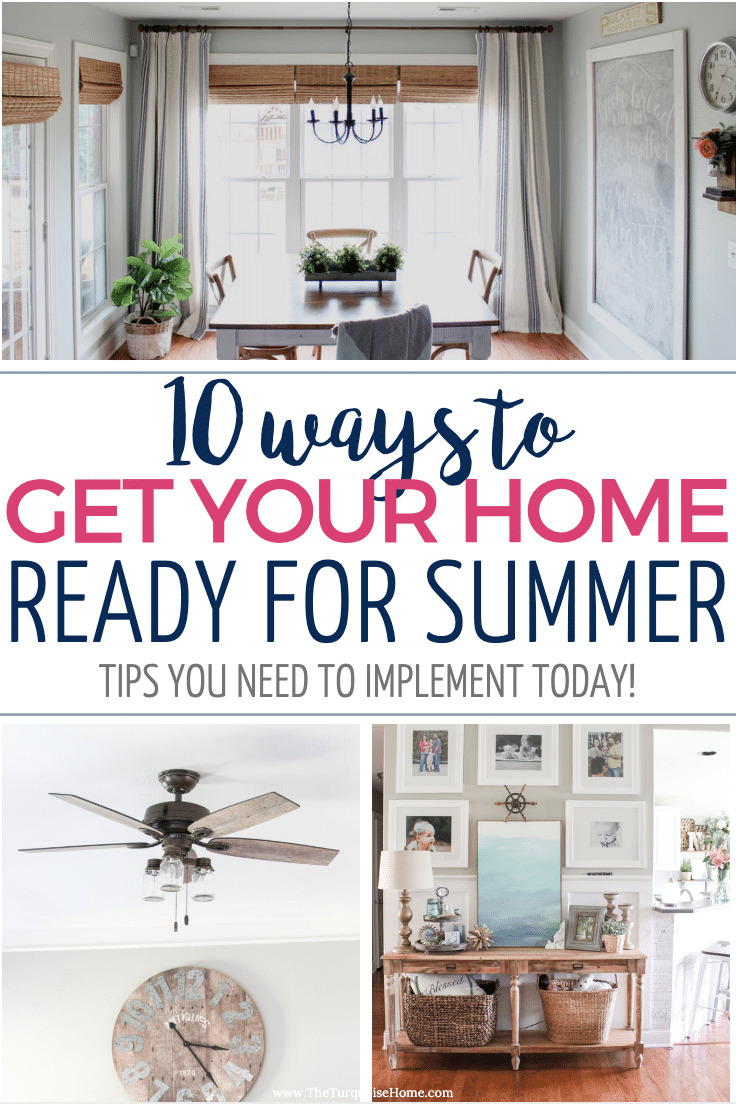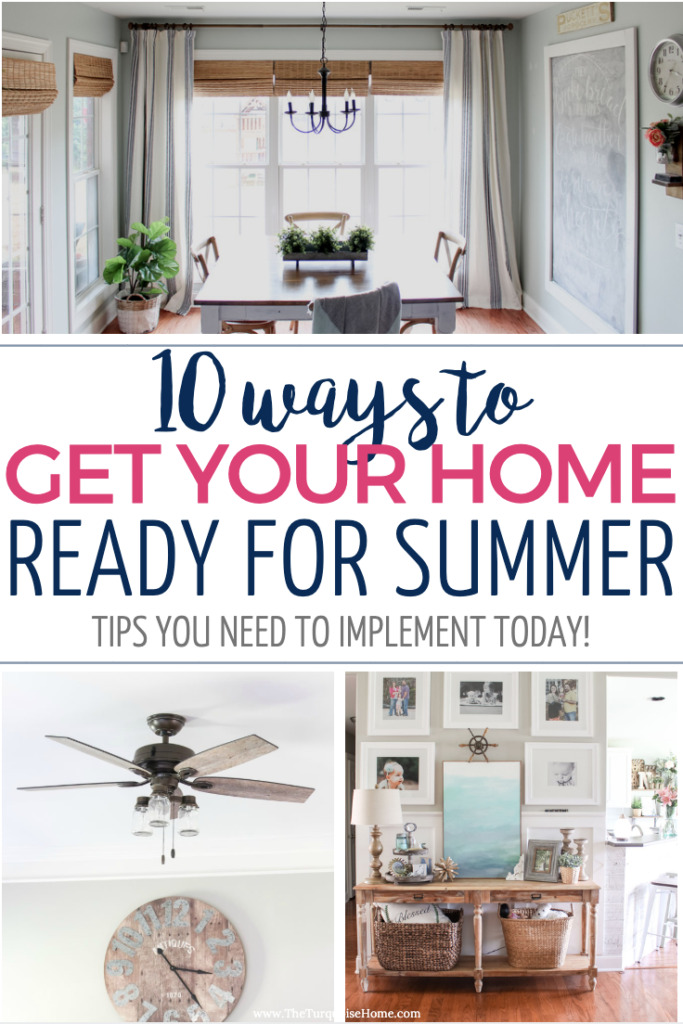 Summer Home Maintenance Ideas
I have to admit, it wasn't until a few years ago that I really started working on getting my home ready for summer. I've found that if I take the time to go through these tips our energy bills are lower and our home is more comfortable. Here is my summer home maintenance checklist – think of it as a summer bucket list for your home, if you will!
Change the ceiling fan direction. Did you know that the ceiling fan direction in summer should be different from the one in the winter? It is a game changer if you haven't tried it yet!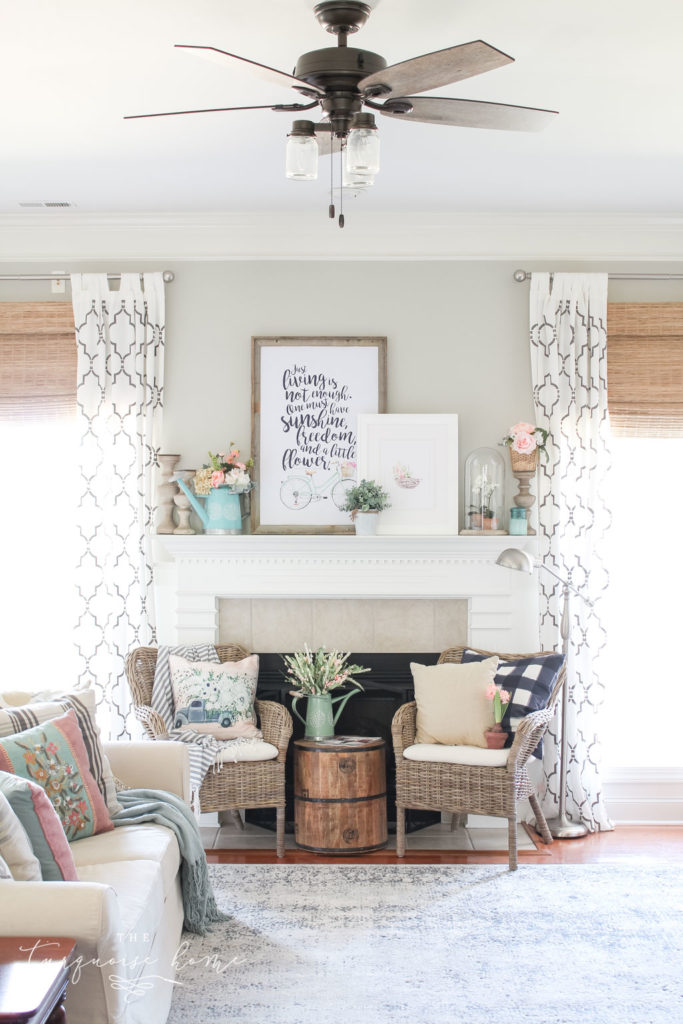 The ceiling fan direction in the summer should always be counter clockwise. When your fan is running, stand underneath, look up and watch which way the blades turn. You should also feel a good breeze from the downward air movement. If the fan blades are going the wrong way (clockwise), there should be a switch on the fan itself that changes the direction.
This post contains affiliate links for your convenience. See my full disclosure policy here.

Dust the ceiling fan blades. By the way, while your checking to make sure the ceiling fan direction in the summer is correct, you might as well go ahead and dust them too. This can be done by standing on a step stool or ladder and using an old pillowcase to cover the fan blade and pull off the dust.
Get an air conditioner tune-up. Can you imagine your air conditioning quitting on you when it's the hottest day of the year? It happens all the time!
If your air conditioner isn't being properly maintained, the system can easily become overloaded and shut down. That's why getting my a/c serviced is always at the top of my home summer bucket list.
Switch out curtains. This may seem like it falls more on the decorative side, but that's only partly true. In the summer, blackout curtains can help keep your home cool and help your air conditioner not work so hard—which is definitely a win for hot climates.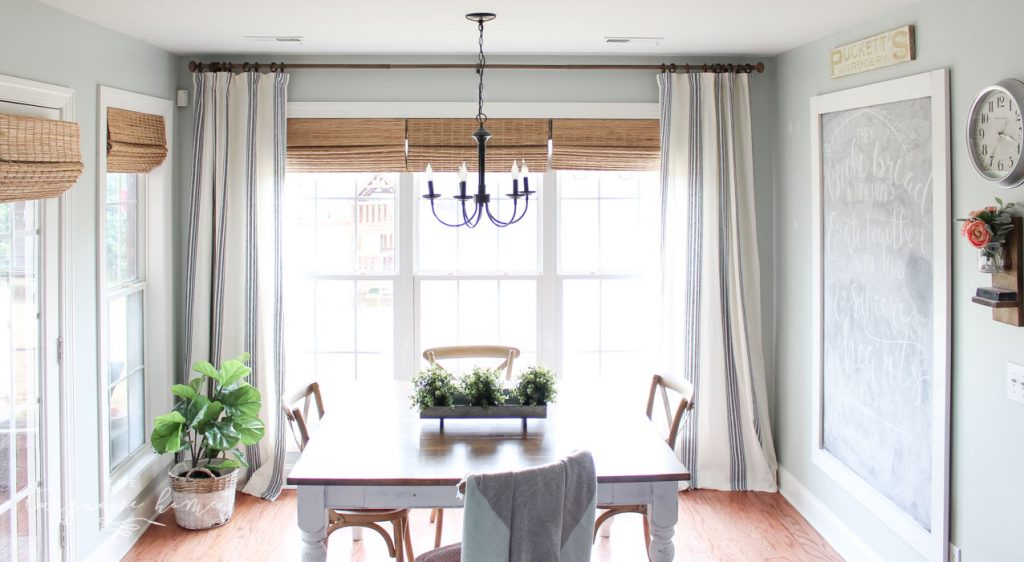 There are a ton of really cute blackout curtains these days (check out some of my favorite curtains here) but if you don't want to switch curtains, you could install some bamboo shades instead. You will want to make sure you get the ones with a liner so they are blackout, like mine, otherwise they are basically see-through.
Our bamboo shades aren't just cute, but they keep out the cold in the winter and do a great job of keeping the heat of the sun out of our kitchen in the early mornings. I'm so thankful that we got them!
Switch out linens. Each season, switching out blankets and sheets is another easy way to implement how to get your house ready for summer. In the warmer months, it's time to put away the heavy , thick blankets and reach for more lightweight items.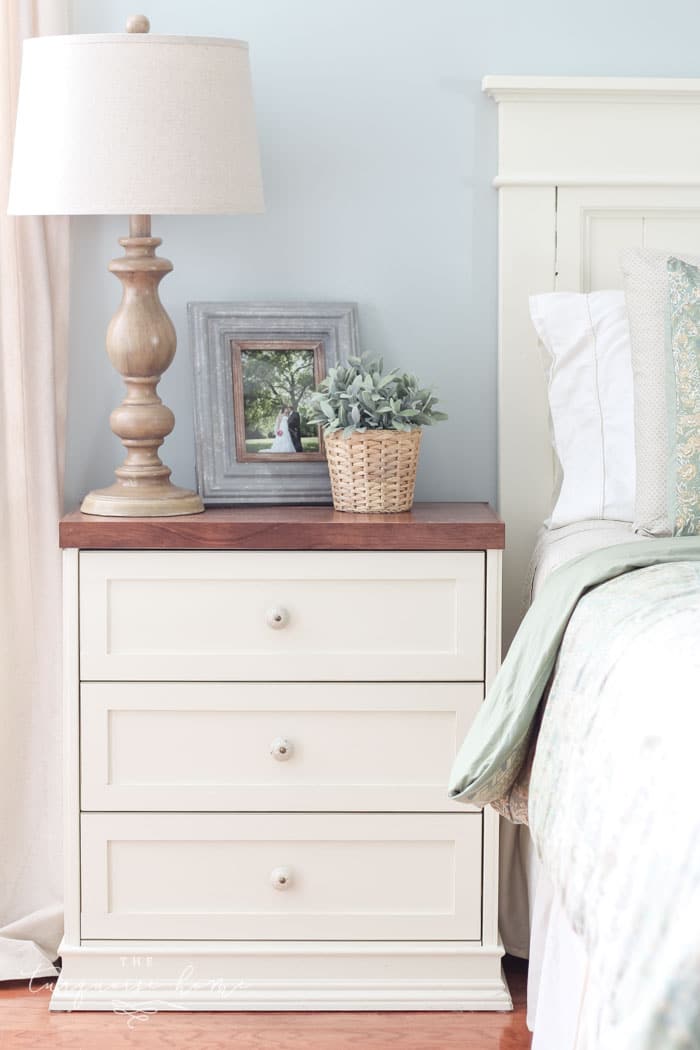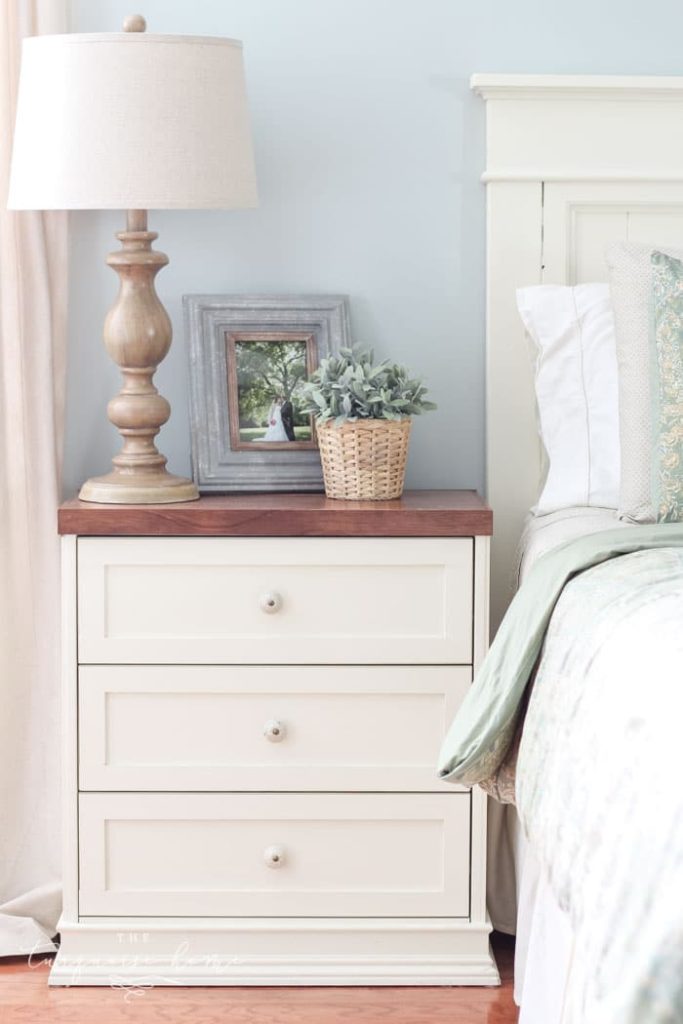 Clean out dryer vents. Few things sound less thrilling than vacuuming out your dryer vent, but they need to be cleaned every year at a minimum, as lint-filled dryer vents are one of the top causes of house fires. If you do a lot of laundry, you'll need to clean it 2-4 times yearly. It isn't as scary as it sounds, but there are multiple steps you will need to take, so check your manufacturer guidelines for specifics.
Check your exterior for any holes. If it's 100+ degrees outside, you aren't the only one that is going to be uncomfortable. Squirrels, chipmunks, birds, bugs (eek), mice (eeeeeek!!)—they'll all be feeling the heat too.
Not only will a loose weatherstrip or a hole in your siding let out your cool air and raise your electricity rates, but it will be a welcome signal to all the unwanted critters to come on in. No, thank you!
Weatherstrips at the bottom of exterior doors and around windows should be inspected at least twice a year—I recommend keeping it simple and doing it once in the winter and once in the summer.
Clean your patio furniture. If you haven't started using them yet, it's time to make sure your outdoor chairs, tables, sofas and pillows are cleaned and ready for use. While you are at it, take the time to give your patio a good scrub, too.
We recently cleaned off our back patio and painted the concrete floors. It made a huge difference and how we're ready to hang out there all summer long!
Add some summer decor. What's the point of doing all the how to get your house ready for summer stuff if you don't get to at least decorate after? 😛 Obviously, I'm a huge promoter of decorating your space for each season, and summer is certainly no exception!
With just a few changes and the addition of some new accents, you can instantly get your home all prettied-up for summer. It's one of my favorite times to decorate! You can get my free summer printable for a quick update right here!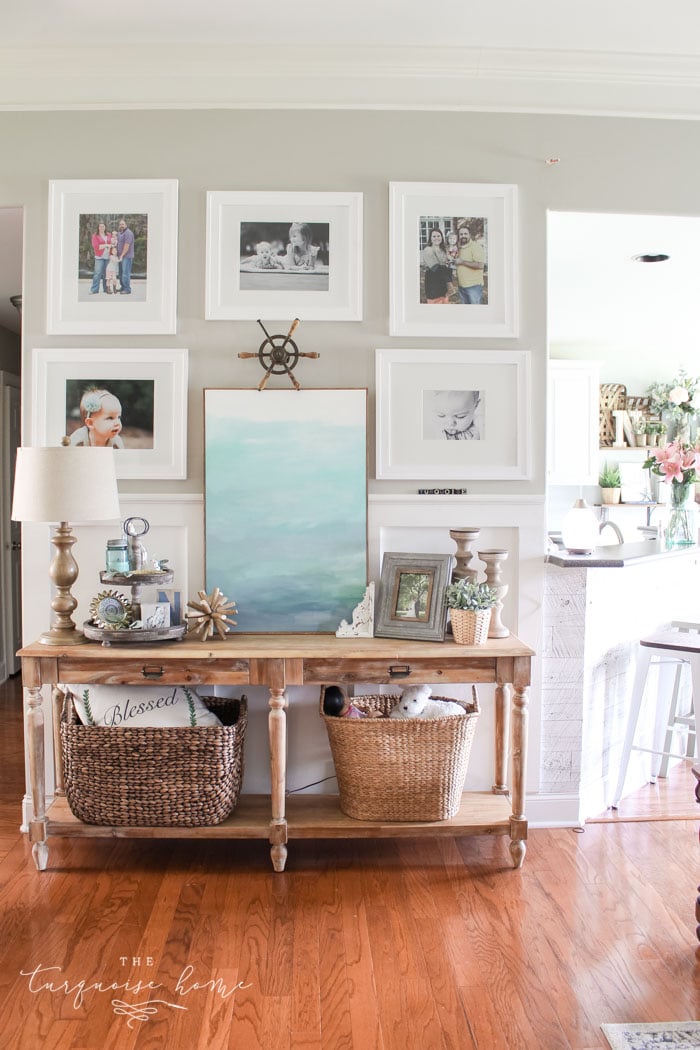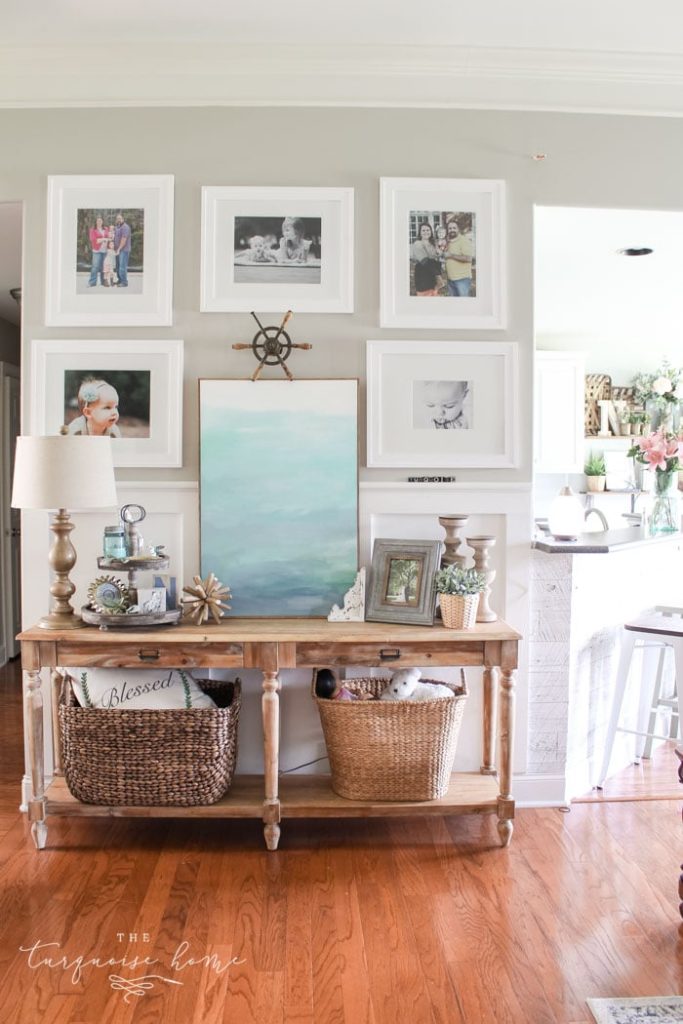 Have some summer fun. Yes, you want your home to be summer-ready, but there are so many other fun things to do in the summer as well, especially with children. I love having the summers with my girls and make sure we make the most of it each year. In fact, I've created a summer bucket list to share what some of our favorite activities are.
I realize everyone enjoys different activities, so I even made a free printable summer bucket list for you to print and fill out your favorite things, too! Grab the free printable summer bucket list right here.
So, that's my must-do list of how to get your home ready for summer. Do you have any tips you'd like to add? I'm always looking for new ideas and items to add to the list!
MORE POSTS YOU WILL LOVE:
Get Instant Access to my Guide to Customize Your Home on a Budget
Grab your FREE guide for 10 Ways to Customize Your Home on a Budget: simple projects to transform your home from builder beige to a home with character and charm!