It's time to look forward to the next projects on the home makeover list and make some goals! And it's time to take a look back at my home goals from the last 4 months and see how I did. I hope this helps you see how I plan and budget for my home projects. It certainly helps me to write down my top 3-4 goals for the next few months.
A few years ago I started writing down my yearly home goals in January. The problem was I would write them out, get busy and then forget about them. So, last year I broke down my home goals for each quarter. But I found that I really needed a goal refresh every 4 months, not every 3 months. So this year I planned to do 3 smaller home project goal setting sessions and I can't believe we're at the end already!
If you want to catch up, you can here!
Let's take a look back at the goals I made back in April…
HOW I DID ON MY HOME GOALS FOR 2021, PART 2
If you are renovating or making over a home to feel more like you, it's important to step back every now and then to see how far you've come! I came into writing this post thinking I haven't been able to accomplish much these past 4 months, but I have!! And it's always encouraging to see the progress.
May through August
One thing that I finally wrapped up in the last few months has been my kitchen makeover!! It took almost a year, but I finally crossed it off the list! I just made some cosmetic and functional changes, but it took a long time and I love that it now feels done!
Once we got the sod installed and the trim, shutters and doors painted in the spring, I was eager to bring the rest of the outside of the house up to par!
And we did it! (See the front porch updates here.)
Landscaping. While we didn't change much here, we did have a professional come in and clean everything up. It's so much better!
Planters. Yes! I got these and shared them in the front porch mini makeover post!
New porch light. We replaced the light and also shared it in the front porch mini makeover post.
Power wash the driveway and front sidewalk. This didn't happen because I think we need to invest in a professional to come and power wash and seal the driveway. On the back burner for now.
I now LOVE the outside of our home! It makes me smile every time I pull up. And even though I don't think it's the most fun place to invest in a home, the curb appeal it's worth it!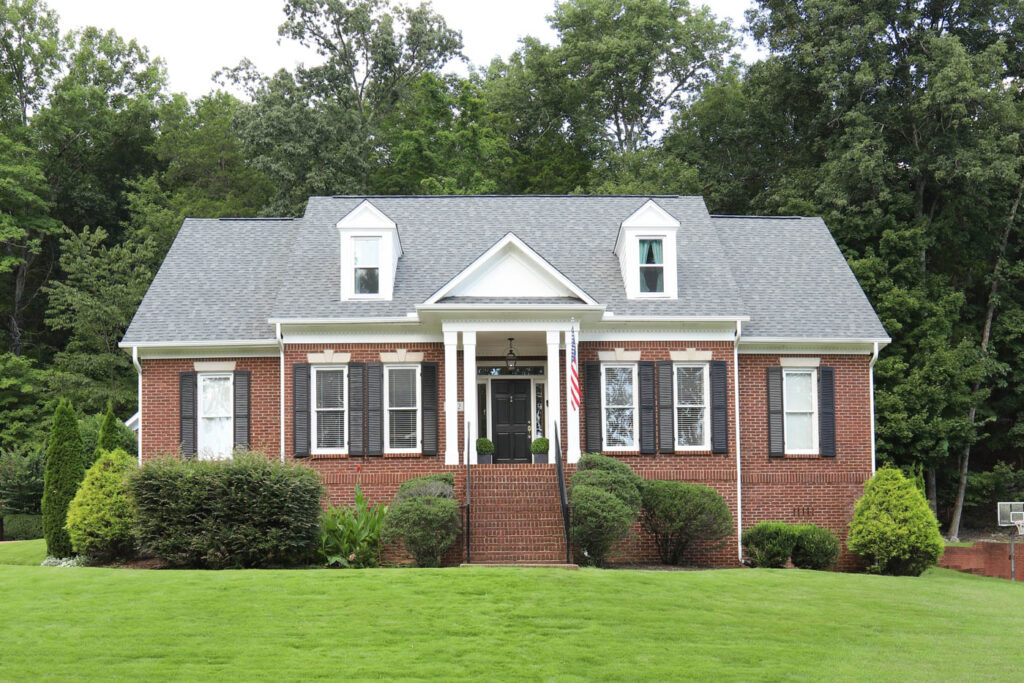 2. MINI POWDER ROOM MAKEOVER
I wanted to give my tiny powder room a big personality, and boy, did we!! I didn't do any major renovations, just added decor, really. And I'm obsessed!
Come see the full powder room reveal here!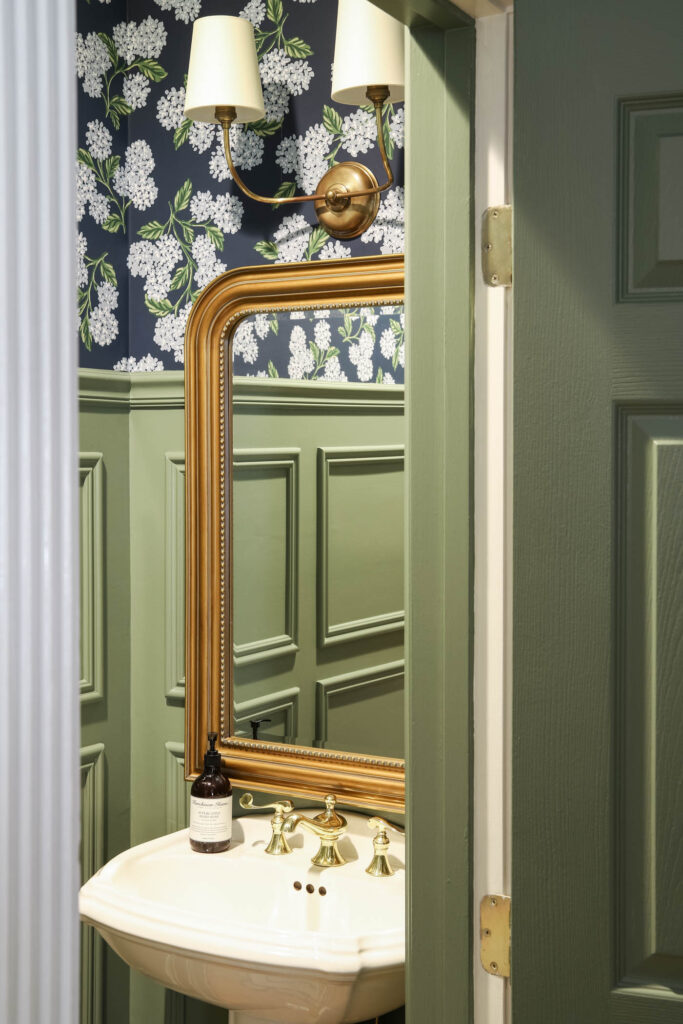 And that's as far as I got! Ha!
3. MINI BUTLER'S PANTRY MAKEOVER
I thought I might could tackle the butler's pantry as well, but I have decided it needs to be done in conjunction with the dining room. And you'll see below that a lot of changes happened in the dining room this summer!
4. NEW WINDOW TREATMENTS IN THE UPSTAIRS ROOMS
This didn't happen either because my girls were sharing a room and using the other bedroom for a play room. But now they want to have separate rooms again. So, I'm back to the drawing board and didn't want to order window treatments before we've settled on some room decor!
HOME GOALS FOR 2021, PART 3
Now I've got to make some practical goals to finish out the year. I know I don't have time for too many transformations because we'll be decorating for fall and Christmas. Also, my girls birthdays are this time of year, so I just know it'll be crazy.
So, I've decided to make some planning goals so that I'm ready to hit the ground running in January.
I've got BIG plans for this upcoming space, so let's dive in!
September Through December
1. Plan for Dining Room Makeover
I am SOOO excited about this room! It's the first room people see when they walk into my home. And it's the room I face when I'm working at my desk. So, I want it to be amazing!
And I was getting my feet wet on decorating outside of my comfort zone with the powder room. It was a trial run for this next room makeover. 👏🏻
I want to be so bold that I'm seriously considering hiring a designer for first time. I've always done all of my own decorating and planning, but my ideas for this space feel out of my league. So, I may hire one this fall so I can start making everything over come January.
This is how the room looked shortly after we moved in. I had painted the top part of the room Kendall Charcoal, but all of the furniture and decor came from the old house.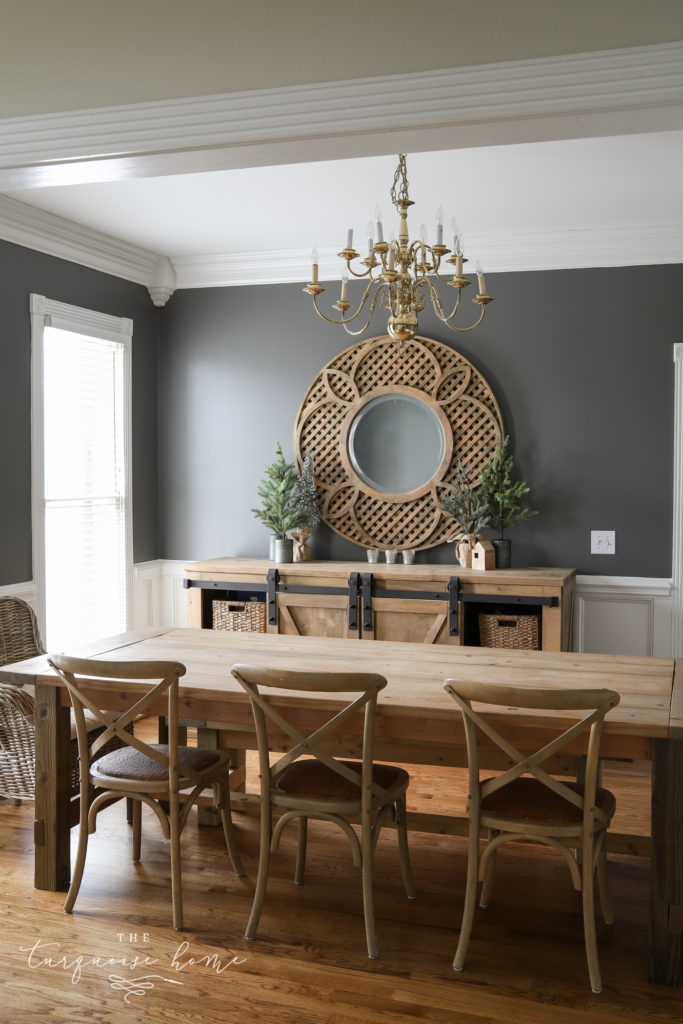 After living with it for more than a year like this, we realized it wasn't the right type of furniture for this house. And it was really too large. When people were seated at the table, you couldn't walk around the room.
So, I said goodbye to the furniture and went looking for some new furniture. And I'll tell the whole story when I share the plans for the room. But for now, just know that it looks like this.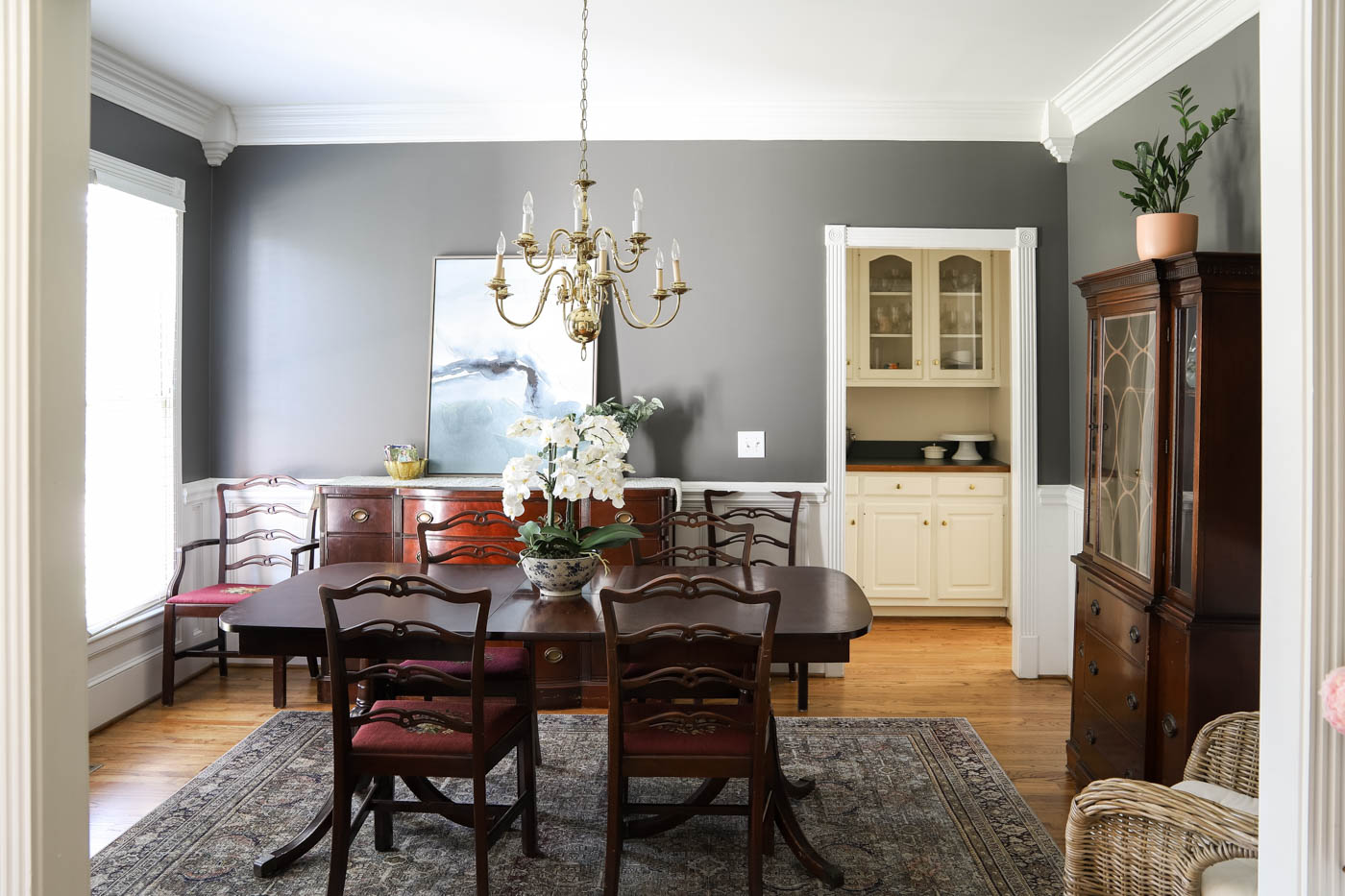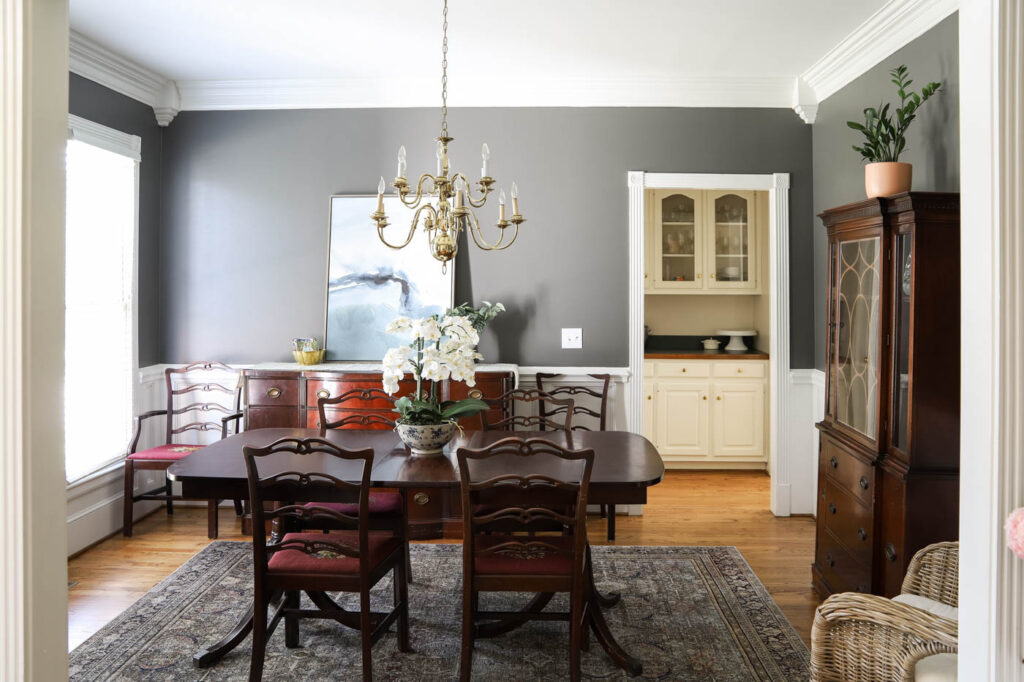 This dining room suite has been in my family for generations, so everything will change, except for the furniture! I'm designing around the antique furniture and I have so many plans:
Two-toned paint colors
Large Brass Mirror
Sconces
New Light Fixture
Custom Drapes
Custom Chair Seat Covers
Wallpaper
Decor for the China Cabinet
New Rug?
It's going to be so fun to transform this space!
P.S. Don't worry. I didn't get rid of that beautiful round mirror that was in the dining room before. I don't think I could ever part with it! It's now hanging in the hallway just outside the kitchen. ☺️ And from the photo below you can see the dining room through the middle doorway from the kitchen.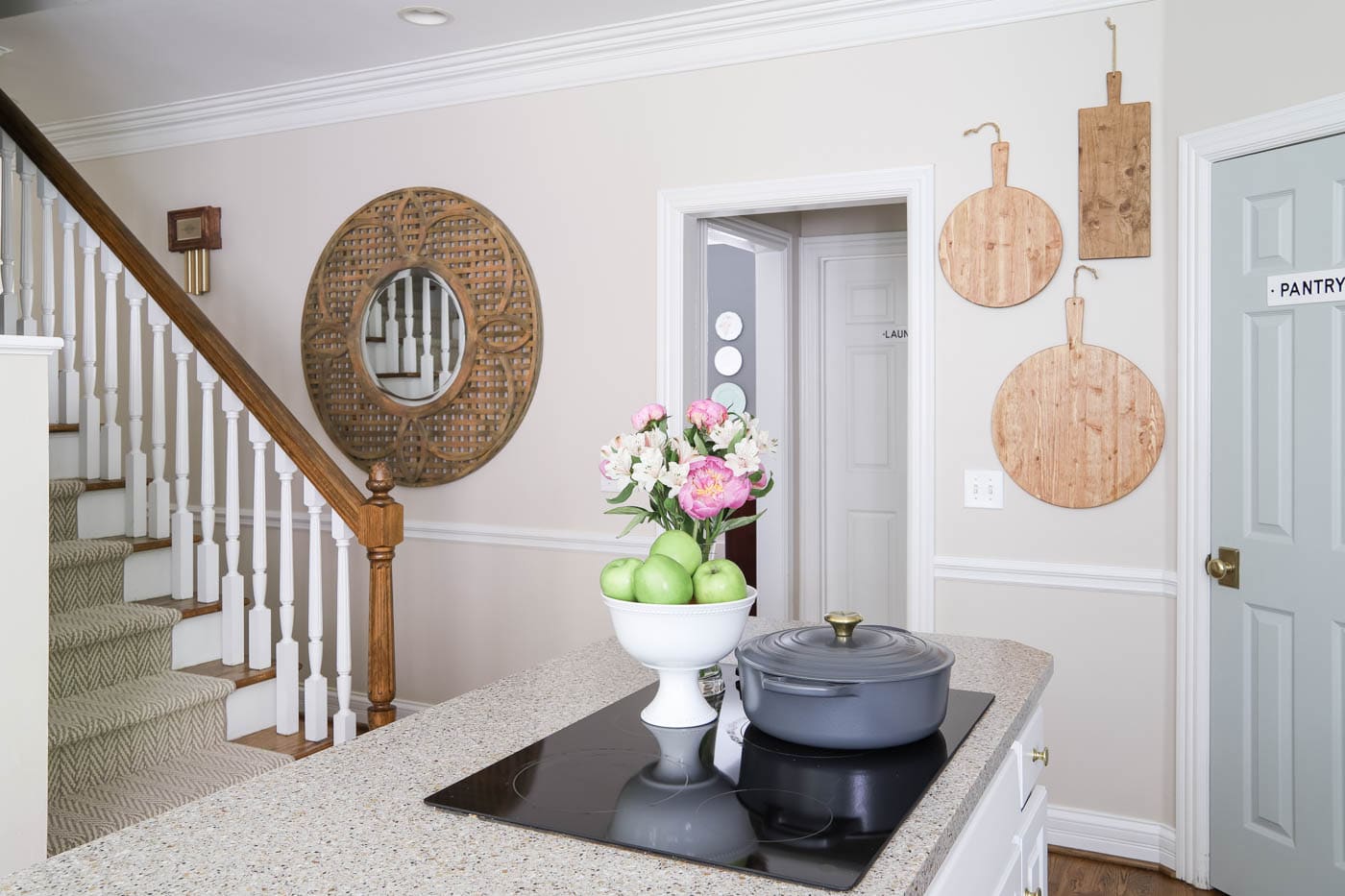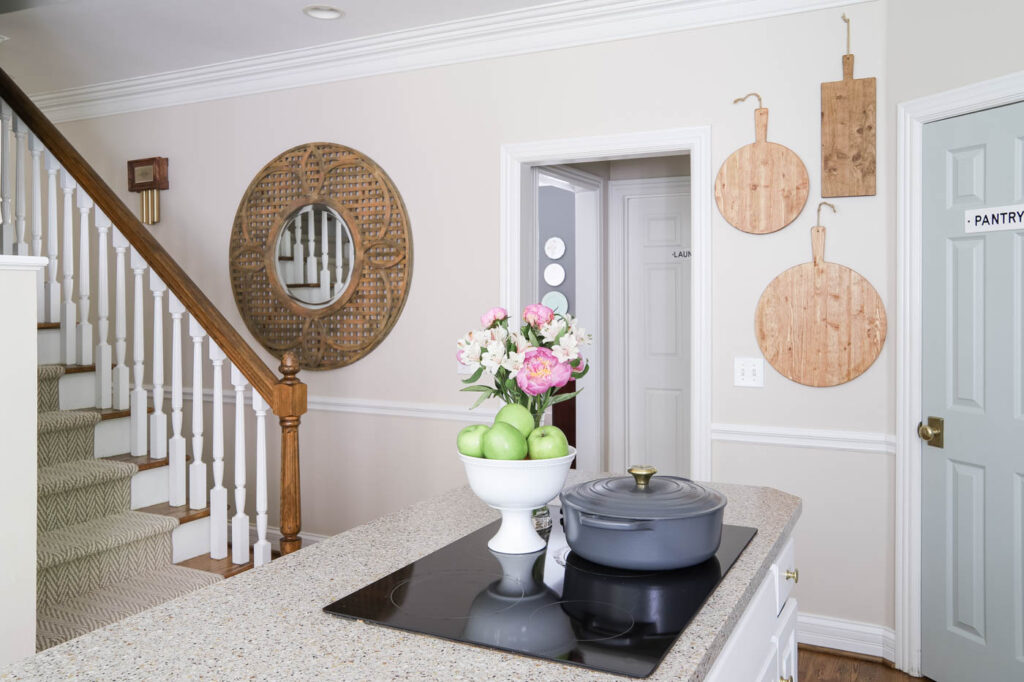 2. Plan the Butler's Pantry Makeover
As you can see in the photo of the dining room, the butler's pantry is an extension of the dining room. You can also see it from the front door. So, I want them to flow together.
3. Plan the Laundry Room Makeover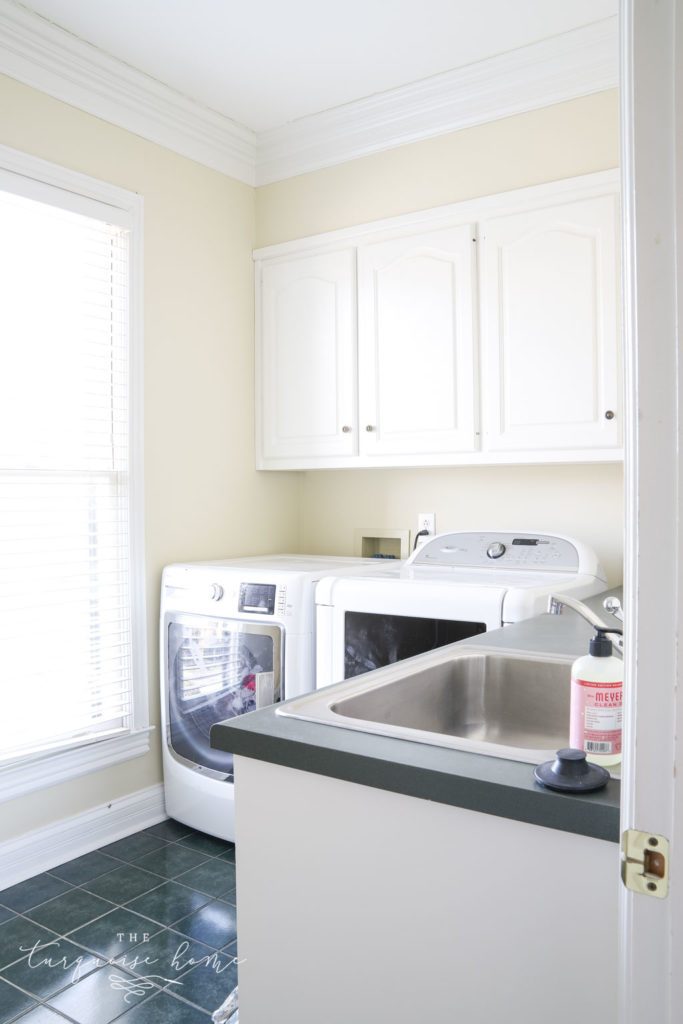 If you walk into the butler's pantry and turn left, you'll be in the laundry room! It looks the same as it did the day we moved in. Lots of hunter green and yellow! So, I want to plan that space in conjunction with the butler's pantry and dining room. It's like home dominoes, really. Every decision affects all of the others.
---
I know this seems like I'm taking a break these next few months by just planning for some room makeovers. But it is always a really busy time of the year and I want to be reasonable about what I can accomplish!
I hope to plan the rooms, make a budget and start collecting items we'll need for the rooms so we can jump right into the makeover process in January! I'm so excited!!
What type of projects do you like to tackle in the fall and winter months??
Come see the new home goals for the beginning of 2022!
MORE POSTS YOU WILL LOVE: