7 Must-Have Nightstand Decor Ideas
Turn your bedroom into your sanctuary! With some simple nightstand decorating tips, you can take your cluttered nightstand decor (and bedroom) and transform it into a respite from the rest of the world.
Many people use the table next to their bed to dump their mug of soothing tea, book, or reading glasses. More often than not, bedroom nightstands look like cluttered afterthoughts that are more practical than beautiful.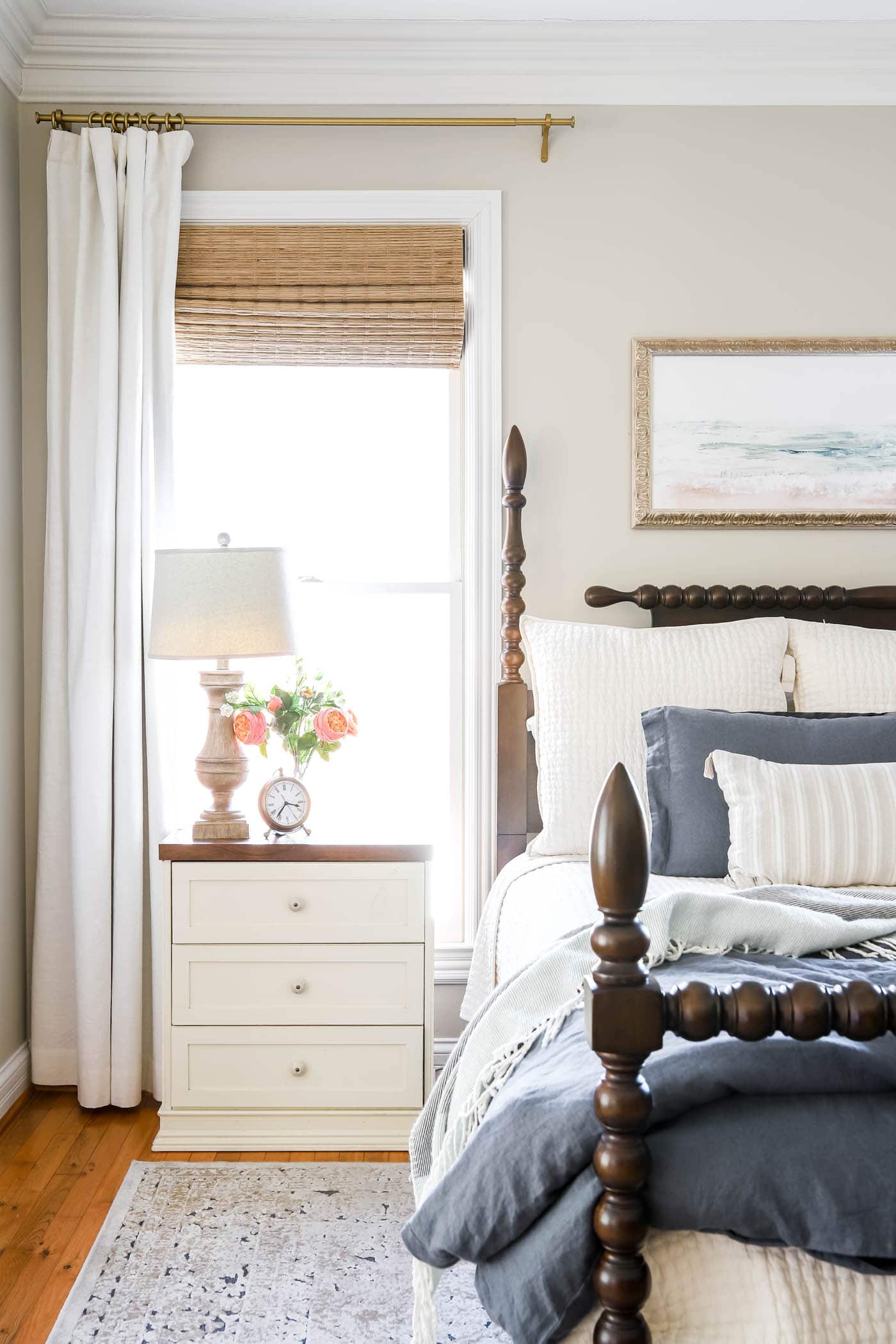 Nightstands can be a lot like end tables in that way.
Of course, some bedrooms don't have nightstands at all. They are missing key pieces of furniture that offer the opportunity to add a much-needed element of style and functionality.
Most people think of decorating their home simply as beautifying it. But what if I told you that nightstand decor could be beautiful and functional?
Home decor done well creates an inviting space that looks beautiful and increases the room's usability. This is especially true in the bedroom!
The good news is that if you're concerned that decorating your nightstand will be time-consuming, I'd like to reassure you now that it doesn't even require a lot of effort. With these nightstand decorating tips and tricks, you'll know just how to create bedroom decor you love to look at – and use.
This post contains affiliate links for your convenience. See my full disclosure policy.
Beautiful Nightstand Decor Elements
Anyone can put photos and books on a nightstand. But it's just cluttered if your nightstand is covered in items you don't use or care about (even if they're beautiful). And clutter creates stress and anxiety, which is the last thing you want to experience in your bedroom!
Conversely, a nearly empty nightstand has a semi-sterile feel, similar to a hotel.
The key to excellent nightstand decor is to minimize what you keep on your nightstand so that it holds only the items you need throughout the night, along with an element or two for beauty.
I have some recommendations if you're wondering what to remove and keep. In our home, I keep no more than five items on our nightstands. And every item falls into one of these categories:
Light
Natural Element
Storage
Health
Comfort and Joy
I call it the "rule of 5" to make it simple! Anything other items can live somewhere else in the bedroom or the bathroom (or in storage underneath your nightstand)!
Now it's time to put these categories to work with some nightstand decorating tips.
Essentials to Keep Next to the Bed
The most helpful way to think about beautifully styling your nightstand is to consider your morning and evening routines. What do you do when you wake up? What do you need in easy reach when you go to bed? Do you often wake up during the night or have trouble sleeping?
These items may include:
glasses
medicine
watch or jewelry
Ear plugs
tissues
clock
remote controls
favorite books
iPad or e-reader
But what is those essentials we're just a jumbled mess next to the bed? Let's take a look at how to create a beautiful atmosphere in the bedroom without skimping on functionality and storage.
7 Must-Have Nightstand Ideas
A crucial piece to creating the right night stand is to bring in essentials without overloading on unnecessary accessories. Here are the must-haves to think through!
1. The Right Table
No matter what type of decor you like or what style your house is, there are perfect nightstand options for everyone!
The most important part of choosing a nightstand table is keeping it proportionate to your bed and the rest of the room. Most night tables are 24-28 inches high, so reaching for items on the table from the bed is comfortable.
Once you have found a table that sits at the right height, you want to ensure that it has enough room to display and store the items you need within arm's reach. I like to have at least one drawer and a shelves are a bonus!
2. A Lamp
Anyone who enjoys reading before turning off the light (me!) knows that a lamp is essential. Well, even if you don't want to take a "trip" through the pages of a book, a lamp with the correct light bulb adds ambiance to the room and helps your brain settle down for rest.
Choose a lamp that will add height to your table decor without overpowering the table or other elements you want to include.
3. Books on the Bedside Table
Do you read before hitting the sack? Keep your book on the table where it's easy to reach for when you climb into bed and settle down. You may choose to include an extra book or two as well because stacked books create a focal point more than one single book!
I consider books to fall into the comfort and joy category for nightstand decor!
4. Tray, Basket or Bowl
This element adds storage. If you have drawers or cabinet-like doors on your nightstand, you may not need to add a tray or basket to keep items (like glasses, hand lotion, medications, etc.) contained or out of sight.
However, they can be handy if you have a minimalist table that doesn't include any built-in storage options. A styled nightstand will look cluttered if too much stuff is left out in plain sight!
NOTE: I would recommend something with a low profile (like a tray) for the top of the nightstand so that it looks attractive and you won't knock it off. On the other hand, a large-scale basket or bowl can be beneficial for storage under the table (especially for items like magazines that can be hard to keep uncluttered).
In addition, if you keep small items on your nightstand (spare change, chapstick, etc.), you might use a small dish instead of a more prominent element like a tray.
5. A Plant, Faux Flowers or Fresh Flowers
Plants (or a vase of flowers) add an element of nature and visual interest. Plus, they pull triple duty because they're soothing and help cleanse the air. Natural nightstand decor elements plus a calming bedroom paint color work together to create a tranquil and relaxing space.
I like to opt for plants that require minimal care (and light), such as orchids, African violets, or a ZZ plant.
What if you don't have a green thumb? If you're one of those people who just can't (or doesn't want to) keep plants alive, a fake plant can add the same visual natural element.
On the other hand, nothing says you need to use plants at all! A polished agate, conch shell, piece of driftwood, or a terrarium can also be attractive natural element options if you prefer to avoid plants.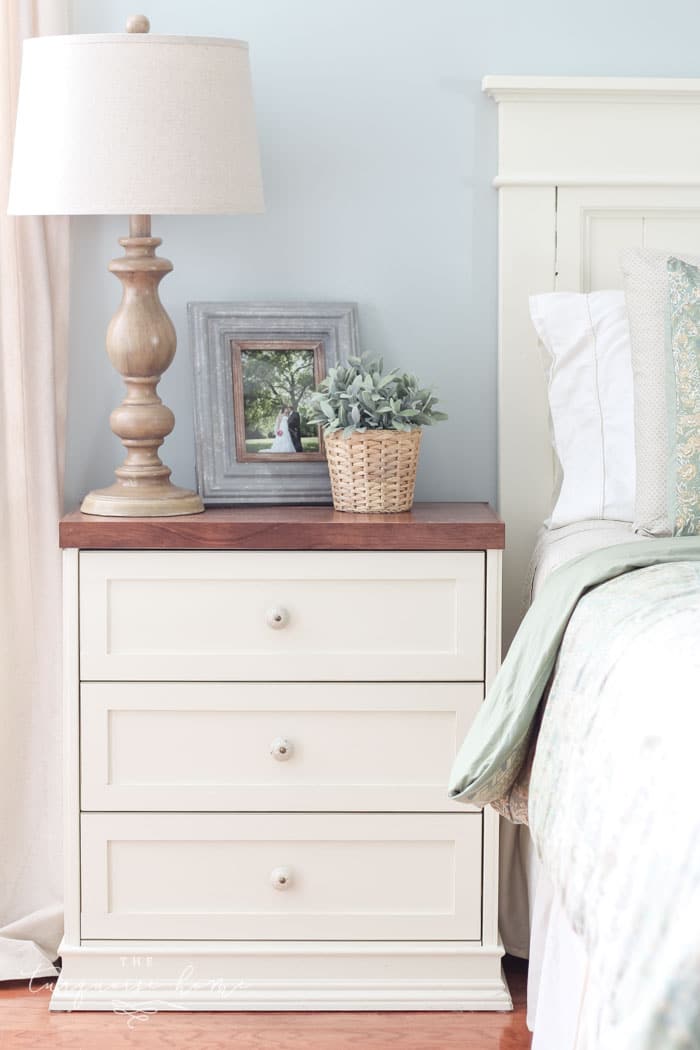 6. Art or Mirror
Adding a piece of art allows you to infuse the space with your personality, which may be on the table (like a picture frame). Or it could be hanging on the wall just above the nightstand. Nightstand decor doesn't necessarily need to sit directly on the table.
I like to display pictures of my kids or family as my art element. However, a lovely hanging watercolor or abstract painting can be a great option, too. There are no rules!
A mirror can always bring the same effect to a room as art! It can help bounce the light around in a smaller, darker room.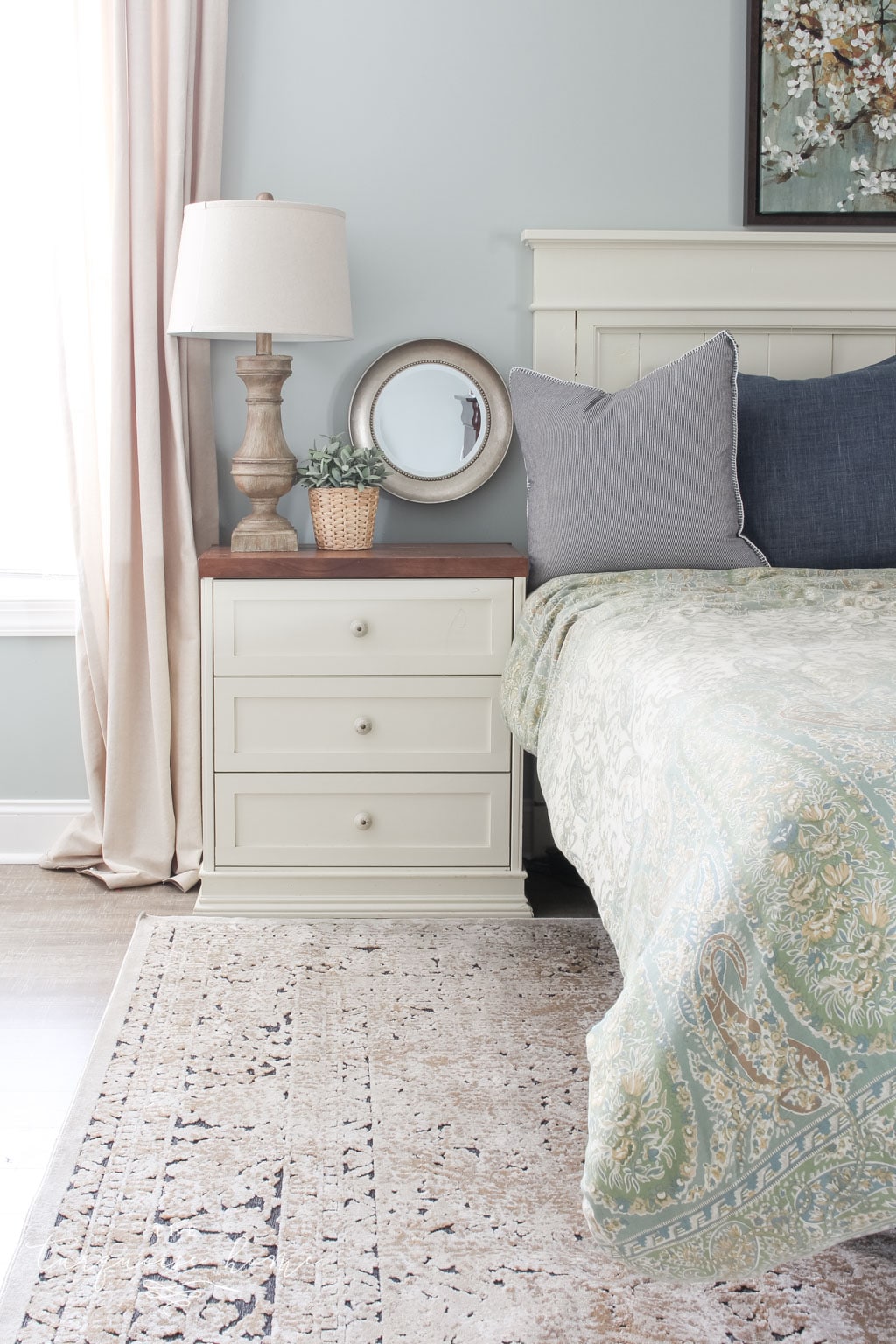 7. Candle on the Side Table
I love the smell and look of a lit candle. It provides a peaceful and centering ambiance that few other items can achieve. I like to light a candle while taking an evening bath or getting ready for bed, then blow it out before I get under the covers.
NOTE: If you love the vibe a candle offers but are concerned about fire safety, try LED candles. They won't provide the same aroma options but usually offer timers if you're likely to fall asleep before turning it off.
Nightstand Decor Final Thoughts
With just a little time and thought, you can create a beautiful, well-functioning nightstand and transform your bedroom experience from perfunctory to restful.
Some people may prefer to keep additional items such as an alarm clock, tissues, a glass of water, or a pad of paper and pen (to purge your mind of to-do lists). They can all be a part of your nightstand decor! Just keep the "rule of 5" in mind to avoid the tendency to clutter up a small space.
Favorite Nightstand Accessories for Your Home
These items are some of my favorites to rotate in my home, on either my night stands, end tables or bookshelves!
More Posts You Will Love: