What Color Walls Go with Dark Wood Trim?
Have you heard the news? Darker wood tones are coming back in style. This begs the question…what color walls go with dark wood trim? I have the answers for you!
Many homeowners struggle with finding that perfect wall color to go with dark wood trim. Unlike most white trim, wood has noticeable undertones that you have to deal with, and it can make finding that paint color that much trickier.
While you can paint the trim another color, financial reasons, labor, or the fact that you still love it may prevent you from saying goodbye to the dark wood.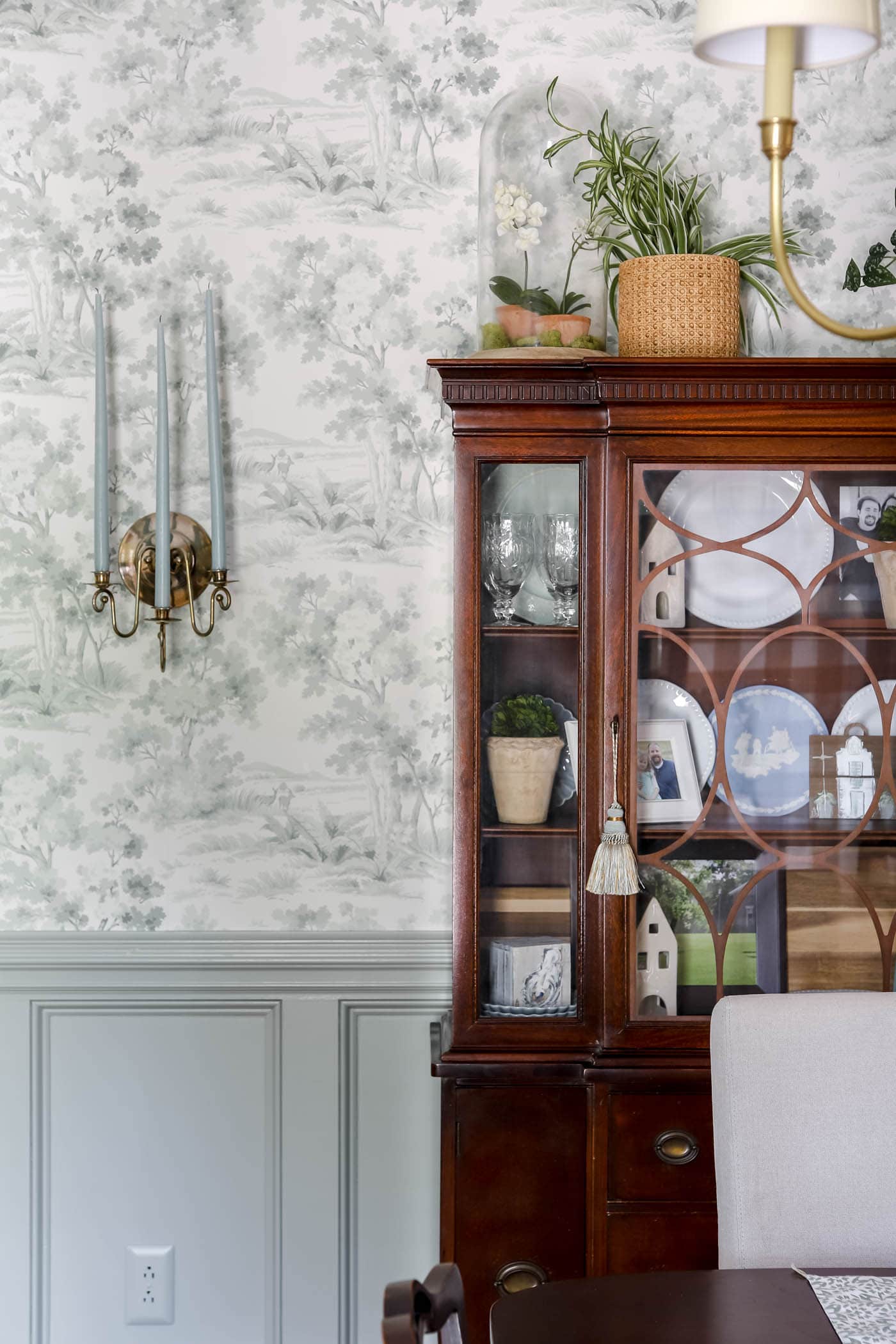 Dark wood trim is still prevalent in homes, and people want to work with it. I love keeping the original history of a home in tact. And when it's done right, I'm a fan! It adds such warmth, character, and drama to the room.
In a way, natural wood trim is much more grounding compared to white trim. Dark wood trim has a rich and organic feel that can't go unnoticed.
While the question we're seeking to answer today is what color walls go with dark wood trim, also note that these paint colors work well for pairing with dark wood furniture or cabinetry too.
It's all about coordinating the colors, no matter where they are in the room!
Tip: Use Real Paint Samples
Any time you are choosing a new paint color, you need to try out the real paint color in your home first!
The easiest and quickest way to do that is with Samplize! I solely use them for paint samples now. There's no mess, no leftover sample pots of paint. Plus, these no-mess, peel and stick rectangles made from real paint, are easy to move around the room and easy to save for future reference!
Neutral Wall Colors to Go with Dark Wood Trim
You can never go wrong with a neutral! These neutral colors will work to complement the wood and provide some beautiful contrast to the room.
White walls are forever going to be one of the most popular off-white wall colors of the 21st century. And for good reason! Nothing goes quite as well with any style, room, or décor as the brightness of a white room.
Alabaster White has warm undertones, leaning more towards faint beige rather than blue. When painting with white, remember that it will create quite the contrast against the dark trim. Make sure the rest of the room has enough high contrast items in it to match and tie it all in together.
If you want a creamier white, consider going with Swiss Coffee. In certain lighting, it can appear warm and golden. While it has slight yellow undertones, this cream color will work well to pair with the warmth in the wood.
This color is very bright. It has an LRV of 84, so it will make the room feel nice and bright.
If neither of those whites jumps out at you, White Dove is such a soft and pretty white paint color. Richer in color than most whites, it has warm and creamy undertones. With enough light, it looks good with just about anything you pair with it, including dark wood trim!
Against the wood, it will look whiter. White Dove has the ability to remain quite crisp looking in any setting. Brighter than most whites, it has an LRV of 85.
Warm Wall Colors to Go with Dark Wood Trim
Warm colors will accentuate the warmth in the wood. When it comes to warm colors, most people think of shades of reds, yellows, pinks, and beiges.
Too much yellow or orange, however, will make the orange undertones of the stained wood trim overbearing and your walls look out of date. Try these warm taupey, beige or greige paint colors instead!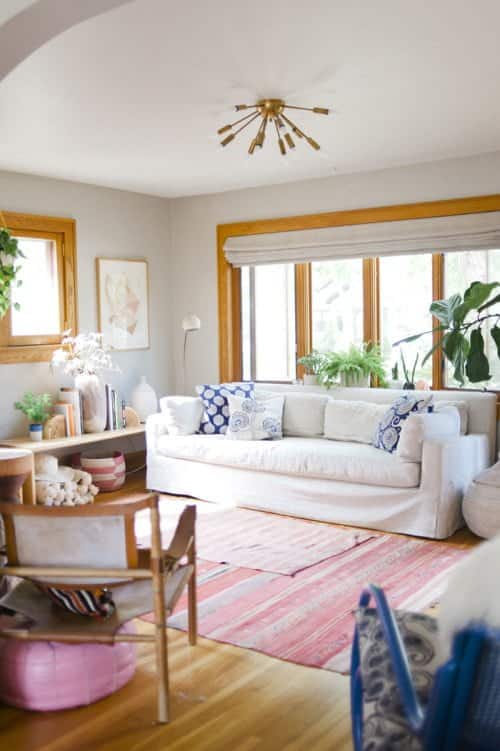 Accessible Beige can do no wrong in my books. When it comes to beiges and dark wood, I would usually recommend a true beige. But, true beige has fallen out of style as of late, more reminiscent of the early 2000s.
The gray undertones in Accessible Beige made it lean more towards a taupe and gray in certain lighting, so it isn't a true beige. But, the gray brings neutrality to it, which makes it not only more versatile but more trendy. When using any browns with dark wood, you want to keep them light. Anything medium and darker will blend in and not provide enough contrast in the room.
Sherwin Williams Natural Tan
Another warm option, Natural Tan, gives you that warm and cozy feeling without the need to commit to the reds, yellows, and oranges we want to avoid. It brings a sense of relaxation and timelessness to the room once paired with the dark trim.
The wood will make the paint appear lighter and you will get a high contrast look. This makes it best for rooms with lots of windows or that are large and open. Otherwise, contrast can make a room feel smaller and more cluttered.
Perhaps Sherwin Williams' most popular shade of gray, you may be wondering how Agreeable Gray ended up in the warm category. While still a shade of gray, it appears more like a greige with beige undertones heavily prevalent.
Warm grays are especially popular right now, and this shade of paint will be sure to make your room feel more current. It will also help to tone down the dark wood. Soft and warm, Agreeable Gray has a lovely gray and creamy tint to it.
Cool Wall Colors to Go with Dark Wood Trim
If you want to go with cool colors, they will tone down the wood in the home and help to balance out the warmth of the wood.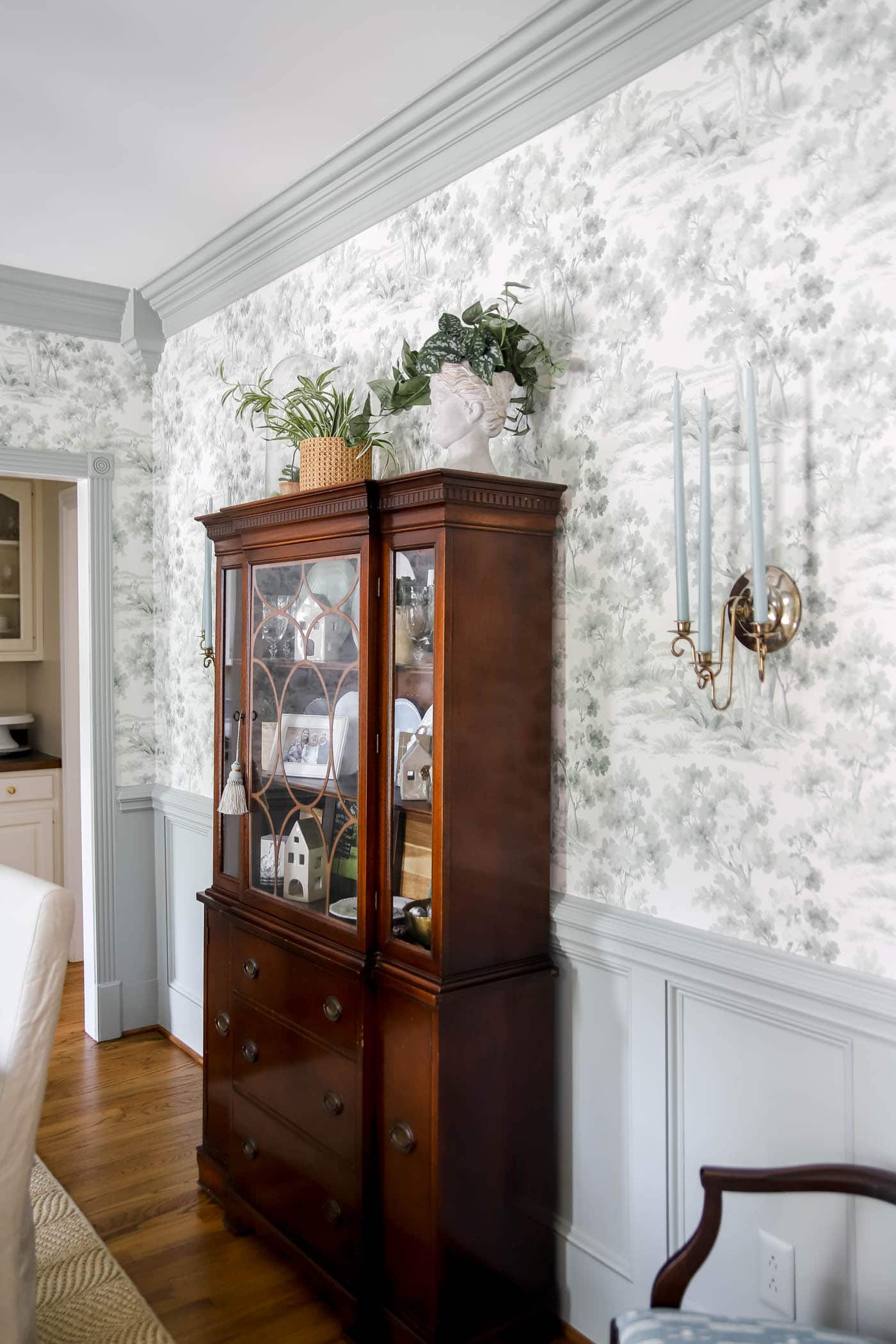 You typically are looking at pairing the wood with cool grays, blues, greens, navy and dark charcoals. For those having trouble deciding on a color, cool tones tend to almost always be the most popular and timeless option.
This is my favorite category to pair with wood tones. For example, in my dining room, I used a cool green color to tone down the dark red-brown color of my great-grandmother's dining suit. The same effect could be achieved if you have similarly colored dark wood trim.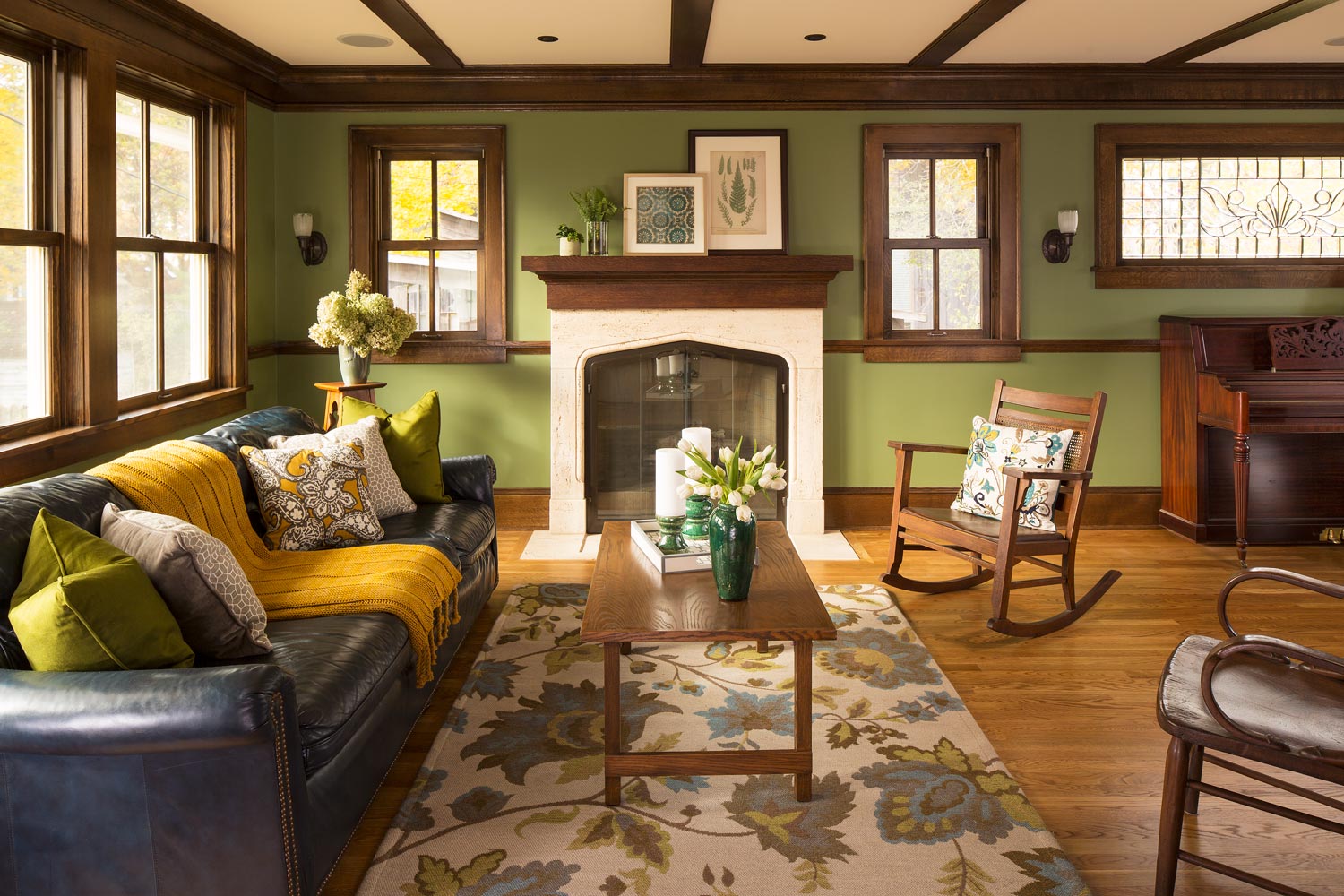 Clary Sage by Sherwin Williams
One of the boldest options on this list, you can add a true pop of color to your walls with Clary Sage. A medium-toned green, earthy tones tend to work well together and create a more grounded room. This paint has an LRV of 41, so make sure the room has lots of light to counteract the deep color.
Keep in mind that the more color you add, the less modern the room may appear. But this may completely be your style! It will create a cozy vintage look and will certainly give the room plenty of personality.
Another pop of color, Sea Salt, is a much more subtle option. With cool undertones, it has a gorgeous blue-green hue that changes depending on the lighting. A chameleon color, the green will shine through more with warm hues while cool lighting brings out the blue.
Sea salt is a favorite of mine, and I find it high on my list of recommendations for many rooms and styles. It's a "safe" way to play around with color.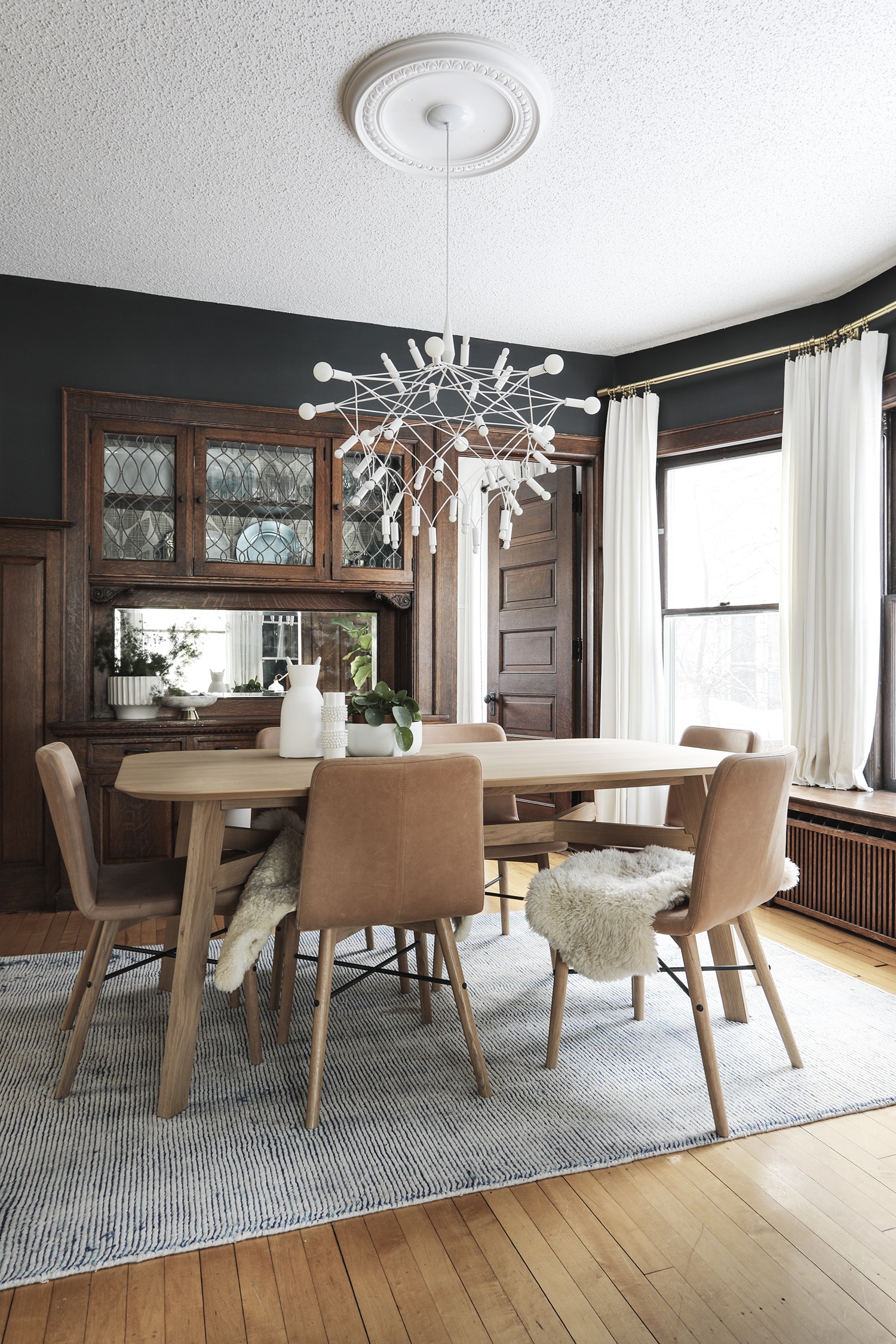 Tin Lizzie by Sherwin Williams
Grays work so well in all kinds of rooms and décor styles, so I couldn't help but slip one more on this list. Tin Lizzie is a medium-toned gray, darker than the other gray and gray-inspired paint colors on this list. It creates a moodier feel but looks so sophisticated with the dark wood.
The blue-green undertones really shine through in this gray. It's truly a beautiful color that will complement the wood but needs a bright room to really show its true colors.
Final Thoughts
By now, you should know the answer as to what right paint color walls go with dark wood trim. When in doubt, hire an interior designer, or simply stick to neutrals and embrace the contrast and depth the wood can bring to the room.
More Posts You Will Love: