Hallways are highly trafficked areas in any home. Is your hallway sad and neglected? If so, here are 7 delightfully easy hallway decor ideas to inspire you to personalize your hallway and create a beautiful space you love.
Is a hallway a separate room of the house? No, not exactly. Does it deserve the same attention when decorating that any other space deserves? Absolutely! Hallway decor is essential for making your entire house feel like a home.
More often than not, people overlook hallways when decorating their homes. Too many times I have seen hallways that look like blank slates, just waiting – no, begging – to be decorated. I get it! In my old house, I practically decorated the entire rest of my house before I ever thought of our hallway.
Is your hallway in need of attention? Perhaps when you see a nicely decorated hallway, you think of it as "one of those Pinterest homes". But, there's no reason you can't have the same gorgeous decor in your own space!
My Hallway Mini Transformation
I used to think that hallways were wasted space. But I've come to reconsider my opinion and I really love our long hallway that connects our living room, kitchen, entrance hall and master bedroom together. It's grand with tall ceilings and big mood crown molding. 😍
And I've known for a while that I wanted to add some fun details to give it some personality, especially the end of the hallway where it turns the corner into our master bedroom.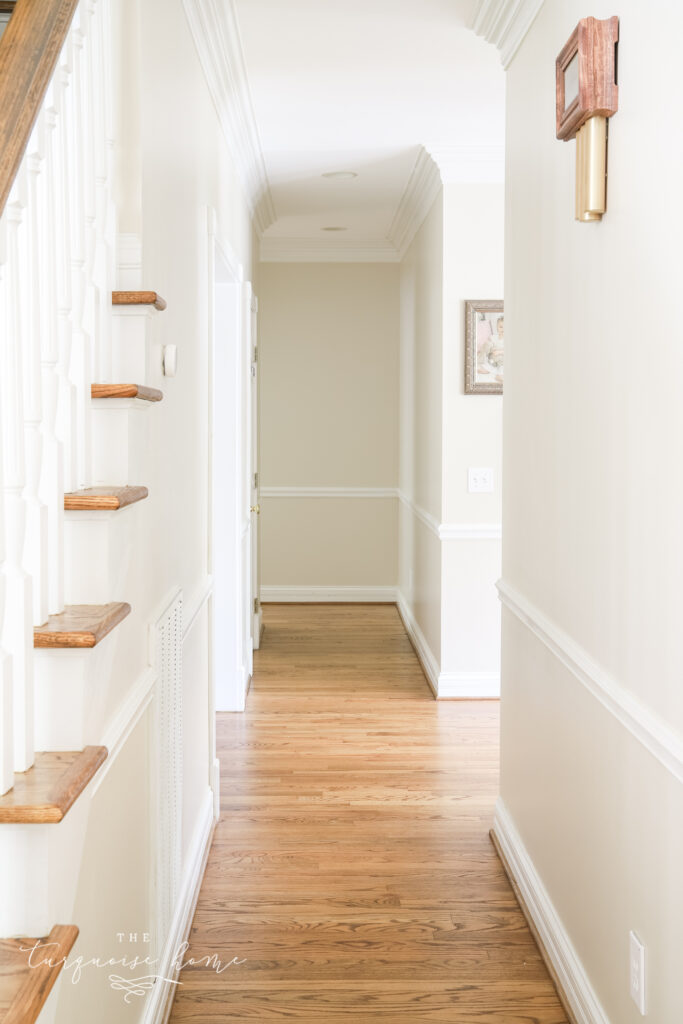 I've been on the hunt for the perfect piece of art. But, the one canvas I fell in love with was a little over my budget and I couldn't bring myself to pay that much while I'm trying to buy things for my kitchen makeover.
So, I set out to DIY something. I considered painting a new abstract art and frame with a DIY frame. Or, I thought about making something like my framed beach art I made from a blank canvas, one of my printed photos and some scrap wood. That last idea got my wheels spinning and I decided to try to find a photo I had taken to fill that space.
Since the end of the hallway turns into our master bedroom, I thought it would be fun to pick a photo that meant something to us as a couple. I then remembered this photo I took of the fountain in Forsyth Park in Savannah, Georgia last year while we were on our 10 year anniversary trip.
This post contains affiliate links for your convenience. See my full disclosure.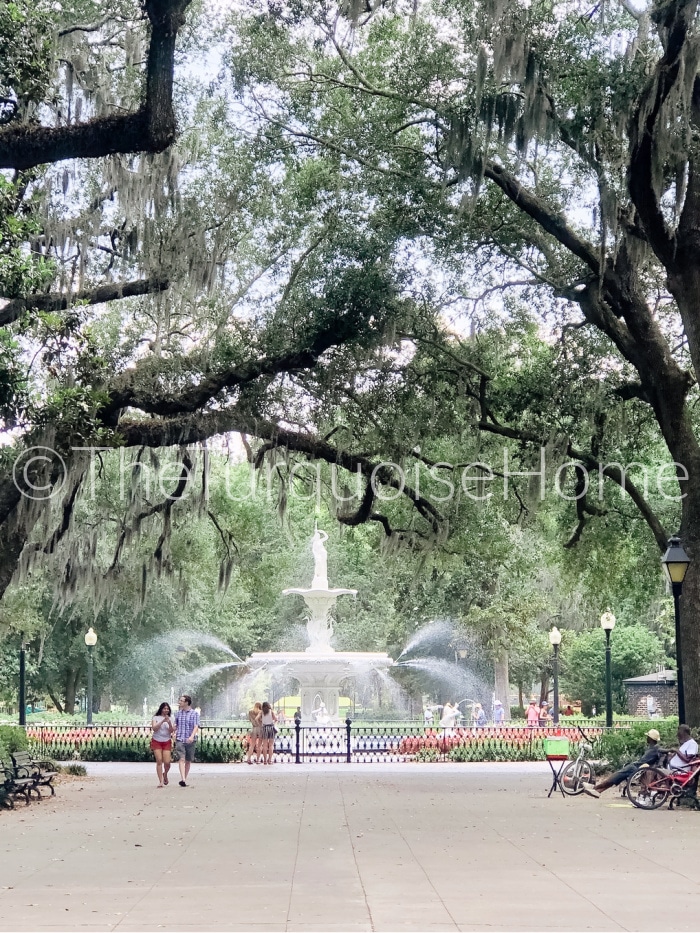 It was perfect! And so, I found a company that would frame it beautifully. I was willing to spend a little bit of money because it wasn't going to cost even half of what the art I wanted would have cost. So, I was saving money (naturally). 😜
And this is how it looks now!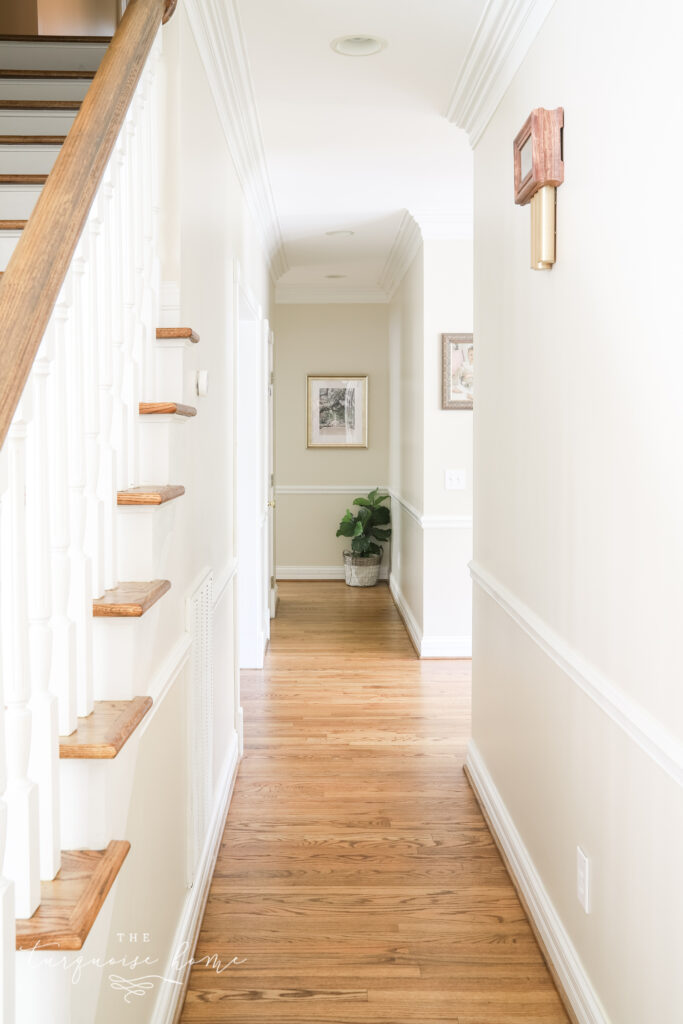 Let's take a closer look! It's hard to get a good shot with the glare of the glass, but it's so good in real life!
Click/Tap the images below to shop this space: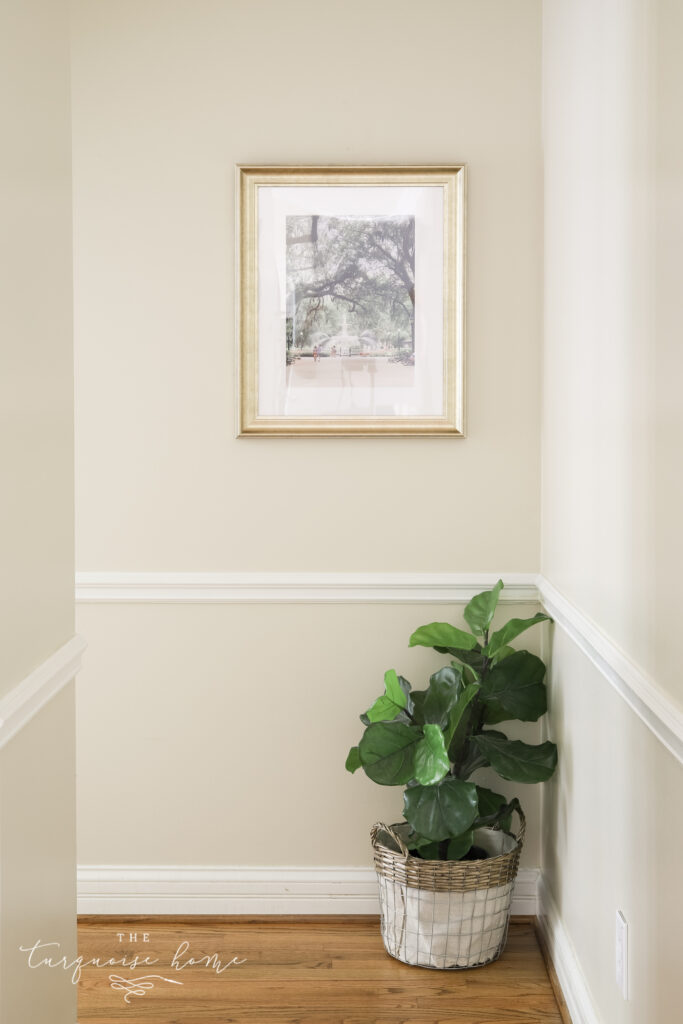 I added a faux fiddle leaf fig I've had for years and voila! The hallway now has some personality and a special memory to boot!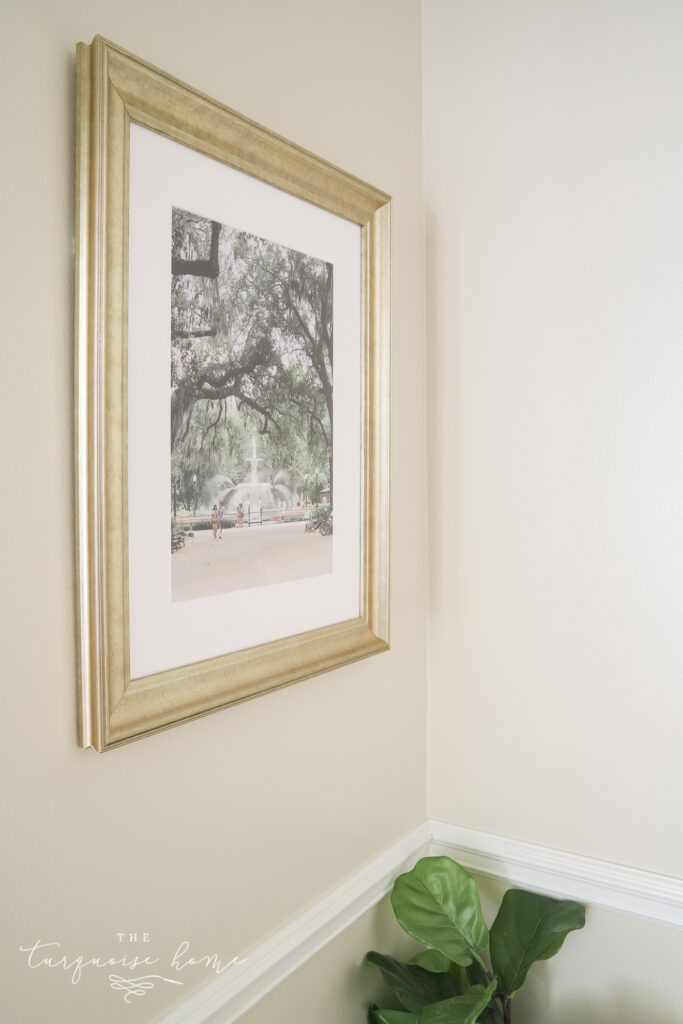 I have more plans to spruce up the hallway, but for now we're so happy with this little update.
A note about the frame. I used Framebridge to print the photo, mat it and frame it. It was such a simple process because you simply upload your photo to their site and select the frame and mat options and order it! It's my first time using Framebride (not sponsored), but it won't be my last!
The framed photo arrived quickly and it's beautiful with a full backing and a wire hanger on the back, ready to hang. I chose the Bowery frame, which is a champagne silver frame that pairs well brass or silver fixtures. I absolutely love it!
7 Easy Hallway Ideas
Your hallway may be dead space on your house floorplan, but it can be anything but dead space in your home. I know from personal experience how much just the simple effort of decorating a hallway can change the look and feel of a home.
That's why I'm sharing 7 easier-than-you-may-think hallway decor ideas to help you turn your overlooked hallway into a space that feels warm and inviting.
1. Hallway Rug
When you have a long, narrow transitional space, use a hallway rug to give the space definition and warmth. This technique is a key way to help tie the hallway in with the decor for the rest of your home.
Narrow hallways can feel tough to tackle, but the truth is that they can actually be pretty simple. A hallway rug, like this cozy example from Park & Oak, completely transforms and warms a long narrow corridor.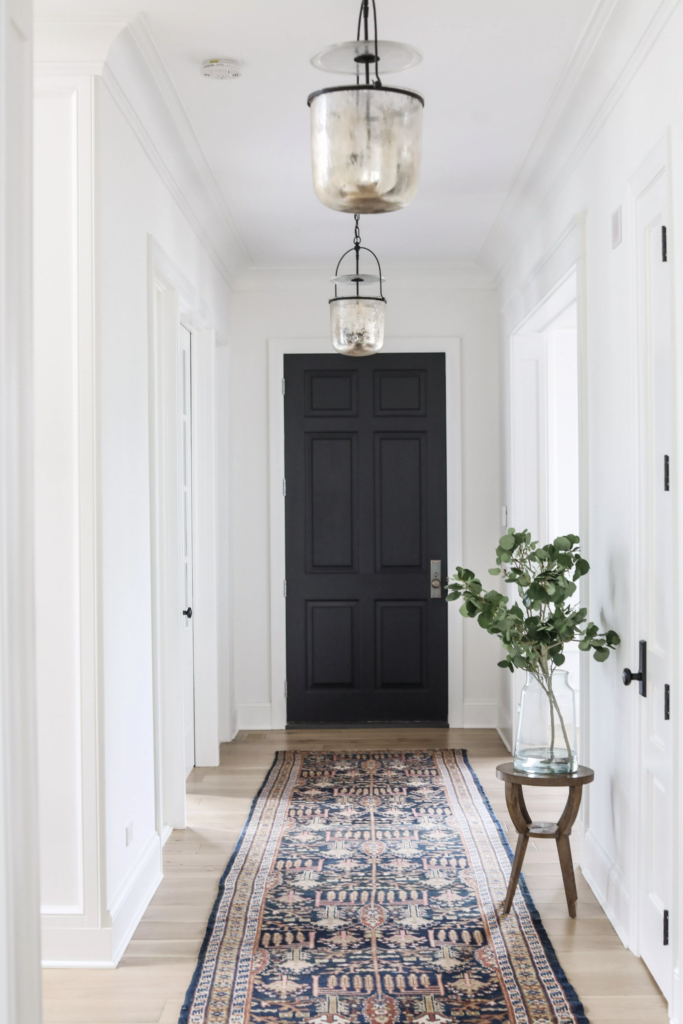 Click/Tap the images below to shop these gorgeous runners!

2. Hallway Wall Decor: The Photo Wall
A hallway is a blank canvas just waiting to be painted, so to speak. Create a gallery of personal photos or artwork to add a beautiful personal touch.
You can keep it more simple with coordinating frames as I did in my hallway in our last house. Or another option is to create a full gallery wall similar to this wonderful example from Style At Home. I love the effect that hanging personal photos has on a space.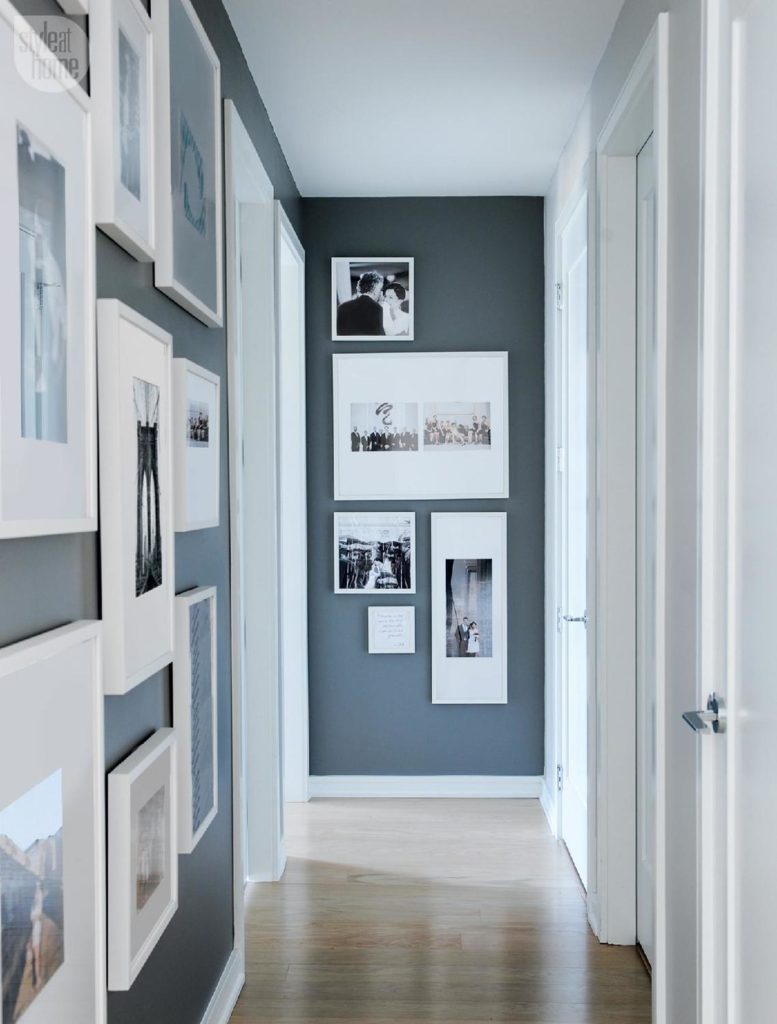 3. Add Light
You can easily add some light to a dark hallway via a lamp or some wall sconces. Adding just a little light can make the hallway feel like it's part of the rest of your home rather than being some cold, dark extension that no one wants to venture through.
Whether you put a lamp down at the end of the hallway, have wall sconces on the walls, or utilize overhead lighting, create a warm space through the use of lighting in a hallway. This example from Studio McGee is a beautiful example of how wall sconces brighten up a narrow space.
Let's be honest – the beautiful windows and natural light don't hurt either!
Tap/Click the images blow to shop wall sconces:

Another great idea for layering in texture and interest in a hallway is by replacing can lights with pendant lighting. This takes your hallway design up 10 notches!
Tap/Click the images blow to shop pendant lights:

4. Framed Mirror
Hanging a framed mirror in an otherwise boring hallway creates the illusion of additional space. In addition, mirrors reflect light from windows or light fixtures, which brighten the space and make it seem larger at the same time. This is one of those hallway decor ideas that are particularly effective in small, narrow transitional areas.
This example from The Cepayna particularly highlights how effective this technique is. By hanging a mirror in this narrow hallway, the space looks bigger and brighter than it would have without the mirror.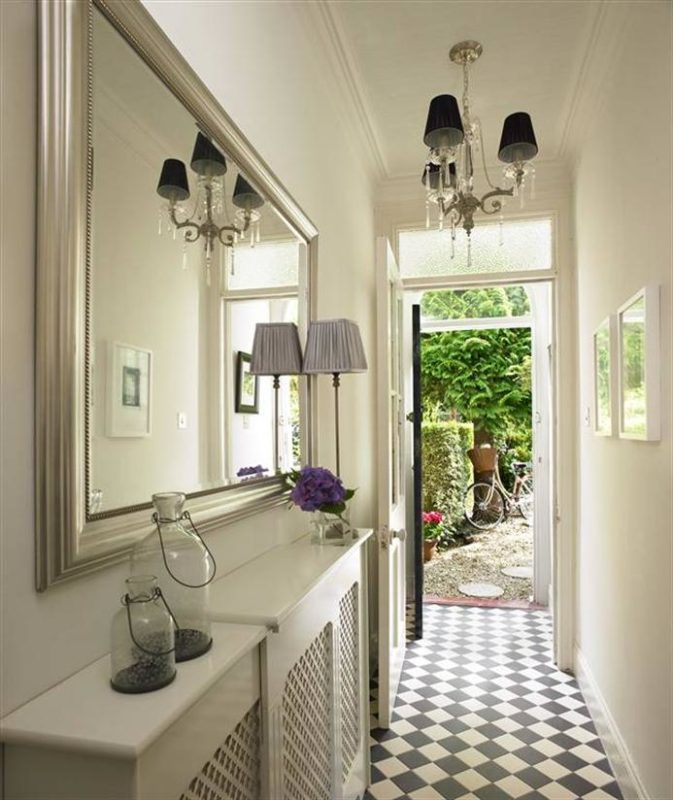 5. Narrow Table
A console table adds depth and detail to a hallway by providing a space to display photos, trinkets and other meaningful mementos, lamps and more. With hundreds of different options and designs available, choosing a hallway table can be a daunting (but totally fun) task.
In this example from The DIY Mommy, the hallway console table also doubles as a chic shoe storage space thanks to the design which includes cabinets with doors.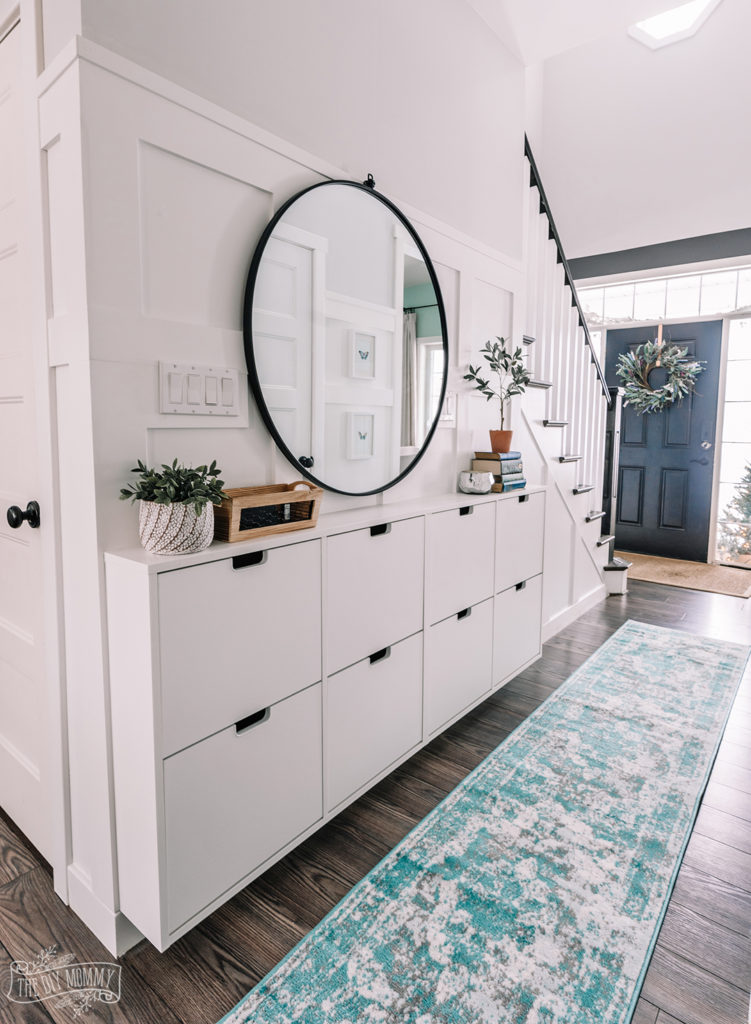 6. Light Colors
Hallways frequently lack natural light, so brighten them up by using light, neutral paint colors or a light reflective wallpaper. This will help to make any space brighter without the use of extra lighting. Bonus: this works well in small hallways to make the space seem bigger too!
This example from My Domaine shows this effect in a wonderful way. This narrow hallway actually looks fairly large thanks to the light paint which reflects the natural light from the doorway.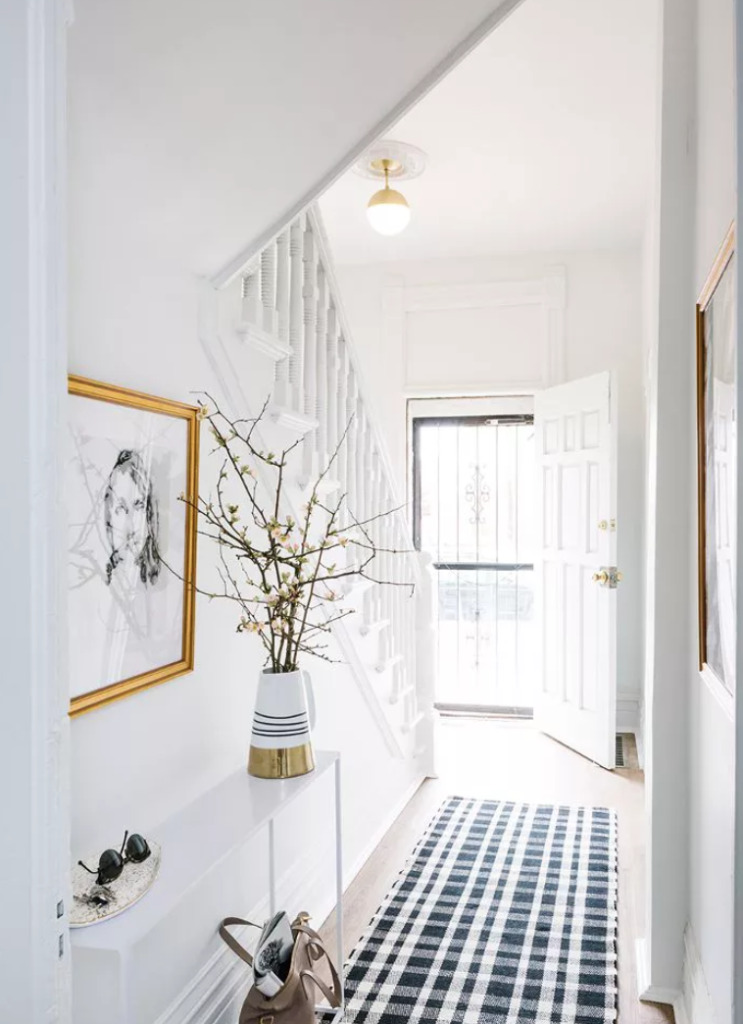 Related: How to Choose the Best White Paint Color
7. Add Personality
More often than not, hallways are small, drab areas that feel cold and boring. Add some personality into a small space by using patterned wallpaper on the walls. You can use it to add some color, keep the hallway light and bright or add some fun texture.
I love this example from Lily Pad Cottage. The wallpaper is bright, fun, and could work in almost any hallway.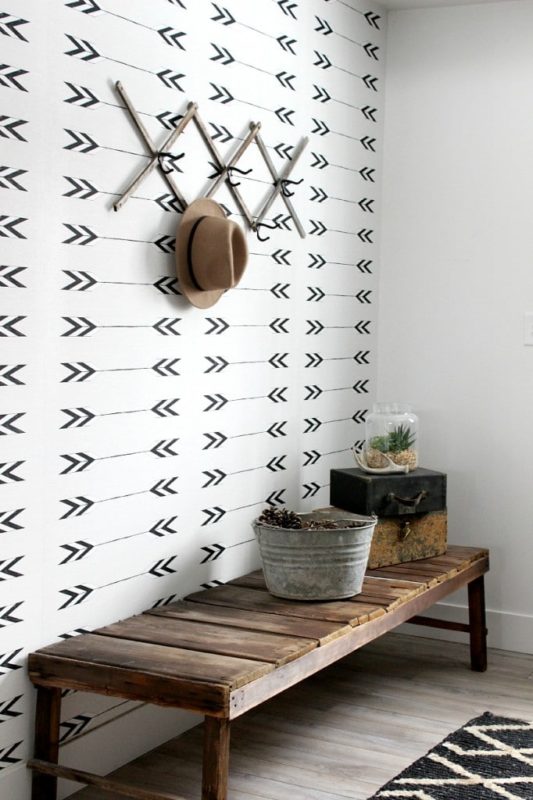 Sincerely Sara D. not only added wallpaper and some pretty news lights to her hallway, she added a chair rail and panel moulding, as well! Talk about an upgrade!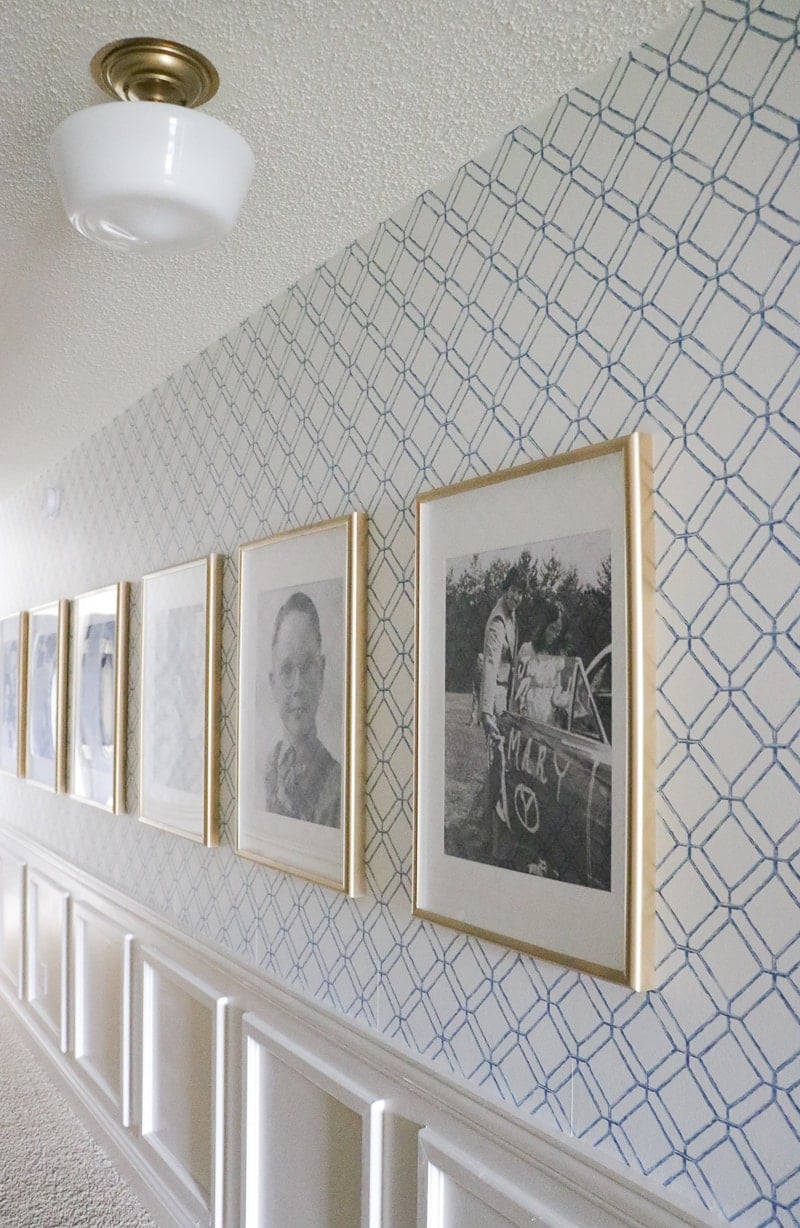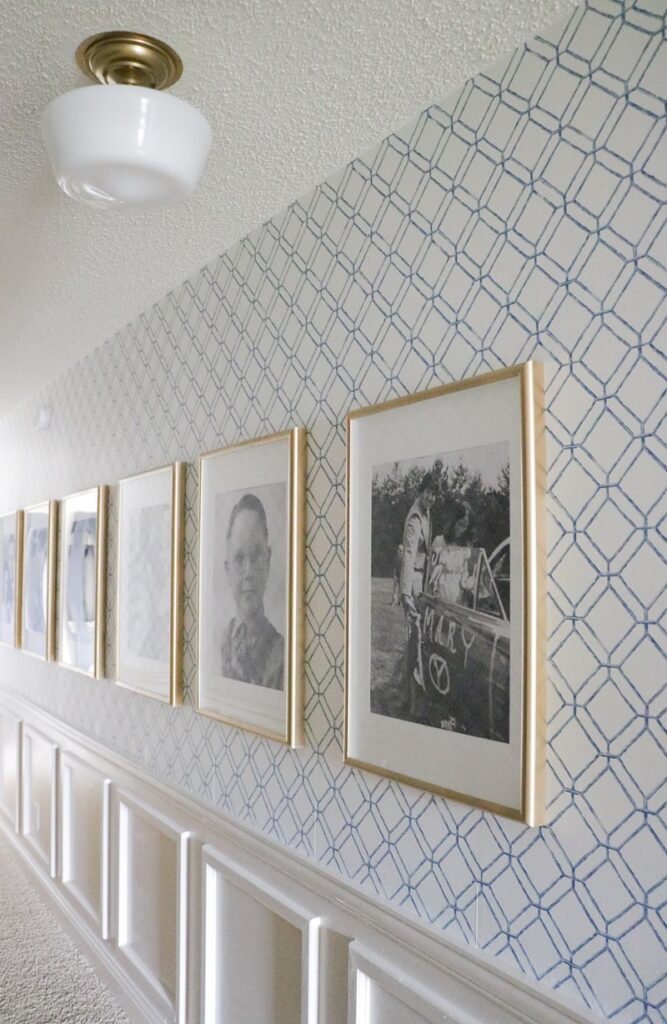 I hope these hallway decor ideas have helped you to imagine what your own hallway could look like with a little time and love to it.
Use these hallway tip ideas to personalize your hallway and easily create a space that you love to walk through multiple times a day.


MORE POSTS YOU WILL LOVE:
Get Instant Access to my Guide to Customize Your Home on a Budget
Grab your FREE guide for 10 Ways to Customize Your Home on a Budget: simple projects to transform your home from builder beige to a home with character and charm!