Sherwin Williams Alabaster White
Sherwin Williams Alabaster White (SW 7008) is known for its soft and creamy hue. The Alabaster White paint color has been a favorite for many years. Sherwin Williams even announced it as their 2016 Color of the Year.
And don't think the fad has passed! SW Alabaster White sure has proved its staying power. To this day, it remains one of their most popular white colors. And I can see why!
White walls are always a safe bet when it comes to the home. Neutrals will remain supreme, no matter the decade! Because of this, white walls are always in.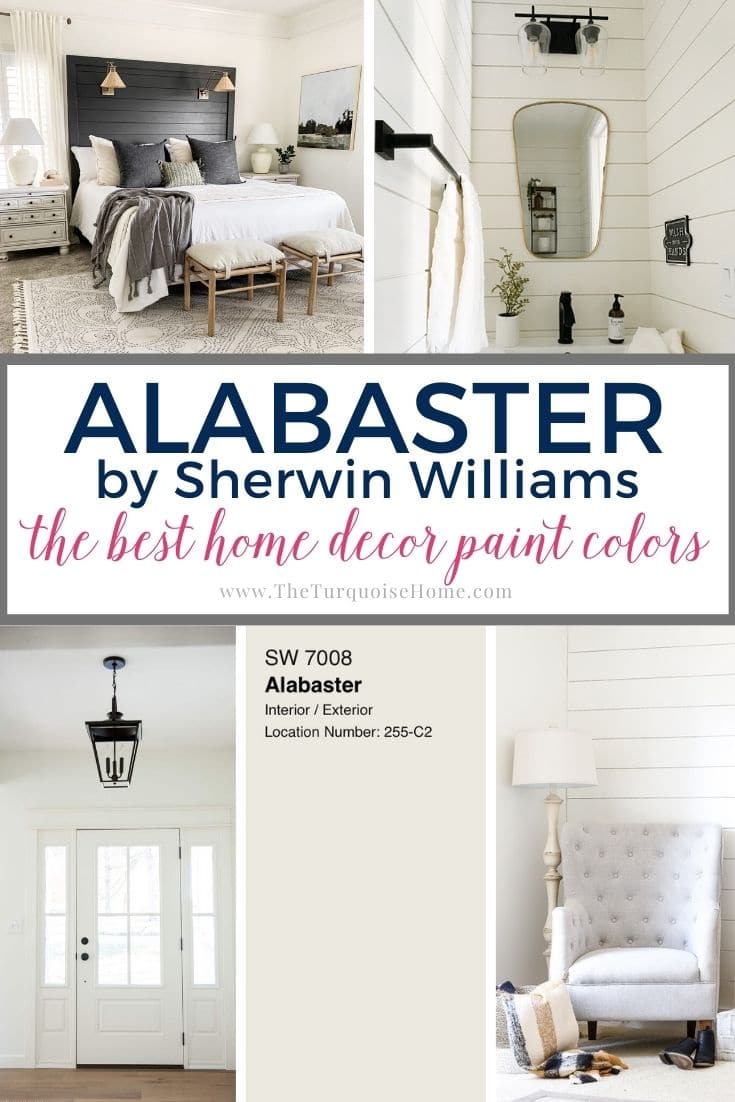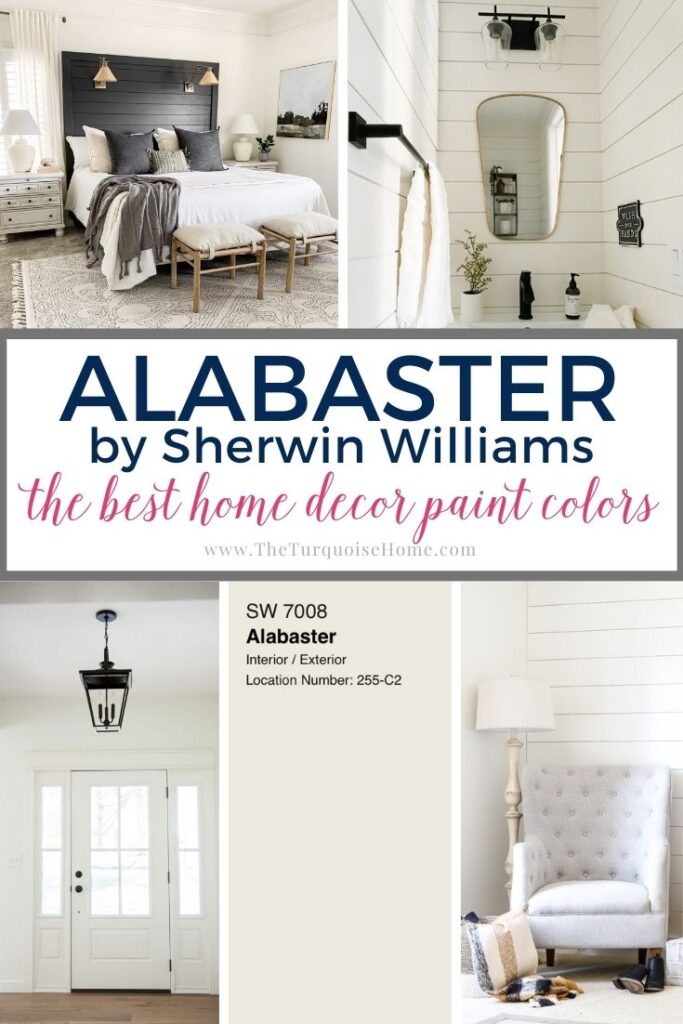 What I like most about Sherwin Williams Alabaster White is that it has such slight undertones that it works well in just about any setting. It's one of the first colors I recommend to people who are in the market for that elusive ideal white shade.
And as a little bonus, it looks good both inside, outside the home and on kitchen cabinets. You can't go wrong with this color!
Tip: Use Real Paint Samples
Any time you are choosing a new paint color, you need to try out the real paint color in your home first!
The easiest and quickest way to do that is with Samplize! I solely use them for paint samples now. There's no mess, no leftover sample pots of paint. Plus, they are easy to move around the room and easy to save for future reference!
What Color is Alabaster?
The Sherwin Williams Director of Color Marketing describes it, "Alabaster is neither stark nor overly warm, but rather an understated and alluring hue of white."
It's a soft white that is neither neither warm or cold, so it works well with warm brass and wood finishes, as well as the grays and blues that are popular today.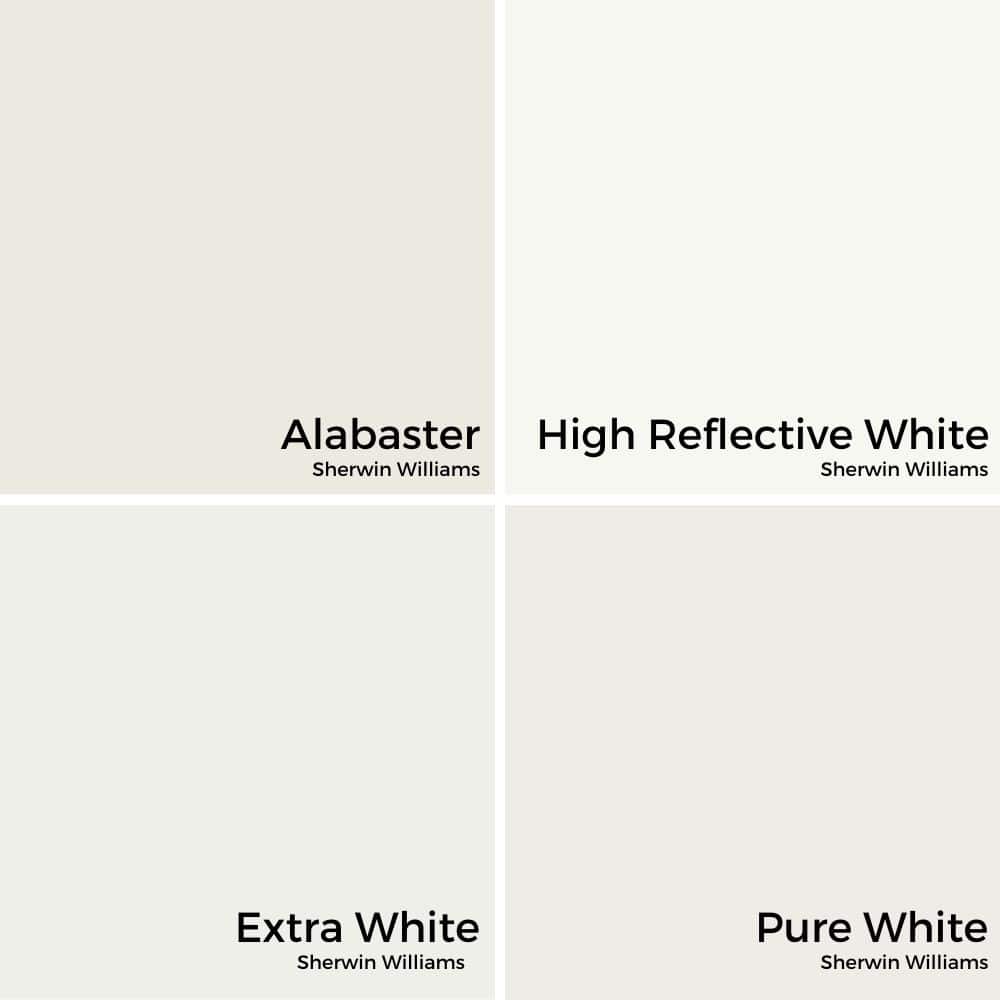 Alabaster White Undertones
Alabaster White, though technically a warm color, certainly does not stray towards feeling yellow. In fact, it pairs exceptionally well with warm and cool colors. This is because it has very subtle undertones and doesn't lean heavily towards one specific color.
Some may notice the greige undertones (the combination of both grey and beige). Depending on the lighting, grey or beige may shine through more.
For true white, you will normally notice cool to blue undertones. The greige undertones of Alabaster White paint give it a creaminess. However, it's not too creamy and has a nice balanced look to it.
You can really only notice the true difference between whites when directly comparing them side by side. On its own, alabaster will appear mostly white, although not a true white.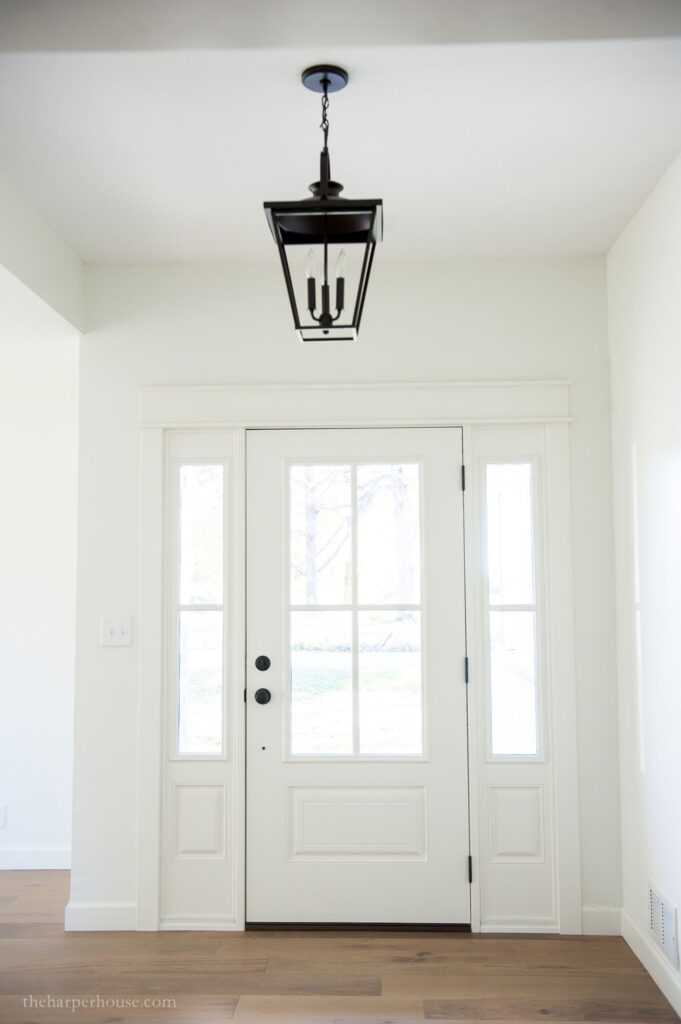 LRV of Sherwin Williams Alabaster White
Light reflectance value (LRV) is the amount of visible light a paint color either reflects or absorbs. When it comes to LRV, the higher the number is, the more light it reflects rather than absorbs. So, where does Alabaster fall on the scale?
The LRV of Alabaster White is 82. Essentially, you can expect it to reflect a lot of light.
Depending on the room and the natural light it receives, it will appear differently. In north-facing rooms, paint tends to come across as cooler. It will feel more muted, though the change will be slight for Alabaster.
South-facing rooms tend to give a glowing effect to any warm tones. The warmth of Alabaster will really shine through. The same can be said about east-facing and west-facing rooms. You will get the most warmth, however, in a west-facing room.
Alabaster White vs. White Dove and Simply White
Alabaster is often in the running with other popular white paint colors like Benjamin Moore's White Dove and Simply White.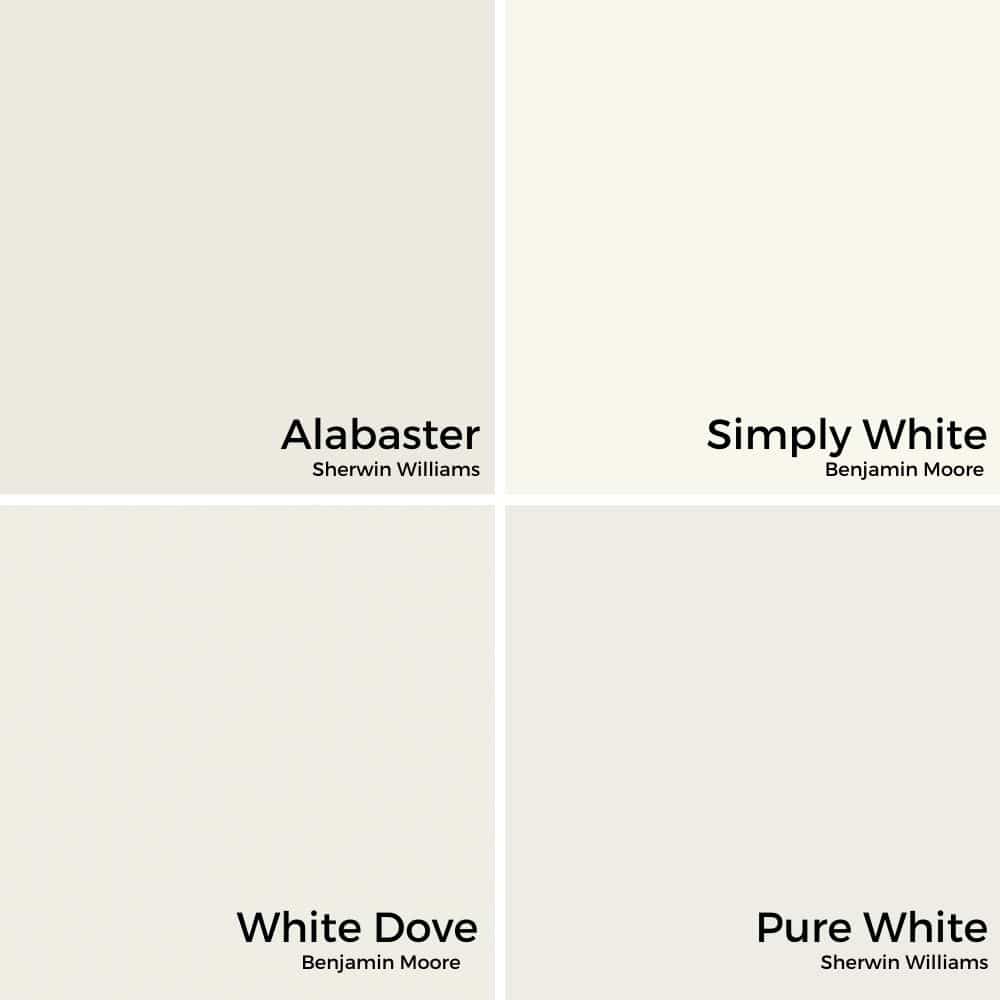 Alabaster White is ever so slightly darker and warmer than White Dove (LRV 85) and less yellow than Simply White. I'd say if you're loyal to Benjamin Moore paint colors, White Dove is a pretty close match to Alabaster!
Complimentary Colors for SW Alabaster White
Alabaster White makes things easy and pairs with just about any color. However, you still always want to test things out before you fully commit to painting everything. But it's certainly a good place to start your search!
You can pair the color with another neutral in the opposite hue family. For example, the cool and blue-gray hues of Sherwin William's Sea Salt work well.
When paired with a darker color, it will make Alabaster White appear even brighter in contrast. One of my favorite dark and bold colors is Benjamin Moore's Hale Navy.
Sherwin Williams themselves pairs it with Townhall Tan (7690) and Dakota Wheat (9023). But if you ask me, there are so many amazing color combinations out there!
Alabaster White Paint in the Home
Wall Colors
You can basically never go wrong with Alabaster for practically any wall. It's popular for a reason, being extremely versatile and easy to work with. While a bright white, it won't ever glare and will still let you play around with color elsewhere in the room.
For those who don't want a headache when it comes to matching and ensuring everything feels cohesive, Alabaster White will never make things difficult for a designer.
When it comes to décor, it fades into the background and lets your décor take center stage. Because it's a neutral color and works with both warm and cool tones, it pairs with just about anything.
If you're a constant redecorator (like me), you can easily switch out décor and furniture without worrying about it matching the paint color. It always will!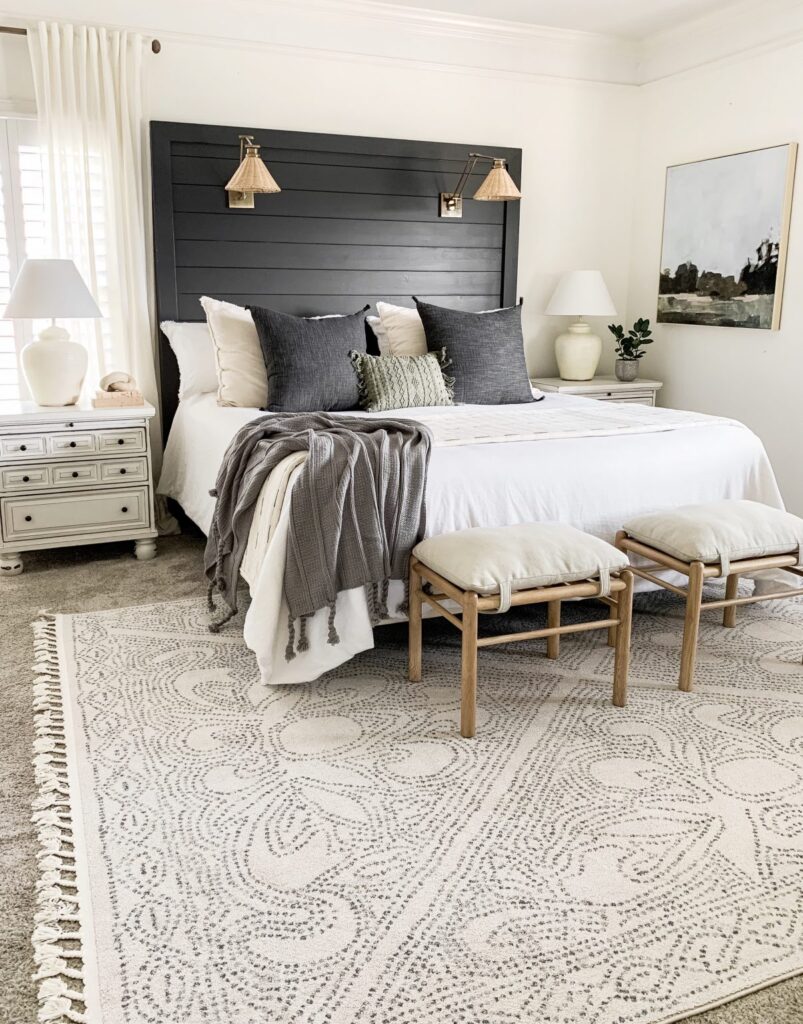 Trim Finish
Beyond the walls, you can also use Alabaster on the trim and molding of a room. Opposing whites in the same room always provide a subtle yet significant design choice.
If you change the finish on the two different trim colors, such as a semi-gloss, just for the trim, you will make it look even more elevated. And because of its versatility, you can pair it with most paint colors if you're looking to refresh just the trim.
Cabinets
Cabinets also get to be a part of the action. You can use Alabaster White in the kitchen, bathroom, laundry room, and wherever else your heart takes you in regards to cabinetry. Having white cabinets offers a nice contrast against the paint color of the walls. But because it isn't a true white, Alabaster won't feel too stark and bold.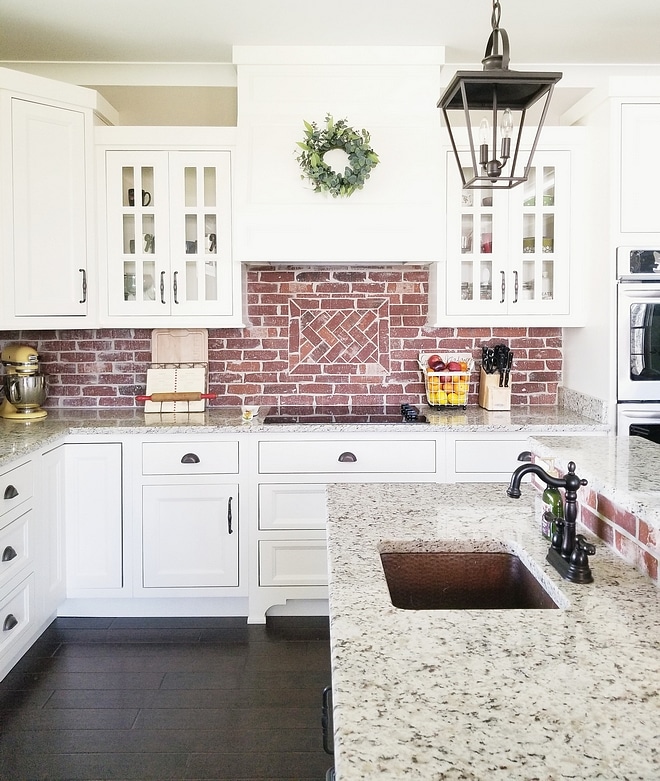 Shiplap
Do you have shiplap in your home? Farmhouse style and Alabaster White were practically made for each other. Like cabinetry, a true white can be too stark for a shiplap wall, and Alabaster offers a good alternative due to its warmth.
Exterior
Alabaster White also works outside the home. When outside, you won't even notice that it's not a true white because of how bright and white it will look…without getting blinded by a glare! Due to its high LRV, it will appear bright and beautiful even for homes that are in the shade most of the day.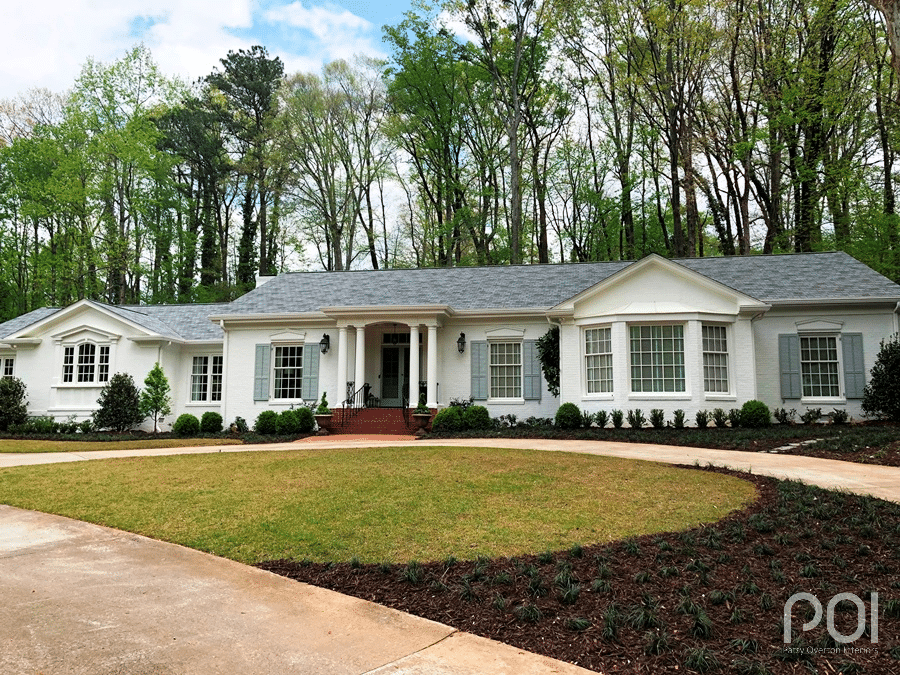 So, have I convinced you yet? Let me know if you plan on giving Sherwin Williams Alabaster White a go in your house.
Don't forget to check out these other fantastic paint colors!
MORE POSTS YOU WILL LOVE: