Sometimes I take for granted that I've been decorating for a blog for 5 years now and it comes pretty naturally to me. How to decorate for Christmas can be overwhelming for the average person, I guess. Well, from some of the e-mails I get from my dear readers, I hear ya! It can be overwhelming.
So, I thought I'd share how I like to add Christmas to my home.
And let me clear something up right now. One of my sweet readers asked me the other day how to make her home "magazine-worthy." And while we all love a beautiful, pretty home, a "magazine-worthy" home is just that. It's worthy of a magazine page or a pin on Pinterest.
Y'all, I clean my rear end off to get my home "blog-worthy" in order to take pictures of it. I also have spent 4 years learning tips and tricks to make a pretty picture with the decor in my home. I can guarantee you that there is clutter just outside the camera frame. Every stinkin' time.
I can also guarantee that my home looks like it does on camera for about 15.2 seconds before the pillows are thrown on the floor and my 2-year-old has dumped popcorn under the Christmas tree and has removed 4 Christmas ornaments to play with (not the glass ones, of course.)
So, here are the two questions I want you to be asking yourself when you are decorating your home for Christmas. Is it something you love? And does it create a warm, inviting and cozy haven for your family? That's it! Don't worry about looking like magazines. They are just there to inspire you! You can create a beautiful space that you love, but don't worry about perfection unless you get a call from Country Living. OK? Deal?
Good. Glad we got that out of the way. 😉
How to Decorate for Christmas
Step 1: Front Door & Entry
So, the first thing I like to tackle in my home is the front door and entry way. If you have a nice Christmas wreath, then hang it up! You can either make a simple burlap wreath and spruce it up with faux greenery and berries, or buy one from the store, like I did last year. Here are some gorgeous handmade Christmas wreaths (click here).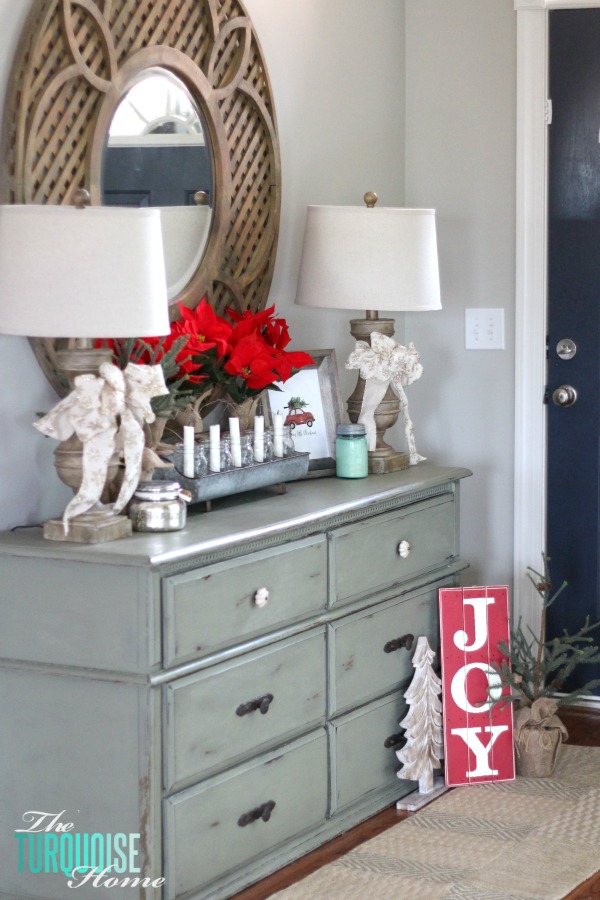 If you have a console or entry table in your foyer, then add a nativity scene or some pretty ribbon bows to the lamps. If you can't make a pretty bow, they sell them at the stores. No sweat! If you like to display pictures, add some free Christmas printables. My most popular one is O Holy Night (click here), but there are tons out there if you just search on Pinterest.

Step #2: The Christmas Tree(s)
Next, you can set up your Christmas tree. Or trees. 🎄🎄🎄
In the past I've set up 2 Christmas trees, one in the living room next to the mantel, and one in the dining room because it's in the front window. I like to be able to see a tree when I'm sitting watching TV or working from my recliner. And I like to see one when I drive up to the house.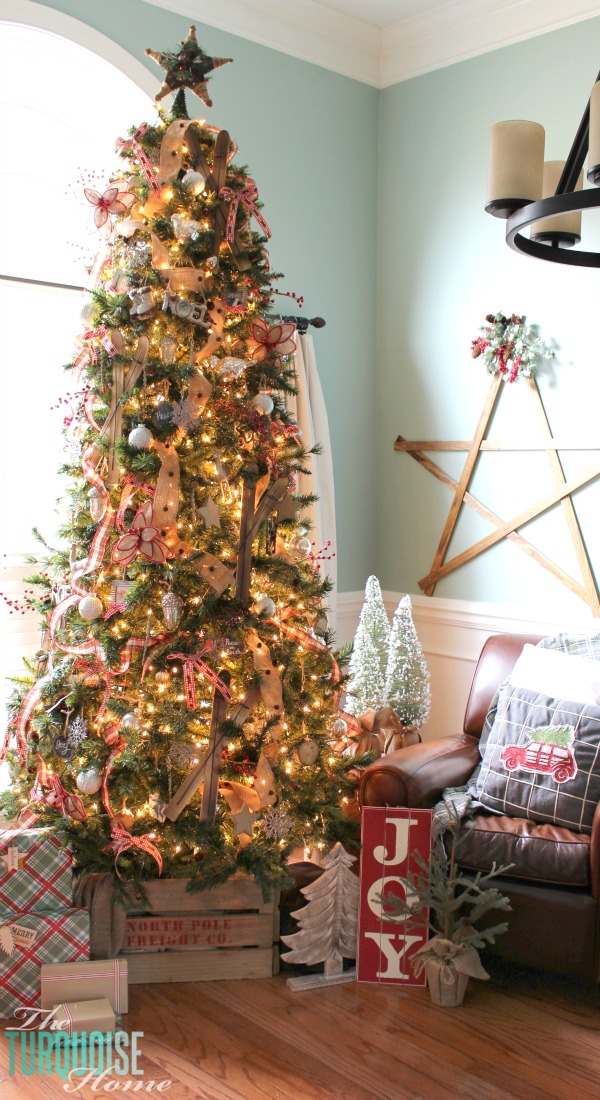 I actually have an old small tree left from my apartment days. And I'm thinking about putting it in my bedroom. But, we'll see if I tackle that one. I still have to finish my big tree and the rest of the house before I can think about that.
Decorating a tree can be as elaborate or as simple as you want. Growing up, we just put lights on the tree and handmade ornaments. We didn't do any fancy garland, picks or ribbon. I personally add all kinds of other things to my trees and I love them!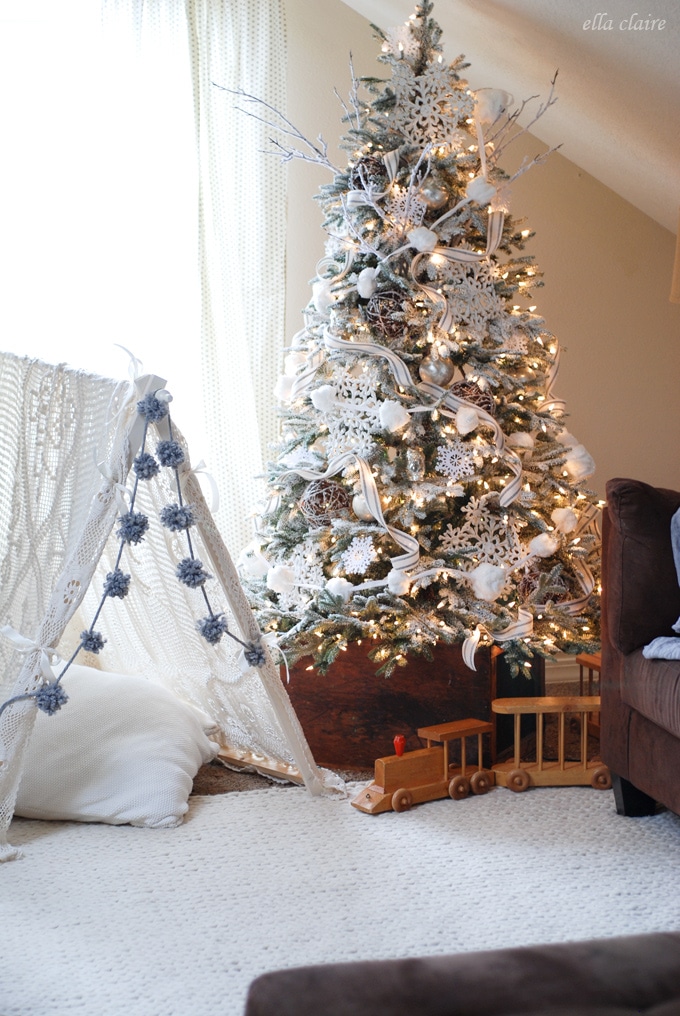 How to Decorate a Christmas Tree by Ella Claire
This post from Ella Claire really is a fabulous post on How to Decorate a Christmas Tree (to look super awesome!) But of course you need to decorate your tree however you want to decorate it for your family. Make it special to you!
I also love this post by Ella Claire on how to put ribbon on a tree. I've used her methods for 2 years now and I loooove the look!
And if you've never added lights to make a tree really glow, then you'll want to read my latest post on How to Put Lights on a Christmas Tree (click here). You can even add them to a pre-lit tree. Don't be scared!
Step #3: The Mantel
I really find great joy in decorating my mantel for each and every season. I start a couple of months ahead of time, thinking about how I want to incorporate old items that I already have and what items I either need to make or purchase.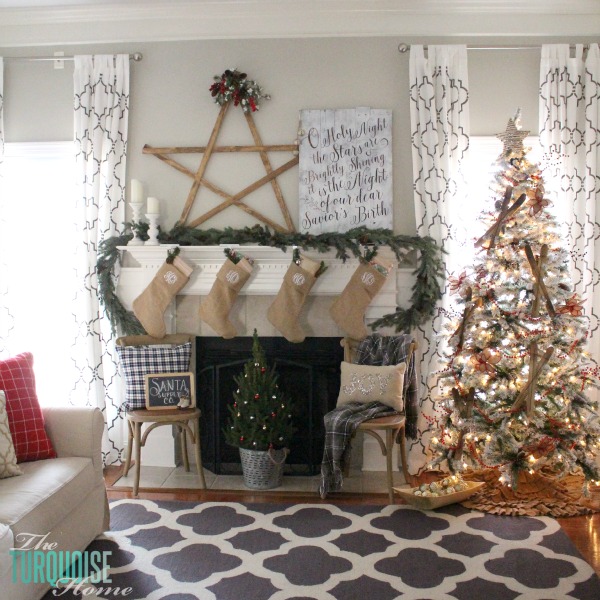 My winning formula has been a large focal point in the middle of the mantel that grounds the space. If you don't have a TV on your mantel, then it could be anything like an old window frame or a pallet sign. I recently made a DIY cathedral window (click here) and love it with my magnolia wreath hanging on it.
Then I set stuff on either side of the focal point in the middle so that it creates kind of a triangle. I also try to think of each little grouping as it's own entity and apply the rule of thirds to it. It's not perfectly in 3's because we have 4 stockings, but I try to apply it where I can!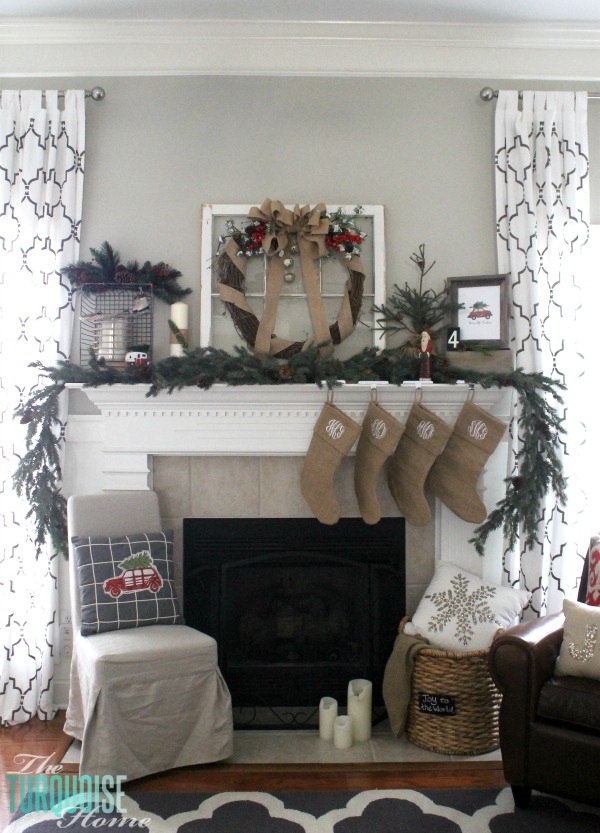 And I don't always create a triangle. Sometimes I like an asymmetrical mantel or table top. I wrote a post about How to Decorate a Console Table (click here) and the same ideas can be applied to asymmetrical mantel decorating.
Step #4: All of the Surfaces 😍
After those three things are done, I just add more merry-ness to all of my flat surfaces (and some vertical, too, haha)! I add pillows to the couch and chairs.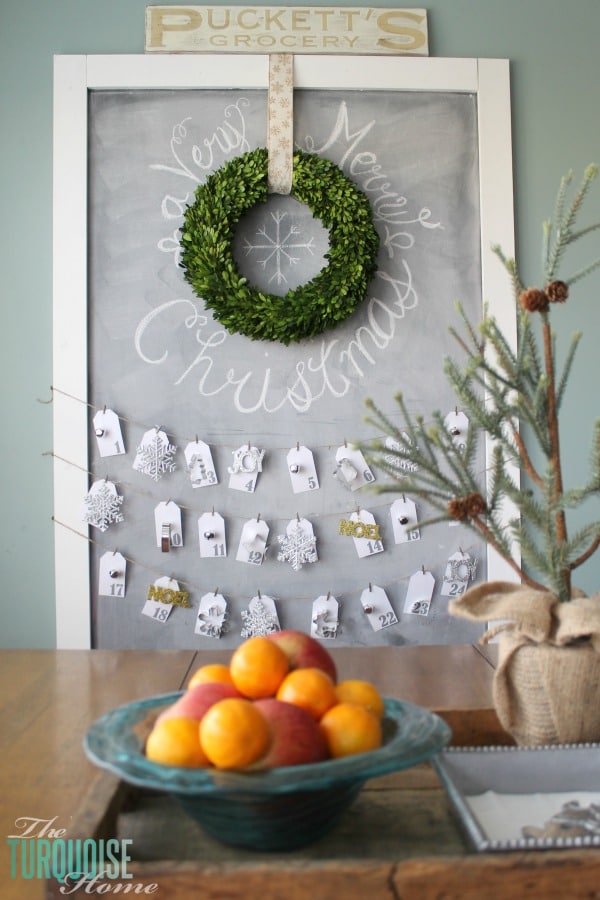 I like to make a cute Christmas drawing or saying on my kitchen chalkboard. I add seasonal art around the rooms and string twinkle lights where I can get away with it. Add mini Christmas wreaths to your kitchen cabinets, hung up with Christmas ribbon.
Wrap up some empty boxes with festive wrapping paper and stack them on a table or near the Christmas tree.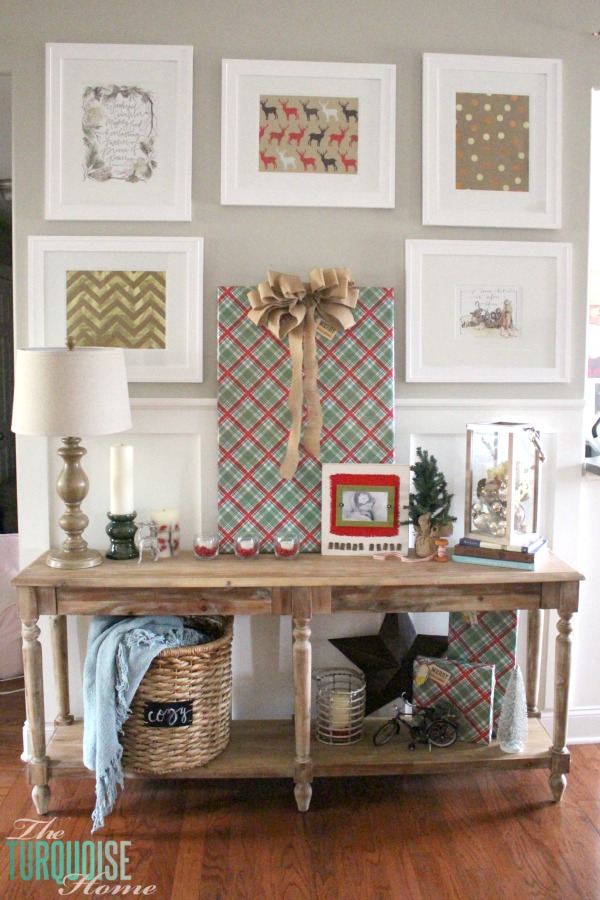 Adding greenery to light fixtures and little snow scenes to mason jars are some of my favorite ideas, too.
I wrote a post last year about How to Decorate a Console Table (click here), so those might help inspire you with things you already have around the house.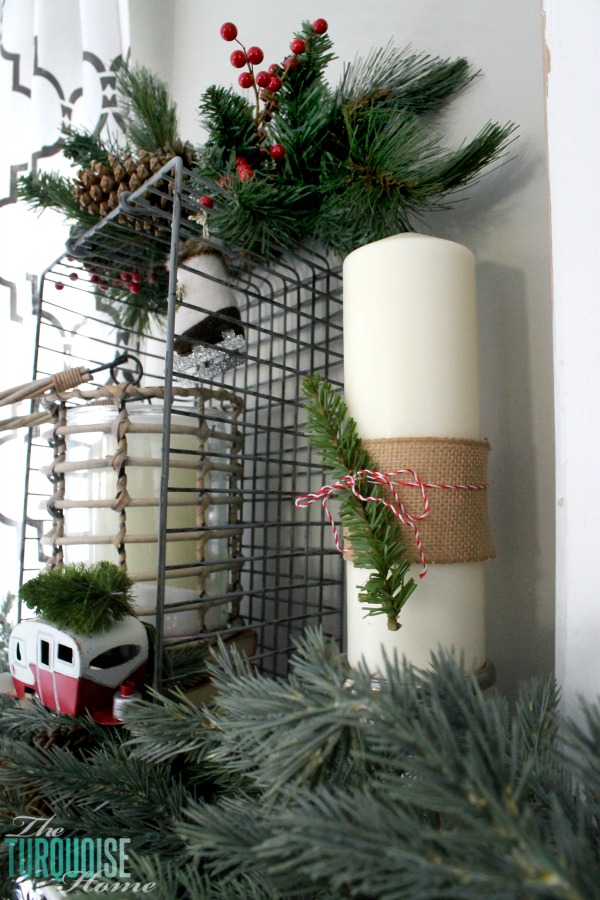 See, if doesn't have to be overwhelming! Try a couple of new things this year and then incorporate a few new ideas next year.
And remember, you don't have to have a magazine-worthy home. Just use those images to get your juices flowing and to inspire you. That is, unless Country Livings calls and wants to come over. 😉
Happy Decorating!!

Get Instant Access to my Guide to Customize Your Home on a Budget
Grab your FREE guide for 10 Ways to Customize Your Home on a Budget: simple projects to transform your home from builder beige to a home with character and charm!