Which tool is your favorite? What would YOU recommend to buy for the beginning DIYer?
I love to DIY all kinds of thing. This is why I started this blog in the first place. I was looking to save money while decorating and adding character to my home, so I started making things myself. I love it! So, I scoured my garage and craft closet to find the top 15 gifts for the beginning DIYer.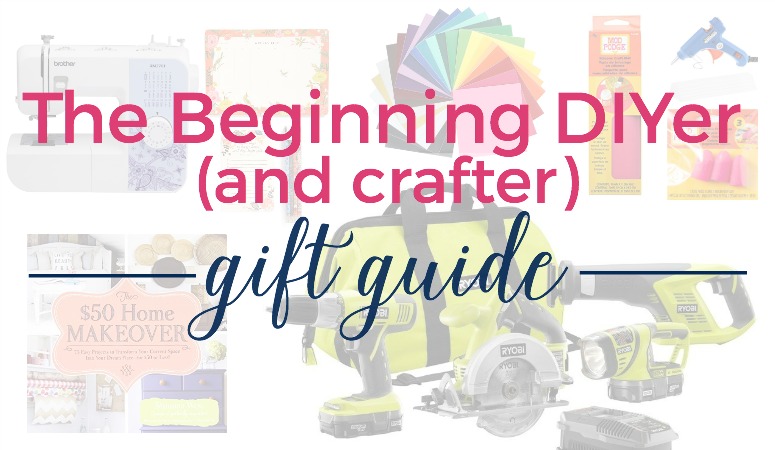 If you know someone who is just getting started in the DIY realm, then any of these would be perfect for him or her! If it's you, then pass this along to your loved ones and friends! They will love being able to buy you just what you want!
This list is not just for crafters or builders, it's a mix of all of the DIY things that I love! Everything from building furniture and small projects to sewing to creating pallet signs, it's here. I like a little of everything, so this is a well-rounded gift guide. 😊
This post contains affiliate links for your convenience. See my full disclosure policy here.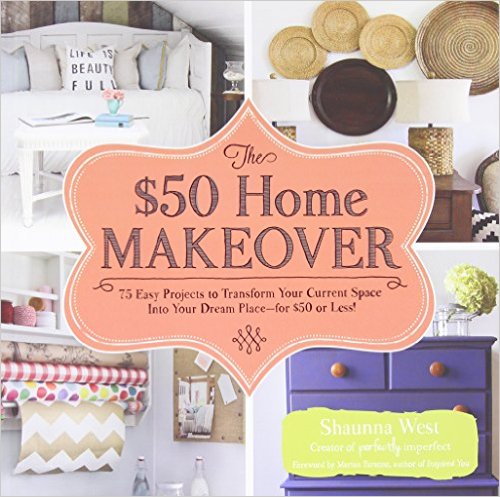 $50 Makeover Book – A plan is the perfect place to start if you are a DIYer and looking for DIY ideas! This beautifully photographed book is written by a blogger and home DIYer, Shaunna West. She shares 75 easy DIY projects to transform your space. You'll get tons of inspiration from this little gem!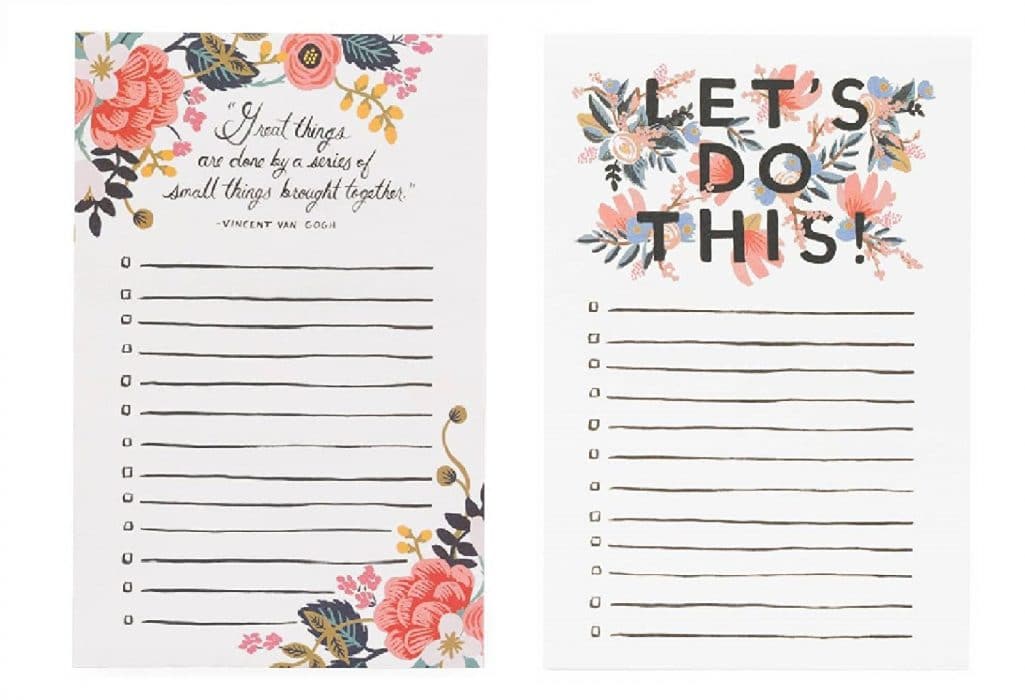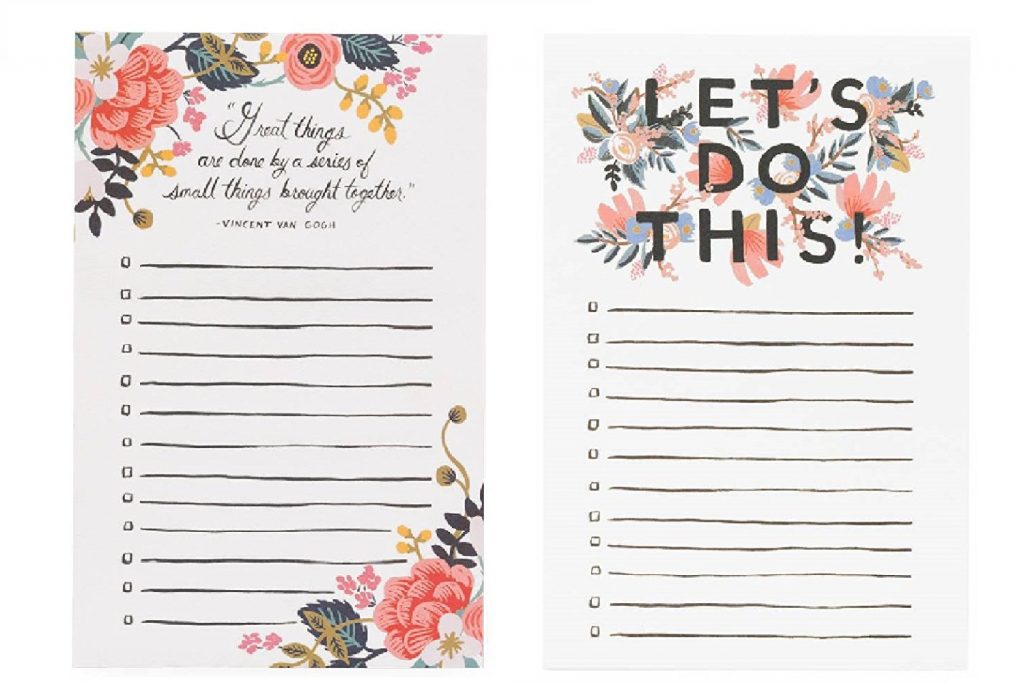 To-do List Set – The next great place to start is one central location to keep all of your great DIY ideas! I have a special notebook where I write down all of my future DIY plans. This notebook, weekly planner and pencil set is the cutest way to keep track of it all!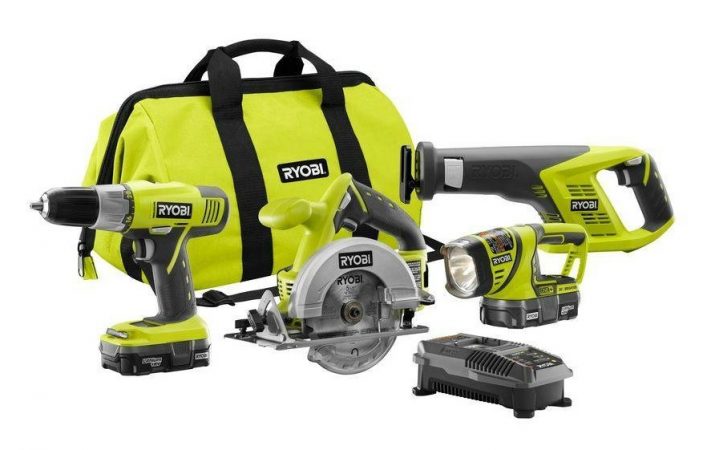 Super Tool Combo Kit – I have several of these tools and I love them for lightweight, hard-working, basic tools! They are perfect for a first set of tools! And the price can't be beat! The Ryobi system runs off of of ONE battery so, it's great to keep things running. It will tackle almost every beginner DIY project you want to try!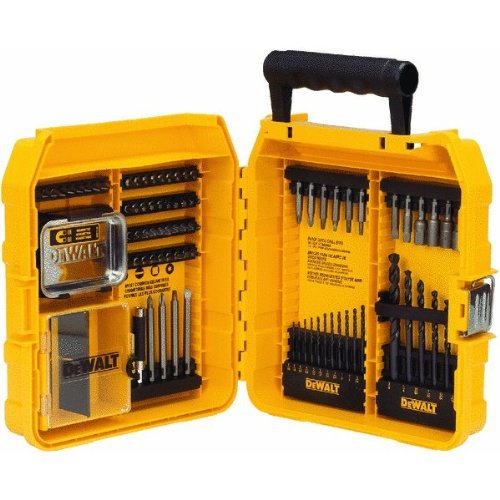 Drill Bit and Driving Bit Set – If I had it to do all over again, I would have started with a big daddy set like this one. Instead I bought a drill bit here and a drill bit there, hoping that it would be enough. But in the end, I always lost them or I needed one slightly larger or smaller. This kit will cover all of your drilling needs and keep them nice and safe for years to come! I have one now and use it all the time!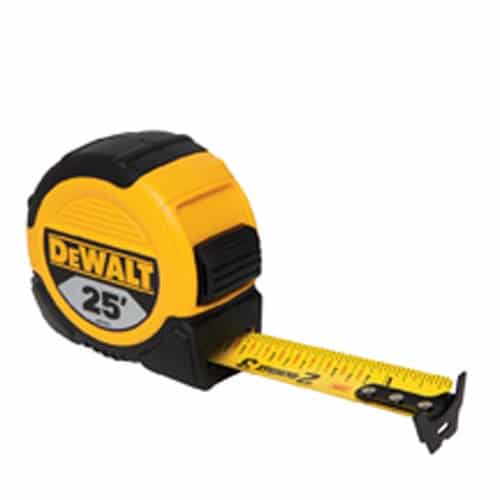 Tape Measure – this is probably a no-brainer, but everyone needs a good quality measuring tape for all the home DIY and craft projects! It's a given. So, if someone you know doesn't have one? Grab this great gift!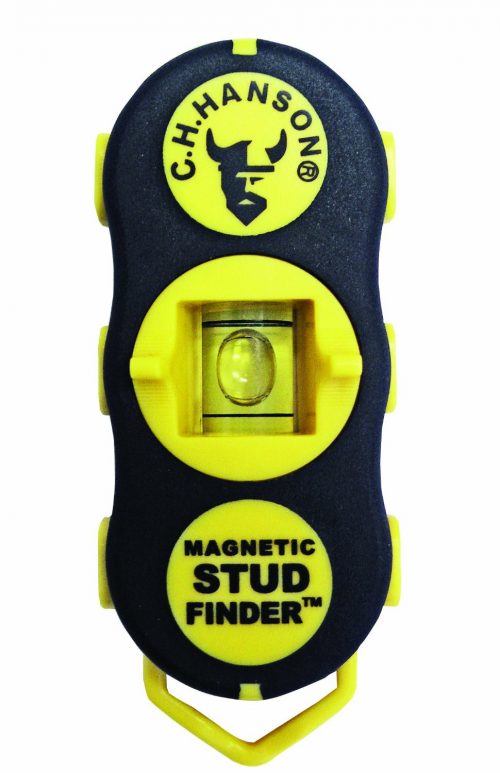 Stud Finder – No, not that kind of stud finder, silly. 😉 The kind you use on walls. Haha! I'm just teasing. Seriously, though, I use this thing all the time! It's so helpful to find the studs and use them when you can. It also helps with not putting a ton of holes in your walls! I use the stud finder in conjunction with my level tool (HERE) all the time!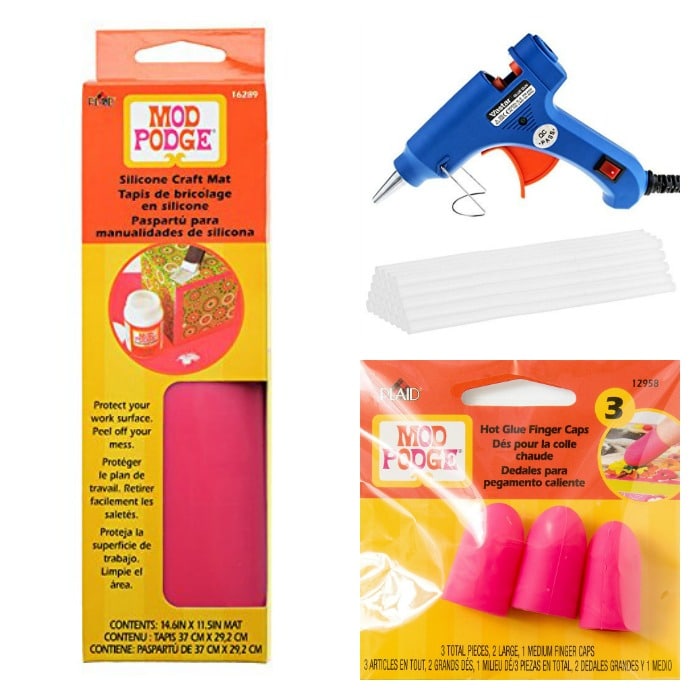 Hot glue gun & accessories – A hot glue gun is also in every DIYer's arsenal, am I right? But in addition to the glue gun, you also need a silicone mat and finger caps. Say what? I am always making a mess with my glue gun. Where do I put it so that scalding hot glue doesn't ruin what's underneath. But with the silicone craft mat, that doesn't happen anymore! And then there are the times when you have to almost touch the glue and you end up touching it and burning the snot out of your finger. These finger caps are a must to keep your digits safe!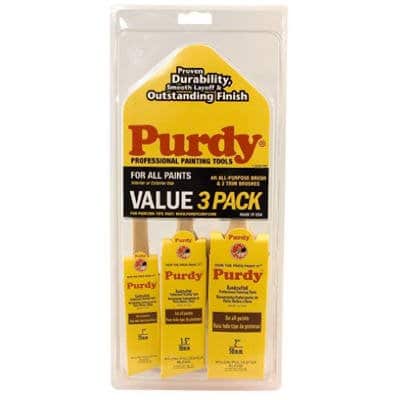 Purdy brush kit – If you're DIYing something, then you're painting it. I mean, my favorite kind of therapy is a paint brush in one hand and a coffee cup in the other. And I'll be darned if the brush ain't a Purdy brush. It's worth every penny and will last for years (like decades) if you clean it well after you use it and store it nicely. Love these bushes!!
Silhouette Starter Bundle – I bought my Silhouette Cameo almost 3 years ago and I'm so glad I did! While I don't sue it every day, I use it plenty. I love to make my DIY signs and custom t-shirts for my girls (like HERE and HERE). It's a great tool to have in my arsenal and I'm so thankful I invested in my DIY passion! Get yours here.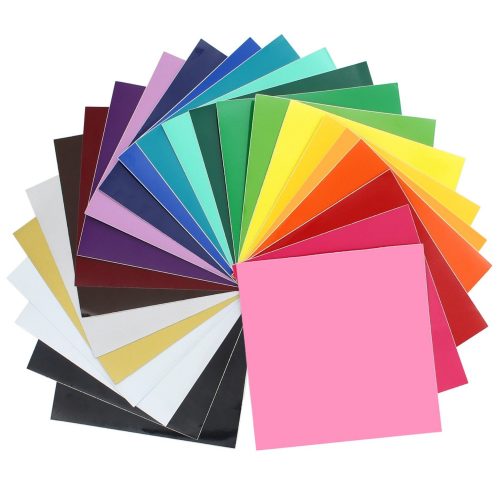 Oracal 651 Vinyl Pack – If you get the Silhouette Cameo, then you definitely want this awesome pack of vinyl. While the Silhouette brand of vinyl it pretty good, this Oracal brand is THE BEST! It sticks so well and looks great for years. A definitely must have for the DIY and crafter!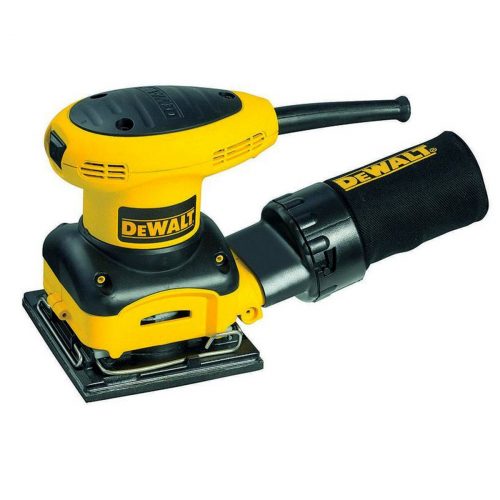 Palm Sander – I have bought a couple of palm sanders in my time and this one is hands down my favorite! You can use regular sheets of sand paper, just cut them down to size. It sands very well and I can't imagine having to sand down all of the boards for my projects by hand! It makes my projects go so much faster. Every DIYer needs this in her arsenal!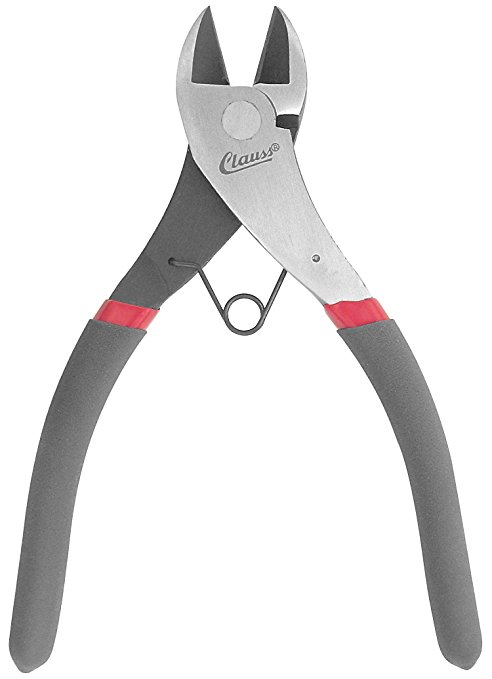 Floral wire cutters (floral wire, too) – I didn't realize that I needed this tool initially when I started crafting and DIYing more. But anytime I work with faux flowers, which is a lot, I end up needing my floral wire cutters. Either I need them to cut down the faux flowers or cut the floral wire to attach them to whatever arrangement or wreath form I'm making at the time! I love a beautiful wreath with some faux blooms! 💐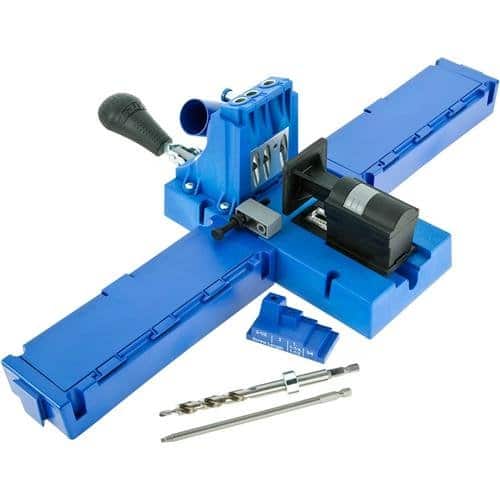 Kreg Jig – I've talked about my love for this little tool a bunch of times, and that hasn't changed. If you've never heard of a Kreg Jig, then you may be scratching your head. But basically this awesome tool makes joints in your wood projects very strong and inconspicuous. I've used it in big projects, like my dining room table, to small projects like my chalk holder in my kitchen. It's amazing! The picture above shows the master system. I don't have this one, but if I were buying it now, I would get this one! It's only about $30 more then the more basic set that I have, and the upgrades are more than worth it! Master kit here. Basic kit here.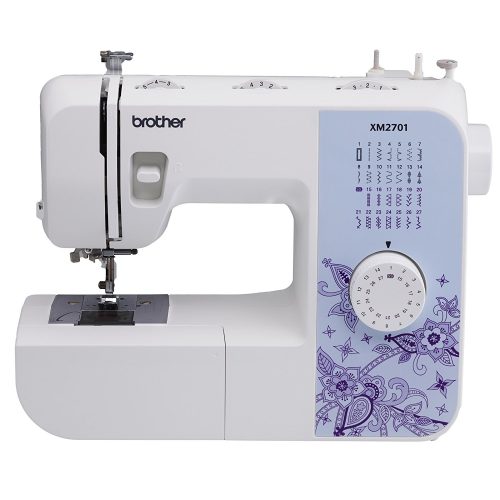 Sewing Machine – A few Christmases ago my mom bought my sisters-in-law and I basic sewing machines. I'm so glad she did! It's not something that I would have bought for myself, probably, but it's been great for using in simple craft projects, like making my own pillow covers. Gosh, making my own pillow covers is so easy and affordable. Thanks Mom!! (She also bought me a storage case, like this one, and I'm thankful I have a place to store it or easily carry it with me if I need to!)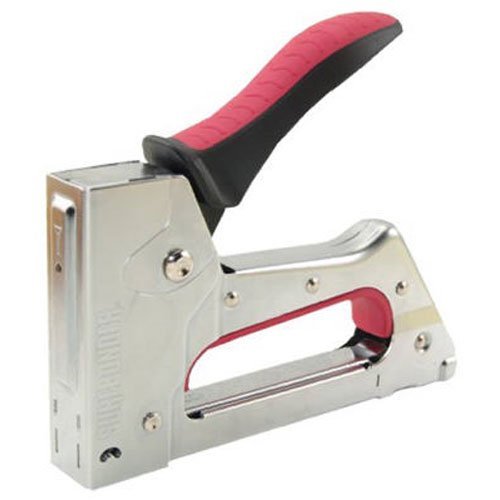 Staple Gun – This little guy is super helpful when doing any kind of upholstery or when you're, I don't know, stapling chicken wire to a board to make a Christmas card holder. 😉
Which tool is your favorite? What would YOU recommend to buy for the beginning DIYer?
If you have a favorite that's not listed here, let us know in the comments!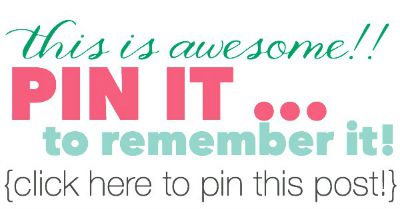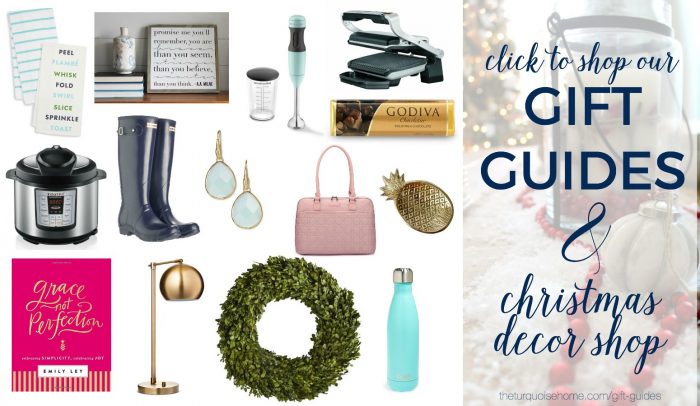 SaveSave
Get Instant Access to my Guide to Customize Your Home on a Budget
Grab your FREE guide for 10 Ways to Customize Your Home on a Budget: simple projects to transform your home from builder beige to a home with character and charm!