Spring is a lovely season full of new beginnings and fresh blooms, so incorporating flowers and pastel colors into your table decorations is a great way to celebrate the season. In this post, you'll find my top ideas for spring table decorations.
My dining room is the place where we gather for special family occasions and holidays. It's also the first room you see when you walk into my home!
I spent several months last year making it a space that reflected my style and this home. And I've finally found the time to decorate it for spring!
Before the makeover, it was still painted charcoal gray and had my old DIY farmhouse furniture in it. So, it was fun to add pastels and pretty pinks in the newly made-over room to make it feel like springtime!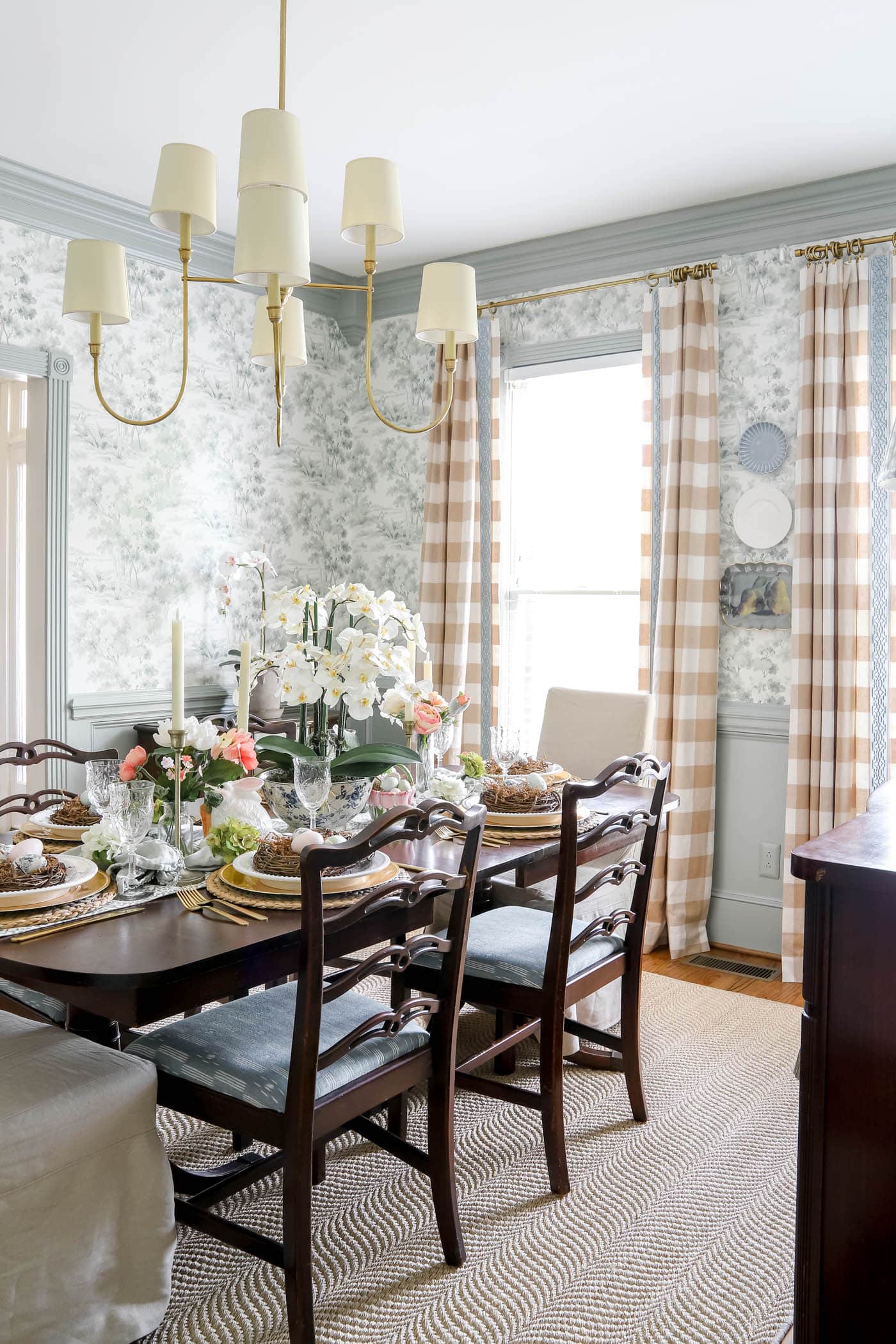 This post contains affiliate links for your convenience. See my full disclosure policy.
With these new photos in hand, I thought I'd share some of my favorite ways to decorate the dining room table for spring over the years!

Spring Table Decor Ideas
1. Floral Centerpieces
Use a mix of fresh flowers in pastel shades like pink, lavender, and yellow to create a beautiful centerpiece for your table. Create a flower arrangement in a vase or use a floral foam to create a more structured look.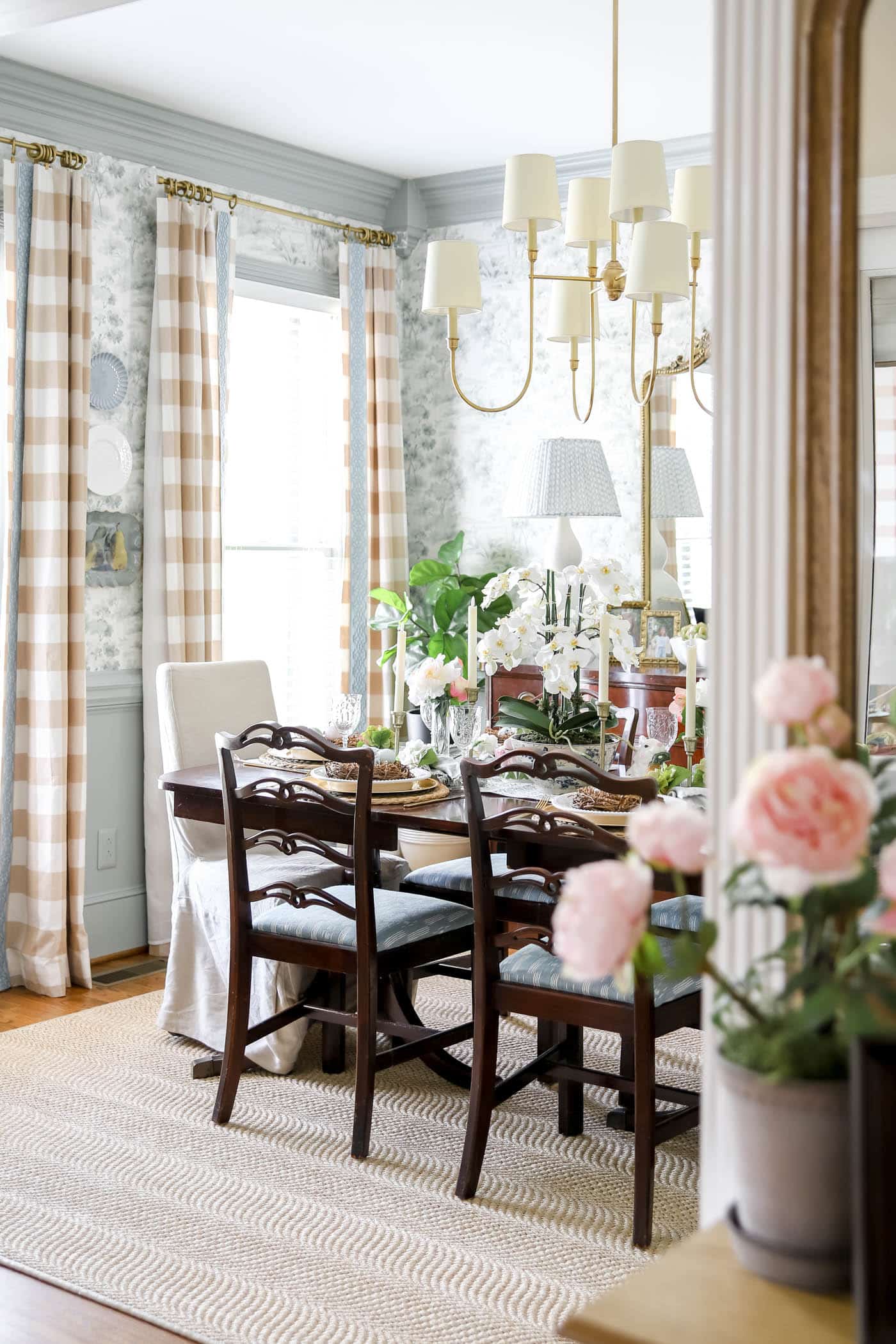 I love to use a faux container plant as a simple centerpiece on my spring tables, surrounded by other smaller florals and greenery.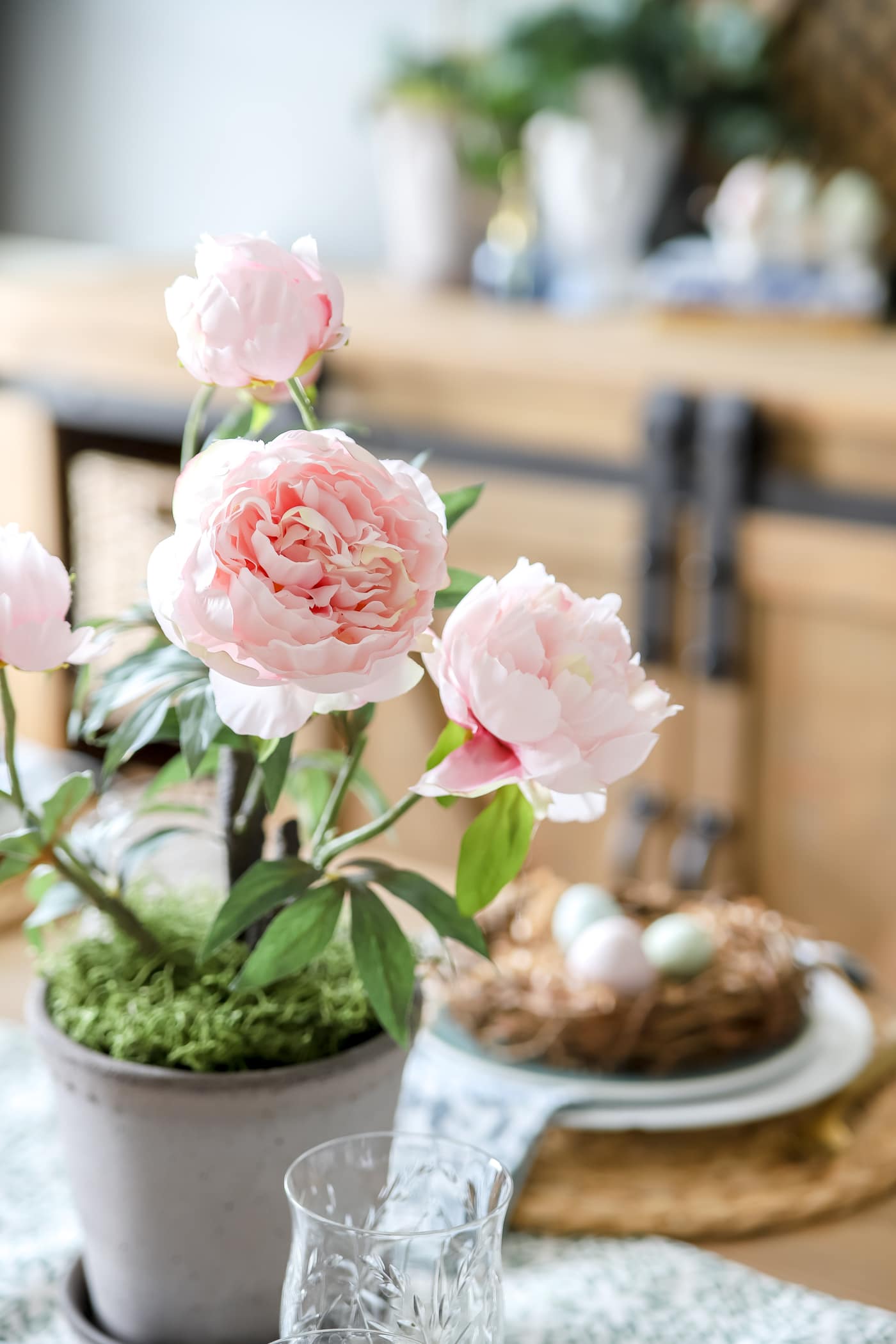 I've even put a plant in a basket to make it larger, if I'm decorating a bigger table or just want something more substantial.
Years ago, I made a long DIY box with some scrap wood and filled it with mason jars full of faux spring florals. It is a perfect way to fill a long table with a beautiful centerpiece that can easily be removed.
If you don't have the long tray or box, you could simply line small vases down the center of the table for an understated spring centerpiece.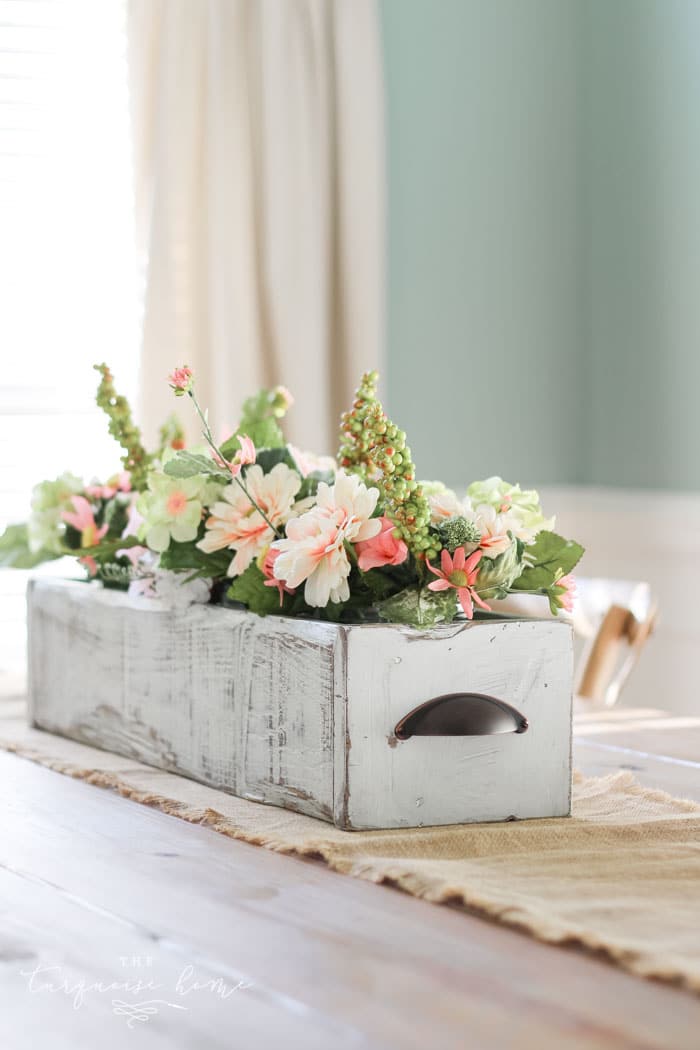 2. Greenery Accents
Use fresh greenery like ferns, eucalyptus, or ivy to add a touch of natural beauty to your table. You can use them as a table runner or weave them into your floral arrangements.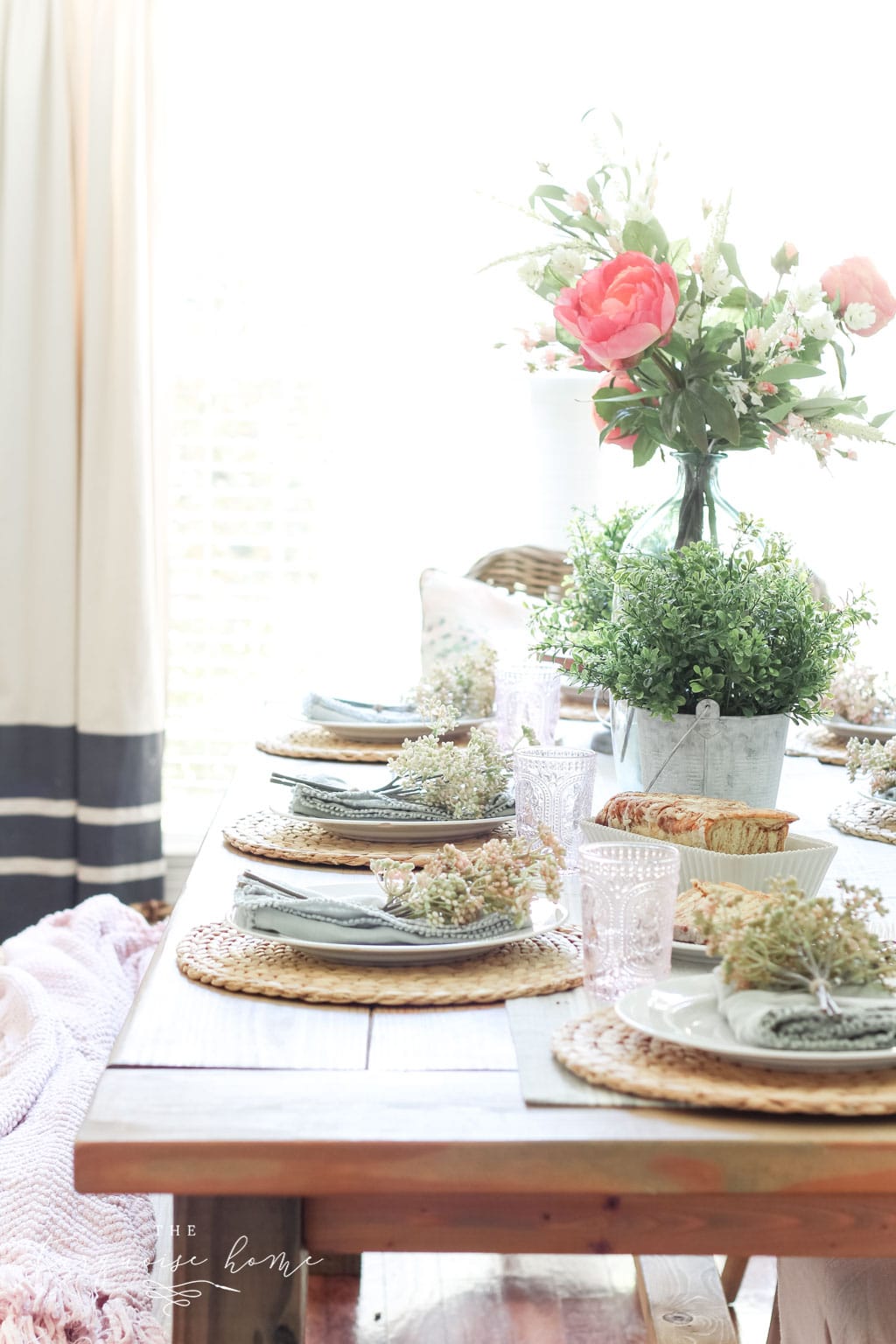 3. Start with Basic Charger and Dinner Plate
A simple charger and white dinner plate is the foundation for every table setting. I have 2-3 chargers that I can rotate through, depending on the season. And sometimes I double them up for more color and texture!
Then I always build upon my beaded white dinner plates and then go from there.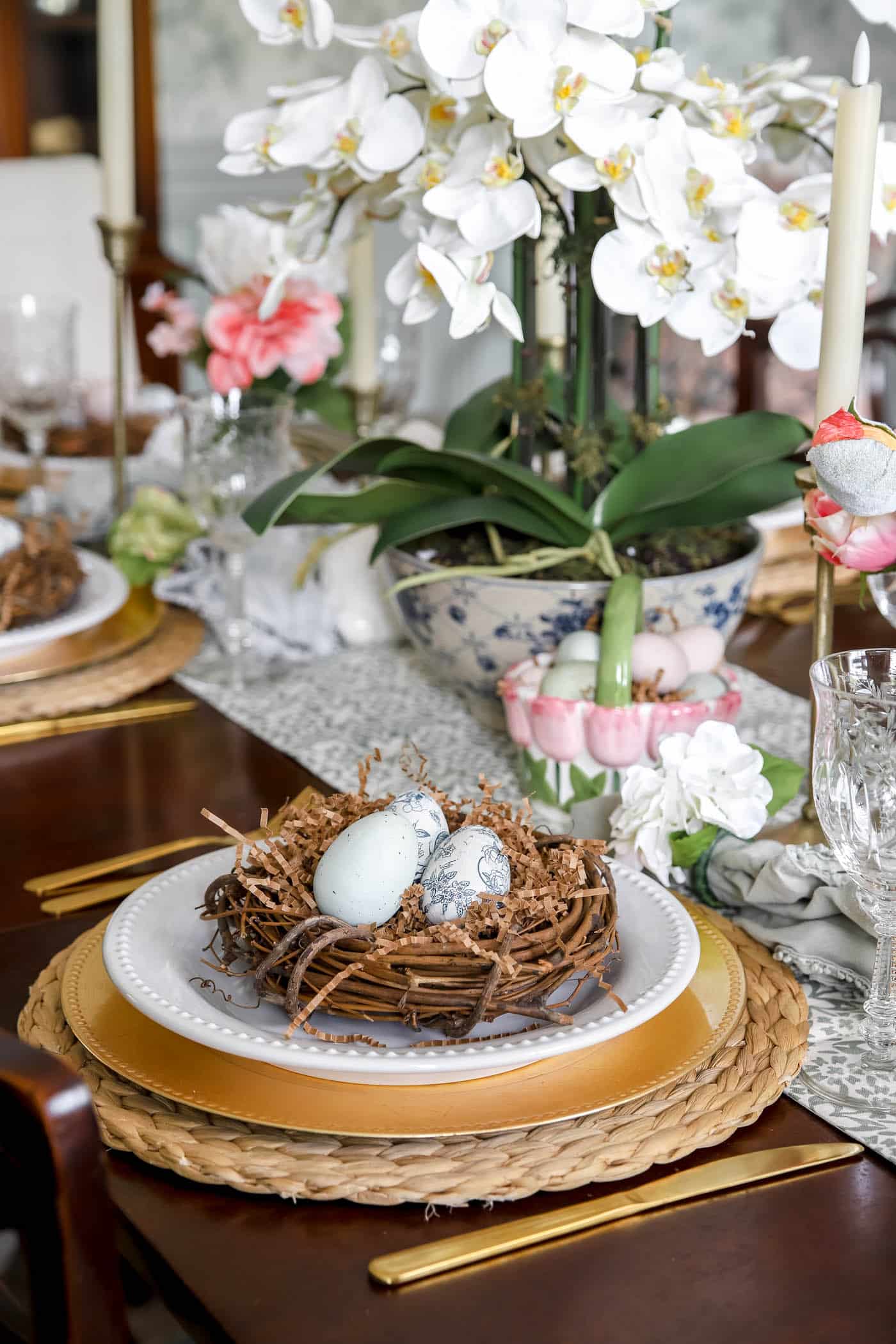 4. Spring-themed Dishes
Use dishes with floral or botanical designs to add a touch of spring to your table setting. You can also use pastel-colored plates or glasses to complement your other decorations.
I find that using a seasonally themed salad plate is perfect for changing things up each few months. I love these white dinner plates and I simply mix and match the salad plates for each new holiday or season!
5. Special Place Settings
Use a small grapevine wreath to serve as your birds' nest and then fill with crinkle paper or moss and a few eggs to add a special touch at each place setting. I used some spring-colored Easter eggs and my DIY chinoiserie eggs to fill the nests on top of the plates.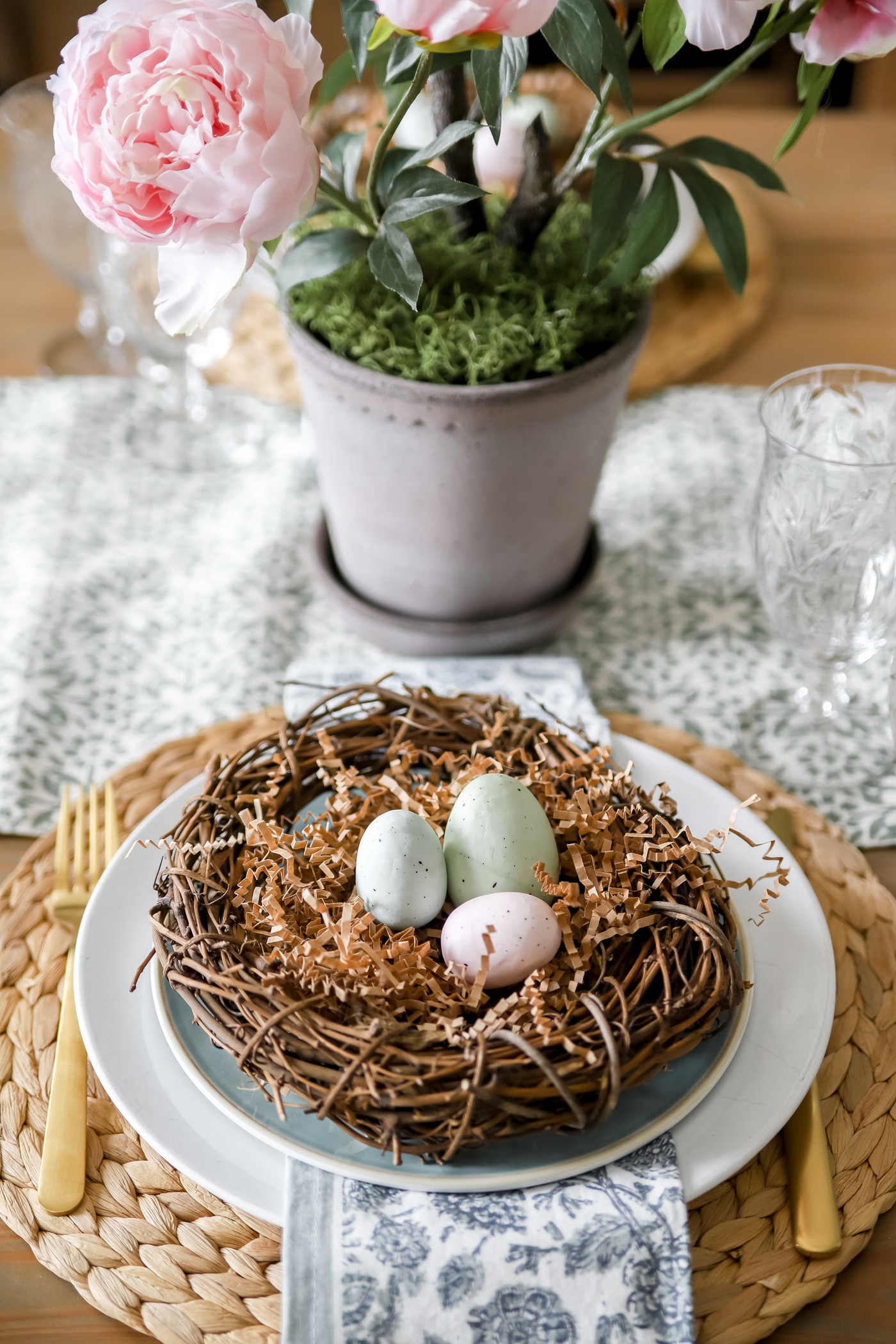 You could simply place a napkin through a spring-theme napkin ring for each spring table setting. Really any kind of simple, special decor will work here!
6. Soft-Colored Table Linens or Runners
Choose tablecloths or table runners in soft, pastel colors like blush, mint, or sky blue to create a serene and peaceful spring-like ambiance. Light and pretty is the goal!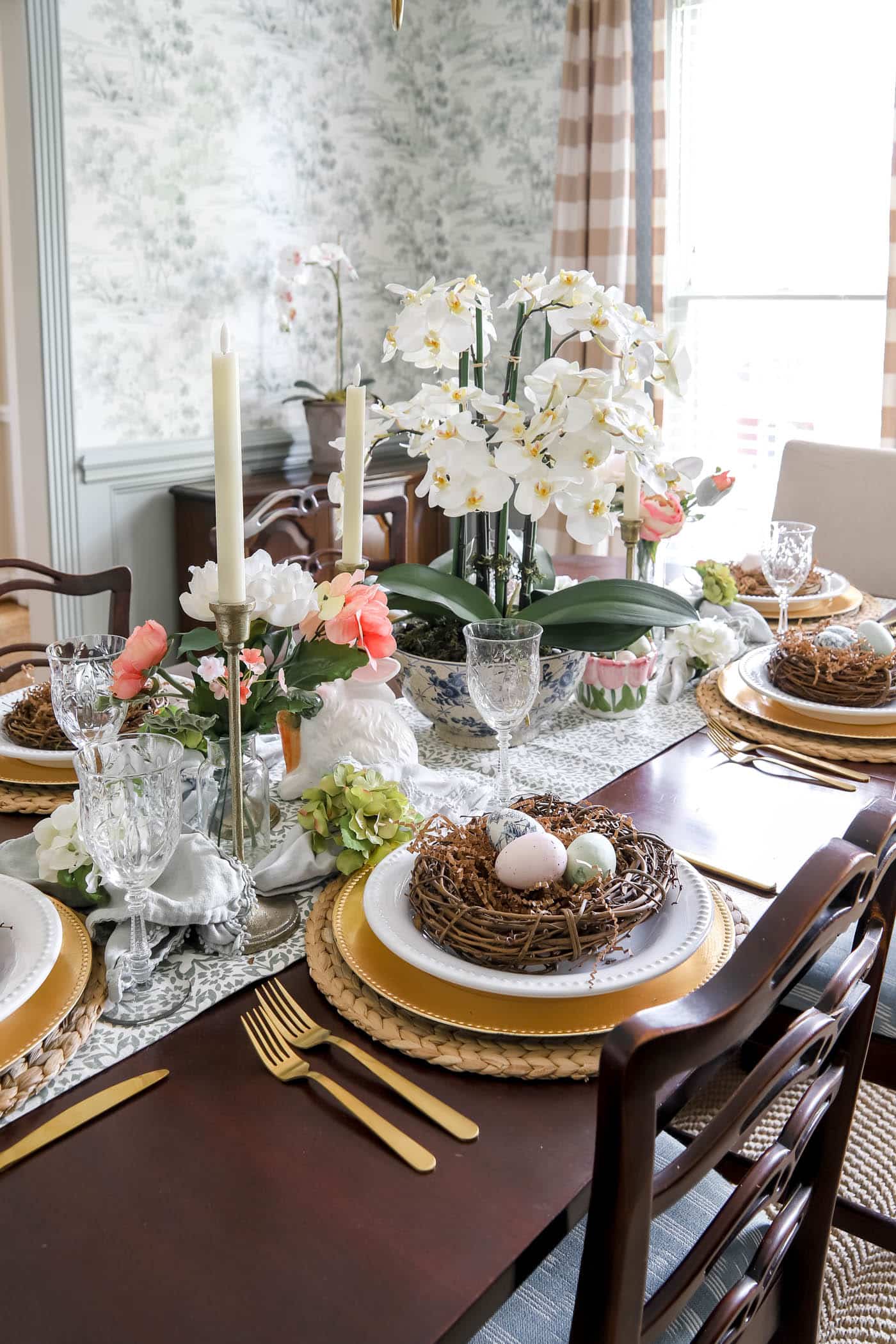 My favorite green table runner came from Target and my blue and green cloth linen napkins are from Hobby Lobby! Decor doesn't have to be fancy or high end to be beautiful.
7. Decorative Candles
Add a touch of warmth and light to your table with decorative candles. You can choose candles in spring colors and designs, like floral prints or pastel shades.
Or keep it simple with white candles, like the pillar candles I used in my spring tablescape below. Or use battery-operated tapered candles, like the ones I used in the photo above!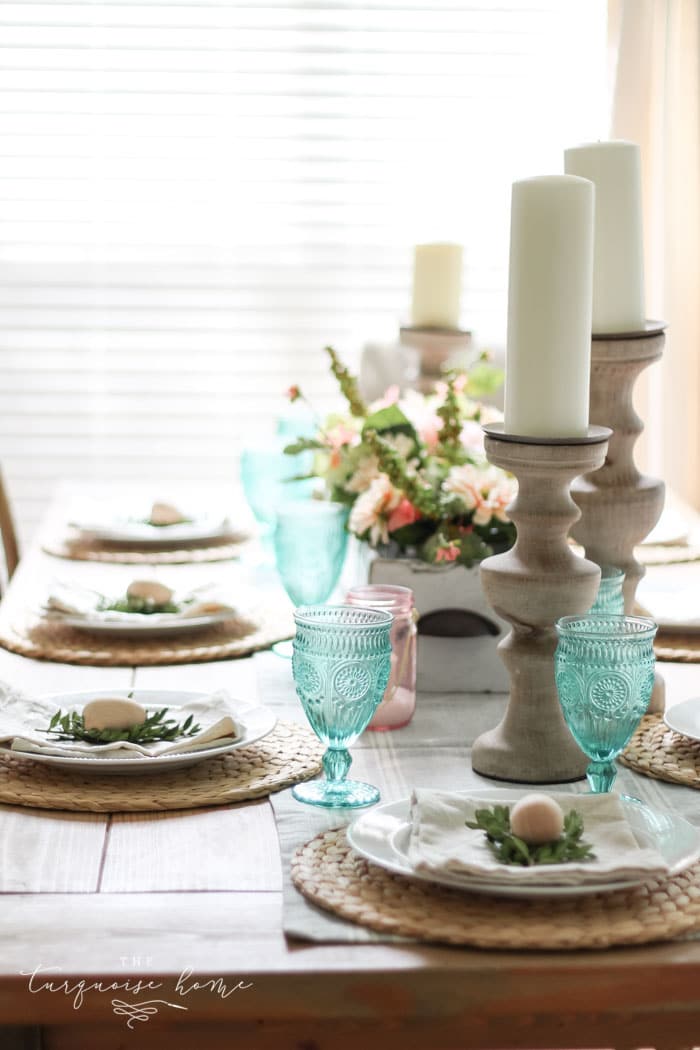 8. DIY Place Cards
Make your own place cards by writing guests' names on small, decorative cards or tags. You can use spring-themed designs like flowers, butterflies, or birds to add a fun and festive touch.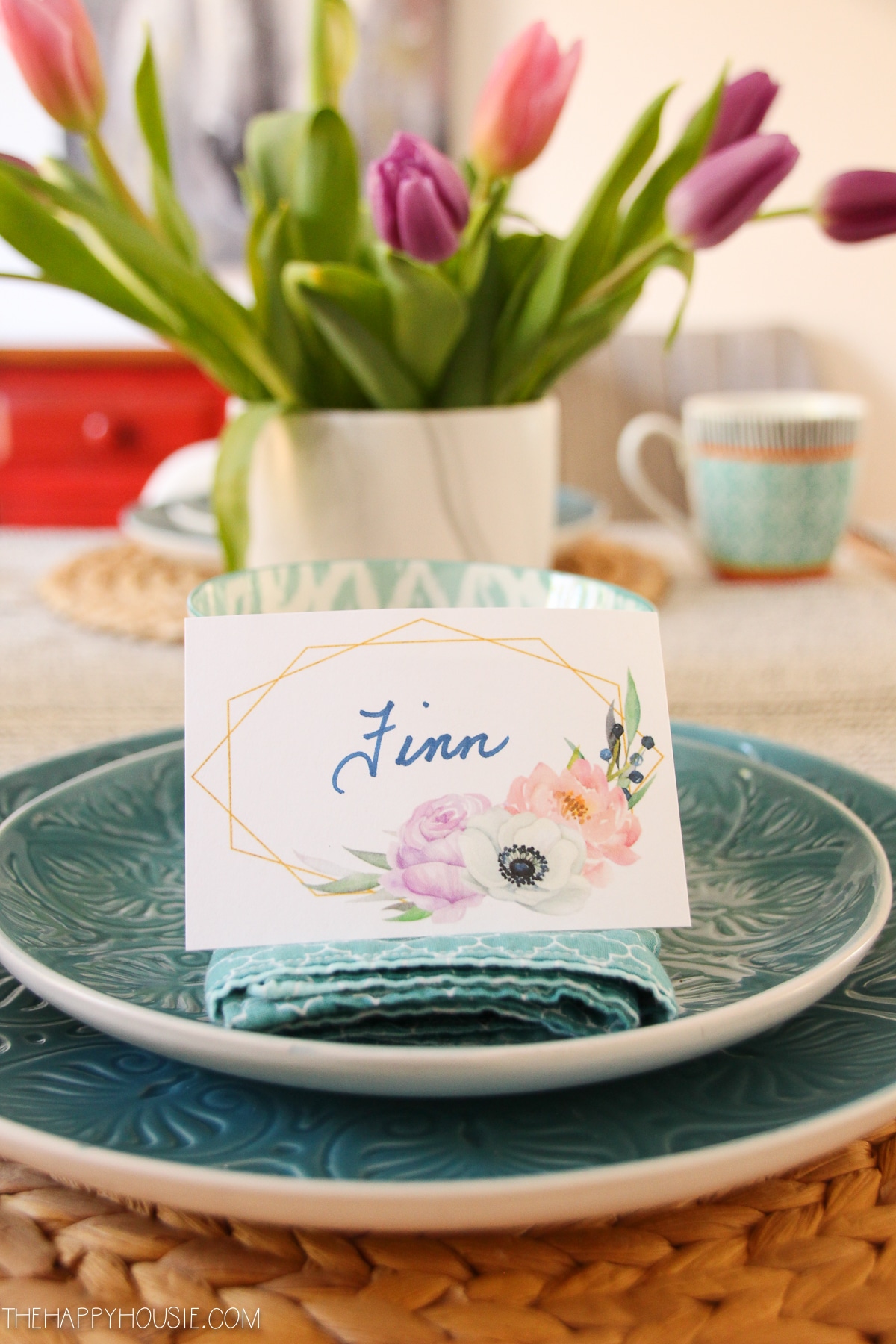 9. Fresh (or Faux) Fruit Displays
Use fresh fruits like lemons, limes, or strawberries to create a vibrant and colorful display on your table. You can use them as a centerpiece or arrange them in small bowls for guests to enjoy.
I love to keep a bowl full of faux artichokes on the buffet in my new dining room. It's the perfect amount of green and I love that it's "food" without the fuss.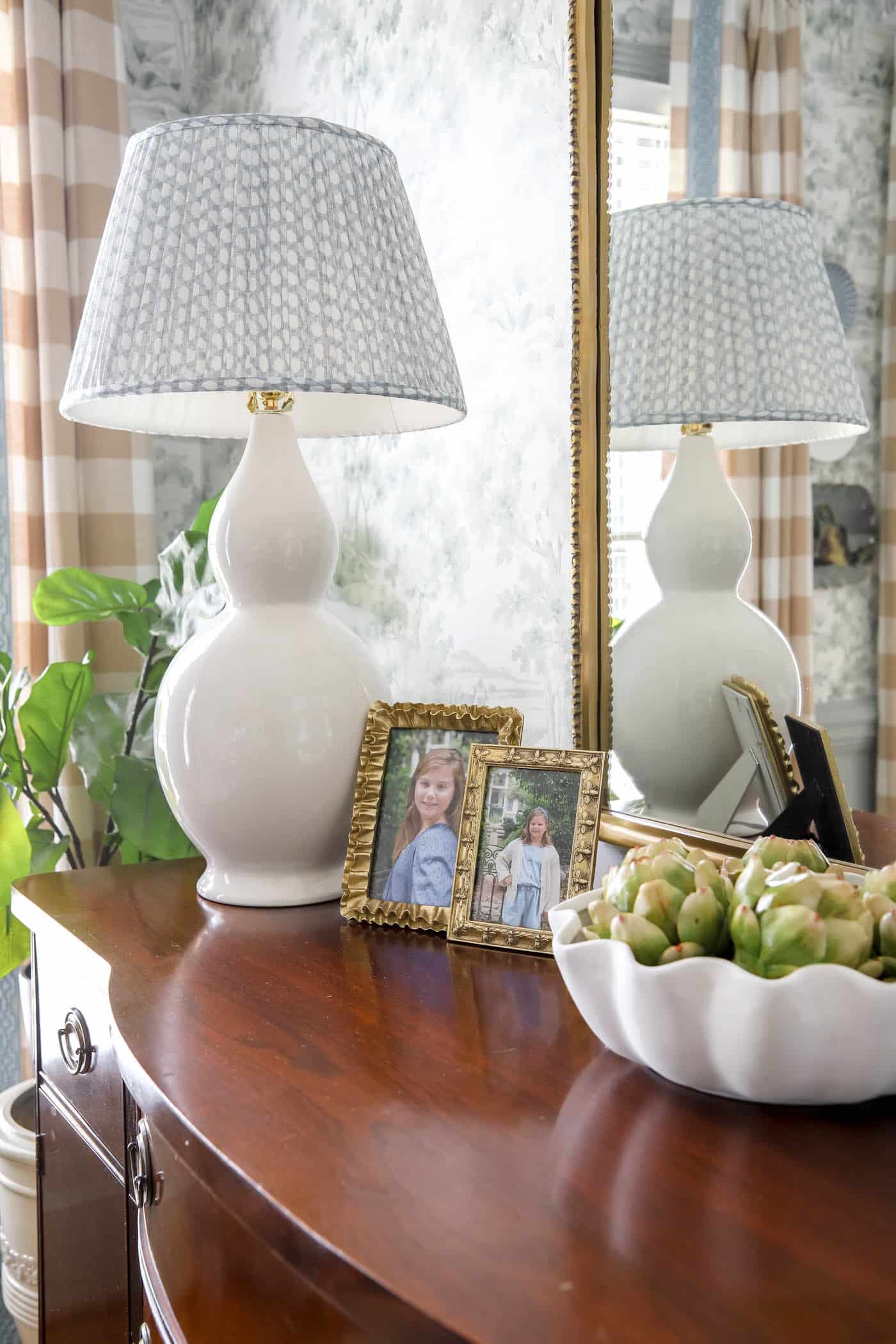 10. Add Items of Interest
If you are creating an elaborate table decoration setting in the middle of the able, you might want to add smaller items of interest, like a ceramic bunny or basket filled with eggs. It gives your guests a fun surprise when they sit down at their seat.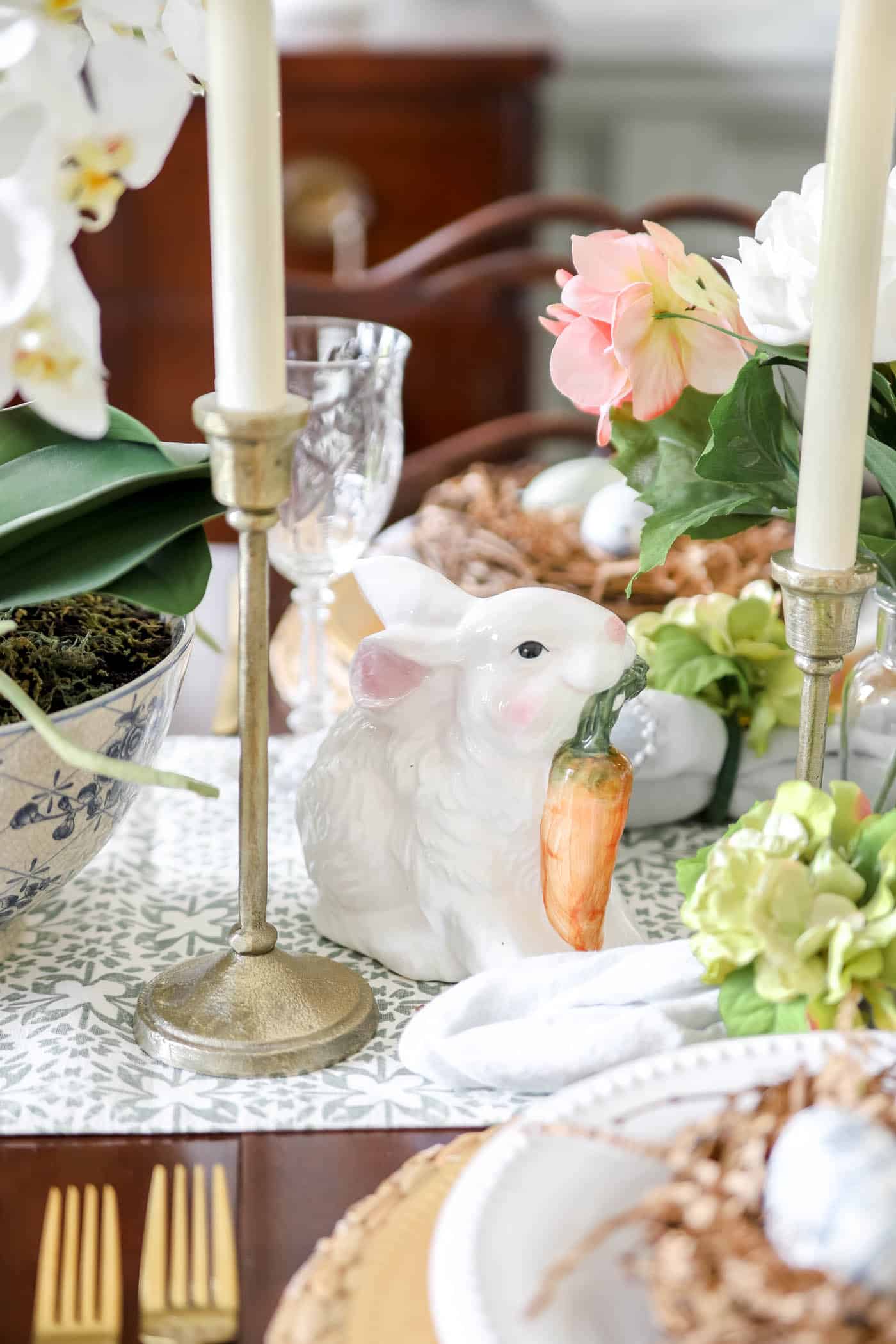 Overall, have fun with your spring table decorations and use your creativity to create a beautiful and welcoming ambiance for your family and guests. I hope my ideas will give you inspiration to create your own welcoming spring table decor!
More Spring Blog Posts You Will Love: