I don't know about you, but I love a beautiful piece of inspirational wall art! These signs with typography are located all over my home. I love to make them as well as buy them, and they make great gifts. They are perfect for moms, dads, sisters, brothers, kiddos and more … literally anyone on your list!
One place that I want more inspirational wall art is in my girls' rooms and the hallway leading to their rooms. As my oldest is learning to read, I want her to be surrounded by positive quotes and Scripture that we can speak over her precious life.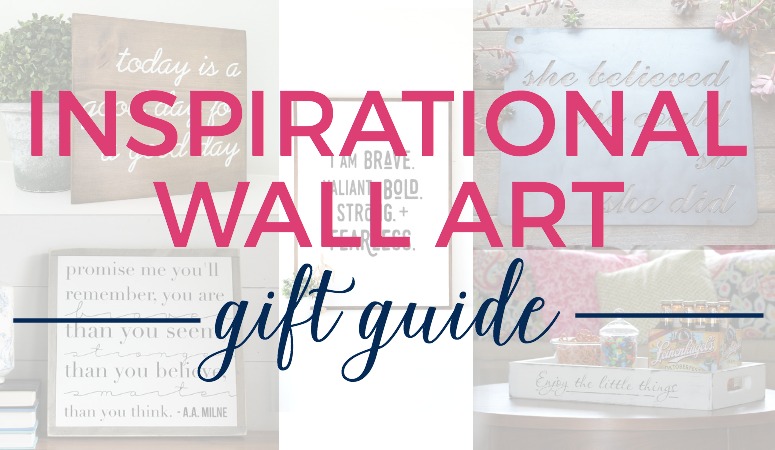 Some of my favorite art pieces are old hymns or favorite quotes posted throughout someone's home.
Other inspirational wall art can help remind a family of their goals or "rules" while others are funny and many are encouraging!
I pretty much love them all! I mean, I was a journalism major, so all the words, please. 😉
This post contains affiliate links for your convenience. See my full disclosure policy here.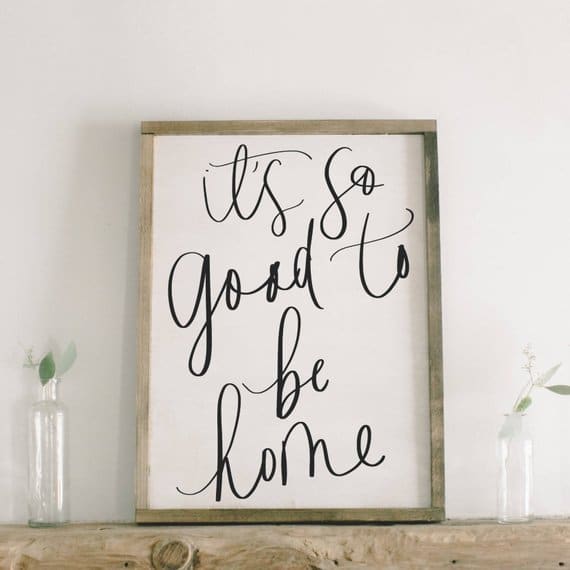 It's so good to be home sign – My sentiments exactly!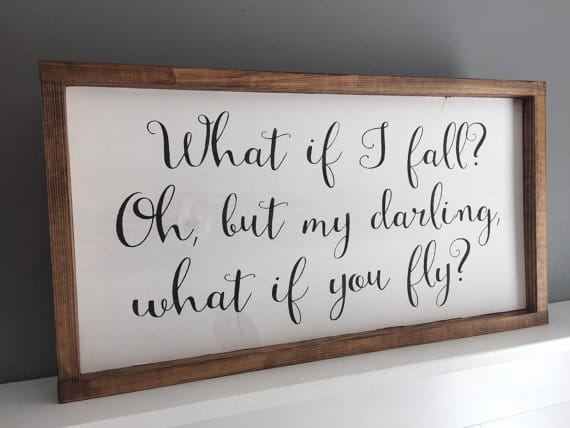 What if I fall? Oh, but my darling, what if you fly? Wooden Sign – This is such a great reminder to now be governed by fear, but to be brave and go after your dreams. It would be a fabulous gift for anyone, but I think especially for someone about to embark on a new adventure, like a soon-to-be graduate or a friend starting a new job!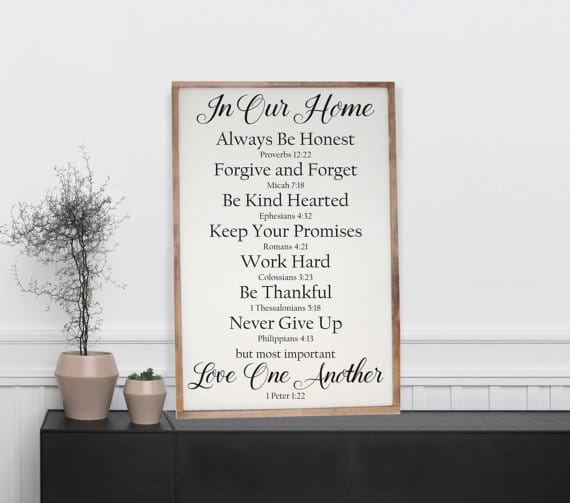 Family Rules Wooden Sign – We don't have a "family rules" sign in my home – yet! I've been wanting one for a long time and I love this one that is based on Scripture! It's definitely on my Christmas wish list.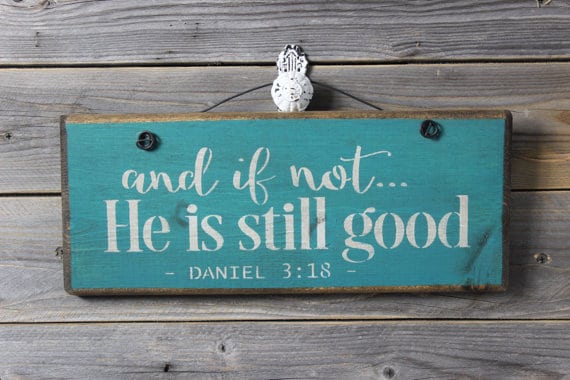 He is still good Wooden Sign – Such a wonderful reminder, especially in the hard times!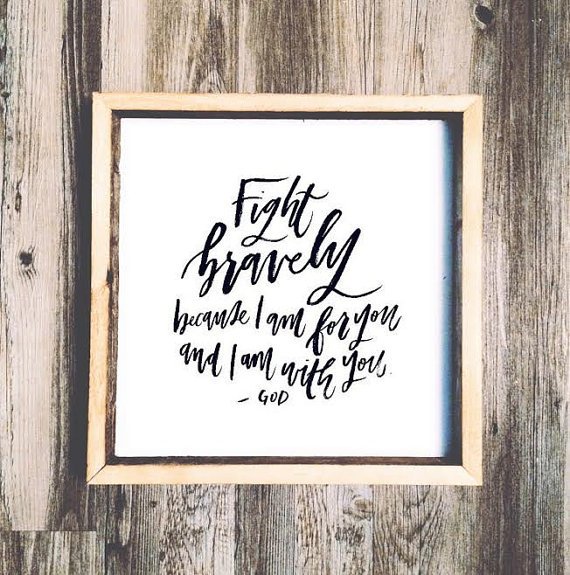 Be Brave Wooden Sign – The power of speaking truth over your own life is invaluable. This would be such a powerful reminder for anyone on your list!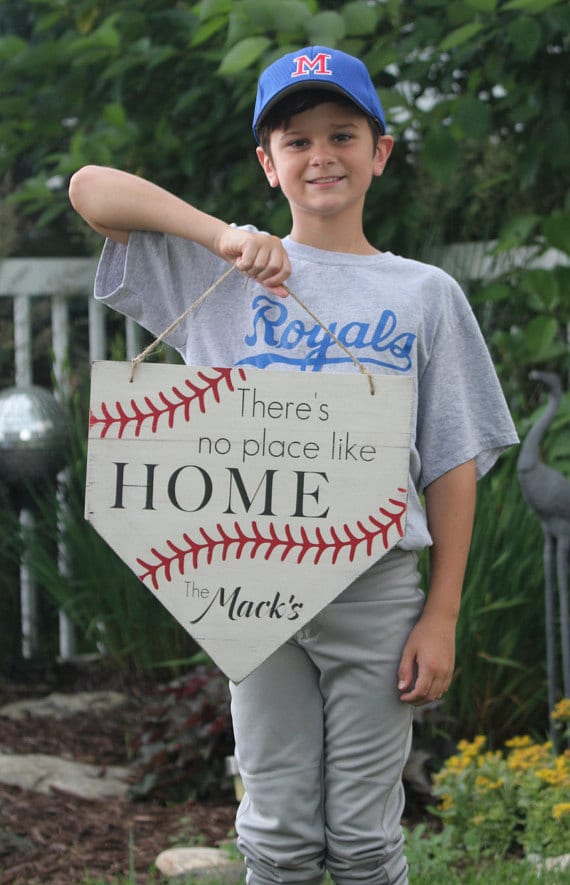 No Place Like Home Wooden Sign – I love this for a coach's family! My husband is a coach, but he's football, so I would need to find a sign for us. I think it'd be a great man cave addition, too!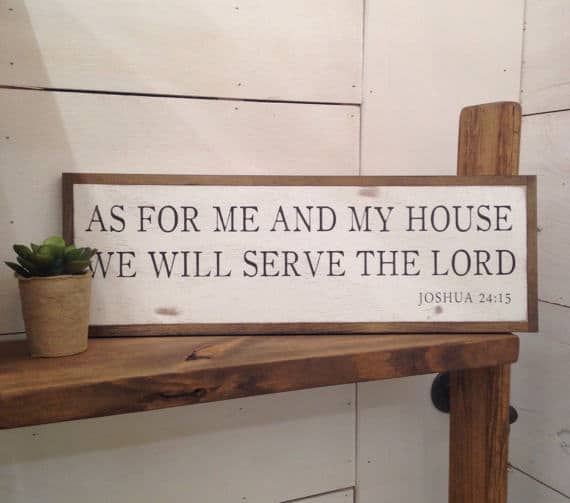 As For Me & My House Wooden Sign – I've always loved this verse and have seen it in so many friends' homes. I think it looks so nice hanging over a doorway or passage way. It would be great on a gallery wall as well! Find gallery wall inspiration HERE.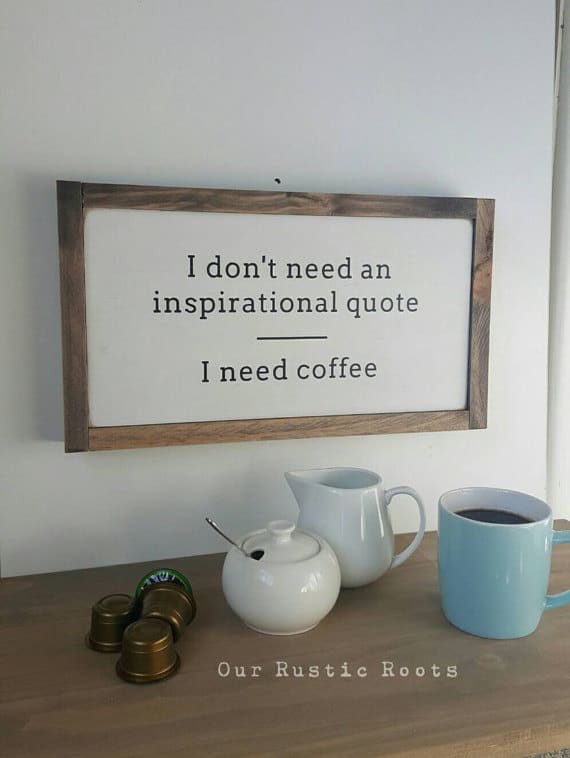 I Need Coffee Wooden Sign – Haha!! I laughed out loud when I read this sign the first time. For anyone who needs coffee more than inspiration! 😂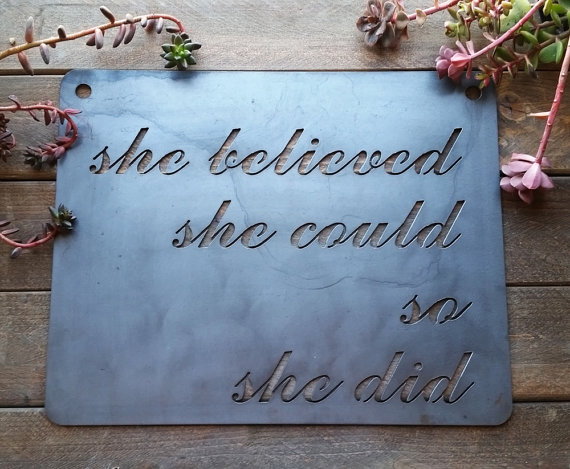 She believed she could, so she did Metal Sign – This reminds me of some of the signs from Fixer Upper and Magnolia Market. It would be perfect for a girls' room or a work-at-home mom's office. Those are just some places I'd love to put it in my home. (Find more Work-at-Home Mom gifts HERE.)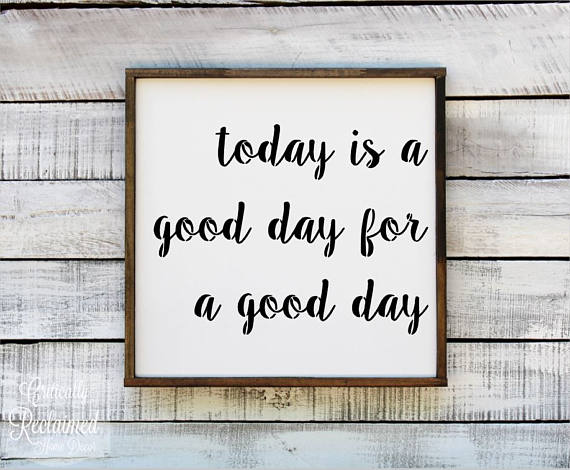 Today is a Good Day for a Good Day Wooden Sign – I think this one is a powerful reminder first thing in the morning. Attitude effects everything, so this would be perfect in someone's bathroom or kitchen!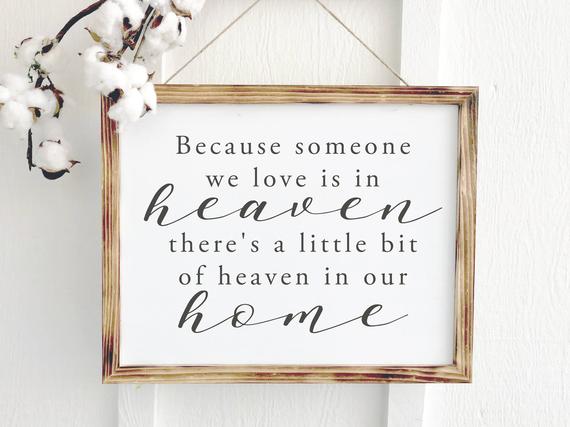 Because someone we love is in Heaven Wooden Sign – I know the holidays or special occasions can be so hard without a family member who has passed away. This signs reminds them that their loved one lives on in their hearts and homes.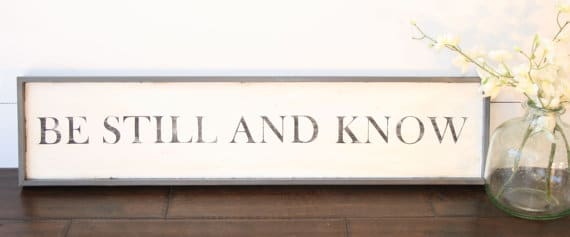 Be Still and Know Wooden Sign – One last inspirational wall art to evoke calm and peace over your home. This simple phrase would make the perfect gift for anyone on your list who needs the reminder to just be still!
Which piece of inspirational wall art is your favorite?
If you have a favorite that's not listed here, let us know in the comments!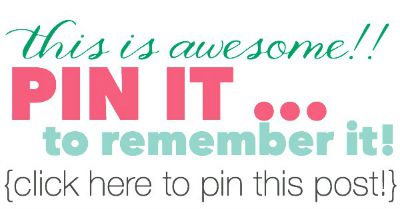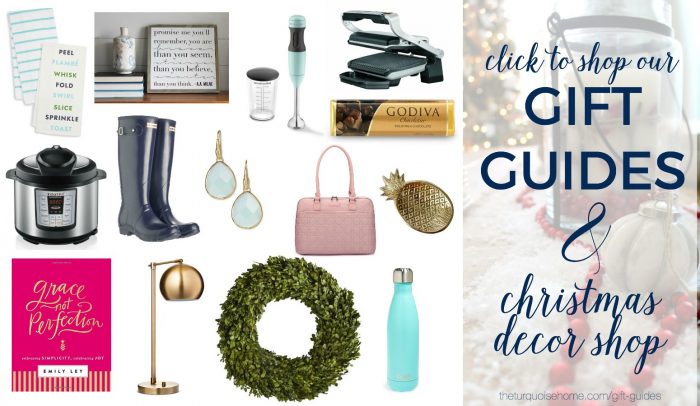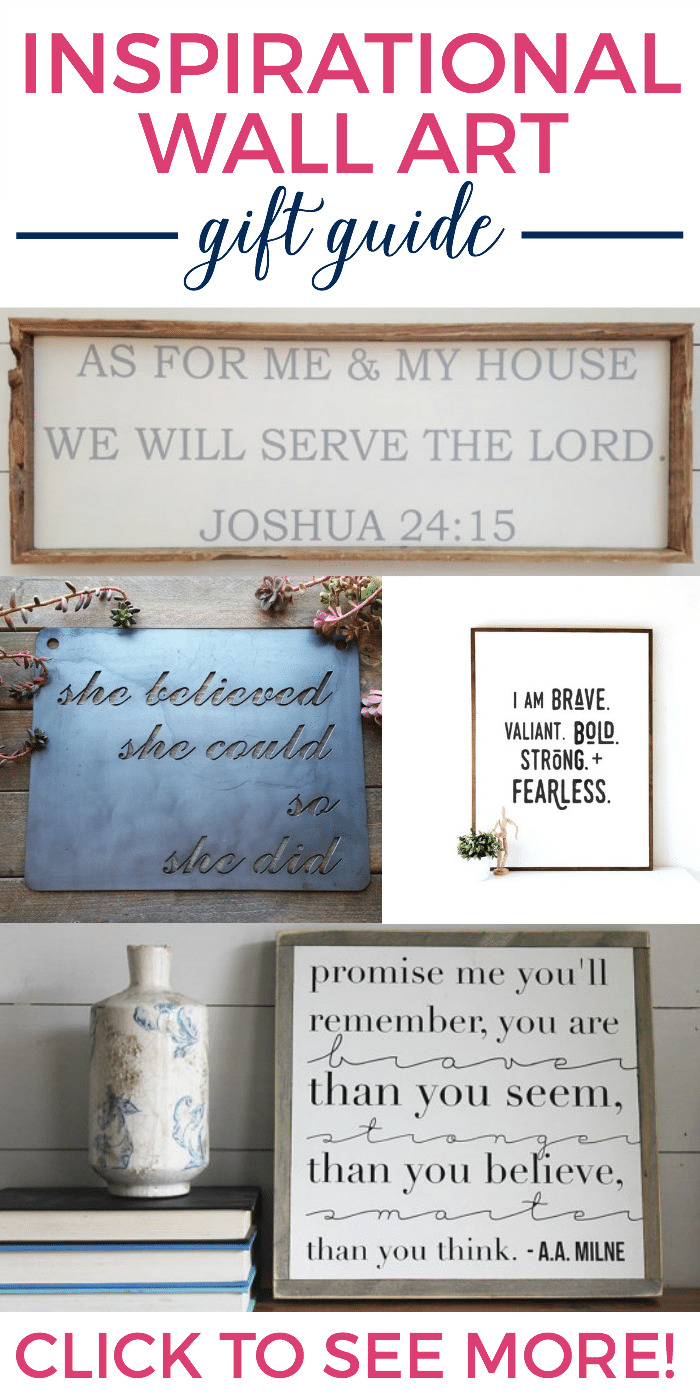 Get Instant Access to my Guide to Customize Your Home on a Budget
Grab your FREE guide for 10 Ways to Customize Your Home on a Budget: simple projects to transform your home from builder beige to a home with character and charm!