How To Decorate With Christmas Bells (7+ Must-Try Ideas)
A classic touch to your holiday farmhouse decor, Christmas bells are one of my favorite secrets to decorating for the holiday season! Use these 7+ simple Christmas bell decoration tips to create timeless holiday decor you'll love.
"Jingle bells…Jingle bells…jingle all the way…"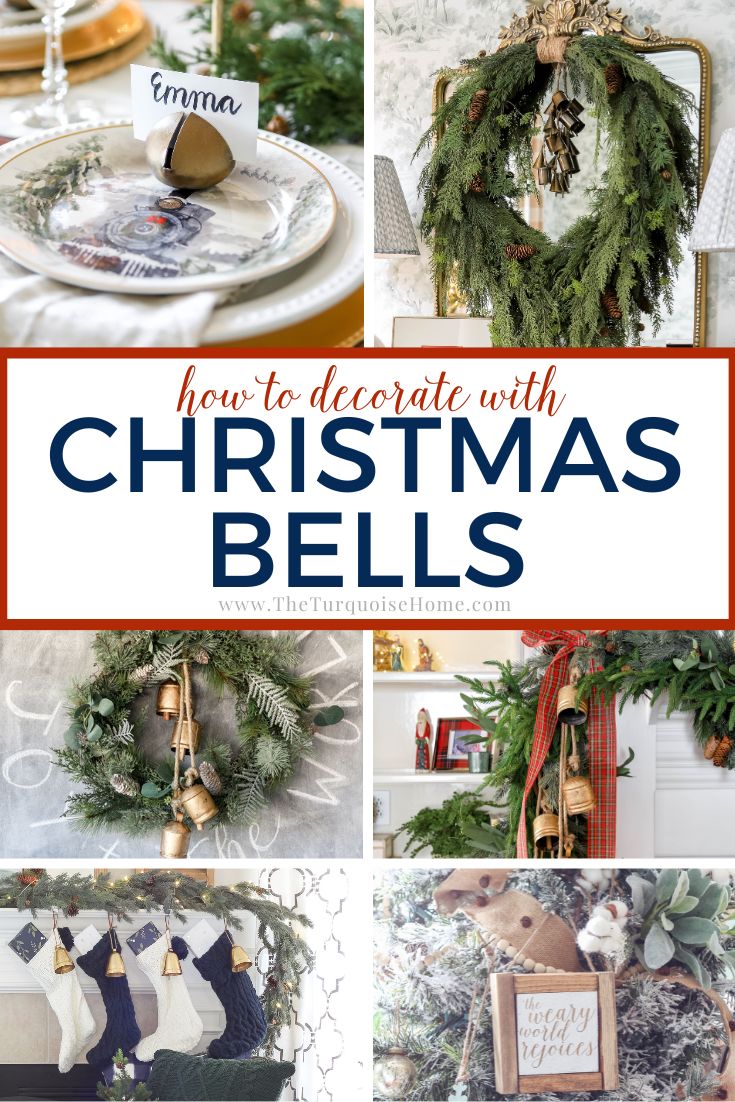 Besides angels, stockings, garlands, and trees, bells are one of the most iconic Christmas images. If there's an entire holiday song dedicated to them, they have to be a prominent symbol of the holiday season, right?
Unfortunately, unlike decorating with ribbon, people may not think to use Christmas bells in their holiday decor.
However, the humble Christmas bell can add that perfect classic and timeless touch to your holiday decorations. Plus, not only do bells look amazing, but they sound fantastic too!
This post contains affiliate links for your convenience. See my full disclosure policy.
Timeless holiday decor
Anyone can hang a wreath on the front door and put up a Christmas tree with some lights and ornaments on it. But often, that can all just look like a festive, cluttered mess if you don't have a cohesive design.
On the other hand, with just a little bit of planning, your seasonal decor has the power to transform your home into a holiday oasis from the chaos of the world!
The key to incredible holiday decor is to choose a theme and have all your decorations tied into it.
This may sound silly since the theme of decorating is Christmas. However, if you choose a more specific concept, such as 'white Christmas' or 'plaid,' it actually makes decorating easier and gives you a cohesive whole house design you'll love.
I have tried several different themes over the years and loved them all for different reasons. Check out some of our past designs:
Most of my seasonal designs incorporate Christmas bells because they simultaneously add a touch of new and old and add a fun bit of sparkle, too.
Whether you want antique, rustic, classic, or sophisticated, there are Christmas bell decorations for you! And today, I'm sharing some of my favorite decorating ideas with bells.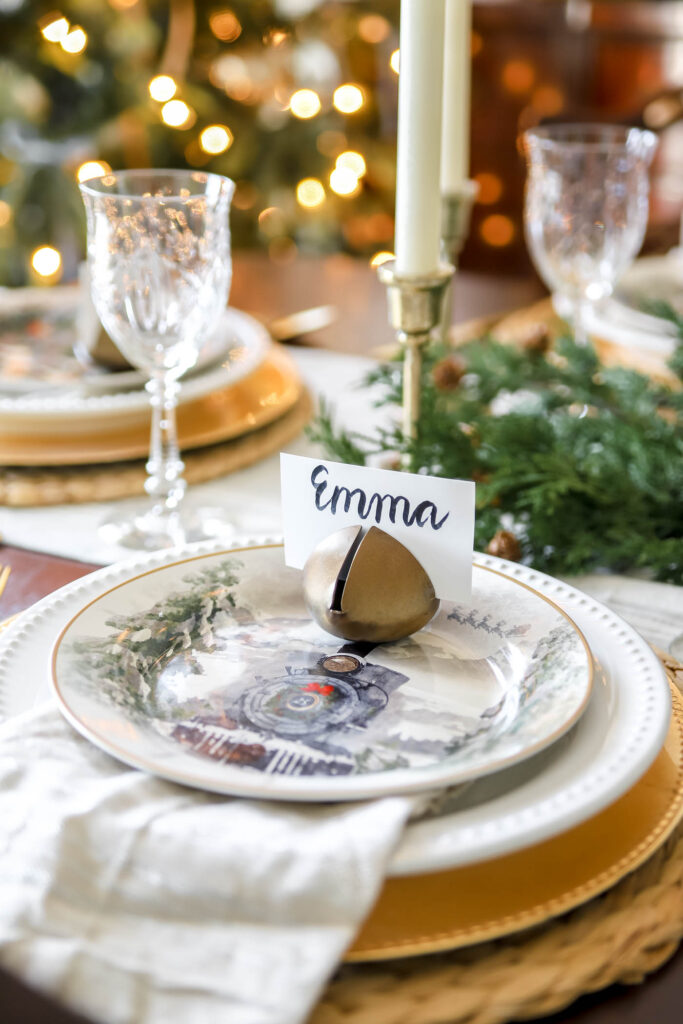 7 Beautiful ways to use Christmas bells in your holiday decorating
As you consider using bells in your Christmas decor, think about the function you want them to have. Do you want a subtle shiny glint among your decorations? Do you want your bells to be prominent? Would you like to hear them ring when you open or close a door?
Note: You can easily find Christmas bells that are simply decorative and don't make a sound.
Here are a few ideas that will cover the bases for decorating with bells.
1. Add bells to a Christmas wreath
It doesn't matter what type of decor you like or what style your house is because there is a beautiful wreath design for everyone!
This wreath could easily double as a simple winter wreath. But tying on Christmas bells with rope gave it that rustic holiday look I wanted.
Note: When I include bells in wreath designs, I typically have them hang down from the top of the wreath because I prefer that look. However, if you want to try something different, you could let bells hang from the bottom of the wreath to create a more extended design.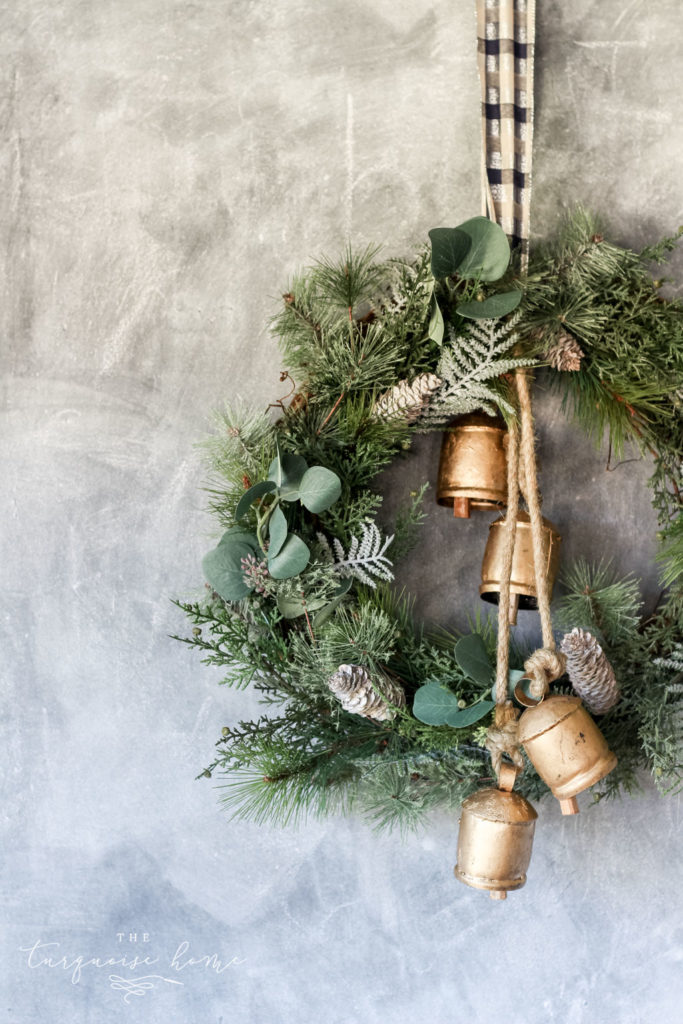 2. Layer Christmas bells into other elements
It's probably no surprise that stars are another common and lovely Christmas symbol. There are many ways to use them, but I decided to hang these wooden star oversized ornaments on my mantle shutters.
Of course, I couldn't leave those stars bare!
Layering in a simple greenery wreath and a Christmas bell provided the perfect holiday vibe I wanted. Now the holiday stars and bells look festive, and the blue Christmas ribbon adds a great pop of color.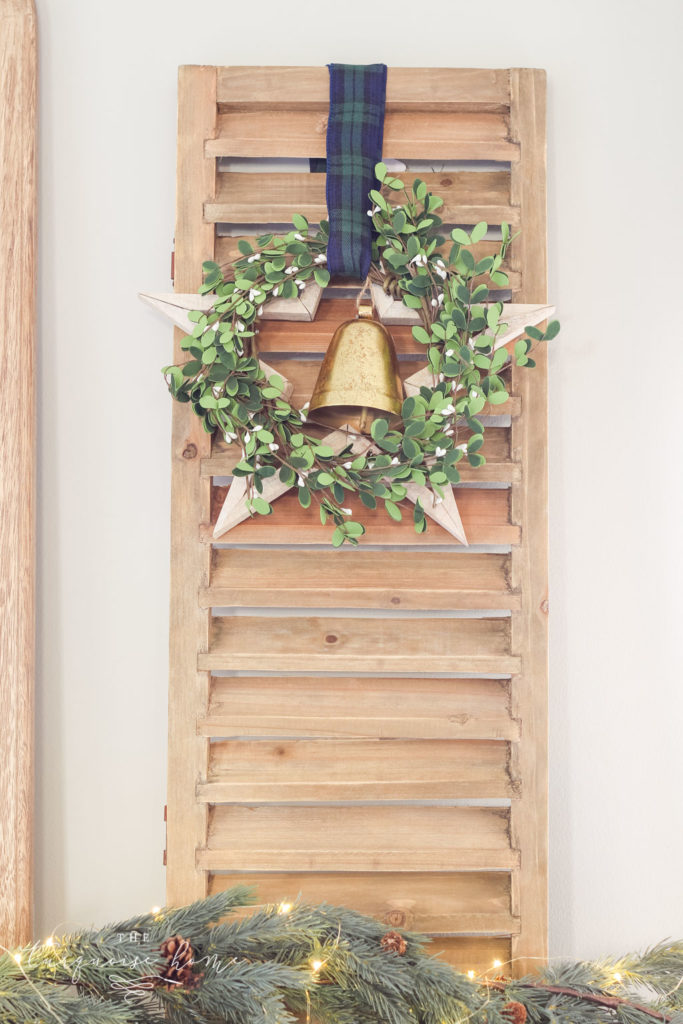 3. Hang Christmas bells with the stockings
This may not be the preferred choice if you have young children who like to mess with the hanging stockings. However, if you include stockings as part of your holiday decor, try hanging a bell with each one.
I love how these stockings look with bells on top! The touch of gold was just the final touch that this design needed.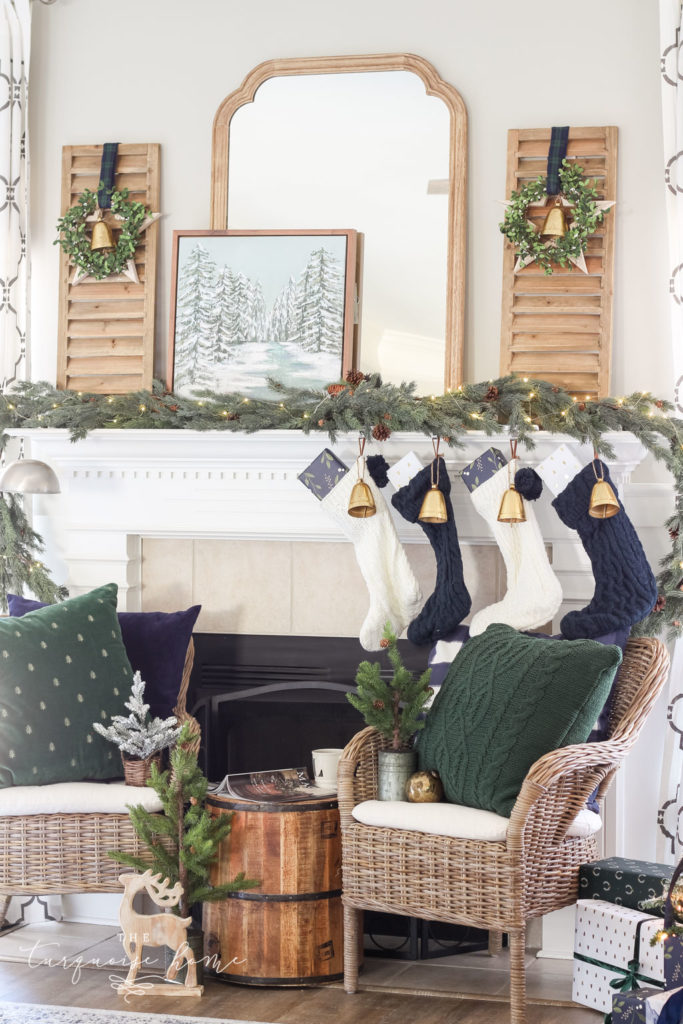 4. Tie Christmas bells to garland
Many people put up garland during the holidays, and the possibilities for how to style your garland are nearly endless! Have you ever thought of using bells on it?
One option would be to make a garland solely out of Christmas bells.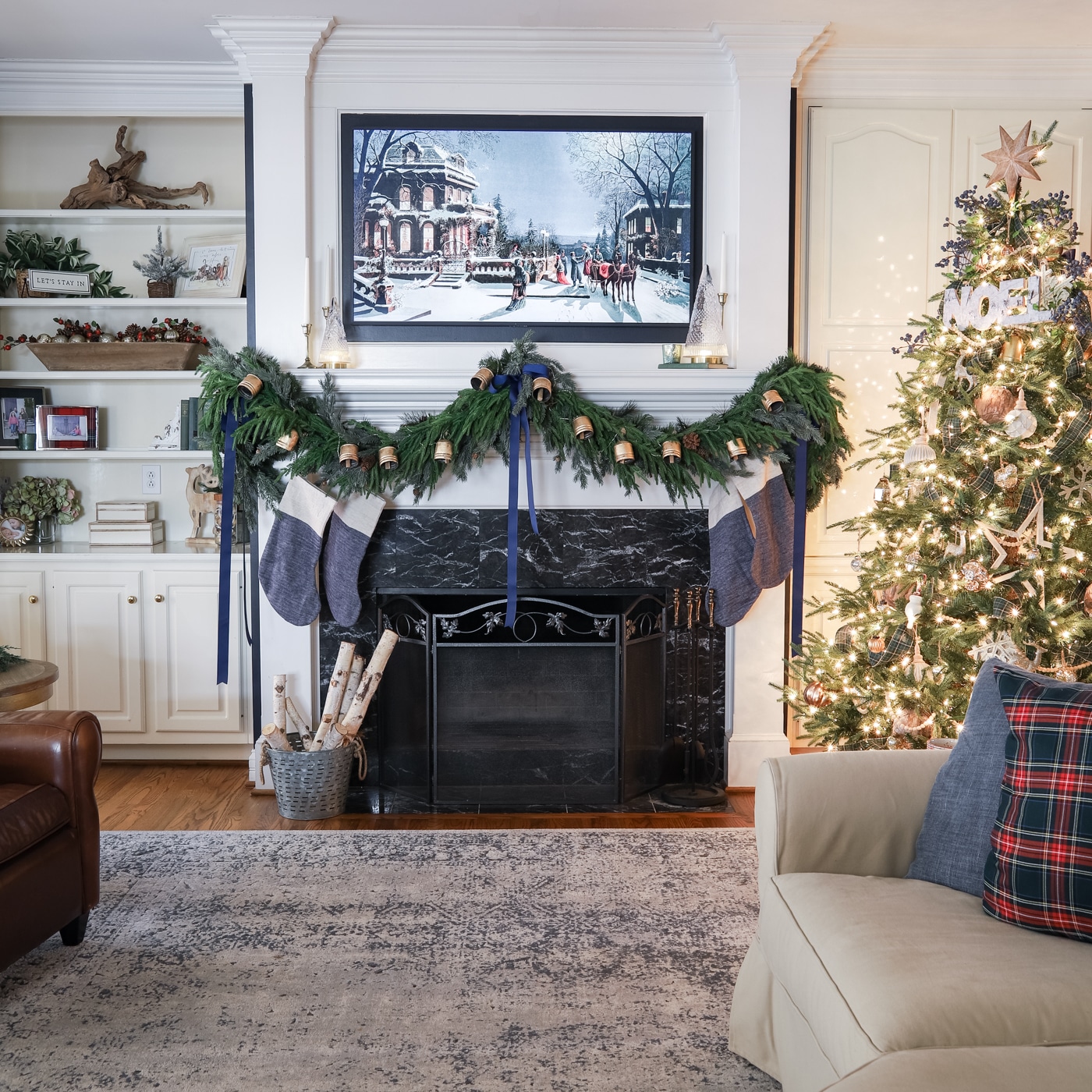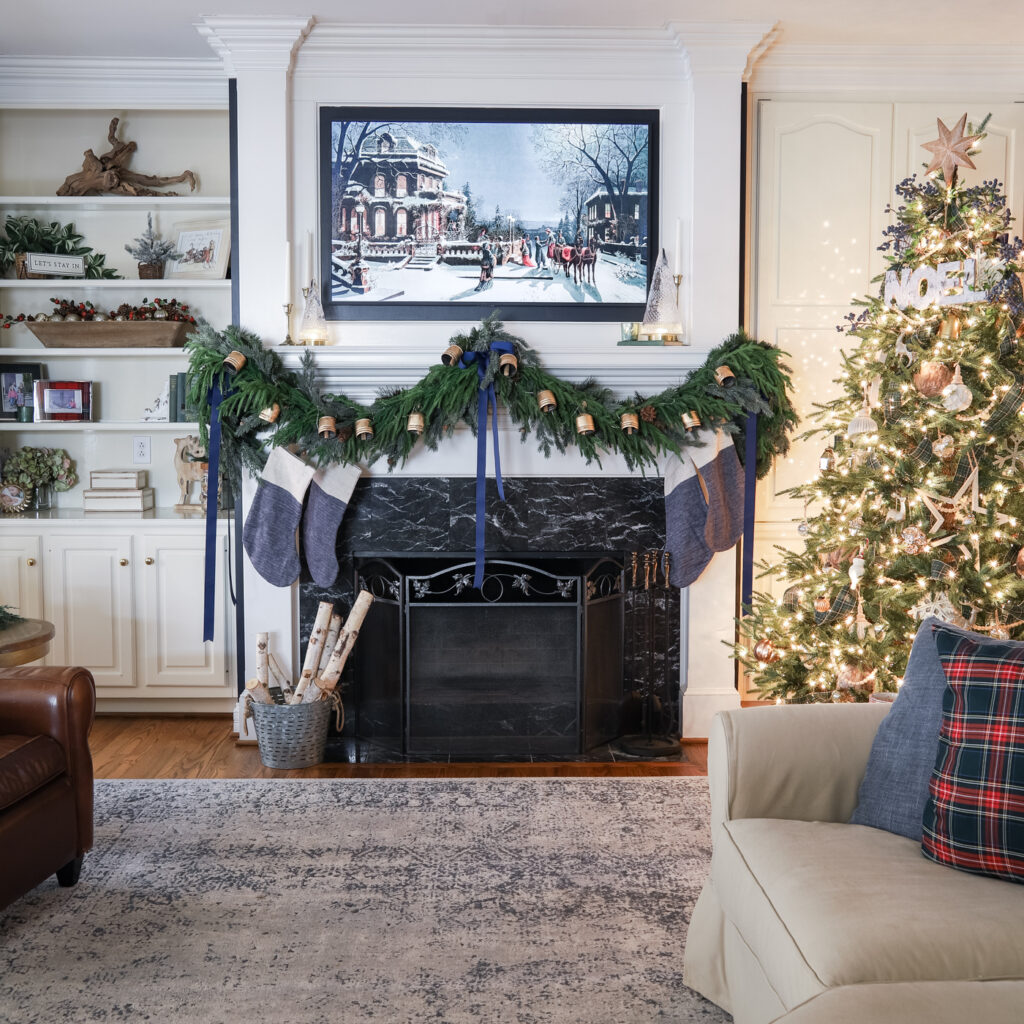 Or you could try what I did and tie a bell (or 10!) to your evergreen mantel garland. Several evenly spaced small or medium bells tied to draped garland make a lovely embellishment.
Another idea would be to tie a couple of large, chunky bells onto the garland at each end of the mantel and intertwine some wide plaid or burlap ribbon into the design.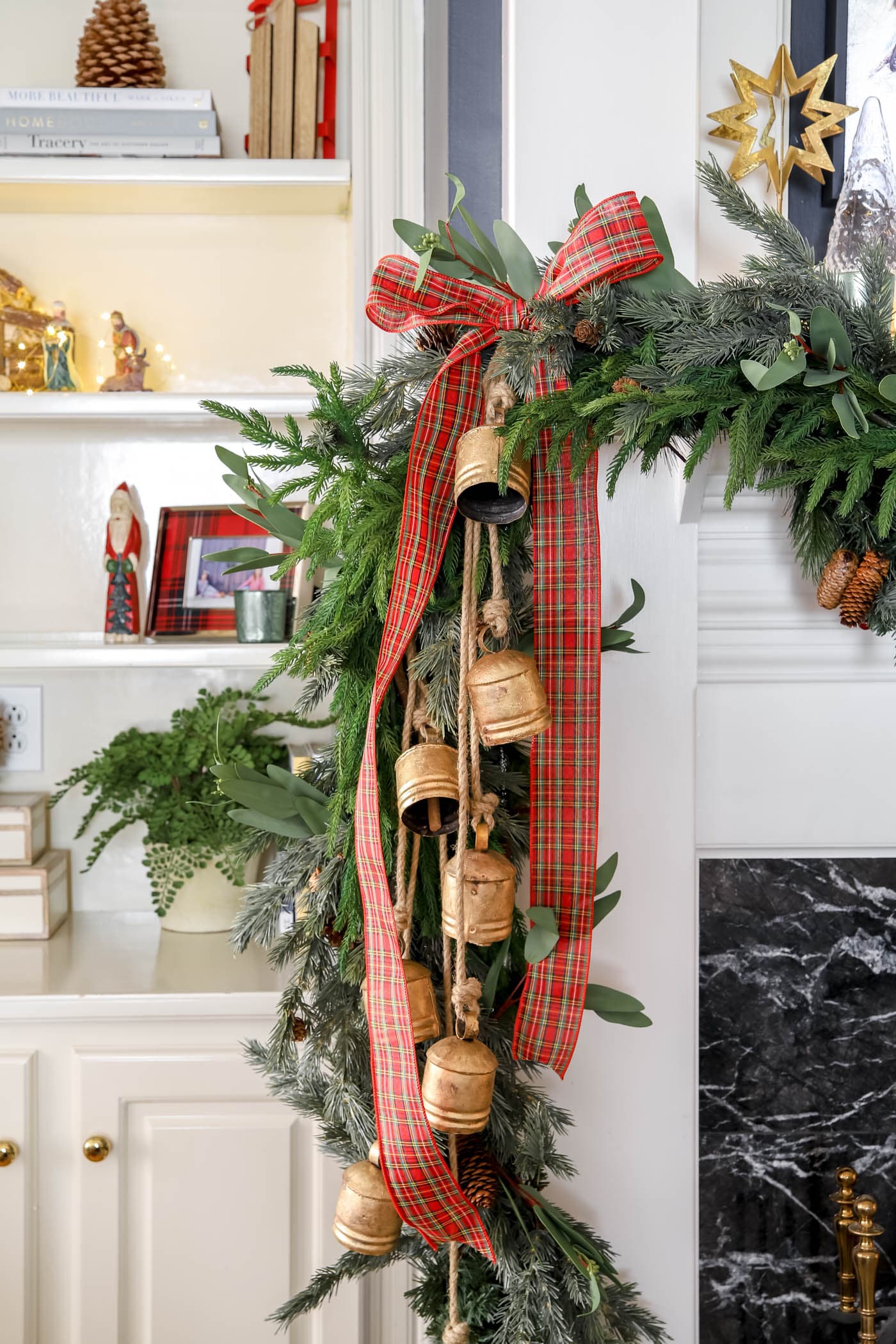 5. Jingle bells ribbon
This burlap ribbon has mini jingle bells on it! I used it as a ribbon on our plaid and burlap tree, but you could add some to your garland. Or add Christmas bell ribbon to your door wreaths and enjoy a little jingle when you open the door.
Another option could be to use a ribbon like this to hang ornaments from a chandelier or in your windows.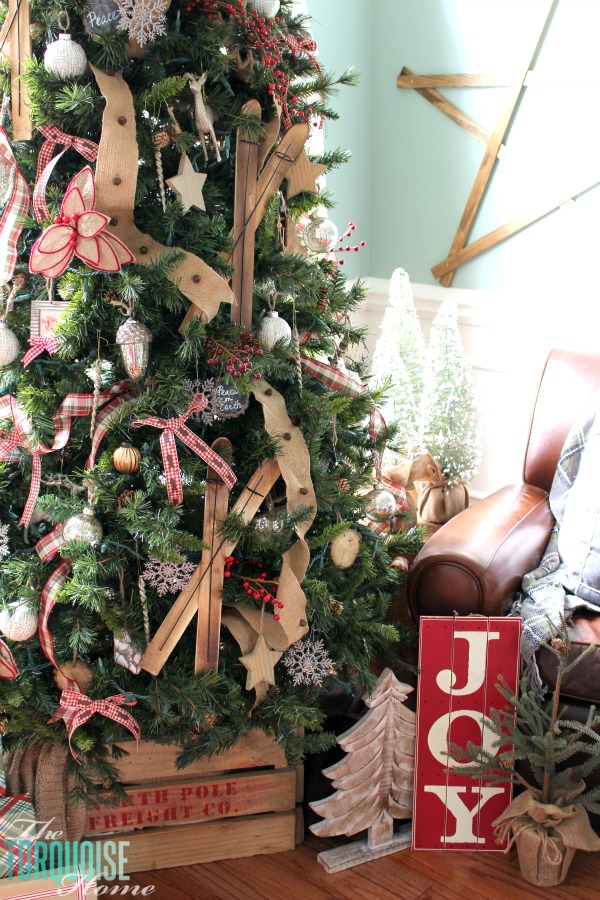 6. Hang Christmas bells from a large bow
Bells are a great way to introduce a little bling to your decorations. If you go with a simple farmhouse decor as I did with this burlap mantel, bells can add just the right amount of shine to keep the simple decor palette from looking bland.
Plain, shiny bells work well, but I went a little further and used glitter Christmas bell decorations for even more sparkle. I love how it looks against the burlap bow and with a pop of red in the berries!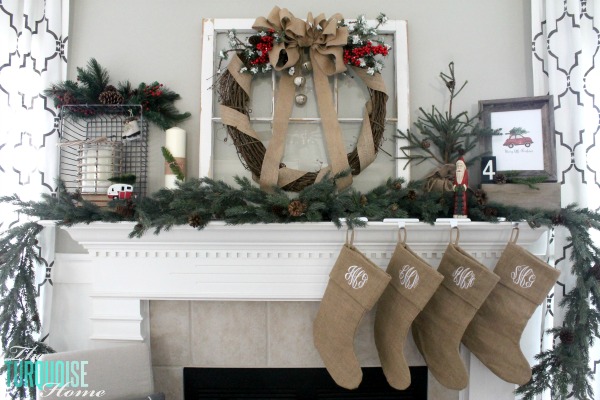 7. Display bells in a basket
I filled this basket with a variety of ornaments. Although I didn't add any Christmas bells to this particular display, now that I look at this basket of ornaments again, I wish I had! There are many options of ways to do this.
Create a display with bells and add it to your coffee table, end table, or even your mantel. Wondering what to use as you display them? Try a basket, a tray, or even a potpourri dish or a beautiful holiday bowl.
Or even just strategically place a few loose bells on the table or mantel.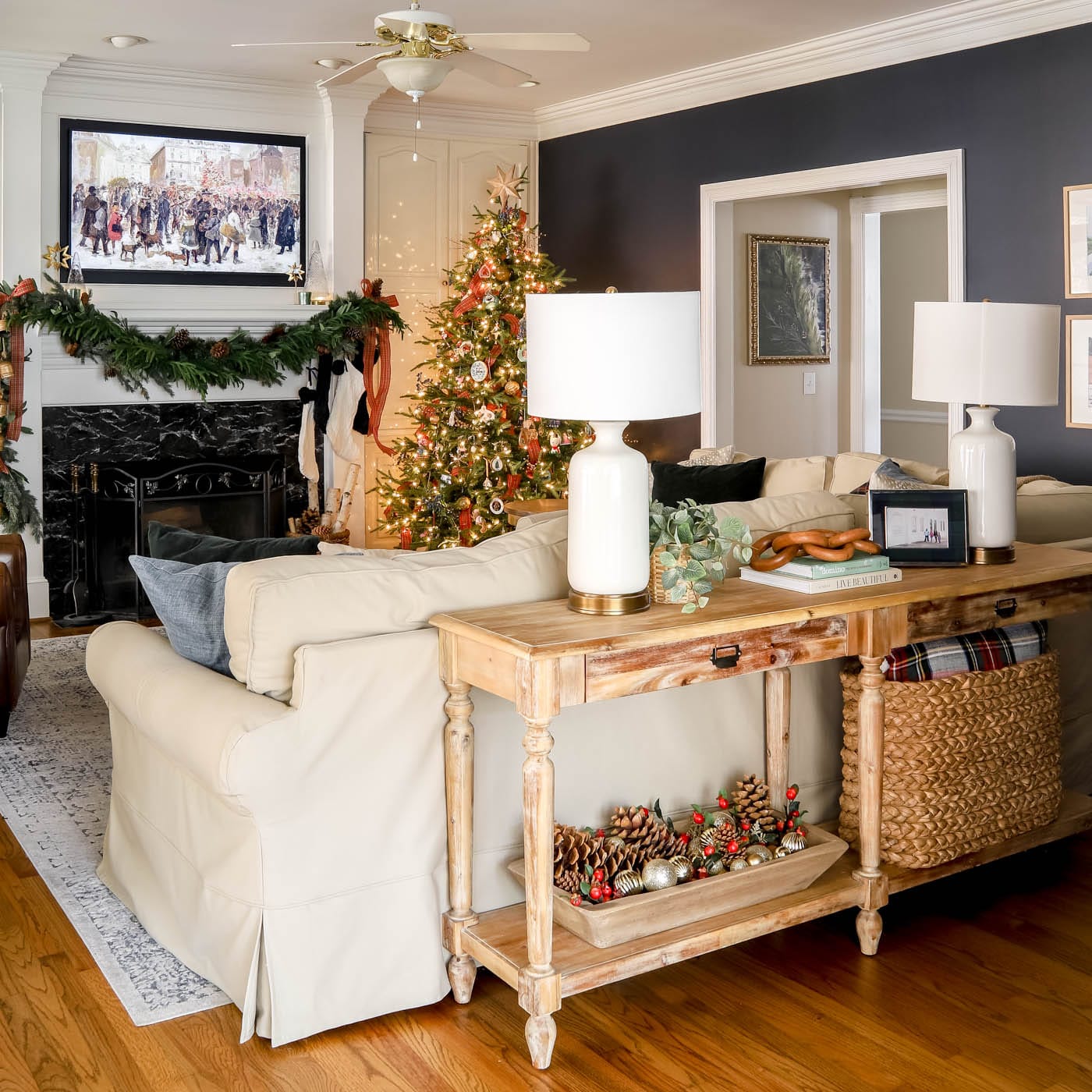 Even more Christmas bell decoration ideas
Believe it or not, you can use bells in all of your holiday seasonal decorating! In case you didn't see an idea above that grabbed you, here are a few more ideas to inspire:
Add them as ornaments on the Christmas tree (this is great for both real and artificial trees!).
Use bells as place card holders with your holiday table setting.
Tie a Christmas bell onto your wrapped gifts.
If you have an old wooden sleigh as part of your holiday decor, you could tie some frosted greenery, berries, and bells on the sled.
Create a beautiful centerpiece arrangement and add bells to it. Ideas could include a bowl of greenery and bells, a candle in the center of a dish (or bowl) with bells surrounding it, or a wreath with bells, bows, and berries.
Hang a string of bells on your front door with a bold, festive ribbon (and no wreath).
Use ribbon or twine to hang a couple of bells on your Christmas kitchen cabinets.
Christmas bells can add a special touch and holiday ambiance to your seasonal decor that other pieces just can't match. With just a little inspiration, you can incorporate bells into your holiday decorations to create a beautiful design that fits any style of home.
More Christmas posts you'll love: