I've been giving some serious thought to updates I want to do for my kitchen lately.
{This would be my dream kitchen … }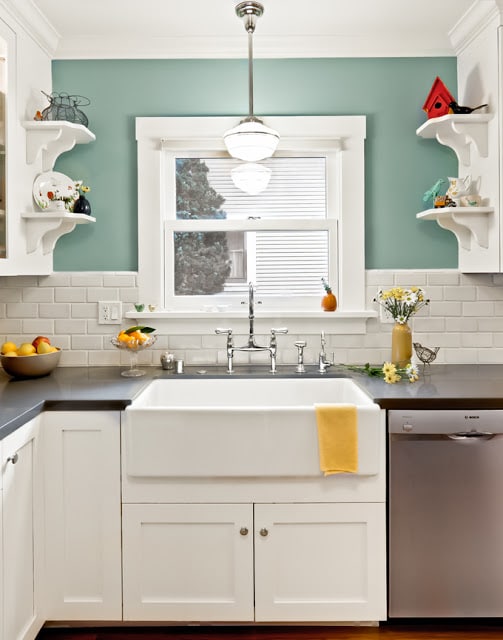 Source
When we bought the house, the kitchen was probably one of my least favorite rooms.  This is a picture of the house when we bought it. We'll call it beige blah with grey/blue countertop crappiness. The previous owners put in a black range and microwave, a white sink, and a stainless dishwasher. I guess if you can't decide which finish to choose, choose all of them!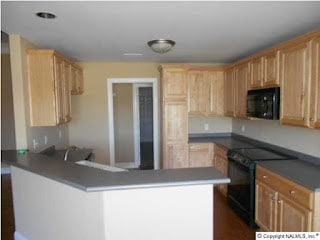 I do love the natural light in the eat-in-dining area. But I hated the cabinet color, the counters and the size.
So, first things first, I painted it Stratton Blue by Benjamin Moore. Don't mind the mess; we had just moved in. Sorry I didn't clean!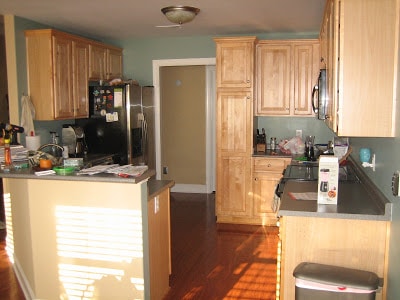 I fell in love with the color after seeing this kitchen.
I love the way the blue pops against the white cabinets and trim. (Not so much against oak cabinets.)
Source
I know I want white cabinets. They are so clean and breezy! Like the beach. And the color pop … just beautiful!

And I think I'm leaning toward white subway tile for my back splash.
I would LOVE nothing more than to replace those ugly blue/gray counter tops with some beautiful natural/neutral granite. Something like this …
And if I was really going all out, I'd trade my black range and microwave for stainless steel. I love my white sink, so I'll keep that, though I'd love a white farmhouse sink. And maybe a new pendant fixture over the sink and a new light over the kitchen table?
That'll work for starters. Ha!
Here are some more inspirational photos I've found online … and fallen in love with all of them.
I really love this kitchen with the pops of yellow, the pendant light over the sink, white subway tile and the wall color! That color is Kensington Green by Benjamin Moore. Gorgeous!!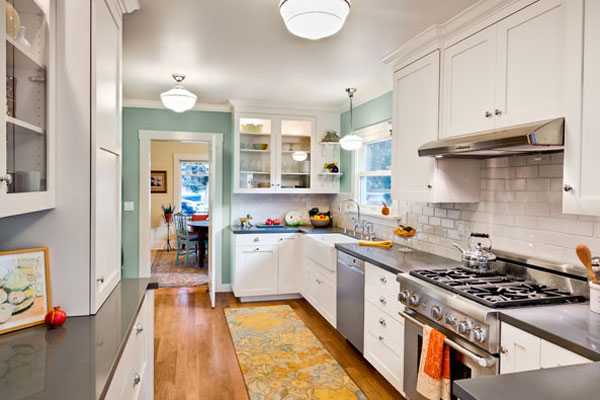 Source
This is a favorite of mine with all of the white cabinets and natural lighting.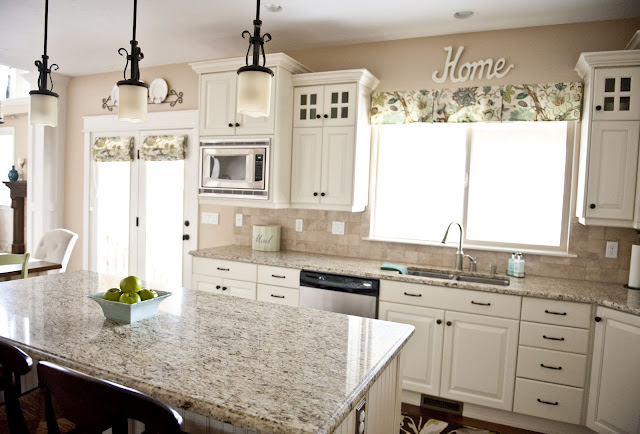 Love the bead board paneling as a back splash in this next photo. The color of these cabinets is White Dove by Benjamin Moore. I plan to use that color to paint my cabinets.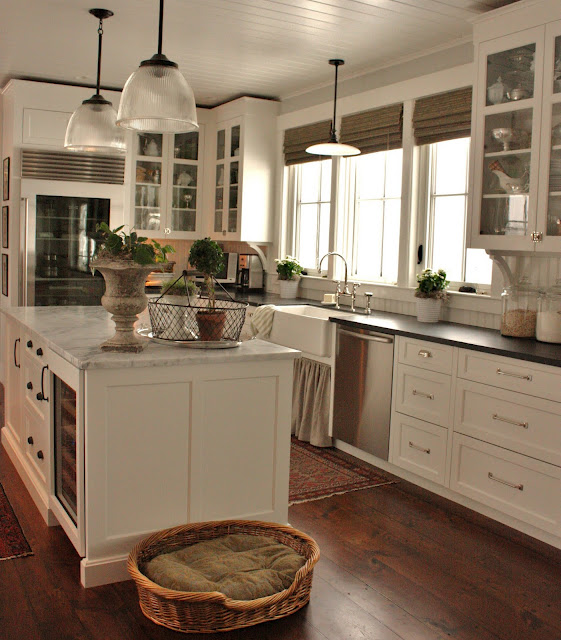 I love this next kitchen remodel. And might even be tempted to have blue glass tile as my back splash because of it. Isn't it just dreamy?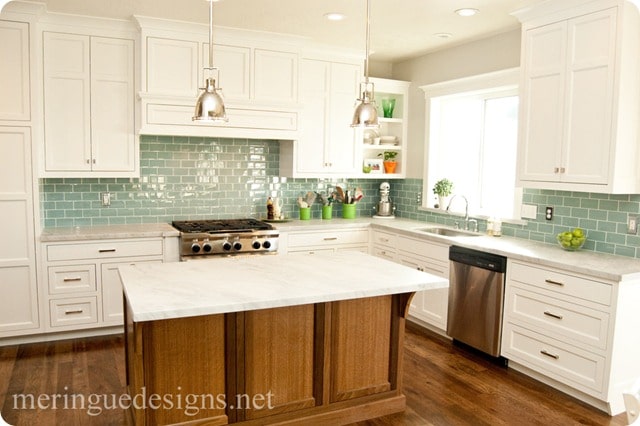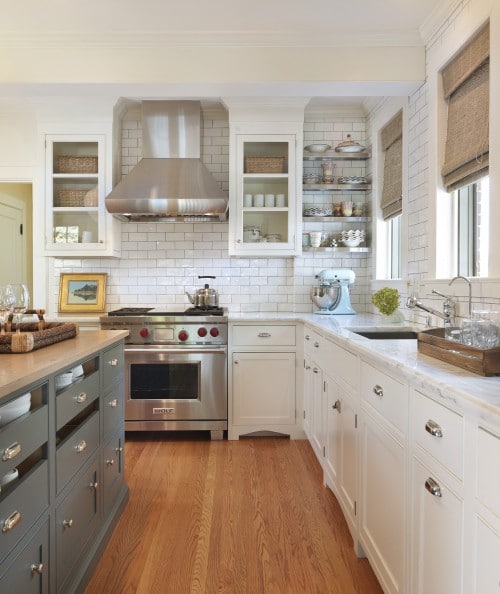 This remodel is just to die for… love the white and pops of turquoise. Of course.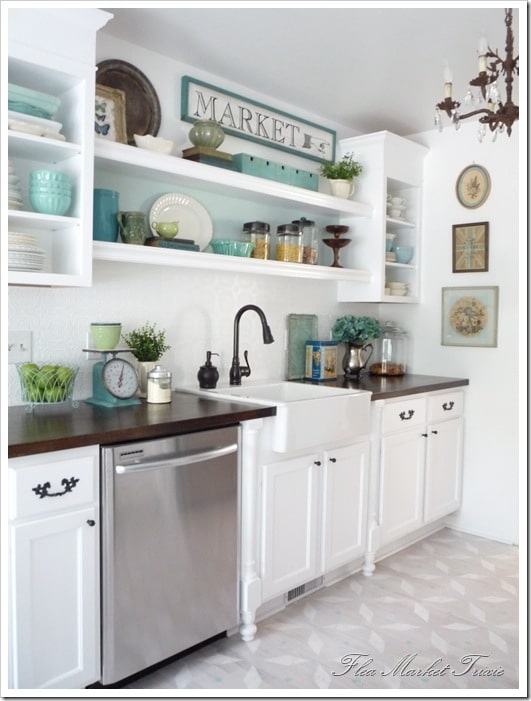 How's that for some kitchen inspiration? I know I'm inspired! It will be a long time before my kitchen is complete, but in the meantime, I'll keep dreaming. And I'll figure out what I want! So when the time comes, I won't have to stop and figure it all out.
What does your dream kitchen look like?

Get Instant Access to my Guide to Customize Your Home on a Budget
Grab your FREE guide for 10 Ways to Customize Your Home on a Budget: simple projects to transform your home from builder beige to a home with character and charm!